Guadalupe-Nipomo Dunes National Wildlife Refuge: Santa Maria Rivermouth to Mussel Rock
This 5.6-mile out-and-back in Guadalupe-Nipomo Dunes National Wildlife Refuge runs across pristine sand dunes that overlook the Pacific Ocean.
Heading out the door? Read this article on the new Outside+ app available now on iOS devices for members! Download the app.
-Mapped by Chuck Graham, Chuck Graham Photography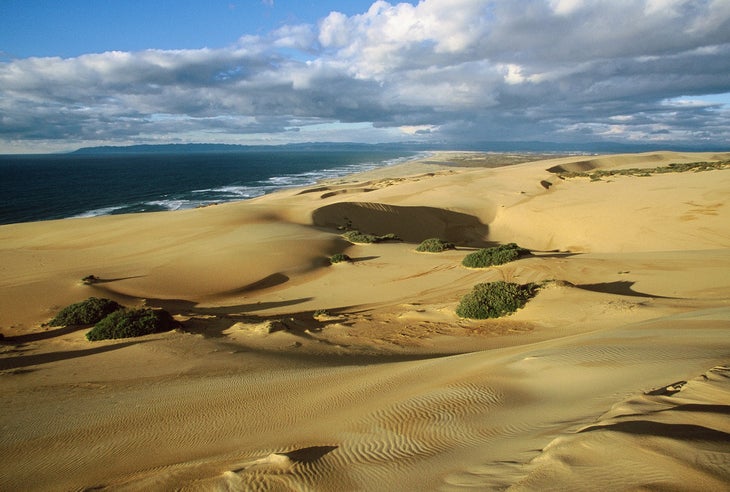 Chuck Graham Photography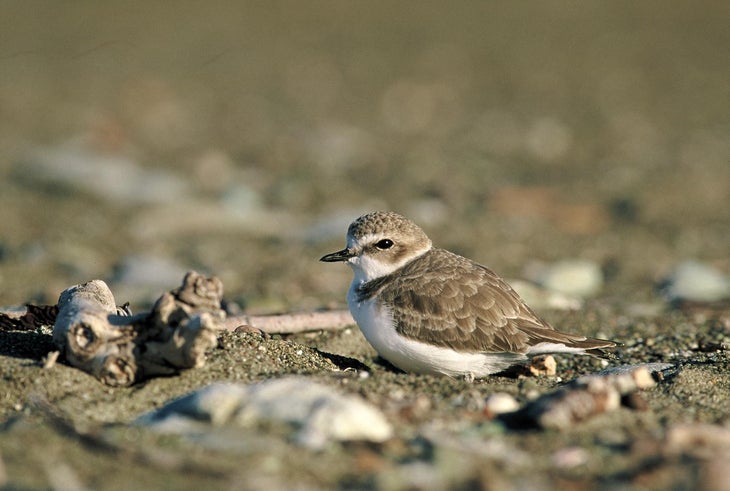 Chuck Graham Photography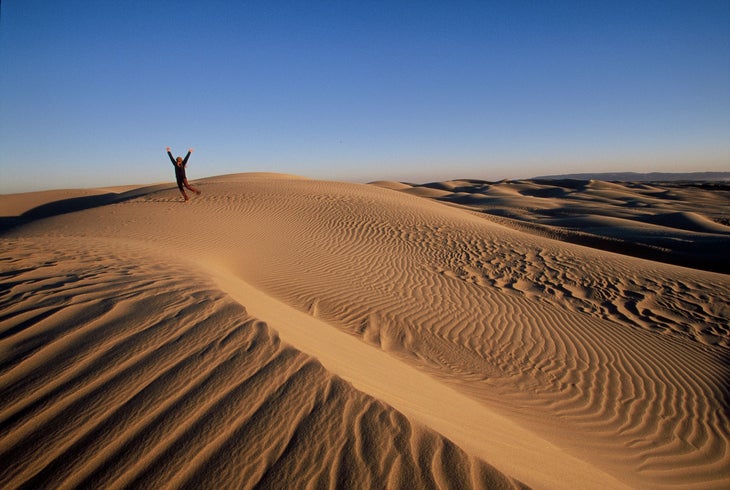 Chuck Graham Photography
Trail Facts
Waypoints
NSD001
Location: 34.964968, -120.650375
From the parking area, hike south along the beach toward the massive dunes that rise in the distance. Stay on the hard pack sand and maneuver around the flotsam of kelp and driftwood that speckle the beach until you reach the foredunes.
NSD002
Location: 34.962603, -120.651598
Look for Western Gulls, California Brown Pelicans and Western Snowy Plovers (the dunes are one of the best and last refuges of this threatened shorebird).
NSD003
Location: 34.95388, -120.653358
Bear left toward the huge waves of sand. These foredunes are the smallest dunes in this coastal ecosystem and the most unstable. (Short but steep mounds of sand have little vegetation stabilizing them.)
NSD004
Location: 34.938383, -120.652575
Prepare for a steep climb. It's three steps forward and two steps back while ascending the dunes and their troughs filled with native vegetation like silver lupine and saltbush.
NSD005
Location: 34.936432, -120.654817
Look for the well-defined animal tracks of mountain lions, black bears, mule dear, coyotes, foxes, skunks and even dune beetles.
NSD006
Location: 34.930543, -120.661989
Turn around for sweeping views of the deep-blue Pacific and golden sand dunes.
NSD007
Location: 34.930539, -120.663378
Descend onto this craggy, wave-battered headland with a noteworthy rock arch. Listen and look for California sea lions hauled out on Mussel Rock and black oyster-catchers foraging for crustaceans. Retrace your steps.
Guadalupe-Nipomo Sand Dunes
Location: 34.930548, -120.66179
Snowy Plover
Location: 34.962603, -120.650997
Foredunes
Location: 34.95388, -120.652413
Some of the nicest dune lines are located in the foredunes with waves crashing on the beach due west.