Great Smoky Mountains National Park
Graze blueberry patches, explore swimming holes, and tag the South's high points on this sultry hike.
Heading out the door? Read this article on the new Outside+ app available now on iOS devices for members! Download the app.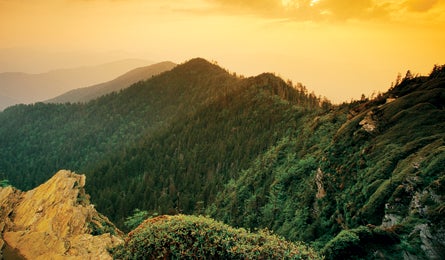 6,595-foot Mt. Leconte (Steven McBride)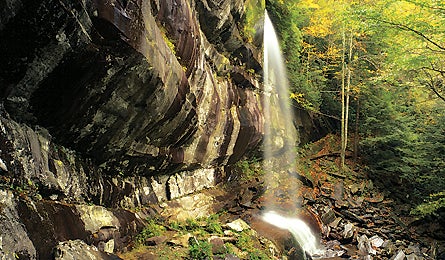 Rainbow Falls (Kirkendall-Spring)
Forney Green (Kevin Adams)
INTRO | GLACIER | <a
href="/articles/12517″>YOSEMITE | GRAND CANYON | <a
href="/articles/12523″>GREAT SMOKY
| OLYMPIC | <a
href="/articles/12526″>YELLOWSTONE | DENALI
Entrance Strategy | The Trip | Exit Strategy
Don't be fooled–though the Smokies can be busier than a NASCAR stadium, the lush peaks and hazy mist that inspired the park's name hide a lifetime's worth of adventure. Packed into the park are verdant groves of tulip poplar and wind-whipped spruce-fir forests where elk and black bears roam. Three-foot salamanders swim beneath clouds of fireflies blinking in unison. On a typical multiday hike, you could pass more than 10,000 plant and animal species (though scientists believe 90,000 could live here). In this Eastern oasis, in the shadow of 300-million-year-old mountains that once soared as tall as the Rockies, life explodes in a shock of blooming, buzzing, slithering, and chirping–a rare escape where hikers can leave civilization and lose themselves in deep wilderness.
INTRO | GLACIER | <a
href="/articles/12517″>YOSEMITE | GRAND CANYON | <a
href="/articles/12523″>GREAT SMOKY
| OLYMPIC | <a
href="/articles/12526″>YELLOWSTONE | DENALI
Entrance Strategy | The Trip | Exit Strategy
Entrance Strategy
>> Getting there The nearest airports are Knoxville's McGhee-Tyson (45 miles) and Asheville Regional (60 miles). Head to the Oconaluftee Visitor Center, on US 441 just north of Cherokee on the North Carolina side, to avoid Tennessee's Dollywood traffic. If you must approach from the north, save time and frustration by taking the Gatlinburg Bypass (just north of town) straight to the park.
>> Season April for wildflowers and low humidity; June for synchronous fireflies; July and August for blueberries and blackberries; late September through mid-October for brilliant foliage, easier creek crossings, and solitude.
>> Best frontcountry campground Hemlock-shaded Big Creek Campground, in the park's northeastern corner, is as close as you can get to backcountry tranquility without having to sweat for it. Arrive by 11 a.m. to snag one of the walk-in creekside spots–this 12-site, tent-only campground is first come, first served. ($14; 865-436-1230)
>> Pre-trip breakfast Carbo load Southern-style with hash browns, grits, and 24 kinds of flapjacks at Pancake Pantry in Gatlinburg, Tennessee (865-436-4724). From North Carolina, get your coffee with an apple-currant muffin on the side at Annie's Naturally Bakery in Sylva (828-586-9096).
>> Gear Shop The Happy Hiker (865-436-6000; happyhiker.com), just outside the park border on River Road in Gatlinburg, has camp towels (for swimming) and Duraflame logs for fire-building.
>> Permits None of the sites on our five-night trip requires reservations, but you'll need to self-register for free permits in person before you go. Get trail beta and permits at Sugarlands Visitor Center in Tennessee or Oconaluftee Visitor Center in North Carolina. If you're extending your trip with one of the 17 reservation-only sites or 14 trail shelters (also free), call (865) 436-1231 at 8 a.m. EST one month before the first day of your trip.
INTRO | GLACIER | <a
href="/articles/12517″>YOSEMITE | GRAND CANYON | <a
href="/articles/12523″>GREAT SMOKY
| OLYMPIC | <a
href="/articles/12526″>YELLOWSTONE | DENALI
Entrance Strategy | The Trip | Exit Strategy
The Trip
The South's best swimming-hole tour Hike from balsam-covered peaks to cascading creeks on the stop-and-dip Hazel Creek/Forney Creek Loop.
This challenging five-night, 56.7-mile loop packs in long days, steep climbs, and tricky creek crossings to bring you deep into the heart of the last true Eastern wilderness. Get ready to kiss civilization good-bye: The North Carolina side of the Smokies sees just 15 percent of the park's total visitors, and you'll be wandering the area's most remote miles, where red fox and bobcat linger beneath more than 100 different types of trees. Depart on a Sunday night for maximum solitude–and don't forget a quick-dry towel.
First stop: the Smokies' high point–6,643-foot Clingmans Dome. Park just shy of the summit and stroll up the Dome's observation tower for a stunning preview of the ridges and valleys to come, then pick up the Appalachian Trail and follow it west. Peek through the trees for a glimpse of row upon row of gently undulating, blue-tinged mountains, then turn to the trail's seasonal treats: an explosion of white spring beauty wildflowers in March, plump blackberries in late summer, and a palette of fiery-toned foliage come fall. The real solitude starts at mile five as you take the Welch Ridge Trail to the Hazel Creek Trail. Stride on under the stately hardwood canopy, dropping sharply to site 82 at mile 12. You're in primo trout territory here: Take a fly rod and wade about a mile upstream to reach a small cascade marking the boundary between native brookies and the more aggressive rainbow and brown trout downstream. (It's very unlikely that this site will be full, especially midweek. Even if you do have company, it's big enough for multiple parties to camp without being on top of each other.)
On day two, you'll descend 9.5 miles to the secluded shores of Fontana Lake. Believe it or not, this wilderness was a thriving community, complete with a sawmill and a movie theater, from the late 1800s until the 1940s. Stay straight when you come to the next junction past site 85 and detour .5 mile to a "no horses" sign, where a foot path leads to an old cemetery with gravestones dating to the mid-1800s. Return to the junction and veer right to camp beneath white pines at site 86. Take your pick of swimming spots: You'll be a quarter mile from the lake's rocky shore, and right beside A-1 splashing in the 10-foot-deep pools tucked in Hazel Creek.
The next day's journey is an easy 12.3-mile cruise east on the Lakeshore Trail. Despite the name, this gentle roller coaster is more woods than water, leading through a pine-oak forest inhabited by scarlet tanagers and pileated woodpeckers, and 30 species of salamanders (look for them under rocks).
In July, compete with bears for the trail's juiciest blueberries. For the better of the two tent areas at site 76, turn right at the "no horses" sign and follow the spur to sleep near Fontana's lapping waves.
You'll want to spend the bulk of day four at campsite 70, 12.5 miles on, where one of the Smokies' sweetest swimming holes awaits. Take the Lakeshore Trail to Forney Creek, then head north beneath a hemlock canopy. There's a mellow climb once you pass site 71, but keep your eyes on the prize: Your site's rhododendron-shaded pool, a pocket where two small streams come together.
Day five is only 5.5 miles, but they're burly ones–you'll ford six major creeks, which can reach waist-level in high water. March and April bring the peak flows, but summer cloudbursts can also make the streams impassable. Go for it if the water is knee-deep or lower: Pack sturdy sandals, grab a walking stick, and feel your way over the stream's moss-covered boulders. You'll pass a 15-foot waterfall at site 69 en route to your last night's rest–at site 68–where water cascades 40 feet over a giant, slanting rock beside a birch grove.
Your last day brings you back up to the high country–you'll gain nearly 2,000 feet in the first 2.5 miles. Hang a right on the Forney Ridge Trail and hike .7 mile south for one more iconic Smokies destination: Andrews Bald, a grassy, open patch with flame azaleas in late spring and abundant blueberries in August, plus killer views of the misty blue valleys you've just left. Backtrack to the junction and climb 1.5 miles back to Clingmans Dome on Forney Ridge for one last look at southern hospitality the hiker's way.
>> PLAN B: Jonas creek trail Filled-to-capacity campsites aren't likely to derail your trip (especially if you go midweek), but impassable stream crossings along Forney Creek in the spring might (see "Ace the Smokies," left). If the water's too high, don't despair–you can bypass the deep stuff by detouring west on the Jonas Creek Trail from site 70 and taking Welch Ridge back to the AT. It's a drier riverside route that climbs steeply to your final night's rest at the Silers Bald or Double Spring Gap shelters. Note: Last-minute AT shelter reservations are tough to get from March through May–which is also high-water season. Double Spring Gap is less crowded than Silers Bald, particularly during the week.
INTRO | GLACIER | <a
href="/articles/12517″>YOSEMITE | GRAND CANYON | <a
href="/articles/12523″>GREAT SMOKY
| OLYMPIC | <a
href="/articles/12526″>YELLOWSTONE | DENALI
Entrance Strategy | The Trip | Exit Strategy
Exit Strategy
>> Clean up Arrow Creek Campground (865-430-7433; arrowcreekcamp.com), on your way to Cosby on US 321, has $3 showers.
>> Pig out The Front Porch (423-487-2875), on US 321 in Cosby, serves Mexican cuisine with a backwoods Appalachian twist–Cokes come in Mason jars, the band plays bluegrass, and, if you're lucky, one of the locals will slip you a flask of moonshine (a must-sip in the South) under the table. (If you're North Carolina-bound, stop at Nick & Nate's in Sylva for the classic post-hike pizza-and-beer combo.)
>> Best dayhike: Mt. Cammerer The views from atop the stone firetower on Mt. Cammerer–the lush Cosby Valley, Big Creek, and row upon row of rolling peaks (including, no joke, Rich Butt Mountain)–are simply the best in the park, says ranger Pam Rogers. The prettiest, least crowded route is the 12-mile roundtrip from Big Creek campground. Climb sharply on the Chestnut Branch Trail, then pass under black oak, birch, and red maple heading south on the AT. Look for young American chestnut trees–which were almost wiped out by a devastating blight in the 1920s–as you switchback up to the Mt. Cammerer Trail and the 4,928-foot peak. The octagonal, CCC-era tower on its rocky outcropping is one of only a handful of that style in the country.
>> Try something new The mountain biking in the Tsali Recreation Area, just southwest of the park, is some of the best in the East. Forty-two miles of hardpack wind through pine and hardwood forest, passing deer-filled meadows and winding up and down steep, rugged ridges. Splash across creeks and zoom past old homesites as you trace the edges of hilly peninsulas, all the while gazing at the Smokies' rolling peaks reflected in Fontana Lake. (828-479-6431; cs.unca.edu/nfsnc)
Ace the Smokies
Swollen streams and aggressive rodents are your biggest threats here. Avoid them–and nab the perfect shelter–with these tips.
>> Big water Don't get stranded behind a swollen creek. Check both the forecast and the last few days' weather–streams can stay impassably high for up to three days after heavy rains. Always check conditions with the backcountry office a day before your trip.
>> Hang it all Fact: The park's plentiful mice, raccoons, and bears are drooling over your trail mix. Thwart them like the rangers do by hanging your entire pack–not just your food bag–from your campsite's cable system. Stash the pack in a garbage bag to protect it from storms (most common on summer afternoons).
>> Gimme shelter Appalachian Trail shelters within 8 miles of Newfound Gap and Clingmans Dome Roads fill fast. Reserve ones that require a longer approach, like Mollies Ridge or Pecks Corner, for the best shot at a solo night.
You're A Tourist, Now Act like One
In mid-June, the Smokies' synchronous fireflies–the only species in the country that flash in unison–are at the peak of their group-blinking frenzy for a two-week window. Park at Sugarlands Visitor Center and catch the park's $2 shuttle to Elkmont Campground for a front-row seat; check nps.gov/grsm for dates and times.
The Stats
Acres 521,086
Miles of trail 800+
Website nps.gov/grsm
Phone 865-436-1220
2007 visitation 9.4 million (total), 70,215 (backcountry)