Great Smoky Mountains National Park: Big Creek Loop
Climb Mt. Sterling and hike through history on this 16.4-mile loop through the eastern Smokies.
Heading out the door? Read this article on the new Outside+ app available now on iOS devices for members! Download the app.
In a park know for abundant and beautiful creeks, they don't get any better than the one called Big. And the first part of the route follows an old railroad grade—used to transport trees during the logging boom at the start of the 20th century—making for a gentle entry into the deceptively steep Smokies. Allow plenty of time for frequent stops at swimming holes and a waterfall in the first few miles of the hike: Midnight Hole is a deep blue gem just 1.4 miles in; Mouse Creek Falls is a 45-foot cascade just a bit farther. (Tip: Camp along the Big Creek Trail just beyond the old logging camp at Walnut Bottom.) Spend the second night atop 5,760-foot Mt. Sterling, where there's a small glade with prime tent sites and a lookout tower with magical views.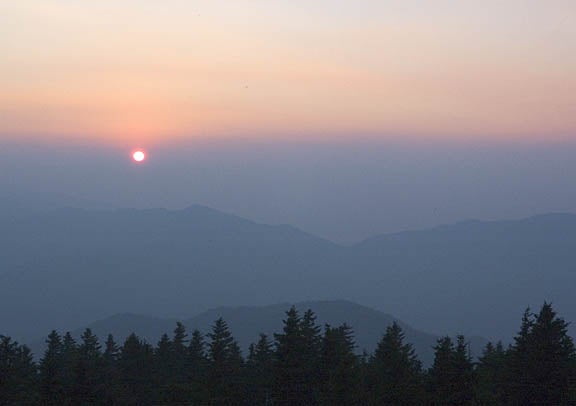 Trail Facts
Waypoints
GSM001
Location: 35.751824, -83.10962
From the trailhead, head southwest
GSM002
Location: 35.743294, -83.120911
Midnight Hole; deep blue gem replenished by a 15-ft. waterfall; watch for colorful trout below
GSM003
Location: 35.735644, -83.133738
Mouse Creek Falls, a rumbling feeder for Big Creek
GSM004
Location: 35.735679, -83.145947
Brakeshoe Spring, named for the train part once wedged here to create a fountainlike effect; refill bottles
GSM005
Location: 35.718869, -83.162749
Veer L onto Swallow Fork Trail; pass through Walnut Bottom (old logging camp, now tree-filled). Option: Stay straight on Big Creek Trail for great campsite
GSM006
Location: 35.691531, -83.139596
Continue steep ascent; go straight @ old RR grade intersection
GSM007
Location: 35.686494, -83.141806
Pretty Hollow Gap; great break spot. L onto Mt. Sterling Ridge path
GSM008
Location: 35.697369, -83.125927
Stay straight @ Y to ascend Mt. Sterling; see flora change from hardwoods to conifers on this breezy ridgeline
GSM009
Location: 35.702196, -83.122301
Mt. Sterling summit (5,760 ft.), small glade with prime tent sites, lookout tower, magical views; L to Baxter Creek Trail
GSM010
Location: 35.717633, -83.108718
Straight @ Y
GSM011
Location: 35.746617, -83.113954
Hike through flat, tree-covered area, once home to a logging camp
GSM012
Location: 35.750727, -83.108954
Turn L; cross Big Creek; return to parking lot
Great Smoky Mountains
Location: 35.699895, -83.124361
Overlook of mountains at sunset. ©Jason Sangster