Great Smoky Mountains National Park: Alum Cave to Greenbrier Cove
Trek into the past on this 6-day route linking a rock arch, 5,000-foot balds, old settler homesites, and 100-year-old cemeteries.
Heading out the door? Read this article on the new Outside+ app available now on iOS devices for members! Download the app.
This 50-mile hike begins at Alum Cave trailhead off Newfound Gap Road and concludes with a 20-mile shuttle back to your car. Shortly after the start, ascend slippery stone steps though Arch Rock, a large black chunk of slate weathered into a natural arch. Next, pass a heath bald to traverse a steep slope beneath 4,950-foot Alum Cave Bluff. At mile 4.8, top out on Mt. Le Conte (6,593 feet), the third-highest peak in the park and home to the plank-board sided LeConte Lodge. Overnight here ($110/pp) or camp a few strides later at Le Conte Shelter.
The next day, hike above 5,500 feet on the Boulevard Trail to the Appalachian Trail. Swing northeast, and trek 1.1 miles to a spur trail up the treeless 5,565-foot knob of Charlies Bunion. Look out into a collage of forest-green ridgelines and rounded mountains. Continue on the AT, linking a ribbon of ridgetops. In 3.4 miles, cross Laurel Top for more views. Go 2.6 more miles and turn right onto Hughes Ridge Trail to descend to Pecks Corner Shelter.
An easy day three straddles the TN/NC border, crosses Mts. Sequoyah and Chapman, and ends at the recently renovated Tricorner Knob Shelter.
The next morning, follow the AT 6.1 miles and turn left onto Snake Den Ridge Trail. In 0.7 mile, turn left onto the Maddron Bald Trail. Ahead are long-stretch views from the crown of Maddron Bald (5,212 ft.). Descend 600 feet and pitch a tent at Campsite 29 near the sloping banks of Otter Creek.
The trail continues west under the giant maples, beeches, and tulip trees in Albright Grove; see trunks with a 20-foot girth. Turn left onto Old Settlers Trail, passing stone walls marking old land boundaries. Around lunchtime, detour north to the Tyson McCarter barn, built in 1876 (its shingled roof and log walls remain intact). Stay on Old Settlers Trail and pass several derelict chimney stacks. Campsite 33–your final night's stay–marks the homesite of Perry Ramsey, who lived in the park until 1930. The last day climbs over Copeland Divide and ends 6.4 miles later at Greenbrier Cove.
WHEN TO GO: April and May are best for wildflower blooms, while fall, with its brilliantly colored leaves, is drier.
PERMITS: Free backcountry camping permits are required. Backpackers must stay at designated shelters or campsites. Book early to get the best spots.
VACATION PLANNER: For travel information in and around the park, visit nps.gov/grsm or great.smoky.mountains.national-park.com.
-Mapped by Marcus Woolf, author of Afoot & Afield Atlanta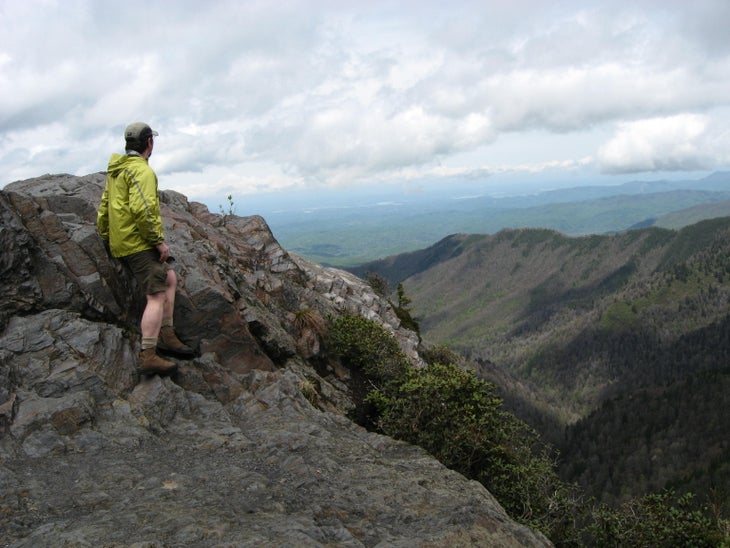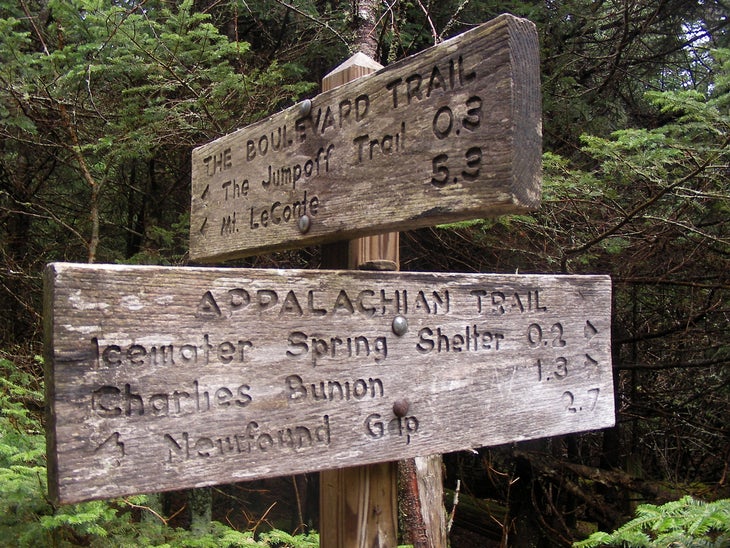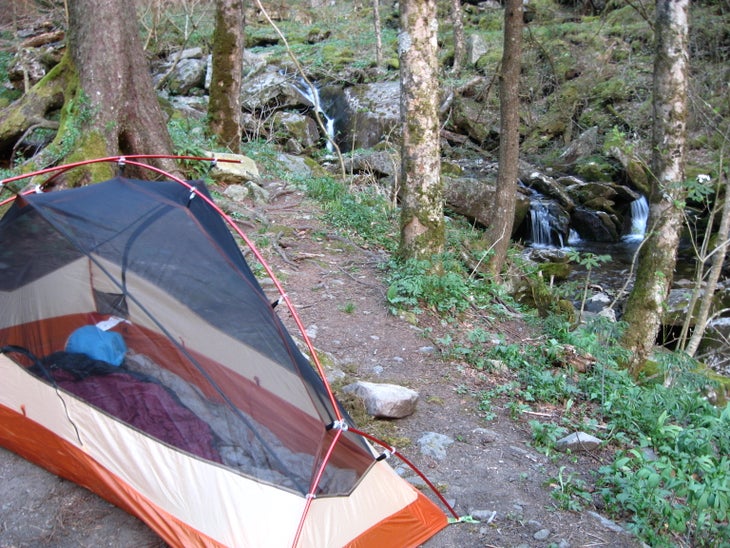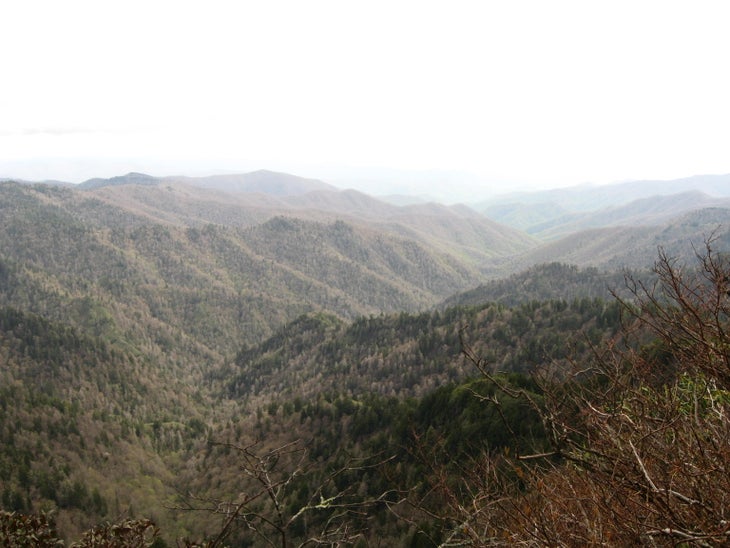 Trail Facts
Waypoints
GSM001
Location: 35.629159, -83.45094
Alum Cave trailhead
GSM002
Location: 35.63934, -83.437977
Climb stone steps that pass through a rock arch with jagged walls.
GSM003
Location: 35.638817, -83.445343
Traverse a steep, dusty slope beneath the massive Alum Cave Bluffs.
GSM004
Location: 35.6544195, -83.4412265
To the left down the slope is LeConte Lodge, with views of Gatlinburg and Pigeon Forge to the west.
GSM005
Location: 35.6541405, -83.4405398
At Y junction, bear R and travel south on The Boulevard Trail.
GSM006
Location: 35.653312, -83.438764
The Le Conte shelter lies to the right of the trail.
GSM007
Location: 35.628309, -83.390647
At Y junction, bear right and descend on Appalachian Trail.
GSM008
Location: 35.636799, -83.376736
At Y junction, bear left to reach Charlies Bunion, a large rocky knob with great views of rounded peaks.
GSM009
Location: 35.655251, -83.308446
Turn right onto Hughes Ridge Trail and descend to reach Pecks Corner Shelter.
GSM010
Location: 35.650934, -83.309127
Reach Pecks Corner Shelter. (Water source lies downhill, south of the shelter).
GSM011
Location: 35.693516, -83.257178
At Y junction, trail to the right descends to Tricorner Knob Shelter. Bear left at Y and ascend to continue on AT.
GSM012
Location: 35.7270396, -83.2389718
At T intersection, turn left onto Snake Den Ridge Trail and descend, traveling west. Optional: Turn right onto Snake Den Ridge Trail and descend to Cosby campground for an optional sidetrip.
GSM013
Location: 35.7321608, -83.2462192
Turn right onto Maddron Bald Trail and descend narrow path through small hemlocks.
GSM014
Location: 35.729674, -83.253692
Reach campsite 29, which lies in a ravine at 4,560 feet, next to Otter Creek.
GSM015
Location: 35.755614, -83.27185
At 4-way junction, turn left onto Old Settlers Trail and travel southwest.
GSM016
Location: 35.758721, -83.303161
At 4-way junction, turn right at sign for T. McCarter Barn and walk 500 feet to reach the barn.
GSM017
Location: 35.748414, -83.344378
Reach campsite 33. A stone chimney from an old homesite lies a few yards east of the campsite.
GSM018
Location: 35.707778, -83.380067
End hike at Greenbriar Cove
Charlies Bunion
Location: 35.6385343, -83.3720684
Trail Sign
Location: 35.6289772, -83.3903503
Campsite 29 near Otter Creek
Location: 35.7295132, -83.2537079
View from AT
Location: 35.6663618, -83.341341