Great Sand Dunes National Park to Expand
NPS to pay $6.8 million for Nature Conservancy land.
Heading out the door? Read this article on the new Outside+ app available now on iOS devices for members! Download the app.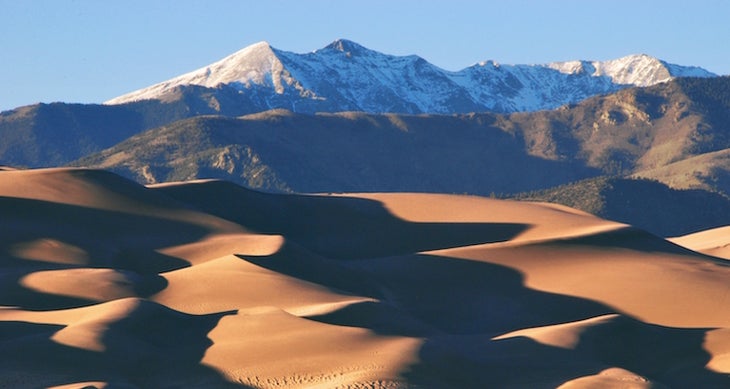 The park boasting the tallest sand dunes in North America has had a missing piece since it was named a national park 12 years ago. Now, the National Park Service hopes to finish the puzzle. Great Sand Dunes National Park and Preserve in southwest Colorado recently received funding to purchase the final 12,518 acres of their unit.
Superintendent Lisa Carrico said the park requested aid for years before receiving $6.8 million from the Land and Water Conservation Act. The land, located inside the current boundaries of the 150,000 acre park, is owned by the Nature Conservancy. TNC itself purchased the land from a private owner just one year before congress drew lines for the park, said Heidi Sherk, director of external affairs for the Nature Conservancy.
The parcel, located west of the dune field, is primarily a sand sheet that contributes to the sand dunes system as a whole. There are also wetland areas and agricultural land, which host a bison conservation herd. As the park begins its ungulate management plan, it is unclear how it will manage the bison and elk that live on that property.
The Nature Conservancy, which owns Zapata Ranch and part of the Medano Ranch, has partnered with the Great Sand Dunes National Park and Preserve and U.S. Fish and Wildlife Service to perform cross-boundary management of fire prevention, invasive species, and ecological surveys.
"We share information and have a very fluid and cooperative relationship around the land," Sherk said.
The land is not currently open for public use, but Carrico is excited for the possibilities of ranger-guided tours or hikes in the area after the park successfully obtains the land. The park and Nature Conservancy are in the initial phases of the agreement, but Carrico said it could take up to two years to finalize.
The purchase of the land also means transfer of water rights, and "water is a critical part of the sand dunes system itself," Carrico said.
Carrico says that she hopes the acquisition will increase the preservation of these rare geologic formations.
"We share, with our partners the Nature Conservancy, some excitement and enthusiasm about this," she said. "This is what I hope will be a perfect ending to an effort that we've undertaken with our partners."