Could the Great Plains Trail Become America's Next Great Long Path?
America's next long trail should cross the Great Plains, says the path's pioneer, Steve Myers. Will hikers share his vision?
Heading out the door? Read this article on the new Outside+ app available now on iOS devices for members! Download the app.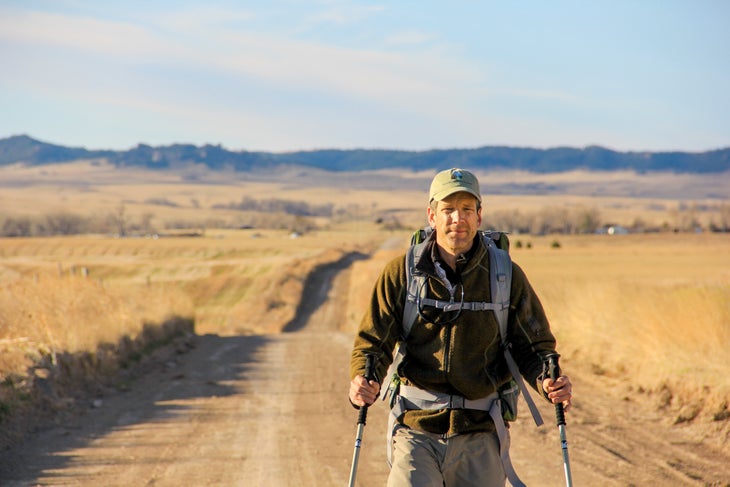 The rolling grasslands of Agate Fossil Beds National Monument, in Nebraska, slope down to the Niobrara River. It's a quiet park, where most visitors come to see the fossils of ancient mammals like Menoceras, a pint-size rhino, or Palaeocastor, a beaver that dug corkscrewing tunnels. Steve Myers hopes Agate will draw a new type of visitor in future years: thru-hikers looking for a place to pitch a tent for the night. Those trekkers would be on the Great Plains Trail, a 2,200-mile work in progress that has all but consumed Myers for the last six years.
Myers and I arrive at the monument on a sunny March day, at the start of a 100-mile hike along his proposed route. Trim and tall, he combines the sun-weathered handsomeness of a Marlboro model with the easygoing vibe of a California surfer. He'll need to be tough, charming, and chill to sell his vision for a long trail across what are routinely dismissed as the flyover states, and where public land is scarce. First task this week: secure permission for hikers to camp on the monument grounds.
"I was thinking about the worn-out thru-hiker who might come through," Myers says to a ranger we encounter. "Can you imagine a way that Agate would be able to let that person camp here?"
"Not officially," the ranger replies, apologetically. "There's an expectation of a certain level of safety. Liability and all of that."
Myers thanks the ranger, though the rejection means that on this section of trail there won't be another potential public camping spot for more than 20 miles. The ranger's response (later confirmed by higher-ups) is a letdown, but Myers doesn't betray his disappointment, even though the episode underscores his gravest concerns: Will government agencies sign on? Where will hikers camp, go to the bathroom, or get water? Is the Great Plains Trail logistically possible?
"It's ridiculous that they won't allow a tent here," I venture to Myers as we walk away.
"Something to solve down the line," he mutters in response. He's right. It's a momentary setback, but in the evolution of a long trail, establishing the overall route comes before worrying about individual campsites. You have to take the long view.
Still, carving out a route will be more difficult in the plains states than elsewhere. The national grasslands, parks, and monuments here are few and far between; most land is private. Myers's vision is a proper footpath across wild prairie, but for now, much of the Great Plains Trail relies on roads. As with many long trails in their infancy, these roads link up a series of established parks and paths. In this case, such key corridors include Theodore Roosevelt National Park in North Dakota and the 111-mile Centennial Trail in the Black Hills of South Dakota.
We hike on, but then, barely 100 yards into our journey, Myers sprawls in the grass by a cattle guard to massage what he says are bizarre and intense foot spasms.
"Have you done any long-distance hiking yourself?" I ask, making conversation while he treats his foot.
"No," Myers says, untying his boots. "That probably reduces my trail cred a little bit. The whole idea of walking forever didn't really appeal to me until I saw the Great Plains." That doesn't mean he's a stranger to the outdoors. He has backpacked the Grand Canyon, cycled around New Zealand, and gets out on regular day trips like any average hiker. He's hiked small pieces of the GPT, but, up until now, he's scouted it mostly by bike or truck.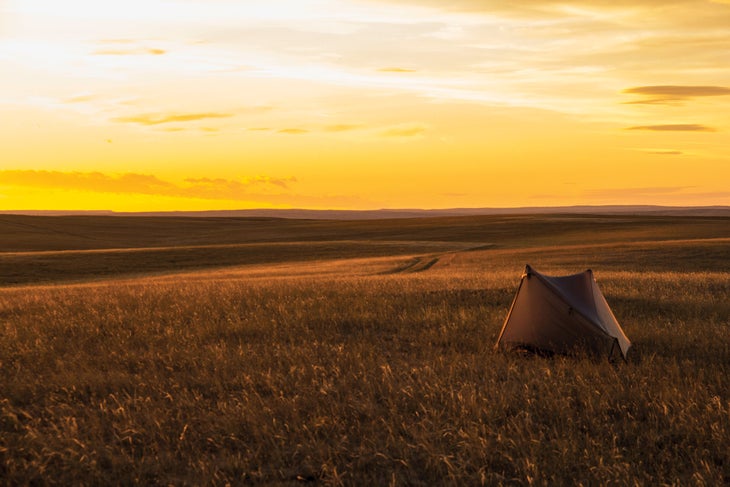 Myers first laid eyes on the Great Plains in June 1991, when he was driving from Minnesota to Wyoming for a summer job washing dishes. The 21-year-old college student had only seen pictures of the Rockies and couldn't wait to experience the real thing. He rolled westward, full of anticipation. But when he crossed the Missouri River in South Dakota, he was awestruck by another sight altogether.
The land had changed from flat and manicured farm fields to wild and glorious prairie. Green hills swelled like ocean waves. Distant buttes stood like fortresses. A steady wind whistled through the grass. He pulled off the highway so he could stop and take in the scenery.
"The moment blew me away because I had no prior knowledge to draw on," Myers recalls. "The true picture of the plains exists nowhere in popular culture. And that's why it can feel like another planet. I was filled with so much energy. I wanted to walk to the horizon."
But as Myers would later learn, you can't hike to the horizon on the Great Plains. There are no long trails, no large public spaces where hikers can get off the road and learn what it's like to walk through waist-high grass as thick as a horse's mane, or ponder the great blue immensity of a plains sky. It's a landscape that's both wide open and shut down.
Since that first trip, Myers, now 48, married, got a job teaching fifth graders, and settled in Longmont, Colorado. But he never forgot about that moment on the plains, and in 2012 he turned his idea into a "365-days-a-year hobby." Myers established the nonprofit Great Plains Trail Alliance (greatplainstrail.org) and scouted the whole route. He identified key corridors—such as the American Prairie Reserve in Montana and the Pawnee National Grassland in Colorado—and made informal agreements for hikers to use them. All told, the proposed GPT will cross 10 national forests and grasslands, six national parks and monuments, and 15 state parks.
If all goes to plan, the GPT will join America's pantheon of mega north-south thru-hiking trails alongside the Appalachian, Pacific Crest, and Continental Divide Trails. The GPT begins at the Canada-Montana border and ambles through North Dakota, South Dakota, Nebraska, Colorado, Oklahoma, and New Mexico before reaching its southern terminus atop 8,749-foot Guadalupe Peak in Texas.
Most people don't think of this area as ripe for recreation. But Myers is not like most people. And neither am I. Like Myers, I'm an outsider who fell in love with the plains. In 2012, for a book about a controversial oil pipeline, I walked across them, from Alberta, Canada, to the Gulf Coast of Texas, on a self-charted course not too different from Myers's path.
We agreed to go for a hike together, on a seven-day, 100-mile section of the GPT in western Nebraska. Myers was heading there to give a portion of his trail a test run and to build relationships with locals. I wanted to learn how a long trail is created and to see it happen from the beginning—like time-traveling back to the 1920s to witness the initial stages of the Appalachian Trail. I wondered: How does a momentary view of the horizon lead to a 2,200-mile path? Is building a route here even feasible? And what drives a man who had never been on a thru-hike to devote himself to creating the most unlikely long trail in the country?
After 10 minutes of massaging, Myers's foot spasms pass. We stroll under a cloudless sky on a road lined with soft, easy-on-the-knees gravel that has been pulverized by tractor tires.
We walk past a pyramid of round hay bales, their once-perfect circles smushed under the weight of the topmost bales. I snap photos of corralled cows milling about, their hooves stirring up the ground into a haze of dried mud and manure. A bewildered ranch hand pulls over and offers us a ride, which we politely decline.
"How come you didn't mention the trail to him?" I ask Myers. I thought reaching out to locals was one of his goals on this hike.
"I haven't quite gotten my elevator speech down," he says sheepishly.
We work on his pitch for a few moments, but before we can give it a dry run, another guy drives up behind us in a blue pickup, prowling at a distance. We wave hello and he cruises over.
"What are you guys doing out here?" the rancher asks. He's in his mid-twenties, and his family, we learn, owns all the land and cows we're walking past.
"We're hiking part of what could one day become the Great Plains Trail," Myers says enthusiastically, obviously trying to make up for his previous performance.
"Jesus, I hope not!" the rancher says. "That's a half million dollars in cattle. You don't want to stir them. They could run into the fence and get all caught up."
We're less than an hour into our journey, and Myers and I are already being perceived as cow-meddling intruders.
The bearded man gives Myers a hard look. Myers, though, is unfazed. He apologizes and defers to the rancher's knowledge of cattle. Within minutes, Myers has defused the conflict by finding common ground with the rancher (who harbors a love for hiking himself and whose mother was a schoolteacher), turning what could have been a trail opponent into a potential supporter. We part with handshakes and smiles, and Myers leaves him with a GPT business card.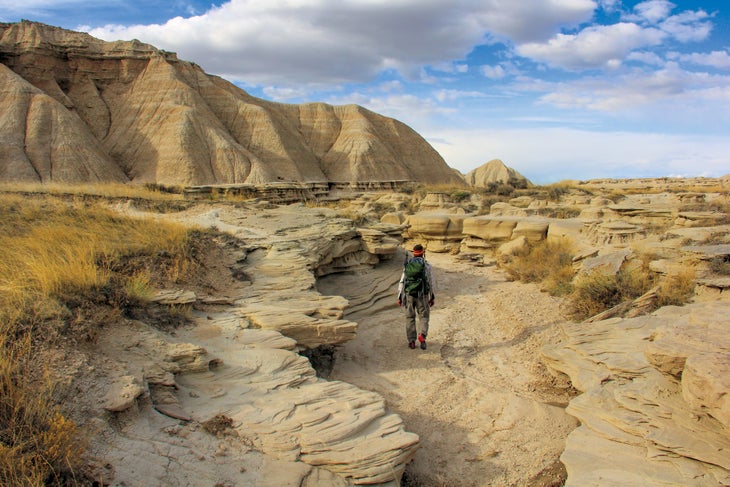 Myers's career as a teacher will prove useful out here, I think. Dealing with nagging parents and needy fifth graders for 15 years helped him develop superhuman empathy. (Since our hike, he switched to a handyman job.) While the work of pitching a massive trail might seem best suited for a dreamer, what you really need is someone who knows how to deal with people.
And someone who has patience. It's easy for hikers today to take our National Scenic Trails for granted: The system now comprises nearly 19,000 miles, and long-established routes like the Appalachian and Pacific Crest Trails seem to have always existed. But the AT took 16 years to create and 47 years to receive National Scenic Trail designation. The Pacific Crest Trail Association didn't have a paid staff member until 1993, more than six decades after the trail was first proposed. In almost all cases, it takes someone with a vision and passion to match, someone willing to devote years to the effort, even if it won't be finished in his or her lifetime. AT founder Benton MacKaye was 90 years old when his trail was officially designated.
"What's driving you to do this?" I ask Myers as we walk past more ranchland.
"I've been a teacher for a long time," he starts. "Teaching's never easy, but I wanted a new challenge. So when I turned 40, I was like, 'Well, what am I doing?' I went back to this trail idea and was like, 'Let's just see what happens.' I kind of figured I'd give up on it in a couple of months. I'd piddle around on the edges for a while and do a little research. I'd look at it one day and say, 'Ah, it's just too much.' But it didn't happen that way. I became motivated by it. I came to like how hard it is."
"People walk long trails because there's something difficult in their lives they want to overcome," Myers continues. "Or they want to challenge themselves. Or they want a big adventure. So on these trails, you come out changed. You've gone through something. That got me really excited. You start at one end and you're a different person when you get to the other."
Long-distance hiking appeals to Myers's inner teacher, too. "I'm an educator at heart," he says. "It's a big part of what I'm trying to accomplish: to get people to realize that there's more interesting things out there. We tend to stereotype landscapes and places. And the Great Plains gets put in a 'dull and boring' category. I've found this landscape to be really incredible. And it's a mystery to me why no one else does."
As we walk with grass seeds in our socks and wind blowing through our hair, the plains feel wild and free, and Myers's idea doesn't seem so crazy. We cross the paths of Lakota horsemen and pioneer wagon trains. We walk beneath a blue sky that somehow conveys the threat of blizzards, dust storms, and tornadoes. Beneath our feet lie dinosaur bones, forgotten oceans, and the blood from the clash of civilizations. And we have it all to ourselves.
We continue north to Fort Robinson State Park, a deactivated horse-training military base where Crazy Horse was murdered in 1877. The country gradually changes from wide-open ranchland with spines of barbed wire to scattered buttes topped with yellow-green grass. In the far distance, a long bluff bristles with ponderosa pines. We hear no cars or planes, just the occasional chirp of meadowlarks and the ever-present wind, gusting through my sleeves and snaking across the road in bands of dust.
We meet with the superintendent of Fort Robinson, who looks like he has more important things to do. He says he's fine with the trail going through his park, as long as the GPT website lists the right price for tent camping. An uninspiring win, but a win nonetheless. Later in the day, at Oglala National Grasslands, we talk to a game warden who has a sleepy black lab in the bed of his truck, and who shrugs his shoulders after Myers's pitch.
"Got complete apathy," Myers says with a laugh as we walk away. "That's all I need!"
He's joking, but not wrong. Indifference is as good as enthusiasm when you're just hoping no one tries to stop you.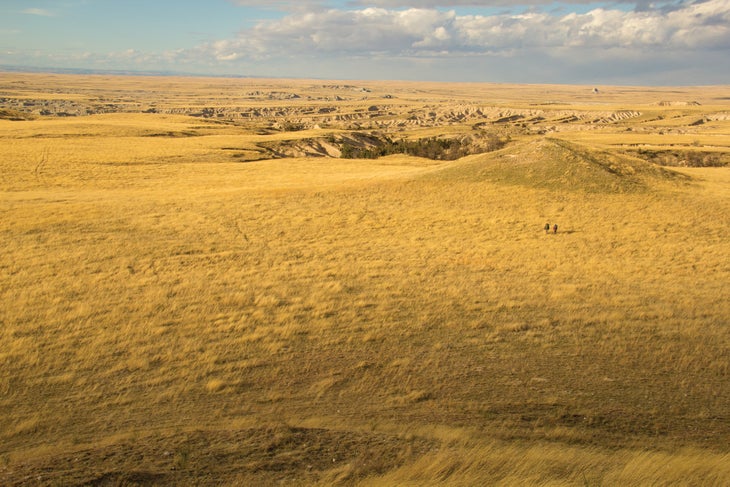 Most long trails start as disconnected, self-contained fragments that are later connected into one unifying whole, with hikers preceding official designation (Earl Shaffer thru-hiked the Appalachian Trail 20 years before it was established as a National Scenic Trail). That's essentially how both the AT and PCT formed.
But not all trails start this way. Take the 3,100-mile Continental Divide Trail. When it received National Scenic Trail status in 1978, only small pieces of the path had been charted. For decades, proponents struggled to find a base of volunteers and hikers to keep the trail relevant. Teresa Martinez, the executive director of the Continental Divide Trail Coalition, says that the CDT's founders got it wrong when they secured official trail designation before getting supporters. "Steve is doing the right thing," Martinez says. "He's getting grassroots support for the trail first."
Eventually, federal recognition will be important, as it legitimizes a trail and opens avenues for funding, but getting it is a long shot. Of the thousands of trails in the U.S., only 11 have received National Scenic status, which requires an act of Congress. It took 32 years for the Pacific Northwest Trail to be recognized.
Myers also has his eye on a new type of designation called a "National Discovery Trail," proposed in a bill currently in Congress. If passed, the bill will amend the National Trails System Act to include National Discovery Trails, which will "connect representative examples of America's trails and communities" and allow for the use of roads. The legislation would establish the 6,800-mile, east-west American Discovery Trail as the first one.
But seeking federal status, Myers recognizes, must come second to what's ultimately important: getting people to know and care about and hike his trail. "We need to establish a thru-hiker community," Myers says. "An online forum where people can say, 'You wanna make sure you're here, not there.' Then I think it starts to grow on its own."
The sun glares down as we walk past a dilapidated barn, its planks worn and gray, collapsing into the grass. Myers and I apply more sunscreen and twist our ball caps to guard our necks from the sun.
We're on the shortgrass prairie, where the climate is too arid to support the taller, lusher grasses found in the more well-watered states of Iowa and Illinois. Here it's all blue grama and buffalograss—shorter, drought-resistant varieties that evenly blanket the landscape in a rolling sea of butterscotch. The sparse trees that grow here are those lucky enough to sink their roots next to the few thin creeks. Only windmills stand in the open fields. I think of Don Quixote, but don't mention it to Myers.
We're ready for a break when we stumble into the ghost town of Glen, mile 1,300 on the GPT. Once a small-but-thriving hamlet of 90 people, Glen today is little more than a few creaky homesteads. We walk past one house where a man and a woman are raking brush in the yard. We say hello and they tell us that we're the first people they've ever seen walking past their home.
Nancy and Scott Kile moved to Glen in retirement in 2013 and plan to build and live in a self-sufficient Earthship, which they dubbed their "Glenship." Much to our surprise, they've already heard about the Great Plains Trail, through the Crawford Chamber of Commerce, but didn't know until now that it's set to run past their home.
"I think it's great," says Nancy, who is part Oglala Sioux and who's lived in the area all her life. "When people come in and appreciate the richness of a place, it helps us repurpose our love and appreciation for our heritage."
Nancy says that many western Nebraskans feel neglected by their leaders in the capital to the east, and that their land is being desecrated by state officials who allow projects such as a nearby uranium mine, when they could be doing a lot more to develop ecotourism.
"The more people hike it, the more people will want to protect it," says Scott. Nancy wonders if they could turn an abandoned school adjacent to their property into a hiker's hostel.
"I'm pretty surprised," Myers says, grinning. "They weren't just positive. They were excited."
We continue to Crawford, population 997, which Myers has identified as a possible resupply town for hikers. As we walk along a narrow, cottonwood-lined creek alive with a chorus of frogs, a covey of pheasants rockets out of the bushes. In the distance, green pines grow on chalky buttes. In just a few days, we've traveled through heartland ranches, Jurassic savannas, and are now headed to Mars-like badlands. The plains and their canyons, mesas, buttes, ravines, and hoodoos are anything but plain.
Like many small towns out here, Crawford has seen better days, but its main street is doing better than most, with a grocery store, a couple of bars, and an insurance agency. We stop in at the Chamber of Commerce, where Myers has arranged a meeting, and he shares his idea with members Mary Ann Rudloff, who's owned a local printing business for 20 years, and Samantha Dyer, who recently took over the D & S Market.
"We'll do anything to help you guys," Rudloff says. "I just think it would be so great to have something like the Appalachian Trail come through our area."
The trail will probably never attract the number of hikers the AT does, but that doesn't mean there isn't money to be made. For struggling communities, any little bit helps. The Outdoor Industry Association reports that, nationwide, trail recreation generates $290 billion in annual salaries, revenue, and taxes. Even a short path like the 34-mile Virginia Creeper Trail in southwestern Virginia generates $1.2 million for local businesses every year from outsiders.
But for hikers to come, a trail needs to exist. And as I can now see, creating one isn't all shovels and pickaxes. It's social work. It's getting people to understand the trail and to support it. It's paperwork, conference calls with the board, schmoozing locals and business leaders, raising money, finding supporters, recruiting volunteers, generating good press, and etching out a route. Actually building the trail is the easy part.
Given all these challenges, I worried that Myers would be perceived as an outsider coming into town with a cockamamie "Music Man" scheme. But I was wrong.
As we walk out of the R Bar, where we stopped for pizza and $3 drafts of Budweiser, a local yells out, "Don't forget to bring that path here!"
On day four, we leave the road for a 3-mile hike on an actual trail. Our route crosses Oglala National Grasslands, stretching from Hudson-Meng, a prehistoric bison slaughtering site, to Toadstool Geologic Park. There, the pale, crusty badlands terrain turns a rosy pink in the evening twilight.
For the next two days, we walk roads and don't see a single car. The gravel track doesn't feel like a road at all, more like a wide footpath rolling over half-wild land, shared by barrel-bellied black Angus, bounding mule deer, and tight herds of pronghorn. During our entire week of hiking, apart from a couple of small stretches of asphalt where the traffic was busier, we'll see zero hikers, 20 cars, and two tractors. The GPT feels like a trail, even if it doesn't look like one. (It should be said that many of the current National Scenic Trails, such as the North Country and Florida Trails, still include hundreds of miles of road walking.)
We continue to a stretch of public grasslands where we make camp on the crest of a hill. A small rise on the plains allows a human to see about 22 miles in the distance—a solid daily goal for any self-respecting thru-hiker. As the daylight ebbs, we watch as distant homes flick on their lights—the only sign of human life beneath a sky now winking with lights of its own. It's quiet. The birds are at rest. A soft wind hums against taut tent fabric.
The next day, the sun hides behind a thin gauze of clouds, tinting the landscape a muted gray. Sometimes the plains feel so strange and quiet that you're almost surprised there's oxygen to breathe. A hiker could go days without talking to someone on the GPT, I think. It will be a long and lonely affair—definitely not for everybody, but just right for someone in need of 2,200 miles of peace and quiet.
And just in time. Peace and quiet are becoming rare commodities on some of our favorite long trails. In the last few years, the AT and PCT have boomed in popularity. On the PCT alone, thru-hiker permits almost quadrupled between 2013 and 2017. Crowded shelters and campsites have become the norm in some places.
But on the GPT, you're a solitary skiff on an ocean of grass. "If you go out to the plains," Myers says, "you can find a whole skyline that's all yours."
Myers and I are approaching the end of our 100-mile journey. With sore feet, we walk gingerly up a small hill so we can enjoy one last vista. From here, the land looks like a Sahara of grass, intimidating but also inviting, for we now know we have what it takes to hike to the horizon in a day.
Myers looks into the far distance. It's a view like the one that transformed him almost three decades ago. He's closer to it now, but still very far away.
"This is possible," Myers says. "This can be done. This isn't the PCT or the AT. This is going to suck in some places. But this trail is going to give you something so unique and so brand new that you won't be able to explain it to anybody."
Ken Ilgunas is the author of This Land Is Our Land and Trespassing Across America.