Grand Teton National Park: String, Leigh, Bearpaw, and Trapper Lakes
This effortless out-and-back offers unparalleled views of rocky canyons and towering glacier-topped peaks, all from the shores of four gorgeous mountain lakes.
Heading out the door? Read this article on the new Outside+ app available now on iOS devices for members! Download the app.
Allow extra time to enjoy the spectacular views on this relatively flat 9-mile dayhike. The out-and-back trail leads from String Lake to Trapper Lake, with great vantage points of Leigh Lake, Rockchuck Peak, and Teewinot Peak along the way.
Start out at the String Lake trailhead and pick up an illustrated map at the signboard. Descend about 100 yards to the shore of Lower String Lake for your first view of the lake and surrounding peaks.
Then, head north along the forested shores of Upper String Lake, keeping an eye out for deer, elk and moose. Along the path, enjoy glimpses of the lake through the trees, as well as several faint trails leading to the waters edge. About one mile out, stop to enjoy a spectacular view from a small, rocky peninsula.
Continue north, keeping an eye out for a series of three campsites from mile 2.5 to mile 3. Near them, the beach becomes narrow and sandy and the trail offers more views of Mt. Moran and Paintbrush and Leigh Canyons. In .25-mile, check out the view from the north shore, which offers a view of the entire length of Leigh Lake, with Mt. Owen and Teewinot Mountain in the background.
Continue on, meandering nearly one mile through grassy meadows toward Trapper Lake. After crossing the small inlet, be ready to drop your pack and relax with a picnic lunch while you enjoy views the mountains and their reflections on the lake.
INFO For information on permits, current trail and camp conditions, and wilderness guidelines, go to nps.gov/grte/planyourvisit/things2know.htm.
PERMIT A wilderness permit is required for all overnight camping in the backcountry. Reservations accepted ($20 administrative fee for permits during peak season). nps.gov/grte/planyourvisit/back.htm
CONTACT Grand Teton National Park, (307) 739-3300; nps.gov/grte/
-Mapped by Eli Boschetto, Bosco Mountain Photo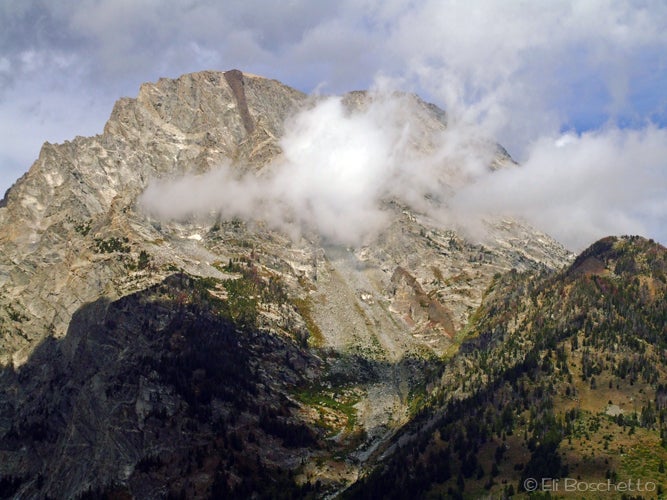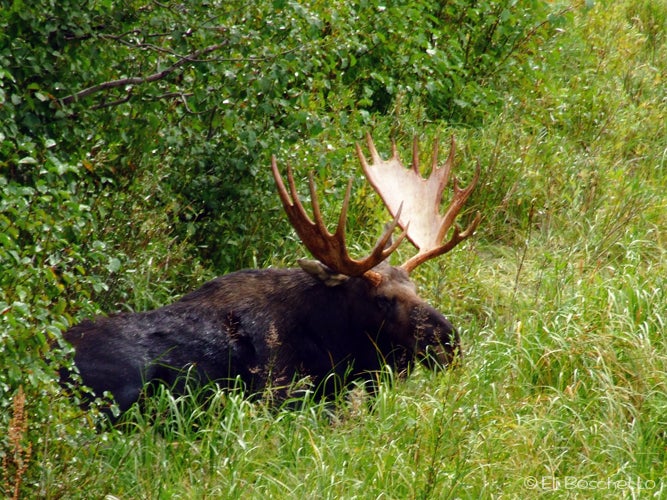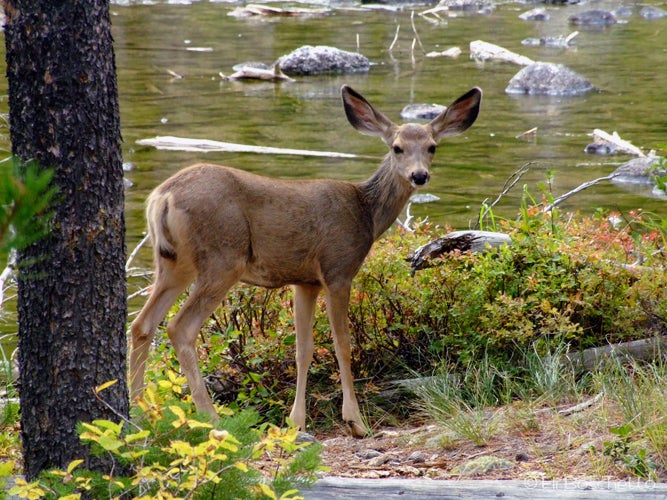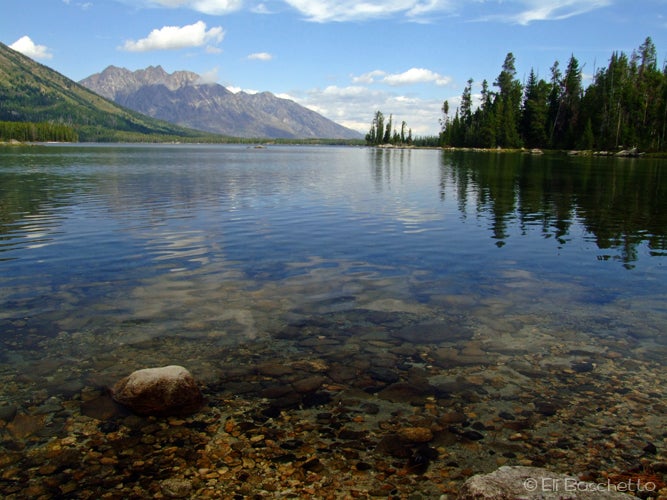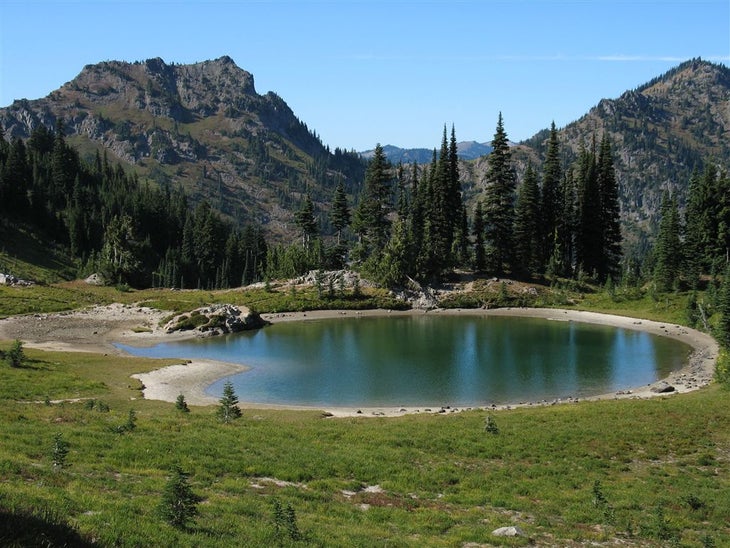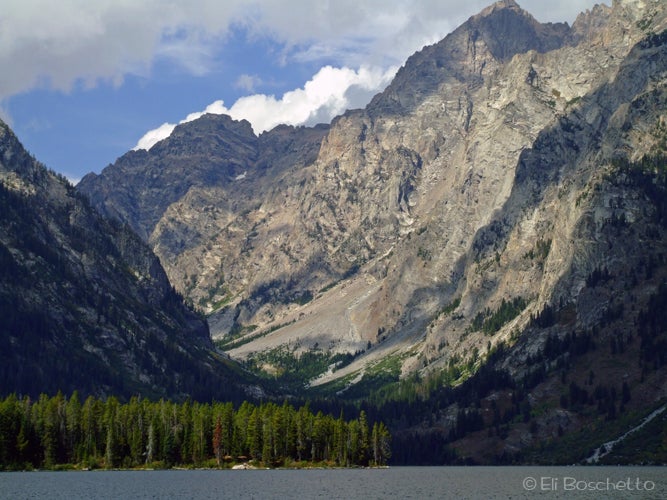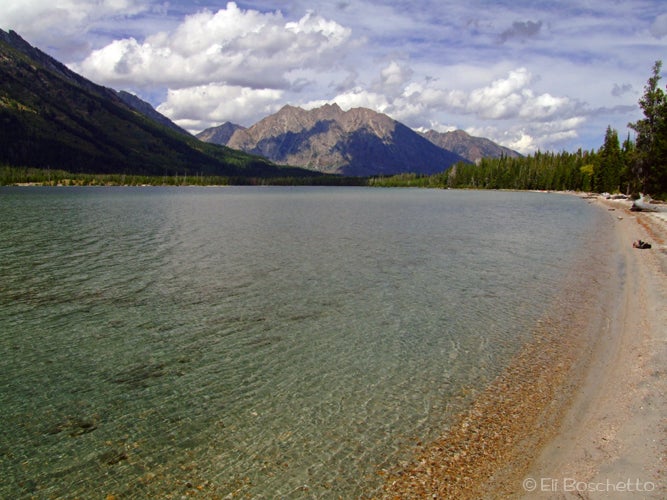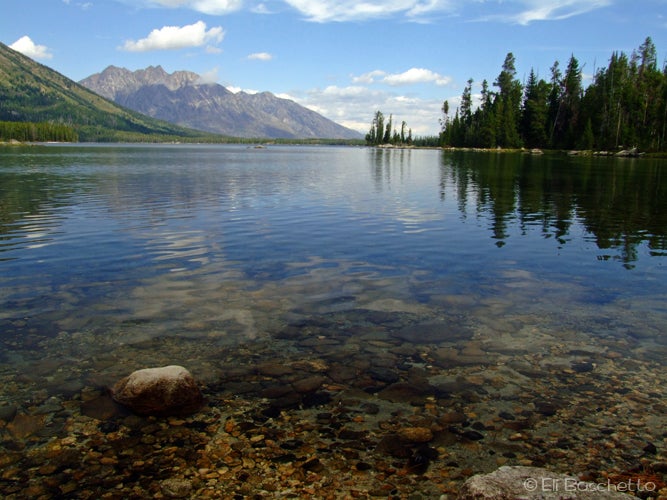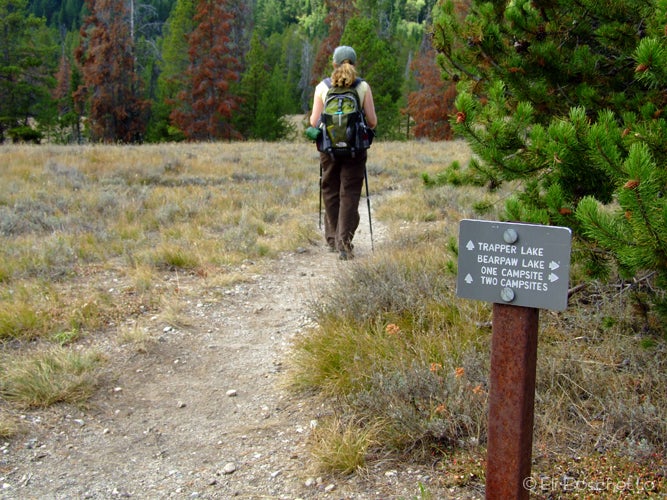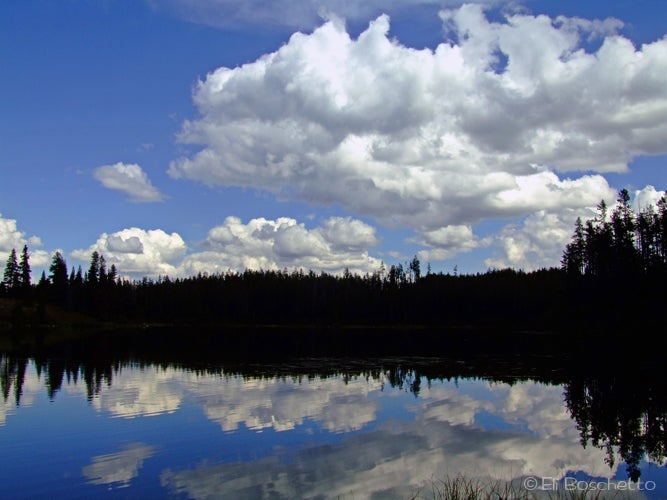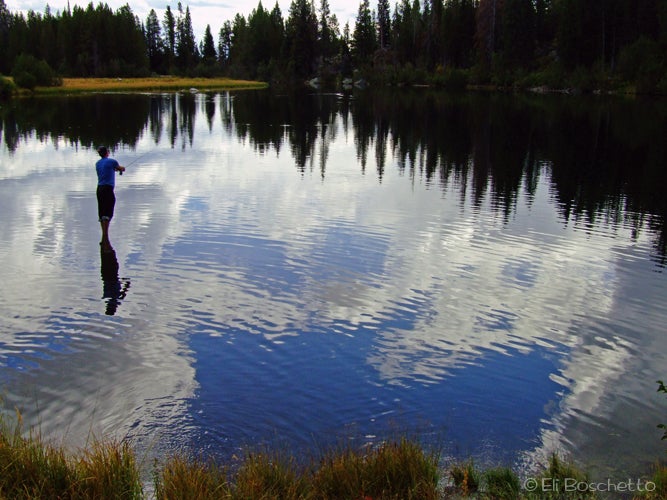 Trail Facts
Waypoints
LKS001
Location: 43.788654, -110.73063
Leigh Lake trailhead.
LKS002
Location: 43.788848, -110.731781
Check out the view of String Lake, Mt. St. John and Rockchuck Peak. Also, pick up a trail map at the sign board for 50¢.
LKS003
Location: 43.792483, -110.72564
Wood bench offers a place to sit and view String Lake. Spur trail to Jenny Lake Lodge heads southeast.
LKS004
Location: 43.796763, -110.728285
At the Paintbrush Canyon junction, fork right to continue on Leigh Lake.
LKS005
Location: 43.797255, -110.728808
Cross the bridge over the rocky outlet between Leigh and String Lakes. Notice the cairn forest.
LKS006
Location: 43.797256, -110.727682
Spur trail to boat portage between String and Leigh Lakes. Head right to continue on trail.
LKS007
Location: 43.798637, -110.724163
From the south end of the lake, hikers get the first big views of Leigh Lake and Mt. Moran.
LKS008
Location: 43.800169, -110.722208
Look for a faint trail on the left to a small, rocky peninsula with incredible views over Leigh Lake.
LKS009
Location: 43.800513, -110.722674
From this rocky peninsula, enjoy stunning views of Leigh Lake and Mt. Moran.
LKS010
Location: 43.803128, -110.720472
Small, pebbly beach with lake and mountain views.
LKS011
Location: 43.811883, -110.7187
Another small, pebbly beach to enjoy the view from.
LKS012
Location: 43.812982, -110.717965
Here, at Leigh Lake Camp 12A, look for campsites on the lake and hill sides of the trail. There are bear boxes and bag poles available. A nice sandy beach connects the camp areas.
LKS013
Location: 43.814786, -110.717762
Leigh Lake Camp 12B.
LKS014
Location: 43.816272, -110.717804
Leigh Lake Camp 12C.
LKS015
Location: 43.822576, -110.720558
Open, rocky beach offers views of Leigh Lake, Mt. Moran, Rockchuck Peak, Mt. Woodring, and Leigh and Paintbrush Canyons.
LKS016
Location: 43.828106, -110.727306
At the four way junction, head left for Leigh Lake, right for a campsite on the east side of Bearpaw Lake, or continue straight to Trapper Lake.
LKS017
Location: 43.828824, -110.731716
Cross a small inlet to Bearpaw Lake.
LKS018
Location: 43.830194, -110.73162
Bearpaw Lake Camps. 17C is on the hillside, 17A is on the lakeside. Bear box and bag pole are on slope to left.
LKS019
Location: 43.834037, -110.73139
Trapper Lake Camp 18.
LKS020
Location: 43.833851, -110.732784
Trapper Lake. Drop your pack, have lunch, take a dip, and enjoy the scenery.
String Lake
Location: 43.788879, -110.731609
Mt. Moran
Location: 43.790692, -110.729699
Clouds drifting past Mt. Moran, from Upper String Lake.
Bull Moose
Location: 43.794409, -110.72588
Big bull moose lounging near the marshy shore of Upper String Lake.
Forest Youngster
Location: 43.797305, -110.726244
Leigh Lake
Location: 43.798606, -110.724313
Lake View
Location: 43.80062, -110.72279
Paintbrush Canyon
Location: 43.807139, -110.719957
Paintbrush Canyon, seen across Leigh Lake.
Lakeshore
Location: 43.81386, -110.717747
Sandy beach near Leigh Lake camps.
Leigh Lake
Location: 43.822406, -110.720365
Lake Trail
Location: 43.827979, -110.727446
Clouds
Location: 43.828861, -110.731823
Fly fishing on Trapper Lake
Location: 43.833675, -110.733175