Grand Teton National Park: Paintbrush Canyon
Towering peaks, alpine lakes, and rugged canyons highlight this challenging, 21.7-mile backcountry trek in Grand Teton National Park.
Heading out the door? Read this article on the new Outside+ app available now on iOS devices for members! Download the app.
Set aside a weekend for this ultra-scenic, 21.7-mile loop in Grand Teton National Park. From the String Lake Trailhead, head southwest briefly to connect Jenny Lake and String Lake, then turn right at the Y-junction. The trail wraps around the base of Rockchuck Peak and enters Paintbrush Canyon. Keep your camera handy as you hike past alpine lakes and scree fields, with stunning views of the jagged Tetons.
After 7.3 miles, the route crests the exposed and rocky Paintbrush Divide at 10,720 feet, then drops into Cascade Canyon. Finish off the first day with a tour of Lake Solitude before setting up camp in the North Fork Cascade camping area (you'll fall asleep to the sounds of Cascade Creek). The next day, turn around and retrace your route back to the trailhead.
Note: To turn this out-and-back into a loop, go to Paintbrush Canyon to Cascade Canyon Loop.
INFO For information on permits, current trail and camp conditions, and wilderness guidelines, go to nps.gov/grte/planyourvisit/things2know.htm.
PERMIT A wilderness permit is required for all overnight camping in the backcountry. Reservations accepted ($20 administrative fee for permits during peak season). nps.gov/grte/planyourvisit/back.htm
CONTACT Grand Teton National Park, (307) 739-3300; nps.gov/grte/
-Mapped by Kari Bodnarchuk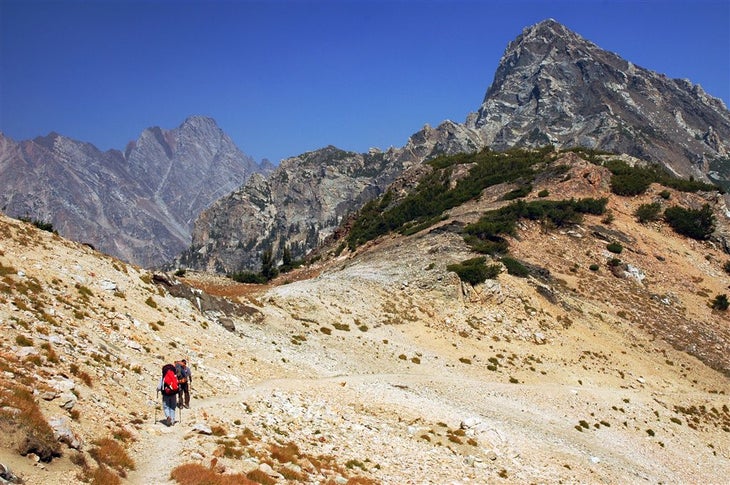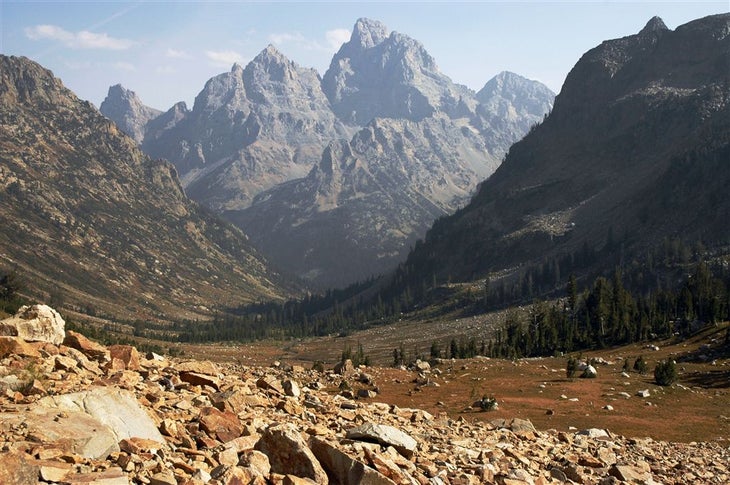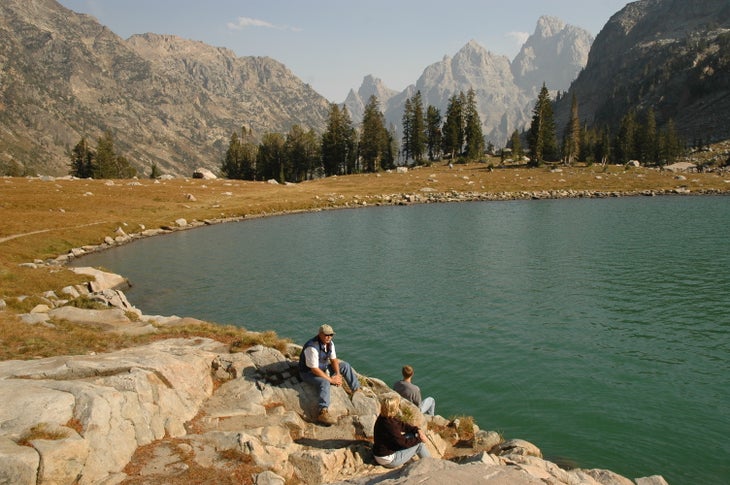 Trail Facts
Waypoints
CAS001
Location: 43.784771, -110.727272
Head south from the parking area to reach the String Lake Trailhead.
CAS002
Location: 43.784107, -110.727554
At the String Lake Trailhead, turn right (heading southwest) and cross the wooden bridge between String and Jenny lakes.
CAS003
Location: 43.781891, -110.730682
Bear right @ Y-junction toward Paintbrush Canyon. Cut through a wooded area with a spicy pine scent, then cross a grassy area next to String Lake. Ahead, the trail curves north across open hillsides dotted with boulders, sage, and scrub. Wind through a small aspen grove before crossing a creek and starting the steady ascent into the canyon.
CAS004
Location: 43.796135, -110.738335
Bear left @ Y-junction, heading toward Paintbrush Canyon. The ascent continues along a well-maintained, dirt singletrack covered with pine needles; it's rocky in spots.
CAS005
Location: 43.804249, -110.747864
A rocky slide area borders the trail on the left. Glacial erratics (good for bouldering) flank the trail. Look for quartz veins in the granite rock.
CAS006
Location: 43.802448, -110.764214
You'll see a small waterfall on the right, as you hike along this now-rocky trail.
As you turn the corner, incredible views of an unnamed lake are revealed on the left. The forest opens as the trail enters Lower Paintbrush Camping Zone; hike over a stream (good water source) via a wooden bridge with views of the valley straight ahead. The trail also crosses a moraine field scattered with giant boulders (look for the waterfall that plunges down another rock slide on the left).
CAS007
Location: 43.795166, -110.782356
Outlier Campsite: This campsite offers stunning views down the valley and up to jagged peaks; filter water in the stream that runs across the trail. Next, continue up steep switchbacks and follow rocky trail through an area littered with boulders and rock debris to a spot resembling a couloir (towering rock walls rise on 3 sides).
CAS008
Location: 43.788502, -110.791016
Turn right @ Y-junction, and head toward Holly Lake and Paintbrush Canyon Trail; cool breezes waft up the canyon. Follow dirt-packed trail up hillside with rocky gully on right, then hike through another rubble field (you may need to add extra layers; it can get breezy here). After passing through Wooded Horse Campsite, cut across open fields with short scrub and grass.
CAS009
Location: 43.793098, -110.8106
Turn hard left @ 4-way junction and begin a steady climb out of Holly Lake area on dirt-packed trail. Pass through open fields dotted with clumps of pines, boulders, and rock ledges. Ahead, the path transitions to pebbly, yellowish-orange granite stone as you traverse a scree field.
CAS010
Location: 43.794781, -110.815956
Carefully follow a narrow goat trail across a loose scree field. Thick, diagonal bands of quartz can be seen in the mountains on the left. Put on an extra layer just before reaching the top of Paintbrush Divide; there's no shelter on the ridge.
CAS011
Location: 43.794418, -110.817085
Traverse Paintbrush Divide, an exposed, treeless, and rocky ridge. Snow fields can cover the slopes on the right even in summertime and fall. In several hundred feet, you'll come to an old wooden sign marking the intersection of Paintbrush and Cascade canyons. Before you drop down the ridge, take in breathtaking views of the Tetons to the south. As you begin the descent into Cascade Canyon, Lake Solitude (a jade-colored glacial lake) can be seen in the cirque below. Descend boulders and rocky hillside on a scree trail.
CAS012
Location: 43.793984, -110.842186
Turn left toward Jenny Lake @ T-junction. In several hundred yards, turn right for a 0.1-mile detour to a rocky point on Lake Solitude-you'll get great shots of the Tetons and the lake. Next, turn left and follow the trail alongside the lake until it reconnects with North Fork Cascade Trail and enters a wooded area.
CAS013
Location: 43.791115, -110.840263
Enter North Fork Cascade Camping Zone. Pass quiet, spaced-out campsites (some with great views of the Tetons) on either side of the trail. You'll find more open campsites further down the trail.
CAS014
Location: 43.784077, -110.830872
Turn left to access a campsite in North Fork Cascade Camping Zone, or continue southeast on the trail (you'll hear the stream as you hike).
CAS015
Location: 43.784851, -110.830254
Set up camp near Cascade Creek and spend the night in the Tetons. Next day: Return to Waypoint 14 and turn right. Retrace your steps to the trailhead.
Scree Fields
Location: 43.794982, -110.816431
©Kari Bodnarchuk
Descent into Cascade Canyon
Location: 43.794084, -110.816753
©Kari Bodnarchuk
Lake Solitude
Location: 43.792705, -110.842663
©Kari Bodnarchuk