Grand Teton National Park: Paintbrush Canyon to Cascade Canyon Loop
This challenging, 18.1-mile backcountry trek wanders the rugged canyons, alpine lakes, and scree fields of Grand Teton National Park.
Heading out the door? Read this article on the new Outside+ app available now on iOS devices for members! Download the app.
See a Tetons highlight reel of big views, lumbering moose, and sweet solitude on this 18.1-mile counterclockwise loop starting at String Lake trailhead. Take the String Lake Trail .1 mile to a bridge between String and Jenny Lakes. After .2 mile, bear right at a Y-junction onto the Paintbrush Canyon Trail. You'll cross a marshy area west of String Lake (look for moose), then curve north across sage-covered foothills before climbing 4.6 miles through subalpine forest to Holly Lake at 9,410 feet.
Eat lunch in the shadow of 11,539-foot Mt. Woodring before tackling a 1,310-foot, 1.5-mile pull to the crest of Paintbrush Divide. Pack a bear bell or sing through this stretch; grizzlies and black bears forage here. But don't let bears distract you from the view: The jagged Tetons dominate the skyline. Cross the 10,720-foot divide, often snow-covered until August, then descend 2.3 miles to Lake Solitude (9,035 feet).
Choose a campsite, just beyond, in one of the North Fork Cascade Camping Zone's 14 sites, most with spectacular views of the Cathedral Group (Grand Teton, Mt. Owen, and Teewinot Mountain) to the south. Blue and purple alpine forget-me-nots, the park's official flower, dot the landscape through late summer.
The next day, hike 2.8 miles southeast on the Lake Solitude Trail to a left turn onto Cascade Canyon Trail. Descend gradually past glacial erratics and small caves along Cascade Creek 3.4 miles to a Y-junction. Turn left onto a lesser-used horse trail and drop .6 mile to Jenny Lake Trail. Turn left and cruise 1.3 miles along Jenny Lake back to String Lake trailhead.
INFO For information on permits, current trail and camp conditions, and wilderness guidelines, go to nps.gov/grte/planyourvisit/things2know.htm.
PERMIT A wilderness permit is required for all overnight camping in the backcountry. Reservations accepted ($20 administrative fee for permits during peak season). nps.gov/grte/planyourvisit/back.htm
CONTACT Grand Teton National Park, (307) 739-3300; nps.gov/grte/
-Mapped by Kari Bodnarchuk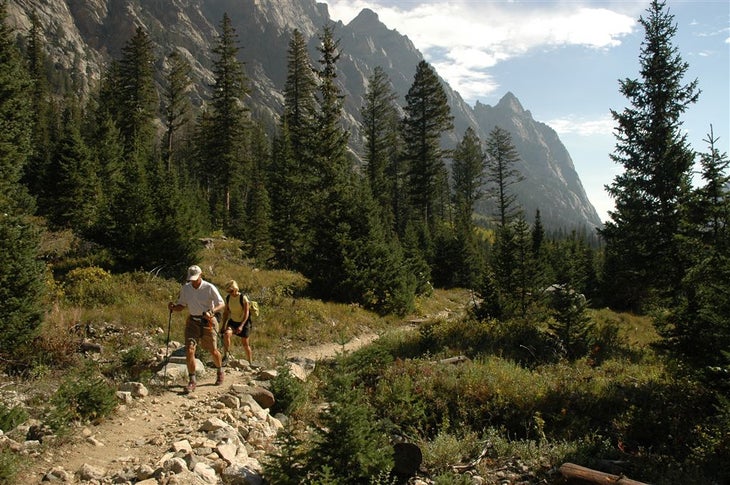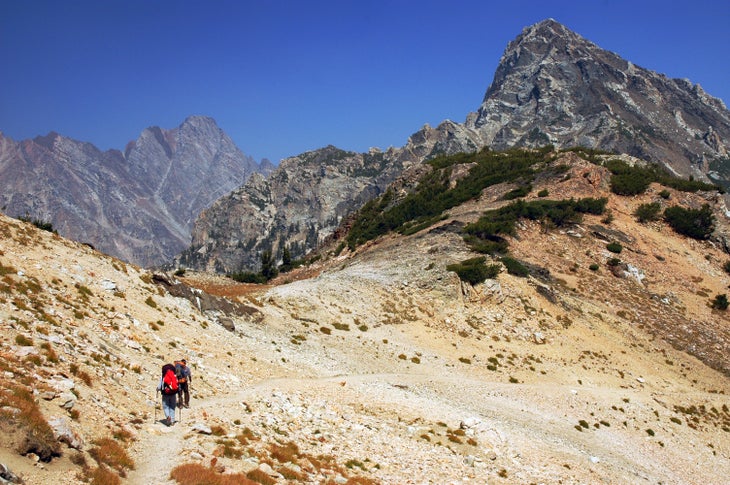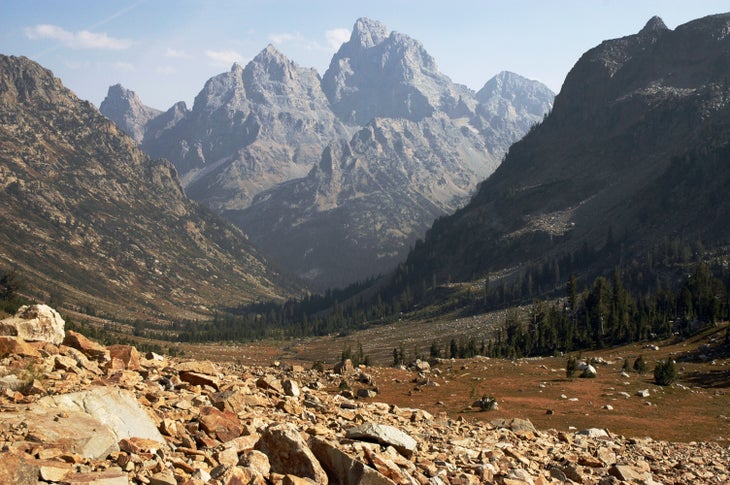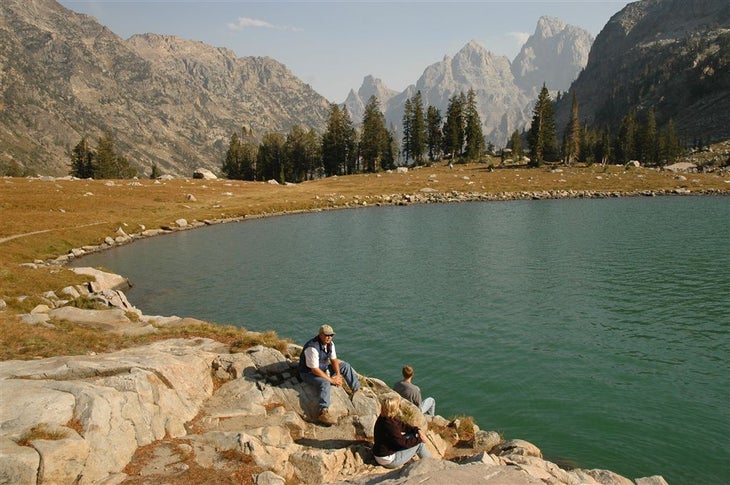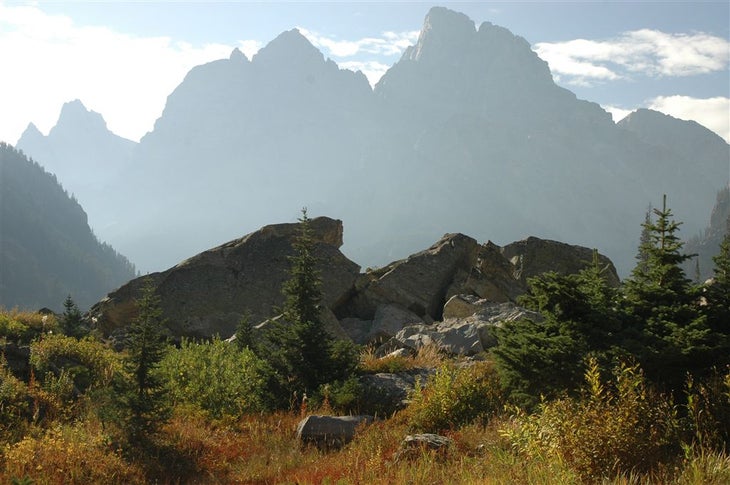 Trail Facts
Waypoints
CAS001
Location: 43.78477, -110.727269
Head south from the parking area to reach the String Lake Trailhead.
CAS002
Location: 43.784108, -110.727553
At the String Lake Trailhead, turn right (heading southwest) and cross the wooden bridge between String and Jenny lakes.
CAS003
Location: 43.781722, -110.730729
Bear right @ Y-junction toward Paintbrush Canyon. Cut through a wooded area with a spicy pine scent, then cross a grassy area next to String Lake. Ahead, the trail curves north across open hillsides dotted with boulders, sage, and scrub. Wind through a small aspen grove before crossing a creek and starting the steady ascent into the canyon.
CAS004
Location: 43.796135, -110.738335
Bear left @ Y-junction, heading toward Paintbrush Canyon. The ascent continues along a well-maintained, dirt singletrack covered with pine needles; it's rocky in spots.
CAS005
Location: 43.804249, -110.747864
A rocky slide area borders the trail on the left. Glacial erratics (good for bouldering) flank the trail. Look for quartz veins in the granite rock.
CAS006
Location: 43.802448, -110.764214
You'll see a small waterfall on the right, as you hike along this now-rocky trail.
As you turn the corner, incredible views of an unnamed lake are revealed on the left. The forest opens as the trail enters Lower Paintbrush Camping Zone; hike over a stream (good water source) via a wooden bridge with views of the valley straight ahead. The trail also crosses a moraine field scattered with giant boulders (look for the waterfall that plunges down another rock slide on the left).
CAS007
Location: 43.795168, -110.782356
Outlier Campsite: This campsite offers stunning views down the valley and up to jagged peaks; filter water in the stream that runs across the trail. Next, continue up steep switchbacks and follow rocky trail through an area littered with boulders and rock debris to a spot resembling a couloir (towering rock walls rise on 3 sides).
CAS008
Location: 43.788502, -110.791016
Turn right @ Y-junction, and head toward Holly Lake and Paintbrush Canyon Trail; cool breezes waft up the canyon. Follow dirt-packed trail up hillside with rocky gully on right, then hike through another rubble field (you may need to add extra layers; it can get breezy here). After passing through Wooded Horse Campsite, cut across open fields with short scrub and grass.
CAS009
Location: 43.793098, -110.8106
Turn hard left @ 4-way junction and begin a steady climb out of Holly Lake area on dirt-packed trail. Pass through open fields dotted with clumps of pines, boulders, and rock ledges. Ahead, the path transitions to pebbly, yellowish-orange granite stone as you traverse a scree field.
CAS010
Location: 43.794781, -110.815959
Carefully follow a narrow goat trail across a loose scree field. Thick, diagonal bands of quartz can be seen in the mountains on the left. Put on an extra layer just before reaching the top of Paintbrush Divide; there's no shelter on the ridge.
CAS011
Location: 43.794418, -110.817085
Traverse Paintbrush Divide, an exposed, treeless, and rocky ridge. Snow fields can cover the slopes on the right even in summertime and fall. In several hundred feet, you'll come to an old wooden sign marking the intersection of Paintbrush and Cascade canyons. Before you drop down the ridge, take in breathtaking views of the Tetons to the south. As you begin the descent into Cascade Canyon, Lake Solitude (a jade-colored glacial lake) can be seen in the cirque below. Descend boulders and rocky hillside on a scree trail.
CAS012
Location: 43.793984, -110.842186
Turn left toward Jenny Lake @ T-junction. In several hundred yards, turn right for a 0.1-mile detour to a rocky point on Lake Solitude–you'll get great shots of the Tetons and the lake. Next, turn left and follow the trail alongside the lake until it reconnects with North Fork Cascade Canyon Trail and enters a wooded area.
CAS013
Location: 43.791115, -110.840263
North Fork Cascade Camping Zone: Pass quiet, spaced-out campsites (some with great views of the Tetons) on either side of the trail. You'll find more open campsites further down the trail.
CAS014
Location: 43.784077, -110.830872
Turn left to access a campsite in North Fork Cascade Camping Zone, or continue southeast on the trail (you'll hear the stream as you hike).
CAS015
Location: 43.784851, -110.830254
Campsite: Set up camp near Cascade Creek.
CAS016
Location: 43.775734, -110.825287
Leave the North Fork Cascade Camping Zone, and continue on pebbly trail, heading southeast through fields of red bush. Watch for squeaking pikas and marmots. Ahead, cross a small wooden bridge with peek-a-boo views of mountains.
CAS017
Location: 43.764462, -110.816903
Turn hard left @ T-junction onto Cascade Canyon Trail (leave North Fork Cascade Canyon behind you). The sandy trail parallels the stream as you cut through forest of lodgepole pines and Douglas firs; trees are draped in old man's beard (lichen); occasional views of the Tetons appear on the right through the trees.
CAS018
Location: 43.7645, -110.803703
The trail emerges from the forest, revealing views down canyon of towering, rugged mountains that flank each side of the trail. Cut through an open aspen grove and then weave in and out of pine forest and aspen groves; the gushing sounds of Cascade Creek can be heard as you hike.
CAS019
Location: 43.762699, -110.776848
Hike past two giant glacial erratics; the serene, slow-moving creek flows by on the right. The sandy trail soon emerges from the forest and passes through a boulder field (on the left); cross a slide area next to the creek.
CAS020
Location: 43.763966, -110.759582
Maneuver and scramble around a cave formed by big boulders and then wind through an area where giant glacial erratics line the trail on each side.
CAS021
Location: 43.766968, -110.754616
Turn left @ Y-junction onto a horse trail (a quieter, lesser-used trail). The dirt-packed, pine needle trail ascends briefly before descending through an old lodgepole pine forest with scrubby underbrush. Grab your camera: Views of Jenny Lake appear as you descend and pass through fields of shoulder-high bushes and giant lodgepole pines.
CAS022
Location: 43.768951, -110.744865
Turn left @ T-junction toward String Lake Parking Area. Follow dirt-packed, pine needle trail along the sparkling Jenny Lake. In 1.3 miles, continue straight @ 3-way junction (Waypoint 3) to return to the trailhead and parking area. Optional side trip: Turn right @ T-junction for a 1-mile detour to Hidden Falls.
Cascade Canyon
Location: 43.764462, -110.803084
©Kari Bodnarchuk
Scree Fields
Location: 43.795036, -110.816463
©Kari Bodnarchuk
Descent into Cascade Canyon
Location: 43.794115, -110.816796
©Kari Bodnarchuk
Lake Solitude
Location: 43.792659, -110.842609
©Kari Bodnarchuk
Towering Peaks
Location: 43.775153, -110.824799
©Kari Bodnarchuk