Grand Teton National Park: Cascade Canyon
This 14.6-mile out-and-back meanders past lodgepole pine, towering peaks, and a waterfall on its way to a backcountry campsite at the foot of the Tetons.
Heading out the door? Read this article on the new Outside+ app available now on iOS devices for members! Download the app.
Save a weekend for this 14.6-mile backcountry trek in Grand Teton National Park. From the String Lake Trailhead, head southwest briefly to connect Jenny Lake and String Lake, then keep left at the Y-junction. The trail climbs gently through Cascade Canyon, traveling beneath Storm Point and The Jaw.
Keep your camera handy as you hike past five-star views of the towering, rugged mountains that flank each side of the trail. After 5.6 miles, the route turns north for the final 1.7-mile stretch to a North Fork Cascade campsite (you'll fall asleep to the sounds of Cascade Creek). The next day, turn around and retrace your route back to the trailhead.
Note: To turn this out-and-back into a loop, go to Paintbrush Canyon to Cascade Canyon Loop.
INFO For information on permits, current trail and camp conditions, and wilderness guidelines, go to nps.gov/grte/planyourvisit/things2know.htm.
PERMIT A wilderness permit is required for all overnight camping in the backcountry. Reservations accepted ($20 administrative fee for permits during peak season). nps.gov/grte/planyourvisit/back.htm
CONTACT Grand Teton National Park, (307) 739-3300; nps.gov/grte/
-Mapped by Kari Bodnarchuk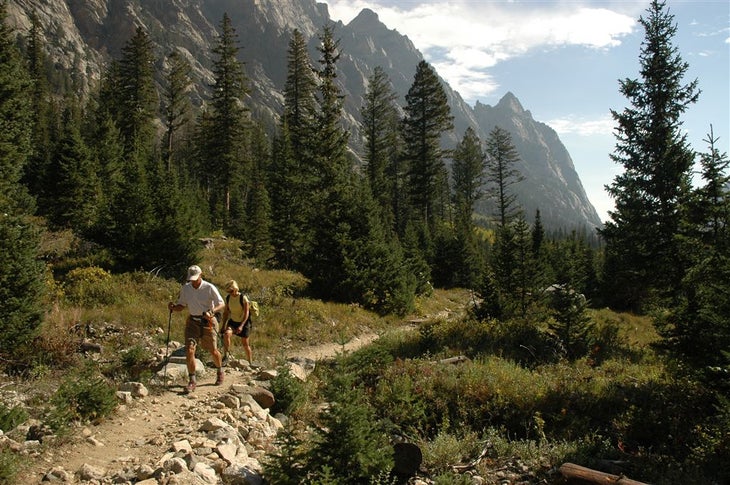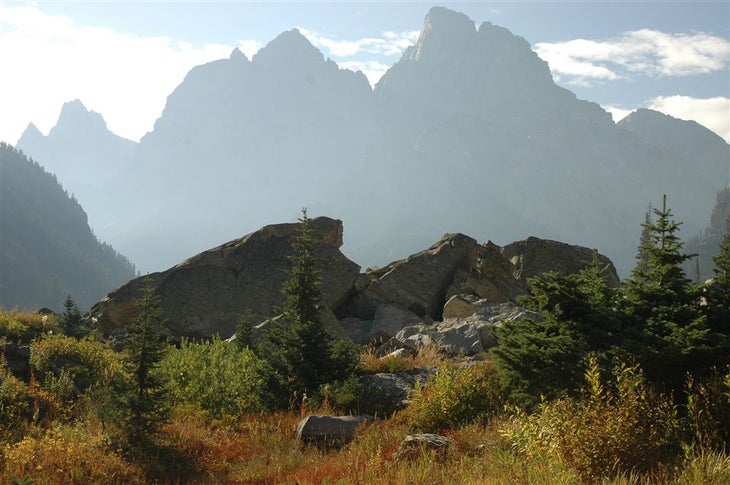 Trail Facts
Waypoints
CAS001
Location: 43.784767, -110.727203
Head south from String Lake parking area.
CAS002
Location: 43.783733, -110.727669
At the String Lake Trailhead, turn right (heading southwest) and cross the wooden bridge between String and Jenny lakes.
CAS003
Location: 43.78166, -110.730686
Bear left @ Y-junction, heading south. Ahead, the dirt-packed, pine needle trail traces the edge of the sparkling Jenny Lake.
CAS004
Location: 43.768831, -110.74472
Turn right @ 3-way junction and head west on a horse trail (a quieter, lesser-used trail). Optional side trip: Continue straight @ 3-way junction for a 1-mile detour to Hidden Falls. Ahead, the path ascends through old lodgepole pine forest with scrubby underbrush.
CAS005
Location: 43.767026, -110.754365
Continue straight @ 3-way junction. Wind through an area where big glacial erratics line the trail on each side.
CAS006
Location: 43.764019, -110.759636
Maneuver and scramble around a cave formed by big boulders. Ahead: Cross a slide area next to the creek and pass through a boulder field (on the right). The sandy trail reenters the forest.
CAS007
Location: 43.76281, -110.776924
Hike past two giant glacial erratics; the serene, slow-moving creek flows by on the left. The trail weaves through pine forest and aspen groves; the gushing sounds of Cascade Creek can be heard as you hike.
CAS008
Location: 43.7645, -110.803703
Before heading back into the forest, take in the five-star views down canyon of towering, rugged mountains that flank each side of the trail. Next, continue heading west through trees draped in old man's beard (lichen); occasional views of the Tetons appear on the left through the trees.
CAS009
Location: 43.764493, -110.81686
Turn right @ Y-junction onto North Fork Cascade Canyon Trail (leave North Fork Cascade Canyon behind you). In the next mile, you'll cross a small wooden bridge with peek-a-boo views of the mountains and hike through fields of red bush. Watch for squeaking pikas and marmots.
CAS010
Location: 43.775742, -110.825401
Enter the North Fork Cascade Camping Zone. The trail continues to head north-northwest, paralleling Cascade Creek.
CAS011
Location: 43.784046, -110.830786
Turn right and leave the trail to reach a campsite in North Fork Cascade Camping Zone.
CAS012
Location: 43.784851, -110.830254
Set up camp near Cascade Creek and spend the night in the Tetons. Next day: Return to Waypoint 11 and turn left. Retrace your steps to the trailhead.
Cascade Canyon
Location: 43.764524, -110.802784
Towering Peaks
Location: 43.775618, -110.825143