Grand Junction, CO: Kannah Creek Basin Loop
Descend from a cliff-rimmed mesa to a trout-filled lake on this 22-mile, two-night loop
Heading out the door? Read this article on the new Outside+ app available now on iOS devices for members! Download the app.
Score mountain scenery a month after fall snow puts most high country out of reach. Simply hike off the edge of Grand Mesa to a secluded lake on this 22-mile, two-night loop. Time your trip for mid-October, and you'll get a healthy side of fall colors with your helping of solitude and blown-open views.
From the Coal Creek trailhead at Carson Lake (1), follow winding singletrack under a canopy of 60-foot-high aspens to descend off the mesa's lip. Gaps provide cross-valley vistas of the flat-topped mountain's rippling shale-and-sandstone face. Stay straight at the Y-junction with Deep Creek Trail at mile 1.1. In .2 mile, fork right (2) to stay on the Coal Creek Trail as it jumps log-strewn streams, crosses boulderfields, and passes through meadows where ring-necked pheasants hide.
At a swath of pasture at mile 4.4 (3), look for red-tailed hawks, golden eagles, and American kestrels swooping above; they inhabit the area throughout the fall. The game paths here can be confusing: Contour northwest to stay on the main trail. At mile 5.1, turn left to follow the Coal Creek Basin Trail down 4.5 miles and 2,800 feet into the scrub oak-covered basin. Water up at the bridge across Coal Creek (4); your campsite is dry. Switchback down a Tim Burtonesque burn area for the next mile. Go through the green gate (5) and hit the little-trafficked pavement for .2 mile to the Kannah Creek trailhead (6). Climb 200 feet in .4 mile (merging onto Spring Camp Trail) to your campsite at mile 9.7, featuring a makeshift stone fire pit and views of Coal Creek Basin (7).
On day two, hoof it up 2,100 feet in 3.4 miles on the Spring Camp Trail's long switchbacks. Move from banked juniper-pinyon stands through brushy scrub oak as you gradually ascend, earning views of the Grand Valley's peach orchards. Bear left at the Y-junction with Indian Point Cutoff Trail (8). In .6 mile, reach a three-way junction (9). Stay straight (east) for .9 mile to the turquoise waters of the scree-lined Blue Lake (10), a great cutthroat fishing spot with dispersed campsites a few hundred feet from shore.
Next morning, hike a mile back to the junction, and turn right on Spring Camp Trail for a mostly flat 3.5 miles across cow pastures, aspen groves, and thick oak brush with hide-and-seek views of the northern mesa. At mile 19, merge onto the Kannah Creek Trail (11) for the final grueling push—three miles and 1,400 feet of gain to your car at Carson Lake.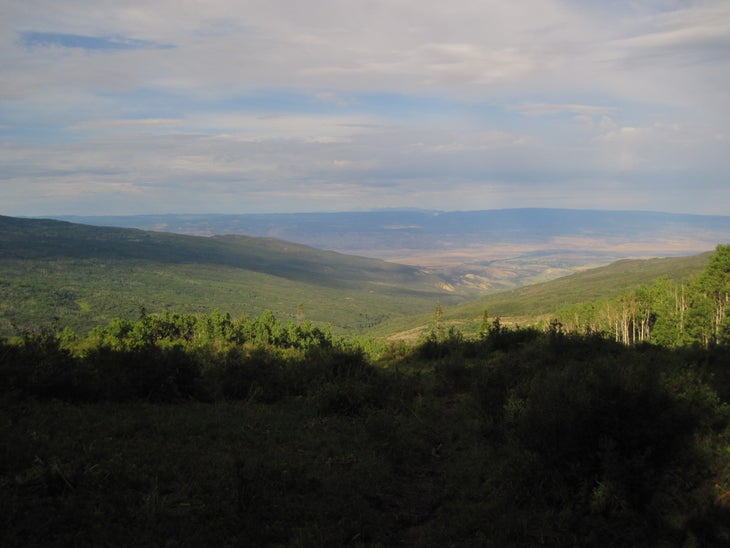 Trail Facts
Waypoints
KAN001
Location: 38.996667, -108.1117
From the parking lot, walk south toward the Coal Creek Trailhead.
KAN002
Location: 38.996616, -108.111533
Reach the Coal Creek Trail (#702). Follow the flowing singletrack as it winds east through aspen groves. Pass over the first of many seasonal stream crossings.
KAN003
Location: 38.991989, -108.128422
Continue straight at the Y-junction with Deep Creek Trail (#709), staying on Coal Creek.
KAN004
Location: 38.990815, -108.131372
Bear right at the Y-junction with Farmers Trail (#727), staying on Coal Creek. The route crosses four boulder fields and a couple of seasonal streams as well as passes two swamps en route to the Coal Creek Basin. Trail.
KAN005
Location: 38.991835, -108.179756
At the cow pasture, follow the established but unmarked trail north past the post hung with a deer skeleton. Continue as it arches northwest to the Coal Creek Basin Trail.
KAN007
Location: 38.978043, -108.208075
Water up next the bridge over Coal Creek
KAN008
Location: 38.962976, -108.23001
At the end of Coal Creek Basin (#703), open the green gate and road-walk along Land's End to the Kannah Creek Trailhead.
KAN009
Location: 38.96092, -108.23072
From the Kannah Creek Trailhead (#706), follow Kannah Creek uphill briefly the junction with Spring Camp.
KAN010
Location: 38.960493, -108.228904
Bear right at the Y-junction with Spring Camp Trail (#707).
KAN011
Location: 38.960178, -108.225144
There are dispersed campsites on the left of the trail with views of Coal Creek Basin to the north. Bed down here to rest before the big climb up Spring Camp tomorrow. There will be one reliable water source in the next three miles and two typically dry but seasonal streams (East and West Two Creeks) between here and the junction with Blue Lake Trail.
KAN012
Location: 38.946604, -108.184423
Bear left at the Y-junction with Indian Point Cutoff (#708) and stay on Spring Camp.
KAN013
Location: 38.943904, -108.174576
At the three-way insection with Spring Camp and Blue Lake Trail (#707 1A), stay straight toward Blue Lake.
KAN014
Location: 38.9444, -108.160915
After a short scramble over its scree-covered shoreline, reach Blue Lake. This is a great place to fly fish and to go for a refreshingly cold swim after the climb up Spring Camp. Campsites are on the west end of the lake, and feature makeshift stone fire pits and views of Coal Creek Basin. Next morning, retrace steps back to the junction with Spring Camp.
KAN015
Location: 38.953647, -108.172849
The trail crosses a cow pasture to this post, which marks the otherwise very faint Spring Camp trail.
KAN016
Location: 38.977804, -108.146169
At the Y-junction with Farmers Trail, stay on Spring Camp because you will merge onto Kannah Creek very shortly.
KAN017
Location: 38.978323, -108.145617
Merge onto Kannah Creek Trail (#706) for the final push to Carson Lake.
CREEK
Location: 38.94575, -108.194397
Coal Creek Trailhead
Location: 38.996491, -108.111498
First glance at northface
Location: 38.993389, -108.123343
Westward views opening up
Location: 38.991204, -108.129803