Grand Canyon National Park: Tanner and Beamer Trails to Little Colorado River
This stout three-day backpacking trip emphasizes the "grand" in Grand Canyon as it follows hardscrabble trails to remote campsites, old mining claims, and the scene of an airplane crash.
Heading out the door? Read this article on the new Outside+ app available now on iOS devices for members! Download the app.
Here's the deal: This 37-mile trip, connecting the Tanner and Beamer Trails to the Little Colorado River, is for seasoned, fit hikers with solid navigation skills. If that's you, read on. If not, amp up your adventure resume with other Grand Canyon hikes before trying this challenging trek to beachside campsites, a plane crash site, and 100-year-old mining ruins.
To start, drop off the South Rim from Lipan Point on the Tanner Trail. It's a 4,600-foot, knee-buckling descent to the Colorado River over 9 miles, your first water source on this three- to four-day trek. Pack enough water for five hours of descending and consider dropping a water cache at Seventy-five mile saddle or the top of the Redwall for your ascent back to the rim. The first hour descends quickly through the Coconino layer then at mile 1.2 the trail eases near the base of Escalante Butte. Next, the trail gains and loses an extra 400 feet as it S-curves around Cardenas Butte to a break in the Redwall Limestone. Tackle a series of steep switchbacks and take in long panoramic views across the red-stained canyons to the mighty Colorado River. Follow the thin but obvious trail down the steep 'redish' Dox sandstone slope to the Colorado River at Tanner rapids. Fifty yards before the final descent to Tanner rapids beach you'll notice a cairn with a trail taking off to the right – that's the start of the Beamer Trail. There are plenty of campsites on Tanner beach including a nice hidden overhang camp for those inclement weather days. You'll also find a composting toilet as a small reminder of civilization. Refill water bottles near Tanner Rapids or continue north (upstream) on the Beamer Trail.
The first 3 miles on the Beamer Trail crosses Comanche and Espejo Creeks and follows a skinny path with some scrambles along sandstone cliffbands then drops to a sandy campsite near Lava Canyon Rapids and Palisades Creek to end a 13-mile day; it'll take about 8-9 hours from the trailhead to here.
The next day leave camp with only a daypack, food, and water. Explore the leftovers of a nearby copper mine then head north again along the Colorado River where the Beamer Trail will quickly ascend to the top of the Tapeats Sandstone cliffs just North of Palisades Creek. The trail skirts the Tapeats cliffs for 6 miles in and out of small drainages until the junction with the Little Colorado River.
Between Chuar and Temple Buttes, look across the Colorado River to an area known as Crash Canyon. At 11:30 a.m. on June 30, 1956, airline officials received a transmission: "Salt Lake, United 718—ah—we're going in." Moments later, United Airlines Flight 718 collided with TWA Flight 2 over the Grand Canyon, sending both planes plummeting earthward. The fiery wreckage struck Chuar and Temple Buttes near the confluence of the Colorado and Little Colorado Rivers, killing all 128 people aboard. The tragedy sparked the creation of the Federal Aviation Administration. You can still see plane debris glittering in the sun on Chuar Butte.
Ahead, the Beamer Trail descends to the beach just inside the confluence of the Colorado and Little Colorado Rivers. Now, follow the idyllic blues of the Little Colorado River to Beamer Cabin, a 100-year-old mining cabin. Rest and eat before heading six miles back to camp. If you camped at Lava Canyon Rapids, it's best to backtrack an extra three miles to Tanner Rapids for night two or three, depending on your permit. This provides an ideal position for the final day's ascent back to Lipan Point. There is no camping allowed within 1/4-mile of the mouth of the Little Colorado River.
PERMITS: Required backcountry permits are $10, plus $5 per person per day. The use area covering Tanner Trail is BB9. The use area covering the Beamer Trail from Comanche Creek North is BA9. Download application at nps.gov/grca/planyourvisit/backcountry-permit.htm; then fax to (928) 638-2125.
MORE INFO: Grand Canyon National Park, (928) 638-7888; nps.gov/grca
–Mapped by Dale Diulus and Rich Rudow
PLAN IT
GUIDEBOOK AND MAP Hiking Grand Canyon National Park, 3rd Edition , Ron Adkison and Ben Adkison ($19, falcon.com). Trails Illustrated Grand Canyon ($12,natgeomaps .com). Plan other trips in the park using BACKPACKER's Grand Canyon National Park page.
SEASON March to May and October to November. From June to September, inner canyon temps from are often above 100°F. Start early to beat the midday heat. Also, don't forget it is much easier to descend into the canyon than climb back up. Expect to spend at least double the time climbing than descending
KEY GEAR Wide-brim hat and six liters of water storage.
CONTACT Backcountry Information Office: (928) 638-7875 (from 1 to 5 p.m., Monday to Thursday), nps.gov/grca
STOCK UP Canyon Village Marketplace, South Rim. (928) 638-2262 http://www.nps.gov/grca/index.htm
FREE TRIP PLANNERS Get news on vacation deals and lodging at mygrandcanyonpark.com
10 Summer Hiking Essentials
Water – Plain and some with electrolyte replacement.
Food – especially salty foods. Eat twice as much as normal.
First Aid Kit – bandaids, ace wrap, antiseptic, moleskin, etc.
Map – while many trails are well-marked, maps are helpful tools.
Pack – to carry the essentials.
Flashlight/Spare Batteries – allows you to hike out during the cool of the evening.
Spray Bottle – fill with water for your own personal air conditioning system.
Hat/Sunscreen – to keep the sun off you and protect your skin.
Whistle and/or Signal Mirror – for emergency use.
Waterproof Clothing – poncho or jacket; especially usefull during monsoon season (mid-July to early September).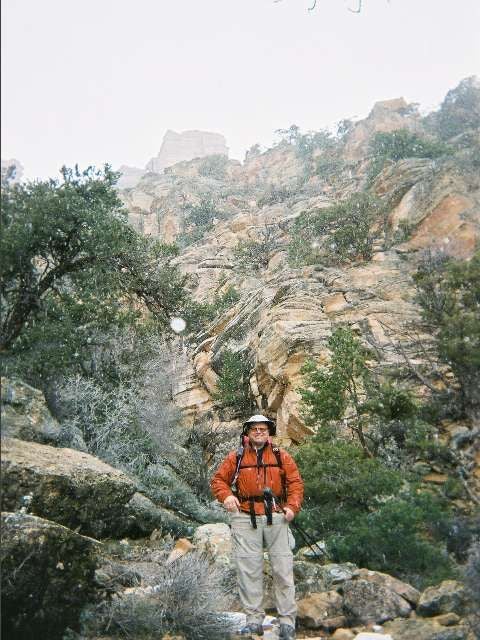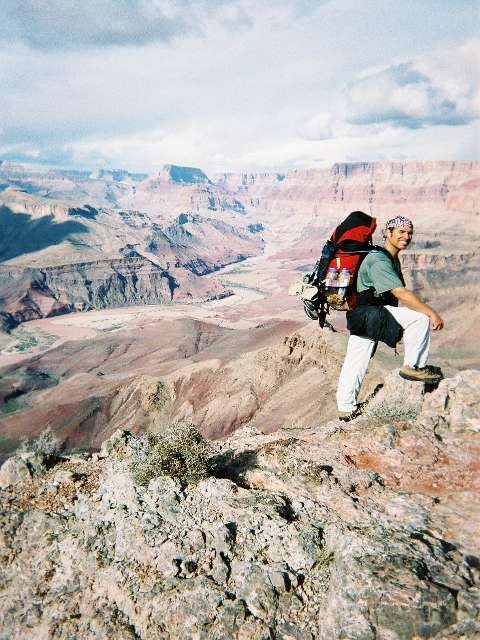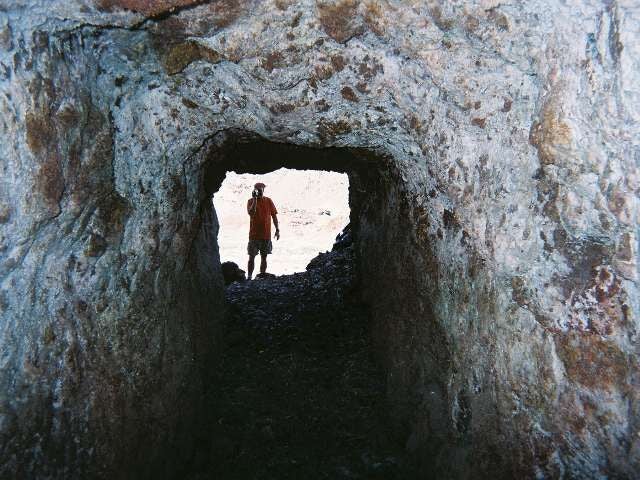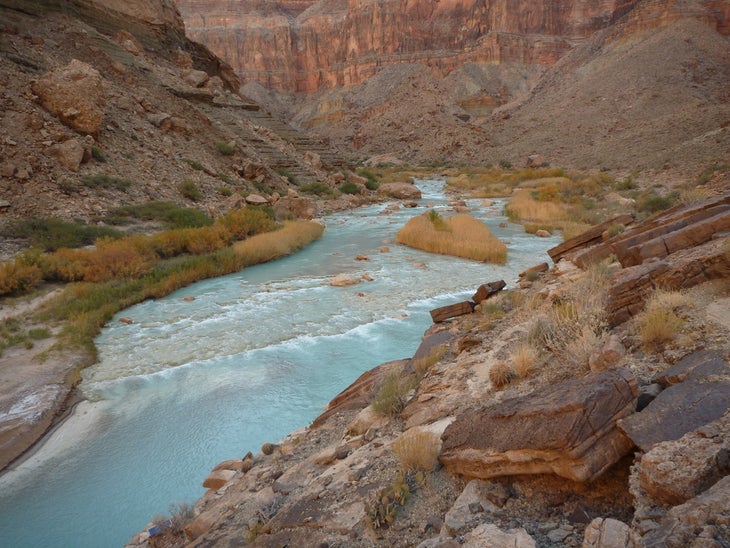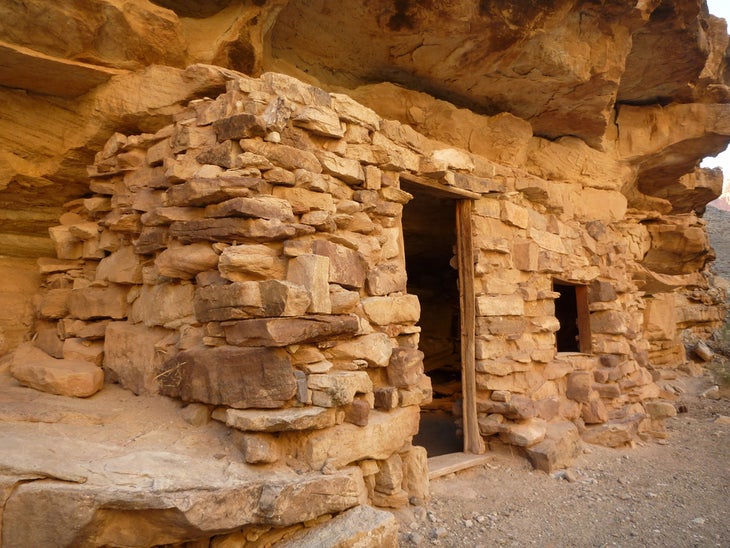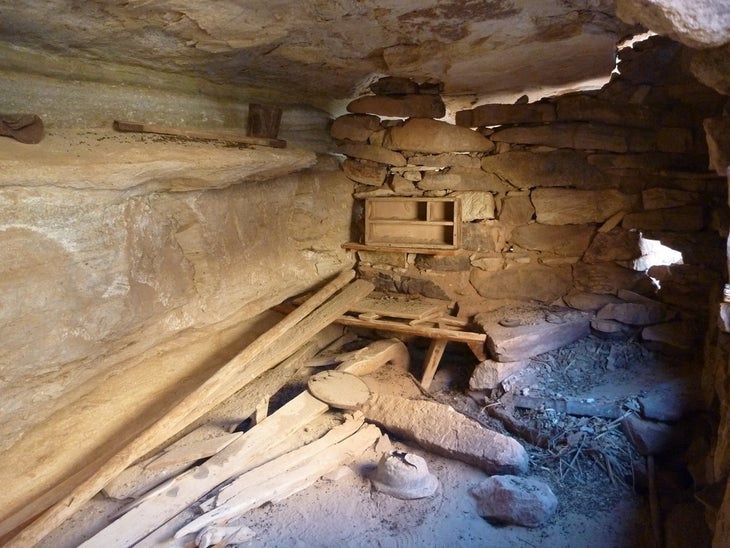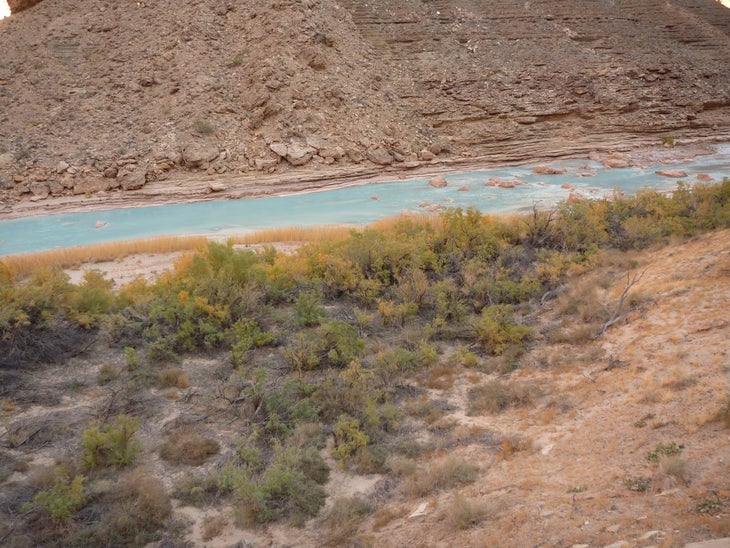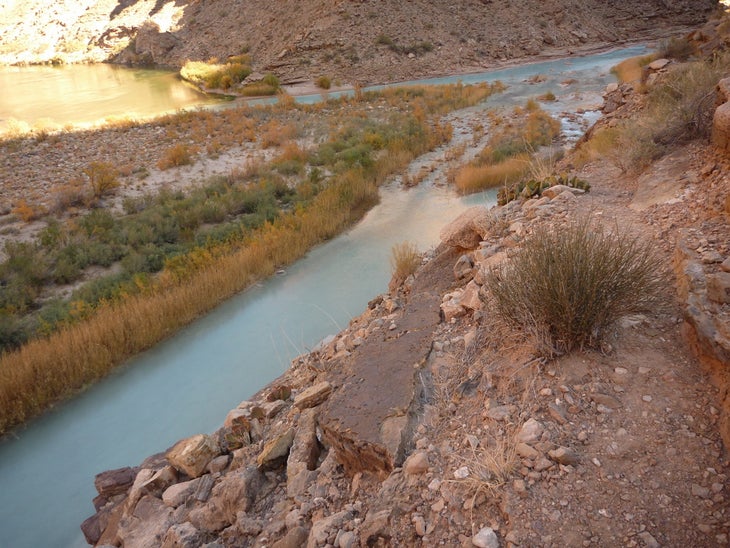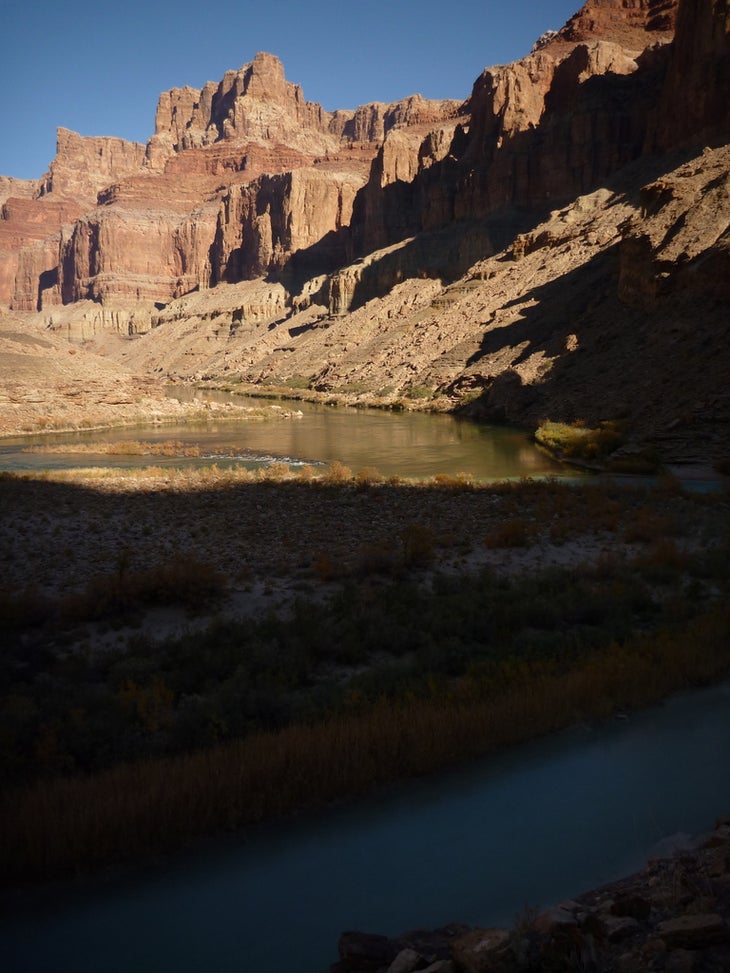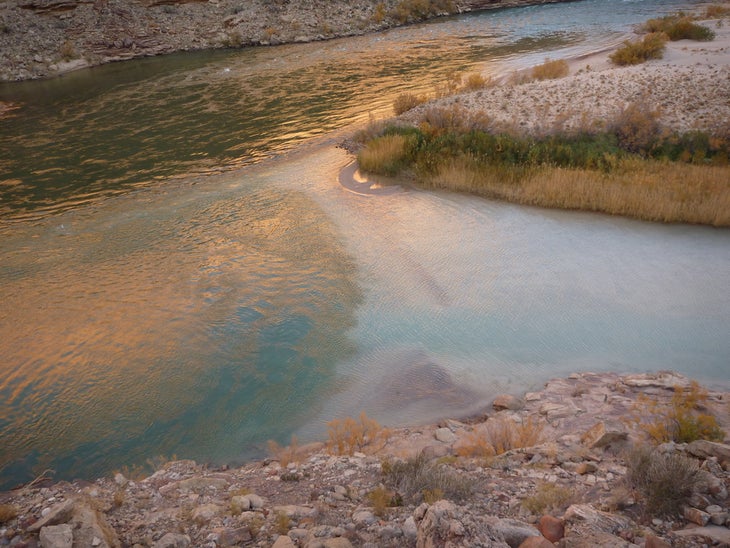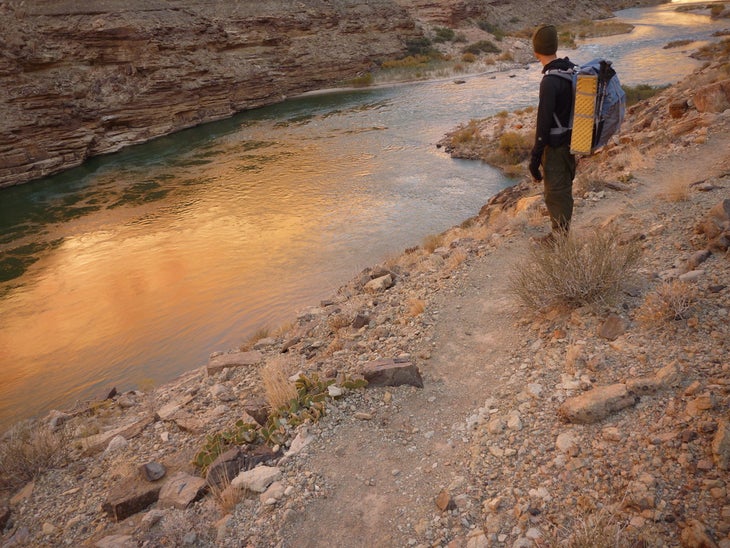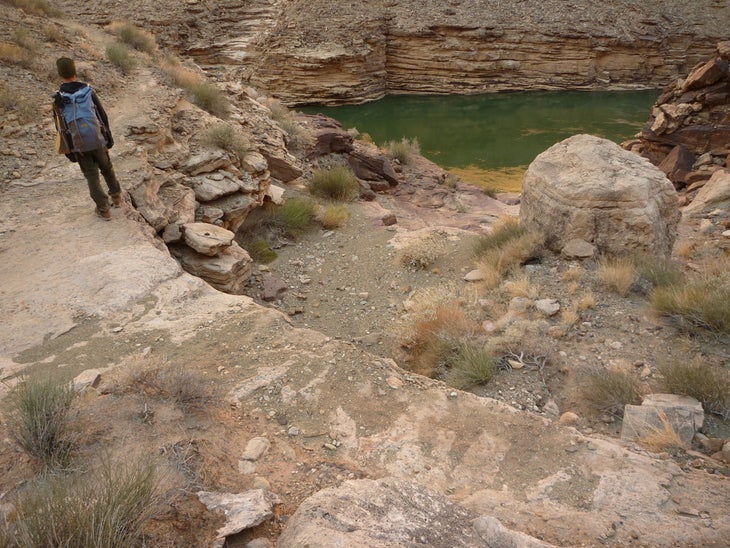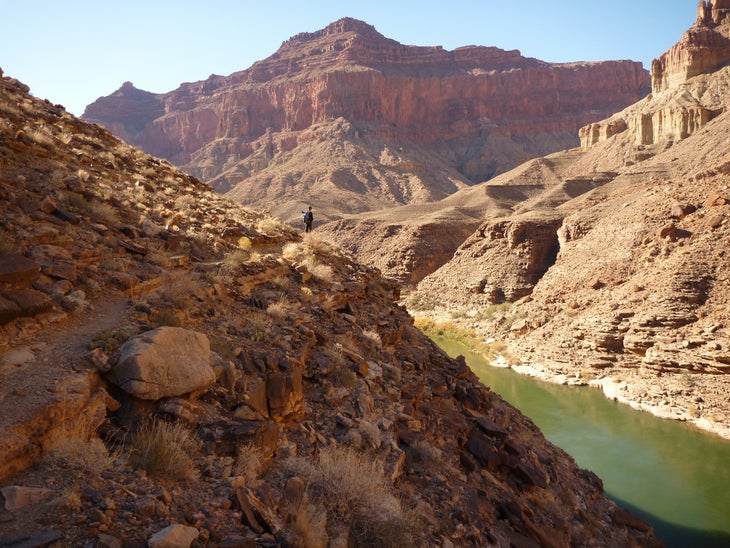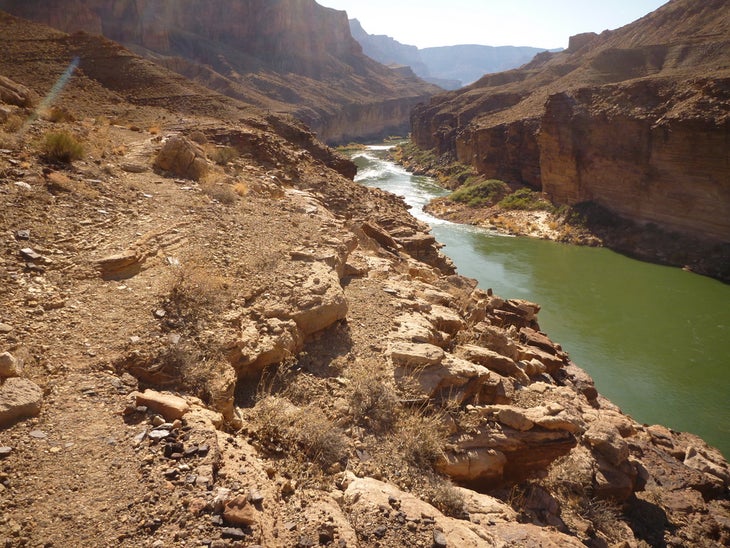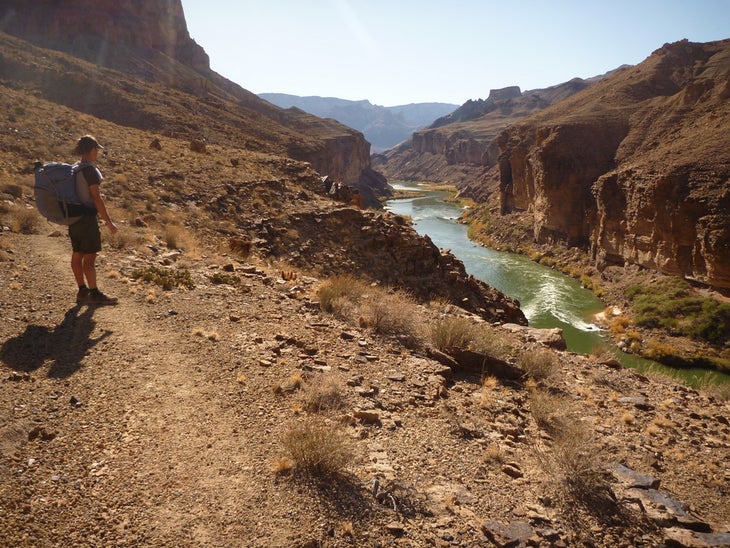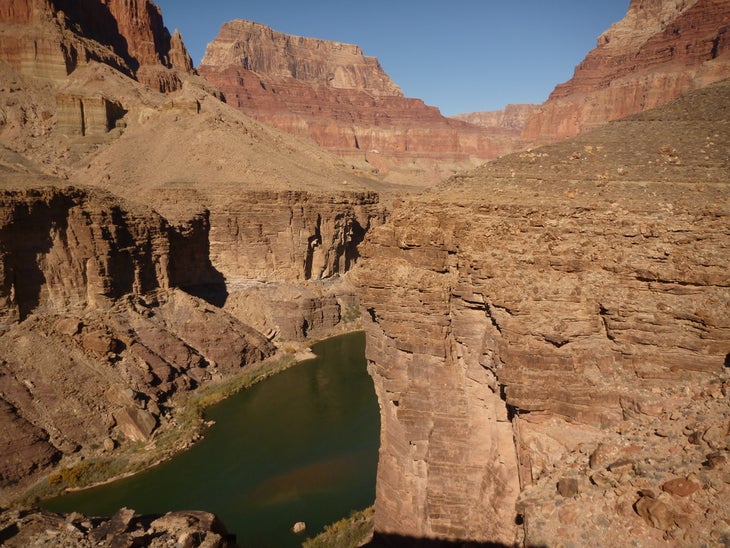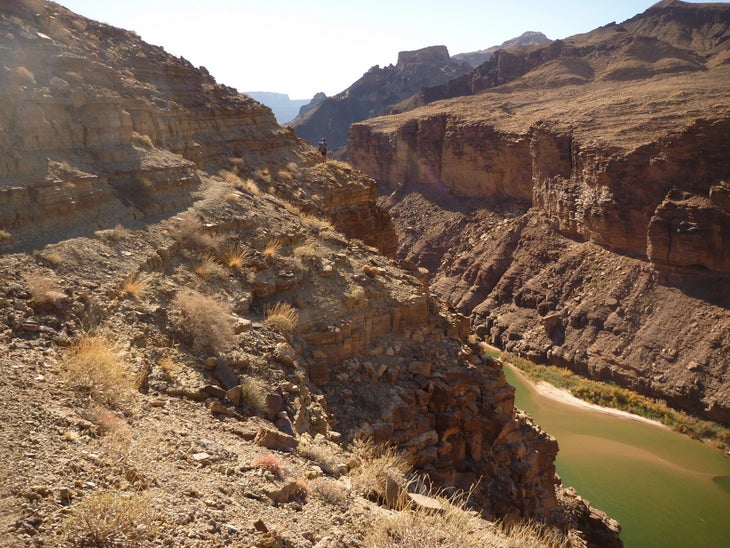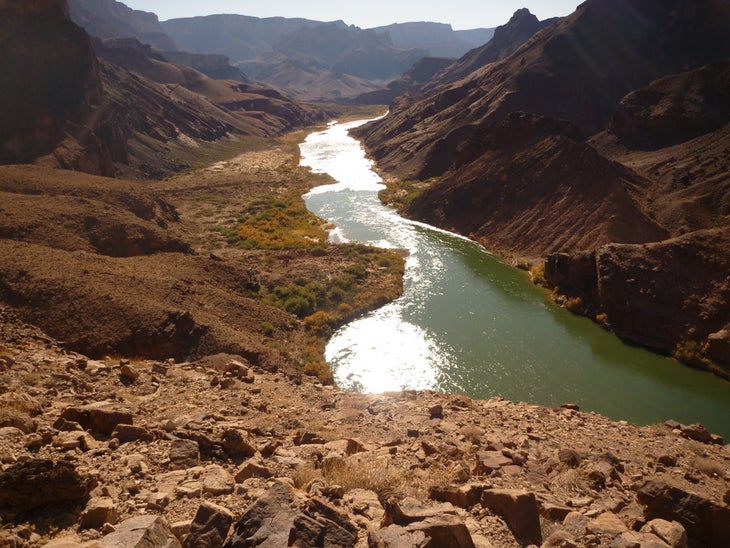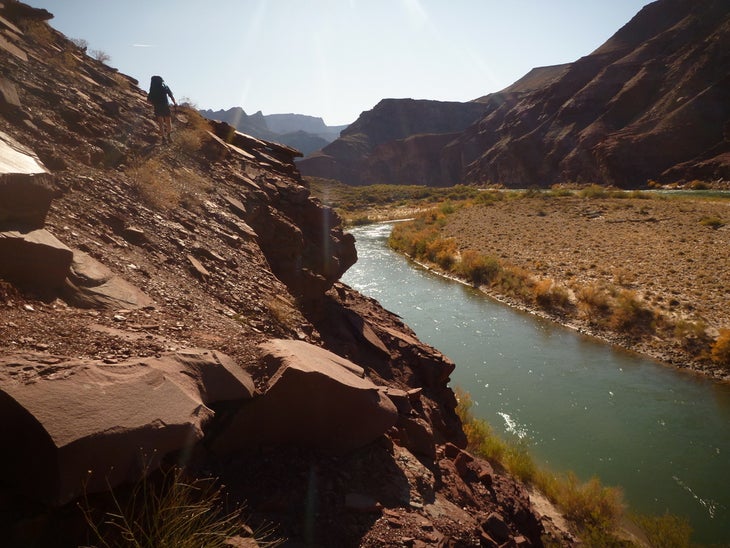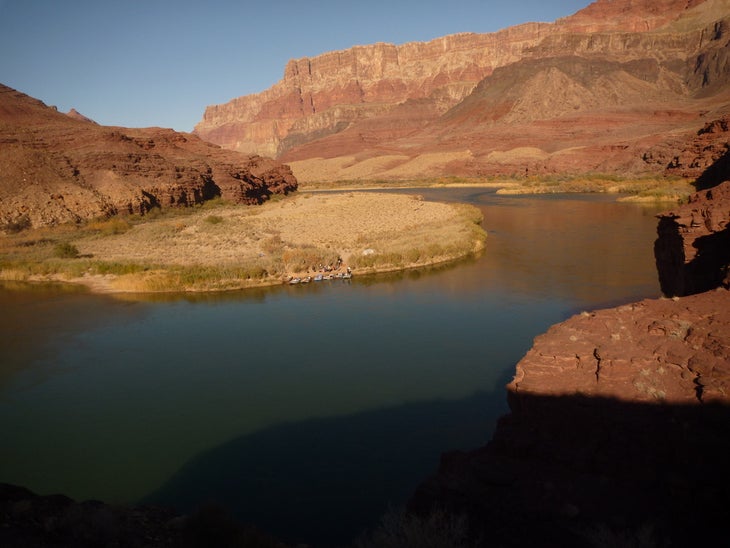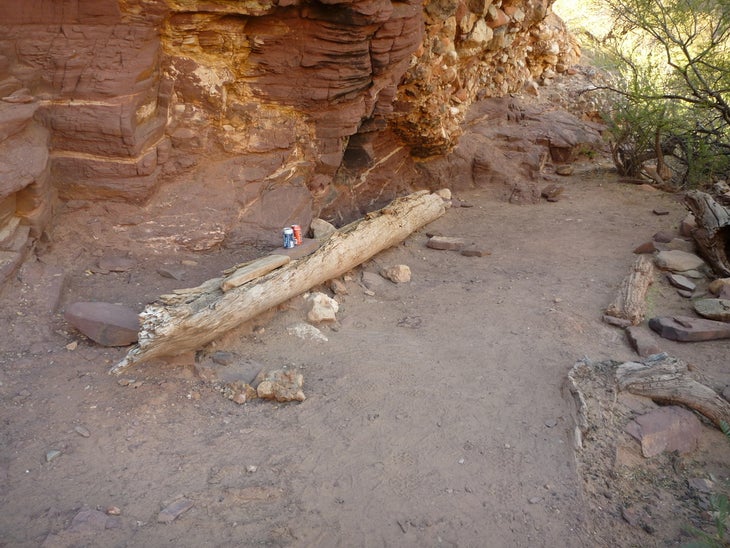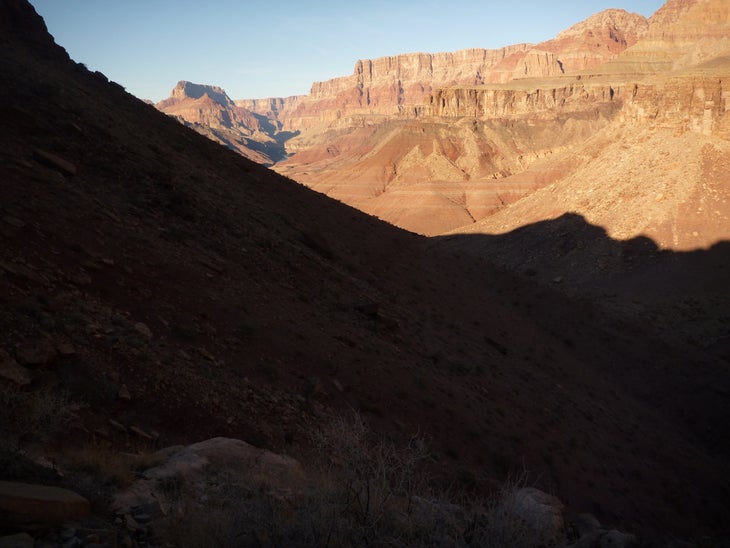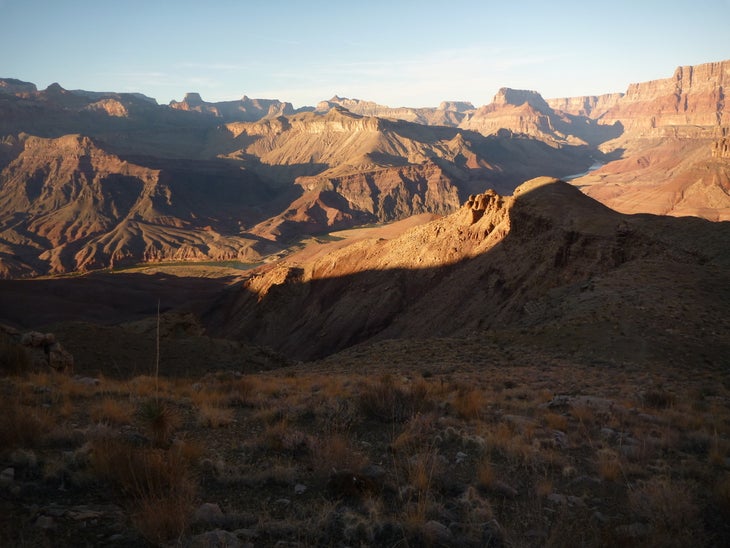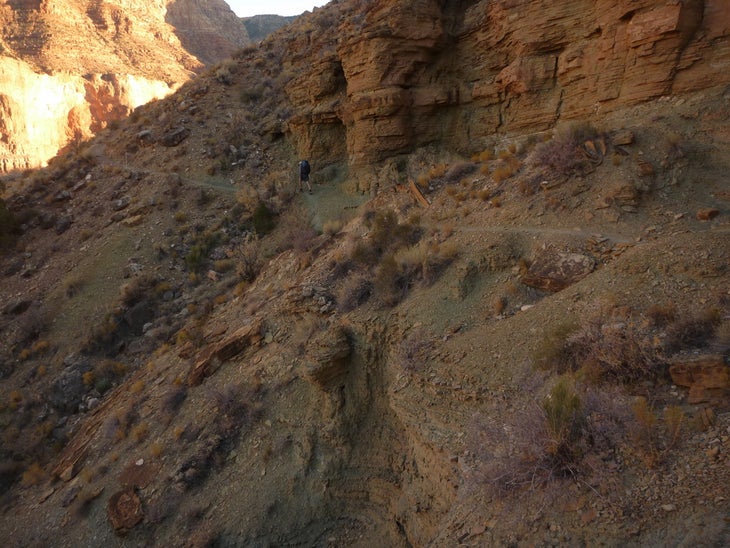 Trail Facts
Waypoints
WPT001
Location: 36.032662, -111.852436
Trailhead: Descend from Lipan Point on the Tanner Trail. It's more than 4,600 feet to the Colorado River.
WPT002
Location: 36.044792, -111.845484
75 Mile Saddle under Escalante Butte
WPT003
Location: 36.06825, -111.832698
Climb
WPT004
Location: 36.101652, -111.831495
Tanner Trail continues to the right. Good beach campsites (permit required) near Colorado River.
WPT005
Location: 36.102196, -111.831547
Potential campsite
WPT006
Location: 36.111172, -111.826738
You might see a weather station used by the National Park Service to measure how sand shifts on this beach upstream from Tanner Rapids.
WPT007
Location: 36.115568, -111.826931
Comanche Creek
WPT008
Location: 36.119194, -111.823991
Espejo Creek
WPT009
Location: 36.137244, -111.815955
Potential campsite downstream from Lava Canyon Rapids
WPT010
Location: 36.138325, -111.8155
Old copper mine near the mouth of Palisades Creek
WPT011
Location: 36.178598, -111.811935
Look across between Chuar and Temple Buttes to Crash Canyon, the site of a plane crash in 1956.
WPT012
Location: 36.19104, -111.802587
Confluence of the Colorado and Little Colorado Rivers. Trace Little Colorado to old cabin.
WPT013
Location: 36.19202, -111.79459
Beamer Cabin: This cabin is more than 100 years old and is protected by a cliff overhang. No camping in the cabin.
Tanner Trail
Location: 36.085097, -111.826767
A classic view of the Dox Sandstone side hill traverse.
Stiff descent
Location: 36.034351, -111.850558
Climb down through the switchbacks in the tough Coconino sandstone descent. A big blowout here was recently repaired with a nice section of steps. Applaud the trail crews as you hike this section!
75 Mile Saddle
Location: 36.044935, -111.845369
A great place to take a break. Take in the views down 75 mile canyon and of Desert View Watch Tower.
Big views from the Redwall
Location: 36.068241, -111.832559
There are a few picturesque camps at the top of the Redwall that many believe are among the very best in Grand Canyon.
Mine
Location: 36.138221, -111.81417
There was a lot of mining history in Grand Canyon including in this area. Be careful around here though – the mines are not stable and some have high levels of radiation and arsenic – best to view them from a far.
Little Colorado Gorge
Location: 36.190399, -111.787992
Travertine dams galore in if you hike a short ways up the LCR from Beamer's cabin
Beamer Cabin
Location: 36.1922, -111.794214
Beamer's cabin was built from an old Indian ruin. No camping in the cabin or within 1/4 mile of the confluence of the river.
Cabin Interior
Location: 36.192096, -111.794171
Shelves and old mining relics remain inside Beamer Cabin
The Gorgeous LCR
Location: 36.192131, -111.790867
Rafter's float around this area in the warm spring waters.
Confluence
Location: 36.191334, -111.800437
The turquoise waters of the LCR branch around a small island before mixing with the Colorado River.
Confluence View to the North
Location: 36.191127, -111.802154
Mixing Line
Location: 36.191334, -111.800609
The distinct line where the LCR and the Colorado meet. The LCR is warm at about 70 deg while the Colorado is frigid at 48 deg.
Dawn reflections
Location: 36.187247, -111.807346
Thin line
Location: 36.185135, -111.809535
The trail often runs thin along ledges above the Colorado.
Big Views
Location: 36.184857, -111.810694
Big views open up hiking on top of the Tapeats sandstone layer.
Down River Views
Location: 36.17696, -111.81241
The Beamer Trail is an enjoyable stroll in this section with big views above the river.
Paralleling Temple Butte
Location: 36.172248, -111.811209
Temple Butte is the big cliff formation across the river and it seems to go on forever. Fortunately, you'll have plenty of big views to absorb along the way.
Trail hugs the cliff top
Location: 36.169962, -111.810436
Yep … you walk the edge of that cliff!
Beamer Views!
Location: 36.155756, -111.811466
Take in big views as you hike along above the river.
Palisades Overview
Location: 36.143073, -111.812582
The trail heads down abruptly when you approach Palisades Creek.
Thin bypass
Location: 36.126645, -111.819277
The trail climbs high to bypass some cliffs
Tanner Rafter Camp
Location: 36.103001, -111.82786
The camp across the river is very popular with rafters in the Winter because it gets nice morning sun.
Overhang Camp
Location: 36.102307, -111.830864
This is a great place to camp for a few people looking to avoid inclement weather. Be sure to "Raven" proof your food around here!
Dusk Ascent
Location: 36.081569, -111.828203
Taken from the top of the red Dox sandstone slope on the hike up.
Big Views of the greater Tanner area
Location: 36.074112, -111.829319
Just before the Redwall
Location: 36.068076, -111.829705
you'll begin the Redwall ascent right after this scenic traverse.