Grand Canyon National Park: Monument Point to Esplanade
Multi-layered red rocks line mile-deep canyons and cactus flowers explode with pastels on this 9.7-mile out-and-back to Esplanade overlook.
Heading out the door? Read this article on the new Outside+ app available now on iOS devices for members! Download the app.
The Grand Canyon is one of the world's seven wonders, and the North Rim is its most remote destination. Start on the Bill Hall Trail from Monument Point and begin a 4,800-foot descent down the North Rim toward the Colorado River to an at-large camping near Tapeats Creek. A thousand feet above South Rim, the North Rim has much cooler temperatures and somewhat unpredictable weather patterns. Snow, hail, freezing rain, torrential downpours, and 90-plus degree heat can occur within in minutes of each other. Two billion years of wind, storms, stream and river erosion have formed mushroom-shaped rock formations, red walls, and far-reaching canyons full of cacti, flowers and shrubs. The roaring waters of Thunder River Falls pour out of a cave's mouth near the campsite. The weather may be variable, but the experience is well worth packing some lightweight rain gear.
-Mapped by Heidi Sackreuter
PLAN IT
GUIDEBOOK AND MAP Hiking Grand Canyon National Park, 3rd Edition , Ron Adkison and Ben Adkison ($19, falcon.com). Trails Illustrated Grand Canyon ($12, natgeomaps .com). Plan other trips in the park using BACKPACKER's Grand Canyon National Park page.
CUSTOM TOPO MAPS Download tracks and waypoints, print or order custom topos, from the map tools menu on the web version of the trip report.
SEASON March to May and October to November. From June to September, inner canyon temps from are often above 100°F. Start early to beat the midday heat. Also, don't forget it is much easier to descend into the canyon than climb back up. Expect to spend at least double the time climbing than descending
KEY GEAR Wide-brim hat and six liters of water storage.
PERMITS $10 per permit, plus $5/person per night. Apply (nps.gov/grca/planyourvisit/backcountry-permit.htm) on the first of the month four months prior to your hike date (e.g., June 1 for a hike beginning in Nov.) and fax it to (928) 638-2125
CONTACT Backcountry Information Office: (928) 638-7875 (from 1 to 5 p.m., Monday to Thursday), nps.gov/grca
STOCK UP Canyon Village Marketplace, South Rim. (928) 638-2262 http://www.nps.gov/grca/index.htm
FREE TRIP PLANNERS Get news on vacation deals and lodging at mygrandcanyonpark.com
10 Summer Hiking Essentials
Water – Plain and some with electrolyte replacement.
Food – especially salty foods. Eat twice as much as normal.
First Aid Kit – bandaids, ace wrap, antiseptic, moleskin, etc.
Map – while many trails are well-marked, maps are helpful tools.
Pack – to carry the essentials.
Flashlight/Spare Batteries – allows you to hike out during the cool of the evening.
Spray Bottle – fill with water for your own personal air conditioning system.
Hat/Sunscreen – to keep the sun off you and protect your skin.
Whistle and/or Signal Mirror – for emergency use.
Waterproof Clothing – poncho or jacket; especially usefull during monsoon season (mid-July to early September).
The South Rim: Open All Year
The South Rim is open 24 hours a day, 365 days a year. All visitor services: camping, lodging, and restaurants are available year round.Reservations are strongly recommended during the busy summer season. Some facilities are closed during the winter. A free shuttle bus system operates in the Grand Canyon Village area. Make your visit easier by parking your car at the Visitor Center and using the free shuttle buses to get around the village.
Market Plaza is the Business Center of the Village. Here you will find a general store and deli, a bank, post office, and cafeteria at Yavapai Lodge. Market Plaza has a large parking lot (B) and is in a central location. It is a good place to park and access the park's free shuttle system.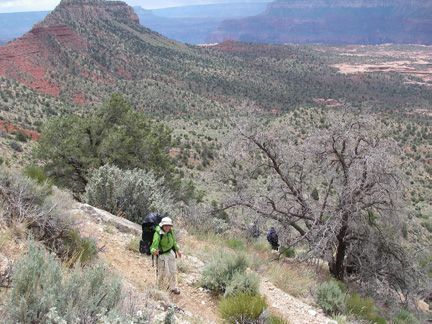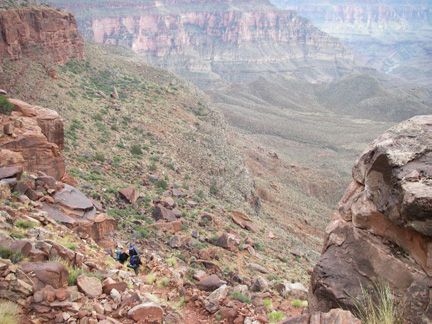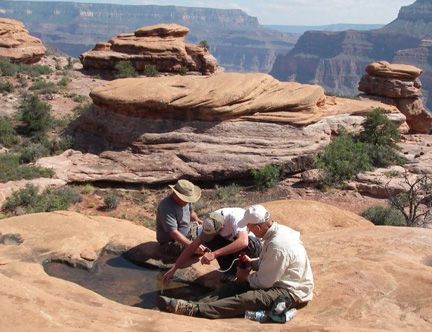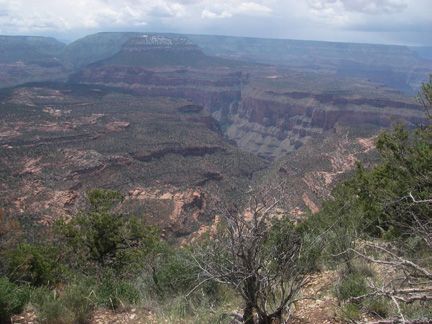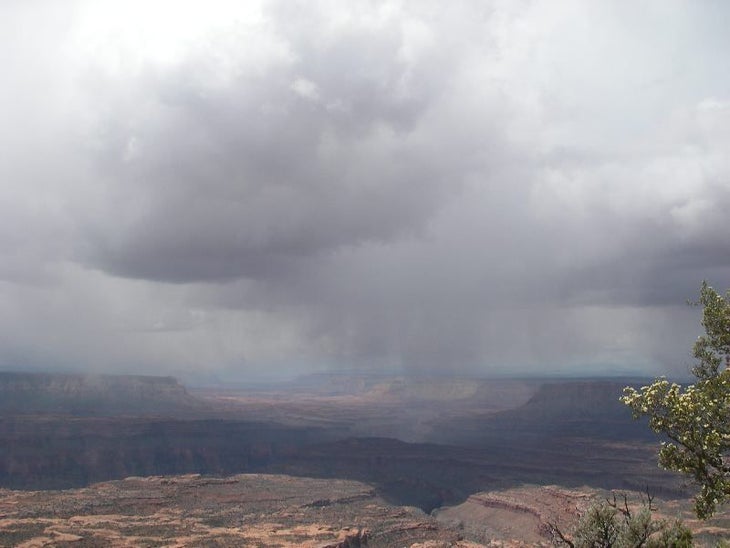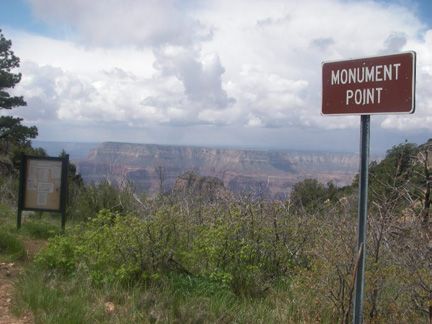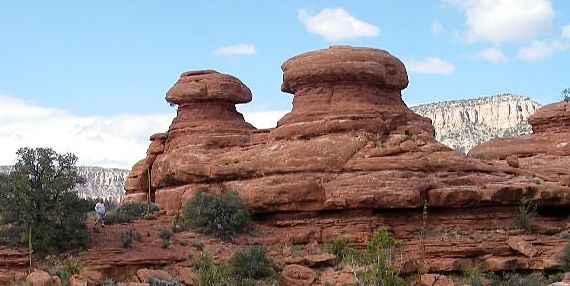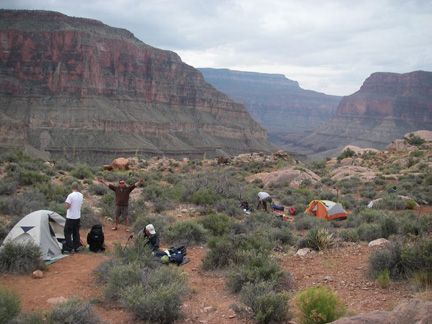 Trail Facts
Waypoints
THR001
Location: 36.434681, -112.429993
Trailhead: Monument Point marks the start of the Bill Hall Trail and the end of the journey on the way back. Bill Hall follows the North Rim westward for about .5 mile. Many large junipers line the trail, with Indian paintbrush, globe mallow, agave and prickly pear cacti adding myriad colors to the landscape.
THR002
Location: 36.430958, -112.439636
Go left @ T-intersection, following the trail as it plunges downward. There is extreme exposure for the first .25 mile of descent, then trail flattens out and traverses a cliff to a 15-foot sandstone diagonal ledge that has many hand holds. The trail then switchbacks to the Esplanade, a plateau of slick rock sandstone and formations halfway between the Rim and the canyon floor.
Option B: To make the descent easy on yourself, lower your pack by rope. In late spring and early summer, rain can swathe the inner canyon, preceded by gusty winds. Your descent also can be accompanied by snowflakes if the temperature drops under the cloud cover.
THR003
Location: 36.431858, -112.448959
Look for a possible water cache site in large boulders alongside the trail at the top of Esplanade.
THR004
Location: 36.430534, -112.450378
Stay left @ T-intersection. Turning right on the spur trail will bring you back toward the Thunder River trailhead.
THR005
Location: 36.42664, -112.455795
Stay left @ Y-junction with Thunder River Trail. The trail crosses Esplanade with very little elevation change across the slick rock. You'll discover many possible campsites and water caches. You can encounter freezing rain on Esplanade even into early summer. Sandstone potholes fill with water during rain; filter if using for drinking source. From here, the trail descends about 3 miles on Esplanade along the Supai and Redwall formations: a steep and rocky descent of about 1,800 feet with full southern exposure.
THR006
Location: 36.426357, -112.45491
Possible campsite on Esplanade.
THR007
Location: 36.40794, -112.468826
Possible water cache, rest stop, lunch rock or campsite on Esplanade.
Descending switchbacks on Bill Hall Trail toward Esplanade
Location: 36.431089, -112.43965
© Heidi Sackreuter
Descending the Redwall
Location: 36.426704, -112.455808
© Heidi Sackreuter
Filtering water from a pothole on Esplanade
Location: 36.42668, -112.455819
© Heidi Sackreuter
North Rim
Location: 36.431195, -112.439689
© Heidi Sackreuter
Rain over the canyon
Location: 36.430687, -112.439413
© Heidi Sackreuter
Serious rain clouds
Location: 36.431055, -112.439618
© Heidi Sackreuter
Bill Hall Trailhead
Location: 36.43473, -112.430037
© Heidi Sackreuter
Sandstone mushroom formations on Esplanade
Location: 36.426678, -112.455808
© Heidi Sackreuter
At-large camping in Surprise Valley
Location: 36.426497, -112.455196
© Heidi Sackreuter