Gone Girl: Aubrey Sacco's Disappearance Hiking in Nepal
Like many hikers, Aubrey Sacco walked into the Himalayas with joyful excitement. But she encountered a dark side of Nepal all trekkers should know about.
Heading out the door? Read this article on the new Outside+ app available now on iOS devices for members! Download the app.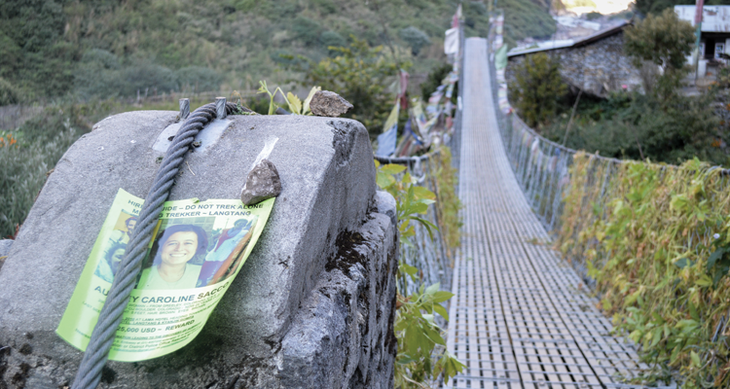 The first day's walk up central Nepal's Langtang Valley delivers exactly what a trekker might hope for: suspension bridges draped with prayer flags, lush hillsides where white langur monkeys swing from larch trees, a glacier-fed river pouring out of the Himalayas. It makes most hikers feel like skipping. It makes Paul Sacco feel like vomiting.
Paul, a wiry, 57-year-old father of three, left his home in Greeley, Colorado, nine days earlier, after his 23-year-old daughter, Aubrey, failed to return from a weeklong trek in Langtang National Park. She'd been traveling in Asia for five months, keeping in near-constant contact with her parents, when she started a solo hike in Langtang on April 21, 2010. A week passed, and a few days later her worried mother, Connie, contacted the U.S. Embassy in Kathmandu. Embassy officials told her that civil unrest—a Maoist uprising—might have delayed Aubrey in the mountains. But worry turned to panic after another three days passed with no word. On May 16, Paul flew to Kathmandu, vowing to bring his daughter home. With his elder son, Crofton, then 25, he joined a search already in progress. Now, as Paul hikes through the idyllic scenery, limping because of a recent surgery, he bounces between the sharp horror of imagining Aubrey lying dead at the bottom of a cliff and the bright hope that he'll simply stumble upon her, walking down the trail.
The physical pain doesn't stop him, though it slows him down. Weeks earlier, he underwent hip surgery, and now the joint grinds in the socket. He fears it will pop out, paralyzing him in the muddy forest. Yet for days he hobbles amid searchers from the U.S. Embassy, local villages, guide services, the police, and the Nepali Army. With the help of a translator, Paul questions locals, calls for Aubrey, and searches—above the river, in the woods, in dark caves within the woods.
Between May 4 and July 1, some 200 people will scour the vast alpine valley that slopes steeply toward the Tibetan border. By air, by foot, and by rope they search the main Langtang trail, both sides of the bloated, rushing river, all smaller paths, and remote monasteries tucked in the hills.
An American named Scott MacLennan joins the search. He led medical trips in Langtang for a decade, and tells Paul that he suspects Aubrey fell victim to the young Army soldiers who act as rangers in Nepal's national parks, and who have a reputation for abusing women. "None of the girls who ever worked for me in my medical clinic would stay the night because it was next to an Army post," he says.
Then again, it could have been the river, as some locals suggest. The trail hugs the steep banks in places and crosses the churning water numerous times. Aubrey wouldn't be the only trekker to fall victim to Nepal's treacherous terrain.
But everyone has a theory. During the initial search and in the coming months, local Tamang villagers and others offer a bewildering number of ideas. Some say they saw Aubrey board a helicopter in Langtang Village. Others blame hunters who walk at night, killing animals and people. One Dutch ex-pat, who runs a rescue organization in Pokhara, claims Aubrey's disappearance was sacrificial, the work of witches who worship Kali, the Hindu goddess of death. Several Nepali men blame Aubrey, saying she must have acted "too free and frank," inviting her own rape and murder. Or she's being held by lamas in a remote monastery. Or she was abducted by sex traffickers and spirited away to Pakistan. A teenage Tamang psychic claims that three boys buried her beneath a pile of rocks, where the forest transitions to dun-colored tundra. If she was assaulted, it wouldn't be the first time a lone female trekker was attacked.
The possibilities would make anyone dizzy. Paul is a business lawyer and judge, accustomed to order and predictable rules. All he can think is Why, Aubrey? Why did you come here? He can't see the epic mountains that drew her. Where she was excited by an exotic culture, he sees primitive people who can't be trusted. By his fifth day on the trail, he can't force down one more bowl of bland rice and gritty lentils. His hip feels like it will tear through the scar left by the operation. He continues to search, as do others, but not a single shred of evidence regarding his only daughter turns up. On June 6, he and Crofton leave Langtang, and Crofton flies home to Colorado. Paul remains in Kathmandu, scheduling interviews, meeting with the police and embassy officials. In mid-June, he Skypes Connie to tell her, through a choke, that he will not be delivering on his promise to bring Aubrey home.
As his crowded Lufthansa jet climbs above the Himalayas, Paul looks down on the vast alpine kingdom. He sees billowing white clouds, miles of lush jungle, ice-encrusted mountains. He knows Aubrey is out there, somewhere, and that he has failed her. He turns his entire body into the window so no one can see, and he weeps.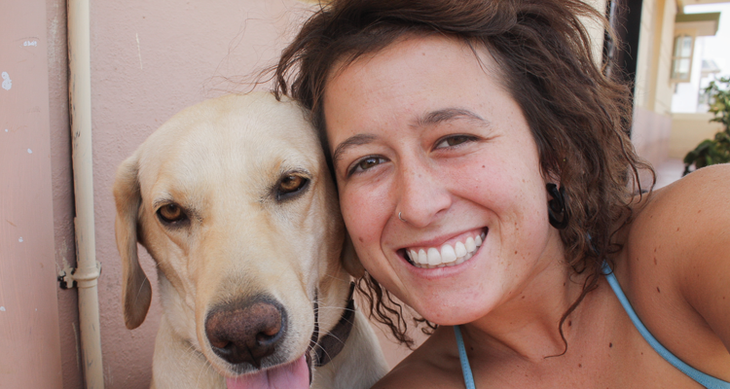 In recent years, Langtang National Park, just north of Kathmandu, has gained popularity as the less-crowded, easy-access alternative to the Everest and Annapurna regions. On a weeklong journey up the Langtang Valley, trekkers climb toward the Tibetan border and the towering Himalayas. The track passes shaded forests and scattered farms, offering occasional views of fin-shaped, 23,711-foot Langtang Lirung. Almost all trekkers stop in Kyanjin Gompa, at 9,800 feet, to taste the famed local yak cheese. Brightly colored stucco teahouses in the Buddhist villages along the way offer cheap beds and a steady supply of dal bhat—all-you-can-eat rice, lentil soup, meat, and curried vegetables. Ancient stone monasteries welcome visitors who want to witness a way of life that hasn't changed in centuries. It's no wonder Aubrey—who loved Eastern philosophy—chose to hike there.
When she arrived in Nepal, Aubrey was nearing the end of a post-college adventure, during which she'd made a point of going beyond the beaten path. In Sri Lanka, she'd searched for octopus in the Indian Ocean with a boy she had a crush on. Later, she volunteered at an orphanage and studied yoga at an ashram in sweltering Mysore, India. Afterward, to escape the heat, she traveled to Darjeeling, India.
It was there, from a hostel rooftop, that she gazed at the vast, white Himalayas for the first time and decided she must visit Nepal. A two-day journey to Kathmandu, a day of renting gear, and a seven-hour bus ride to the trailhead, and Aubrey was at the start of a life-list trek any backpacker would covet.
It was April, one of the best seasons for trekking in Langtang because the days reach the 70s and rhododendrons paint the hillsides red, pink, and purple. The roaring Langtang River, swollen with snowmelt, pours over falls and crashes around giant boulders. Walking down a two-track road, Aubrey arrived at a simple, open-air checkpost staffed by a Nepali military policewoman. Despite the thousands of people who pass through yearly, Aubrey made an impression. The soldier later reported that Aubrey signed the trekkers' register, beamed her wide, toothy smile, walked through the checkpoint, and waved.
Hiking north, Aubrey passed sun-drenched hillsides, mist-filled hollows, and farms ringed by wild marijuana plants. She also would have encountered a steady stream of people—porters hunkered beneath rice and fuel, trekking guides with clients, and villagers dressed in colorful kirtans and hand-me-down puffies. The porters, carrying loads twice their body weight, likely wouldn't have acknowledged her. But the compact Tamang women, themselves carrying bulky loads, would likely have smiled back if she smiled at them. And everyone who knows Aubrey agrees the odds are good she smiled. This was a girl who, at the University of Colorado in Boulder, organized a Campus Dance Day, and who was known by her friends as "Aubrey Glitter" for her habit of carrying a bottle of the stuff and sprinkling it on people, to remind them to live life to the fullest.
Her exuberance had been unleashed in college, where she frequently went to raves. But Amanda Sacco, Aubrey's best friend and future sister-in-law (she married Crofton in 2011), says she changed in Asia. When Aubrey called her from India, says Amanda, she could tell the party girl was gone. "She didn't need all of that to feel energized and happy."
In Langtang, she must have had plenty of zip. By 10 a.m., she'd covered a distance that usually takes four hours, arriving at the Namaste teahouse, a red, blocky building above the river. She may have sat on the sun-warmed deck overlooking the water, marveling at her surroundings. While lingering there, she met a young trekking guide, Renzin Dorjee Yonzan, who grew up in Langtang Valley and guided tourists during breaks from his studies at a Kathmandu university.
Locals say Aubrey and Renzin hit it off. They talked for hours—about travel, volunteering, and the local Tamang culture. At one point, Renzin gave Aubrey a book—Ethnic Groups in Nepal. Later, they retired to separate rooms, and then, say some, to the same room. Only the two of them know what happened between the parchment-thin walls of the Namaste. But the following morning, after hugging and promising to meet again in Kathmandu two weeks later, Renzin hiked down the valley, while Aubrey went up.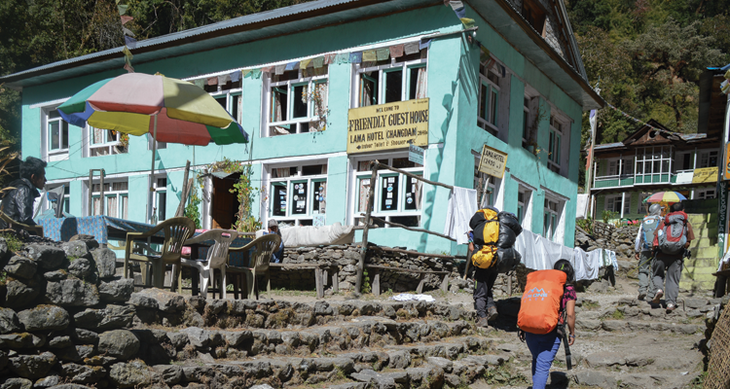 Nearly four years after Aubrey Sacco left the Namaste teahouse, any would-be trekker who Googles images of Langtang National Park to get a preview of the scenery will see Aubrey at the top of the page. She's smiling, her shoulder-length brown hair disheveled. She's wearing a blue halter top, her round, expressive face pressed close to a yellow dog. In another photo, she's sitting on a rooftop, wearing a bright orange skirt and strumming a guitar. Go ahead and Google it: It's eerie to see her smiling there, amid the snowcapped peaks and colorful prayer flags, as if she's still in the park today.
But the Google search doesn't tell the whole story. It doesn't show the other young women whose lives were ended, or profoundly altered, during treks in or near Langtang National Park. In 2005, Frenchwoman Celine Henry and German Sabine Gruneklee vanished five weeks apart. Investigators found blood, clothing, and pages from both of their passports in a hiking park called Nagarjun Forest, on the southernmost edge of the Langtang-Helambu trek. Police told the Nepali Times that they felt certain a serial killer was "raping women, killing them, and burying them." Yet no killer was found.
In July 2010, three French girls reported being sexually assaulted by the soldiers manning a checkpost called Ghora Tabela, not far from where Aubrey vanished. Later, two more Western women were attacked in the same region in separate incidents, one in 2011 and the other in 2012.
If the Nepali police keep records of exactly how many female trekkers have been the victims of violent crime, they won't say (the police didn't respond to repeated requests for information for this story). For that matter, it's hard to determine how many trekkers, male or female, have gone missing over the years, whatever the reason. Tourists in Nepal come from dozens of countries, meaning news about them gets scattered across the globe. According to Christopher Patch, Deputy Consular Chief at the U.S. Embassy when Aubrey disappeared, dozens of Western trekkers have vanished on popular trekking routes in the last decade. That's an alarming number for anyone contemplating a trip in Nepal.
Paul and Connie knew none of this when Aubrey called from Darjeeling to tell them she intended to trek solo in Langtang. By Connie's own admission, she couldn't have located Nepal on a map back then. Still, they tried to dissuade Aubrey from going. Paul was scheduled for hip surgery on the same day Aubrey wanted to start her hike. Connie pleaded, "Can't you at least wait until Dad is out of surgery? What if something happens?"
On the desk in Aubrey's room, Connie kept a clock counting down the days until Aubrey's return (she was scheduled to fly back from Sri Lanka on May 22). Near the light switch in Aubrey's room, Connie hung a map dotted with pushpins, each marking one of the towns or cities in Southeast Asia that Aubrey had visited. Red thread linked the pins together, like a mandala calling her home. Yet another thread would stand between them and seeing their daughter return. But when they tried stopping Aubrey again, she summoned the voice that indicated, on this one, she was the authority.
"Guys," she said. "Don't worry. It's a national park. It's teahouse trekking. It's safe."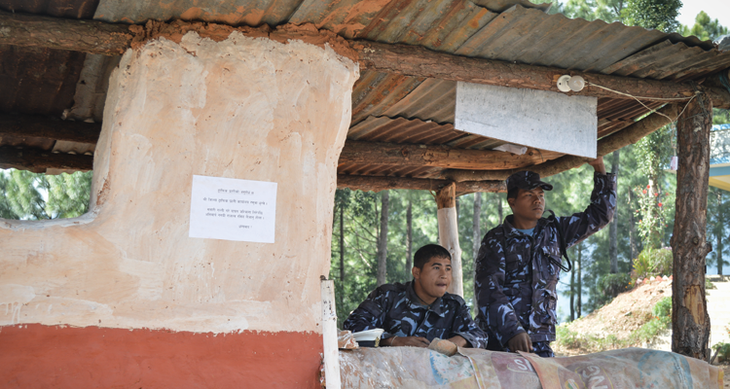 After saying goodbye to Renzin and leaving Namaste, Aubrey continued hiking alone, ascending the valley. Here, she may have seen other people—a smattering of trekkers, the ubiquitous porters, Tamang families in trail shoes donated by travelers. The path narrows above Namaste and then crosses the Langtang River on a suspension bridge. From there the track switchbacks up a steep, soft-dirt hillside, where a person could slip and tumble into the churning rapids. But Aubrey didn't slip, according to witnesses who saw her at another village several hours up the trail. (National parks in Nepal are not empty wilderness areas.) At Lama Hotel—actually a town of a half-dozen teahouses flanked by a vegetable garden, prayer flags, and a tent platform overlooking the deep, shadowy valley—she may have aired her feet, or layered up against the cold air coming off the silver river. Locals later reported seeing her eating a pizza, drinking a Coke, and holding the book Renzin had given her.
In the Sherpa Lodge, according to locals, Aubrey sat down at a long wooden table. Three young men, in their late teens and early 20s, struck up a conversation. At first it was lighthearted. But when Aubrey said that she wanted to continue to the next village, Riverside, the atmosphere allegedly turned sour. It was early afternoon, and the men told Aubrey that Riverside was too far for her to trek to safely so late in the day. But this was Aubrey, who in her journal described herself as a "strong traveling woman." On the table she'd spread out her map. When the men tried stopping her again, she stood up, pointed up the valley, and said, "Riverside is only an hour from here. Don't lie to me." And she left.
The walk from Lama Hotel to Riverside usually takes about two hours for a reasonably fit person. When trekkers reach a teahouse there, they're encouraged to sign a register. But Aubrey left no signature at Riverside. There's no evidence she ever made it. Did she decide to go farther? Ghora Tabela, site of an army checkpost, is another two hours beyond (near where the French girls reported being assaulted by soldiers). But Aubrey didn't sign this mandatory register either. Somewhere between Lama Hotel and Ghora Tabela, she disappeared.
The Saccos learned what had occurred at Lama Hotel from Ramesh BK, a local kayaking guide who questioned villagers in the weeks after Paul's initial search. When nothing came of the information through official channels, Paul returned to Nepal with Connie and their younger son, Morgan, in July 2011. Again, they trekked up the Langtang Valley. Inside the dim, hazy Sherpa Lodge, the Saccos questioned the owner, the cook, and one of the boys, Tasi Gurung. According to BK, all three had confirmed seeing Aubrey a year earlier. But now their stories changed. The owner and cook claimed never to have seen Aubrey. Tasi Gurung said, "We don't remember seeing this girl, but if we had known she was going to go missing, we wouldn't have let her leave."
When the Saccos tried questioning the cook again, Connie says the owner's wife screamed, "Don't answer!"
Paul and Connie felt betrayed. Angry. But mostly, Paul says he felt shock. Who are these people who would intentionally hamper our investigation? he thought. Who would intentionally stop parents from finding their daughter?
Were the villagers lying? Maybe. Maybe they were afraid. It's possible they remembered an incident from 2000, in which a British trekker was found dead in the Langtang River and the fishermen who reported it were imprisoned for a decade. As a woman searching on behalf of the Saccos told CNN, "All the villagers in the Langtang area say that [the fishermen] didn't do anything, and that the people who did it were never caught."
Back in Kathmandu, the police assured the Saccos that they'd re-interviewed the young men, the cook, and Renzin Dorjee. According to a spokesman for the Nepali Army, each soldier at Ghora Tabela was questioned multiple times (including those on leave during Aubrey's disappearance), and troops searched the area three times between 2010 and 2012. But in the chaos that has defined Nepal's political situation for years, the Saccos kept learning that their contacts had been fired, jailed, or promoted. Plus, in a developing country like Nepal, police investigations are chronically underfunded.
The Saccos might have given up. Other families had abandoned their searches when confronted with the same roadblocks. Rachel Crowter, whose brother Julien Wynne disappeared in the Everest region in 2008, says her family searched for a year before stopping. "I do not see what else we can do," Crowter says. "The whole Nepali government and system are corrupt. There is no one to investigate. It leaves our family feeling totally frustrated and helpless."
But at home in Colorado, the Saccos went back to work. They forged relationships with ex-FBI agents and former members of the Nepali Army. Twice, they sent a private investigator to Nepal to conduct interviews.

"It isn't just that we miss Aubrey or want to punish the people who may have harmed her," says Paul. "It's an unending belief that the answers are there, and that we are very close to finding them."
Answers don't come easily in Nepal. And it's not just a culture clash between East and West. The country is still recovering from a 10-year civil war that ended in 2006. During that time, thousands were killed in skirmishes between Communist Maoists and the Nepali Army. According to Human Rights Asia, an estimated 1,400 men, women, and children were marched out of their homes—and out of existence. Nearly all remain missing—likely tortured and murdered—and distrust of the government runs deep. The U.S. State Department had an active travel warning for Nepal until 2011. "But travel warnings don't mean 'don't come,'" says Patch, the embassy official. "They just mean 'be aware of what's happening.'"
But what is happening, exactly? Has this hiker's paradise become a danger zone? The U.S. State Department offers a very clear answer. Since before 2010, it has warned strongly against solo trekking due to the increase in assaults on trekkers. On its Nepal page, it serves up a caution that reads, in part: "Solo trekking can be dangerous, and the lack of available immediate assistance has contributed to injuries and deaths, while also making one more vulnerable to criminals. Although it is not prohibited by local law, the Government of Nepal has reiterated its strong recommendation against solo trekking. In separate incidents in the last several years, a number of foreign women (including U.S. citizens) on popular trails have been attacked and seriously injured while trekking alone."
Indeed, the Nepali Ministry of Tourism tried to implement a ban on solo trekking last year (it has issued warnings and temporary bans in the past). The measure ultimately failed, but the Ministry strongly recommends that all solo trekkers hire a guide (about $20/day).
But it's important to keep some perspective. These warnings are meant to help trekkers increase safety, not scare them away. More than 100,000 foreign hikers visit Nepal every year, and the vast majority of them enjoy exactly the kind of experience they hoped for: majestic scenery, friendly people, exotic culture. But that also can create a false sense of security. Do many Westerners simply believe Nepali villages aren't subject to the same human problems that plague our own cities? (Though by any measure, the violent crime rate is lower than in the U.S.) And are the missing trekkers throughout Nepal victims of violence, or of hazards found in mountains everywhere? Patch says the embassy believes most have succumbed in natural accidents, like falling into a river or crevasse. Whatever the dangers, do we contribute to the problem because we like to imagine a Buddhist haven immune to worldly concerns? Aubrey isn't the only trekker who has said, "Don't worry. It's teahouse trekking."
Two of the most recent attacks occurred just months after Aubrey disappeared, also in Langtang National Park. In December 2011, 23-year-old American Lena Sessions was assaulted while hiking near a popular shrine in the Helambu region. As her attacker attempted to rape her, she grabbed his knife and ran, narrowly escaping. Five months later, in May 2012, another 23-year-old, Belgian Debbie Maveau, hiked into the same region, disappeared, and was found 10 days later—decapitated.
Five months after Maveau's death, I embarked on my own trek in Langtang. I had been following the search for Aubrey, and that led me to the unsolved attacks on female trekkers. Why couldn't the culprits be caught, I wondered? Were the authorities really as unhelpful as the Saccos and others said they were?
I enlisted the help of Pemba Sherpa, a Boulder, Colorado-based Nepali business owner and guide, and in late October 2012, we arrived in Kathmandu. We drove 30 miles into Langtang, averaging just 10 mph on a rough dirt road chopped and broken from landslides. In the town of Dhunche, on the outskirts of the park, I followed a police officer named Sudeep Ghiri into a low brick building. In an unlit room, I sat on a threadbare couch covered in a floral bedsheet.
"Lena who?" he asked, when I inquired about Sessions, and recounted the details of her attack.
About Aubrey he said, "Yes. Of course. We send her family condolences. We are sad for their loss. But you must know this is a dangerous place. In the time she disappeared it is rainy season. You can see big falls into the river. So that time you can see the accident is high in this area. We are still doing searching and have cultivated some agents. But since this case is a little bit… very… old, if you ask the people [from the Lama area] they will say, 'That's enough.'"
When I asked him what he thinks happened to Debbie Maveau, he sat back and said, "I don't know. I can't say. But her body, we found it two weeks after. It was a sloping area. Her head was down [below her]. And you know this is a national park, and lots of wild animals. Maybe, because of the gravity…"
I stared at Ghiri. Maybe gravity pulled her head off her body? Dawa Sherpa, managing director for Asian Trekking, later showed me pictures of Debbie's corpse. Her left arm is missing. One hiking boot is gone. Her skull lies 13 inches from her neck.
No arrests have been made.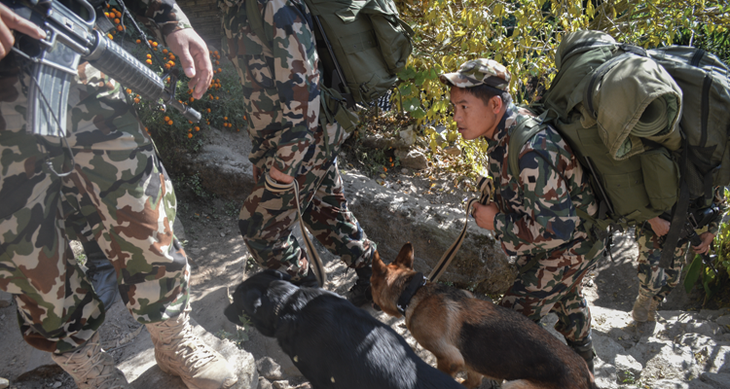 I spent the next five days hiking up and down the Langtang Valley, walking over the same ground Aubrey covered. In the stretch of trail where she disappeared, it would have been exceptionally difficult—without being drunk, or having been pushed—to fall in the river, 200 feet below. Over and over, villagers told me that they knew nothing about Aubrey and they wished people would stop asking. Two young girls giggled, then turned bitter, saying they didn't care anymore that this girl had vanished. At the top of the valley, on day three, we met two young soldiers, one in a black Adidas sweatsuit, one in a uniform and red scarf. The uniformed soldier said, "Look. When that girl went missing, we did everything we could. We went in a helicopter. The Army searched. If a Nepali went missing in America, would your Army look?"
But the search for Aubrey did continue. The pressure applied by the Saccos appeared to be paying off. At the Namaste teahouse, we encountered a large troop of soldiers hiking up the trail. They wore camo and carried AK-47s. A pair of search dogs nosed the sharp-edged stone steps leading to the patio. They confirmed to me the search was for Aubrey. More than two years after she disappeared, 76 soldiers were back on the case, looking for her.
More than three years after Aubrey vanished, Paul and Connie keep her cell number live so they can call, hear her voice, and leave tender, tearful messages. It's a poignant symbol of their grief, but also of their hope that she's still out there, among the living.
"You know, I've been looking for Aubrey a long time now," Paul tells me when I return from Nepal and describe the Army's fruitless search. "As you know, all leads are on the table. But … I've come to believe … that your family will surprise you. I almost don't want to say this. But I think there's a chance that Aubrey made herself disappear. At the time she left, she was very disgruntled with Western culture. She dreadfully did not want to live trapped in a life like ours. She'd been reading a lot of Osho [an Indian guru] and another spiritual leader, Mooji [Jamaican Anthony Paul Moo-Young]. Mooji says you have to leave your family to find true enlightenment. There's a chance she just traipsed off and renounced her old life, which is possible but hard to believe. If that did happen, I would forgive her. But our relationship would never be the same."
Could Aubrey have vanished of her own accord? It didn't seem right. This from a girl who called or emailed her mother every day of her trip, and who wrote, I love you, Daddy Poo, in the last letter to her father? A girl who recorded three songs for her dad before leaving home, to help him cope with her traveling so far away from him? Paul got her to sing, he says, because he wanted a piece of her that he could listen to while she was gone. "I loved this girl from her bows to her toes," he says, "probably to the point that it hurt her brothers."
When you love someone that much, is it better to believe she abandoned you than to imagine she's gone forever? Do you ever stop searching?
Paul and Connie returned to Nepal for a third time exactly three years after Aubrey disappeared, in April 2013. If nothing else, they wanted to remind police and military officials that they had not given up. In meetings with witnesses, they learned of reports that put soldiers near the Namaste teahouse on the day Aubrey departed. The news reminded the Saccos of an earlier lead, initially deemed unreliable, that three men had been seen attacking a woman near Namaste, then dumping her body in the river. But news about these leads, like so many others, faded when the Saccos returned to Colorado.
So they were shocked when, three months later, they received news that Aubrey's killers had been caught. On July 31, 2013, Dawa Lama, a Nepali man from Langtang, phoned to tell them that the police had arrested three men, and that they'd confessed to murdering Aubrey.
The next night, I went to the Sacco's home, a brick colonial in an affluent neighborhood of Greeley. Aubrey's paintings—oils and pastels, landscapes and self-portraits—hang prominently in the Italian-tiled foyer. We sat at a picnic table and parse a conversation the Saccos had with Consular Section Chief Patrick McNeil, of the U.S. Embassy, hours earlier.
According to McNeil, an undercover Nepali police officer met a man who told him that he had murdered Aubrey. The officer befriended the man, who later implicated two accomplices. The Nepali newspaper Republica reported that one of the suspects had Aubrey's camera. News circulated that pieces of Aubrey's clothing were found in another suspect's home. All three were handcuffed and marched out of Langtang, and the news quickly spread to the AP, CNN, and news outlets around the globe.
The morning after Dawa's call, Paul's phone rang at 5:20 a.m. It was a Colorado reporter, who asked, "How does it feel to know your daughter was murdered?"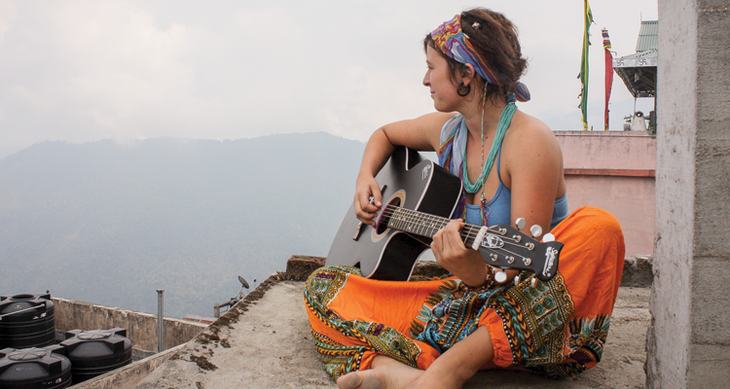 Popular guides to the five stages of grief have made everyone an armchair psychologist. But as any therapist will tell you, the real thing is much more complicated. Over the three-plus years since Aubrey vanished, the Saccos have experienced it all—often simultaneously. Anger? Paul cringes when he recalls storming in on the French Ambassador in Nepal and screaming, "Our embassy helped you [when the French girls were assaulted]. Why can't you help us?" Depression? "Men, all their lives, are supposed to solve their little girl's problems," says Paul. "To feel as helpless or out of control as we have at times, it makes you want to commit suicide."
Would the news finally end this awful cycle?
There's no chance to find out. Like so many times during the search for Aubrey, the truth changes. On the morning of August 1, McNeil calls again. Taking a deep breath, he says, "This is, in many ways, disappointing. [The Nepali police inspector] had doubts about this … boaster. They had questions [so they took him to Langtang]. But he changed his story, naming people who didn't exist. Based on no physical evidence, [the police] don't feel that they have any basis to keep the men." The three suspects are released after 28 days in custody.
I expect the latest turn of events to devastate the Saccos. But they've been through this so many times—these leads that dead-end—that they've become inoculated against big emotional swings. When the call ends, the house becomes eerily quiet. The summer air hangs still. Paul goes out to keep an appointment. Connie walks into Aubrey's room, where the clock is frozen on the date she was supposed to come home.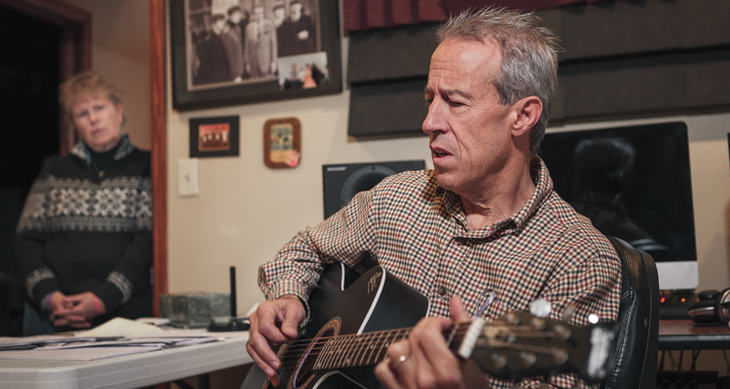 Connie, who has a soft, introspective demeanor compared to her daughter's exuberance, confides that she often waits for Paul to go to bed and then walks into the backyard. There, she stares into the sky and talks to Aubrey. She says, "Where are you?" and "How are you?" and waits for a response. She often gets a feeling that Aubrey can hear her. But one night she saw two eyes and a mouth in the clouds. The eyes reminded her of Aubrey, but the mouth was frowning. "I knew that I wasn't looking at Aubrey, because Aubrey is always smiling," she says. "Then I realized that the face in the cloud was mine. In Aubrey's journal she wrote that in order to move on, you need a clean slate in this life. Sometimes I wonder if my clean slate is letting go."
Acceptance? The Saccos' refusal to even entertain the idea has powered the longest, most expensive search for a missing trekker in Nepal's history. But is there a price? Recently, I talked to Amanda, Aubrey's best friend and now sister-in-law, and asked what part of Aubrey she misses the most. Her answer surprised me.
"Obviously, I miss having her around," she said. "She was the best person I could talk to when I needed encouragement. But at this point, I miss her being there for her family. Her parents come over all the time. I have pictures of her in high school, of her last night before she left for Sri Lanka. Paul will kiss the pictures. Our son [Luca, 4] is at the point that he's noticing things. My husband is more on the angry side, while Morgan, the younger brother, is very quiet. He doesn't talk about it. It's hard … I just miss having her here. She was the middle child but she was also the equilibrium. She would liven the mood and her parents need that more than ever."
Paul admits as much during a phone call with both him and Connie last fall. "Frankly, it's kind of depressing. Connie and I just look at each other and shrug. We're in a lull," he says. The latest hope: U.S. officials delivered polygraph equipment to Nepal last November, and are training Nepali police to use it. Most likely, the "boasters" in Aubrey's case will be the first subjects. "But we've learned that even if [the police] know something, until they're ready, they won't tell us," says Connie.
I wonder if the Saccos really want to know. Because when you know nothing, anything is possible. In September, Paul tells me about a man he met while moving his mother into a nursing home in Chicago.
"This is the manager," he says. "A high-powered businessman, and very savvy. Halfway through the tour, he notices the wristband I wear for Aubrey. He points to it, says 'What's that?' I struggle with this. I don't want to get into it. But I respect Aubrey."
Reluctantly, Paul tells the abbreviated version of how his daughter evaporated in a beautiful valley beneath the tallest mountains on earth. And the guy starts shaking, like he'll go into a trance. Paul asks if he's all right. He says, "Yes, but I'm an intuitive." He says every feeling he's ever had he's been right about. And then he says, "Your daughter, Aubrey, is alive."
The man is a Freemason with contacts in India. He says he has "brothers" all over the world and that he will search for Aubrey. Paul exhales, then says to Connie, "That's an example of the kind of thing that keeps us going, right?"
"Well, he's asked us a lot of questions," says Connie. "That's exhausting. Revisiting things is exhausting."
But Paul doesn't hesitate. "We have to keep going, right?"
As if it's a question.
Tracy Ross won a 2009 National Magazine Award for her BACKPACKER essay The Source of All Things.