Golden, CO: North Table Mountain
Climb 600 feet above Golden to one of its guardian mesa-tops. Big views of the Denver skyline and the continental divide reward the 0.9-mile one-way climb.
Heading out the door? Read this article on the new Outside+ app available now on iOS devices for members! Download the app.
One of two mesa-tops flanking the east side of Golden, Colorado, North Table Mountain is an easy-access day hike that offers spectacular views and many more miles of trail to explore. This quick-and-dirty escape begins at the top of Peery Parkway and follows a narrow singletrack trail up the mountain's east slope. The trail winds above houses, eventually abutting a rocky shelf that is the moutnain's capstone. On warm winter days, expect to see climbers using the trail to this point at mile 0.6 to access south-facing traditional climbing routes below the mountain's summit.
This route continues to the edge of the plateau and following it south through open scrubby desert to the mountin's high-point above Golden. The 360-degree view offers a peek at downtown Denver and to the COntinental Divide above Clear Creek to the west.
-Mapped by Kristy Holland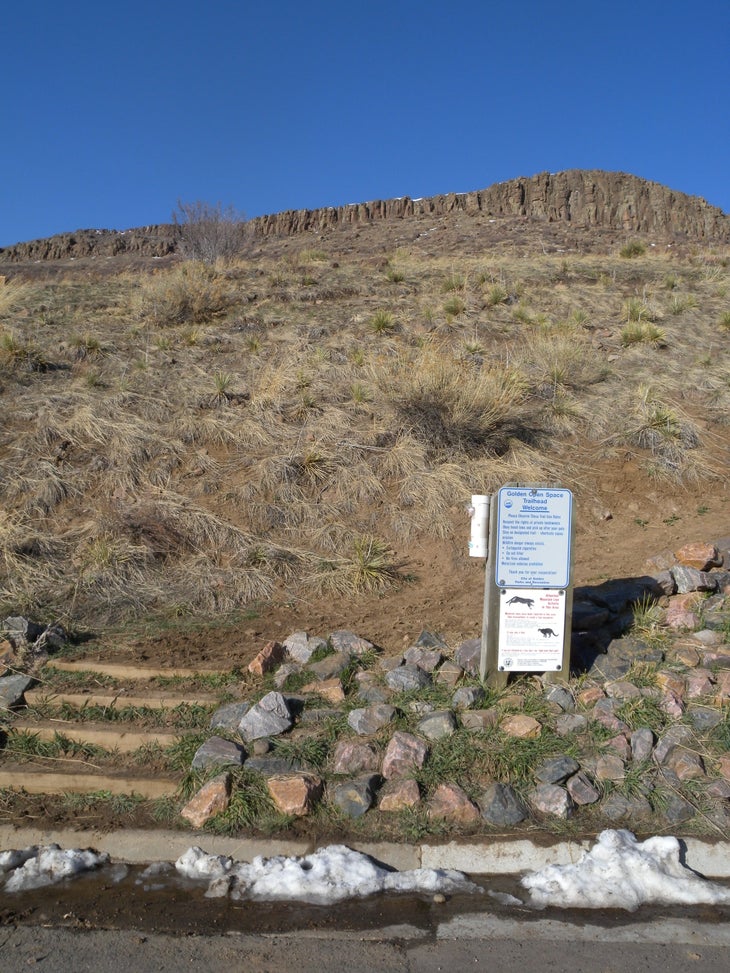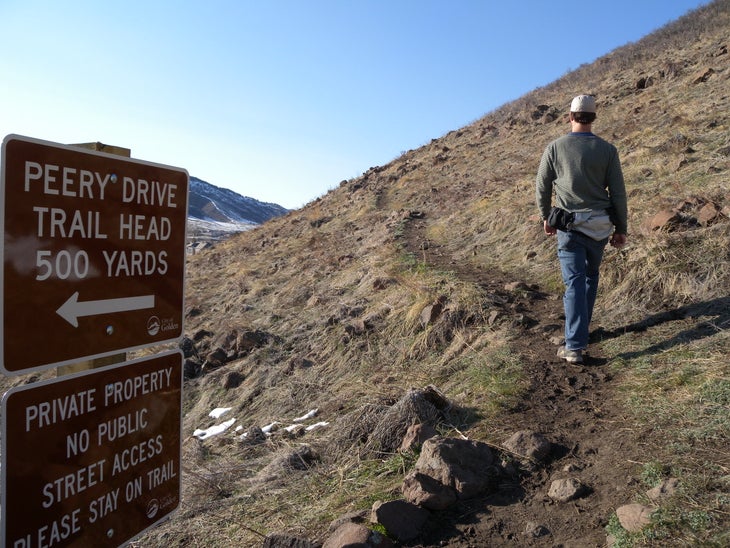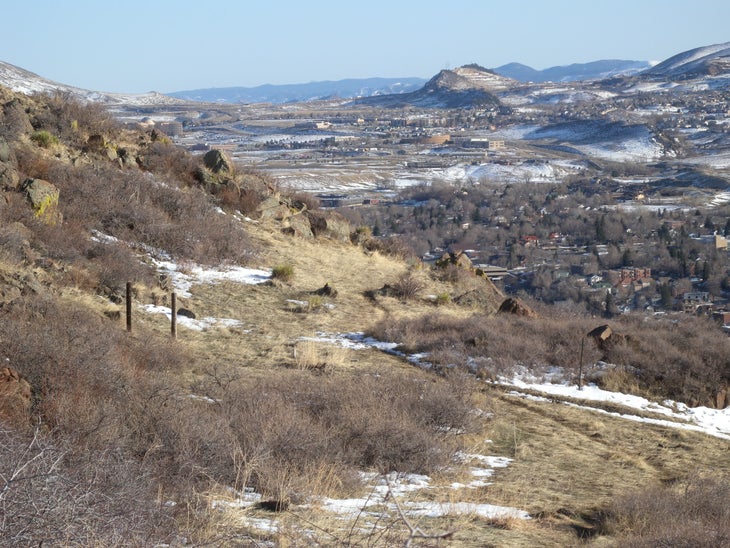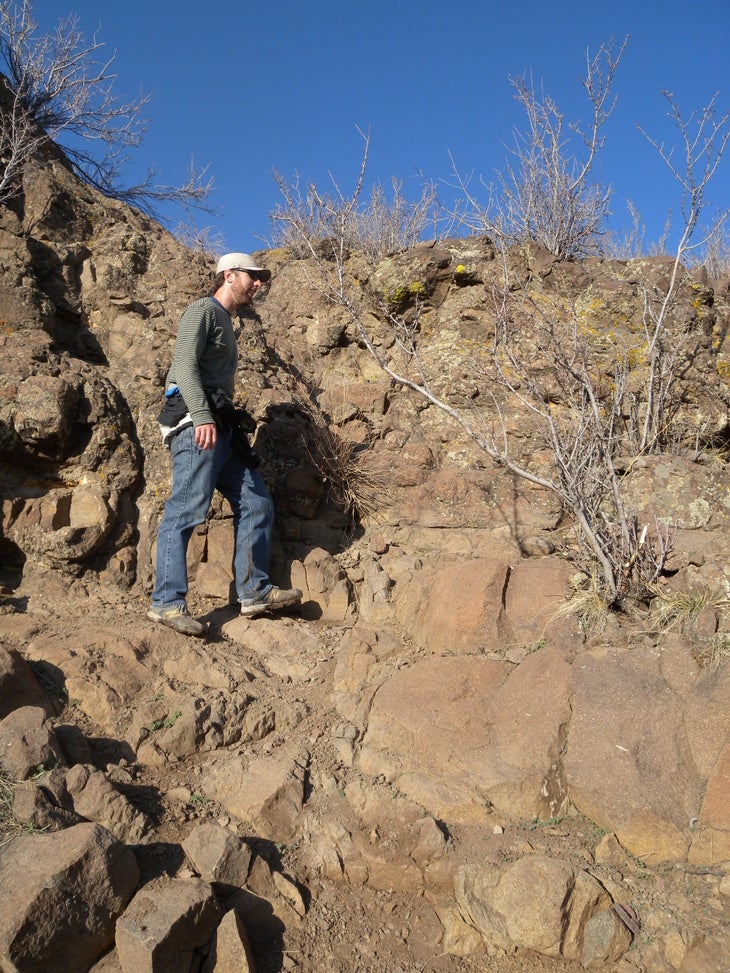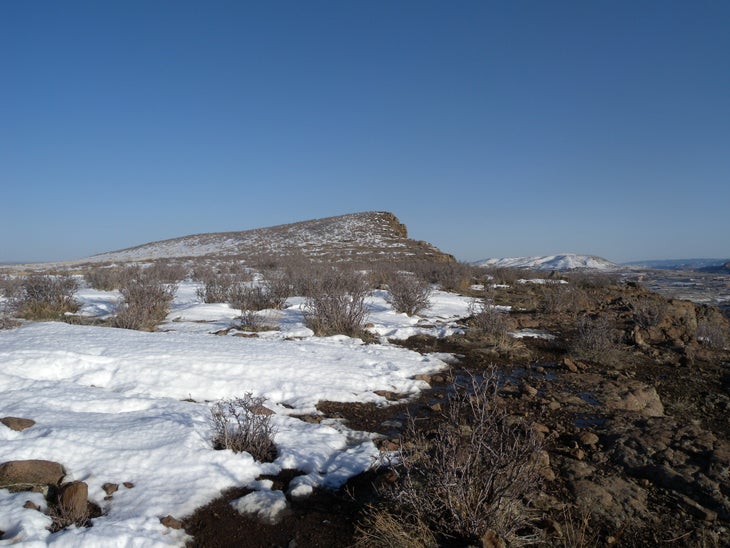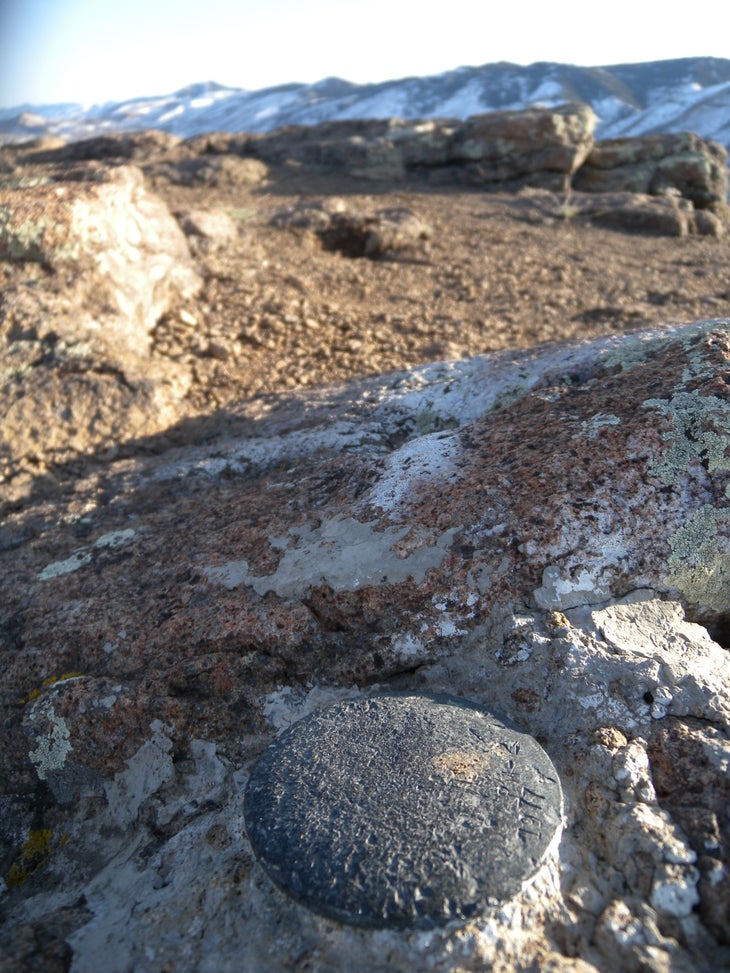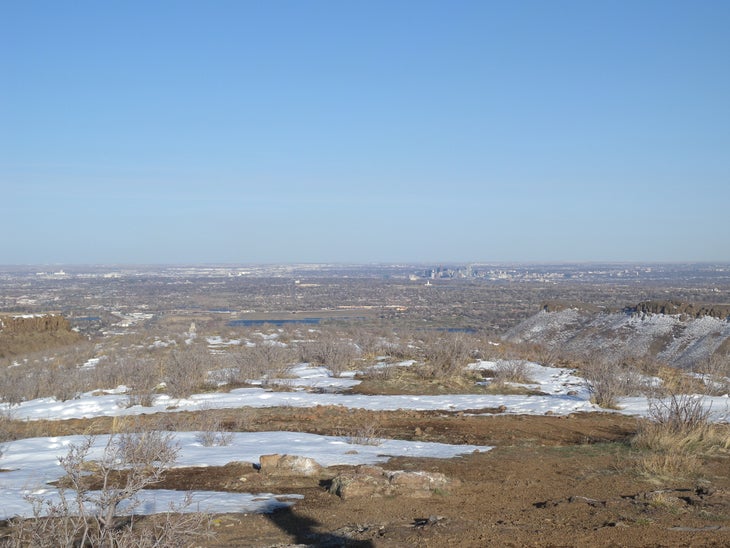 Trail Facts
Waypoints
072 – pine needles
Location: 35.192749, -84.47399
05-AUG-09 9:52:56AM (bed of pine needles)
071 – Rafters
Location: 35.200808, -84.467098
070
Location: 35.19958, -84.465245
05-AUG-09 9:26:25AM
069
Location: 35.19754, -84.463008
05-AUG-09 9:15:36AM
068
Location: 35.195776, -84.450221
05-AUG-09 8:46:59AM
067
Location: 35.1943, -84.449961
05-AUG-09 8:39:52AM
066
Location: 35.189593, -84.446774
05-AUG-09 8:29:14AM
065
Location: 35.185947, -84.448005
05-AUG-09 8:15:05AM
064
Location: 35.181942, -84.445989
05-AUG-09 8:00:53AM
063
Location: 35.183007, -84.439566
05-AUG-09 7:42:00AM
062
Location: 35.190064, -84.434402
05-AUG-09 7:16:33AM
076
Location: 35.188155, -84.502974
05-AUG-09 12:35:56PM
075
Location: 35.189481, -84.490277
05-AUG-09 12:00:56PM
074
Location: 35.187294, -84.488019
05-AUG-09 11:53:47AM
073
Location: 35.186993, -84.472947
05-AUG-09 11:12:14AM
021
Location: 35.188589, -84.306598
04-AUG-09 9:52:34AM
020 (Turn right) #2
Location: 35.188216, -84.305595
04-AUG-09 9:48:58AM
019
Location: 35.188729, -84.304598
04-AUG-09 9:43:50AM
018
Location: 35.188084, -84.303289
04-AUG-09 9:36:21AM
017
Location: 35.188081, -84.303287
04-AUG-09 9:36:16AM
016
Location: 35.188062, -84.303367
04-AUG-09 9:35:37AM
015
Location: 35.187533, -84.303325
04-AUG-09 9:33:10AM
014
Location: 35.18743, -84.302361
04-AUG-09 9:28:19AM
013
Location: 35.187058, -84.302563
04-AUG-09 8:59:08AM
012
Location: 35.187723, -84.30192
04-AUG-09 8:52:29AM
011
Location: 35.18723, -84.301501
04-AUG-09 8:49:20AM
010
Location: 35.187662, -84.301528
04-AUG-09 8:40:52AM
009
Location: 35.18723, -84.301205
04-AUG-09 8:37:04AM
008
Location: 35.18758, -84.301192
04-AUG-09 8:34:20AM
007
Location: 35.187299, -84.300826
04-AUG-09 8:31:01AM
006
Location: 35.187722, -84.300945
04-AUG-09 8:28:20AM
005
Location: 35.187272, -84.300553
04-AUG-09 8:24:46AM
004
Location: 35.187579, -84.300589
04-AUG-09 8:22:19AM
003
Location: 35.18757, -84.300603
04-AUG-09 8:20:09AM
002
Location: 35.187302, -84.300263
04-AUG-09 8:16:54AM
001
Location: 35.186664, -84.299667
04-AUG-09 8:10:24AM
061
Location: 35.189861, -84.43396
04-AUG-09 7:08:09PM
060
Location: 35.190263, -84.429912
04-AUG-09 6:18:13PM
059
Location: 35.188985, -84.427424
04-AUG-09 6:12:07PM
058
Location: 35.187921, -84.425284
04-AUG-09 6:04:49PM
057
Location: 35.186406, -84.420302
04-AUG-09 5:52:00PM
056
Location: 35.182209, -84.415019
04-AUG-09 5:37:05PM
055 – Loss Creek – mile 10
Location: 35.183384, -84.40532
04-AUG-09 5:07:54PM
054
Location: 35.181285, -84.396169
04-AUG-09 4:48:23PM
053
Location: 35.178748, -84.393697
04-AUG-09 4:35:34PM
052
Location: 35.178401, -84.392123
04-AUG-09 4:32:15PM
Coker Creek – mile 8.8
Location: 35.179228, -84.391072
04-AUG-09 4:25:28PM
050 – BMT
Location: 35.176151, -84.392922
049
Location: 35.17604, -84.394399
04-AUG-09 4:02:50PM
048
Location: 35.17549, -84.394697
04-AUG-09 3:59:53PM
047
Location: 35.174481, -84.390591
04-AUG-09 3:41:30PM
046
Location: 35.176129, -84.387256
04-AUG-09 3:30:09PM
045
Location: 35.177285, -84.385306
04-AUG-09 3:23:26PM
044
Location: 35.177158, -84.385232
04-AUG-09 3:22:17PM
043
Location: 35.177324, -84.384828
04-AUG-09 3:20:17PM
042
Location: 35.177053, -84.385033
04-AUG-09 3:18:00PM
041
Location: 35.176547, -84.384781
04-AUG-09 2:54:10PM
040
Location: 35.177343, -84.377648
04-AUG-09 2:29:11PM
039
Location: 35.17611, -84.373923
04-AUG-09 2:19:08PM
038
Location: 35.170642, -84.36694
04-AUG-09 1:53:11PM
037
Location: 35.171918, -84.362666
04-AUG-09 1:07:34PM
036
Location: 35.167516, -84.354216
04-AUG-09 12:50:31PM
035
Location: 35.167301, -84.354165
04-AUG-09 12:13:18PM
034
Location: 35.176101, -84.343604
04-AUG-09 11:43:55AM
033
Location: 35.178941, -84.339746
04-AUG-09 11:36:18AM
032
Location: 35.178455, -84.335808
04-AUG-09 11:28:13AM
031
Location: 35.177932, -84.331688
04-AUG-09 11:20:44AM
030
Location: 35.175562, -84.325894
04-AUG-09 11:09:39AM
029
Location: 35.176967, -84.323751
04-AUG-09 11:05:02AM
028
Location: 35.18116, -84.316993
04-AUG-09 10:50:57AM
027
Location: 35.182718, -84.315369
04-AUG-09 10:42:05AM
026
Location: 35.183668, -84.313405
04-AUG-09 10:36:34AM
025
Location: 35.184906, -84.311993
04-AUG-09 10:27:26AM
024
Location: 35.185487, -84.311279
04-AUG-09 10:22:48AM
023
Location: 35.184731, -84.310702
04-AUG-09 10:17:46AM
022
Location: 35.185463, -84.307417
04-AUG-09 10:04:26AM
Park
Location: 35.17064, -84.36694