Going, Going…Gone?
Wolf howls have echoed across Isle Royale National Park for decades. But with the once-widespread predators down to a single pack, the time to go hear--and maybe spot--them is now.
Heading out the door? Read this article on the new Outside+ app available now on iOS devices for members! Download the app.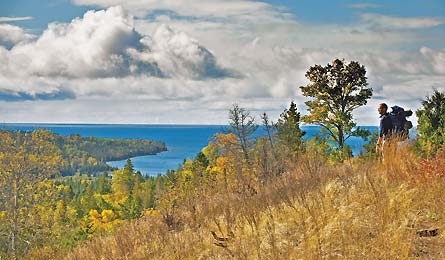 Feldtmann Lake Trail (Layne Kennedy)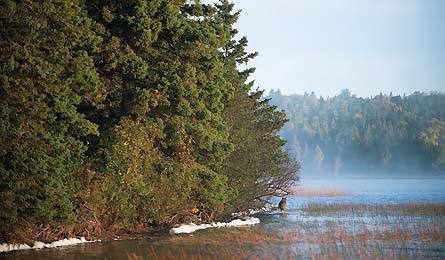 Feldtmann Lake Timber Wolf (Layne Kennedy)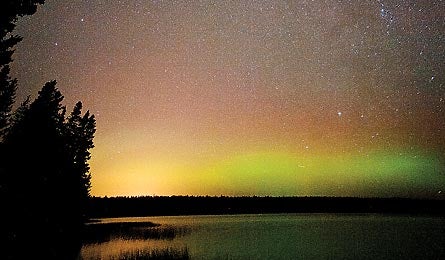 Northern Lights Above Feldtmann Lake (Layne Kennedy)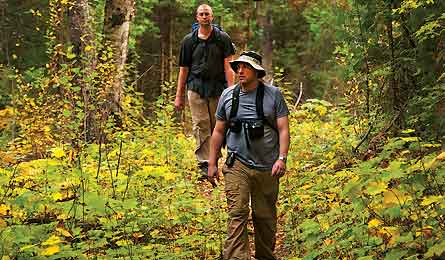 On the West Huginnin Cove Trail (Layne Kennedy)
Will you be there to see Glacier's last glacier melt away? Would you race to Yellowstone if the geysers were drying up, or to Denali if the grizzlies were on the brink? Dumb questions, right? What backpacker wouldn't max out the Mastercard to witness the last of these iconic national park symbols?
That's why my friend Mike Kooi and I made a pilgrimage to Isle Royale last autumn. The island's legendary wolves could become the first such icon to disappear in the 21st century. The predators have been a defining and haunting presence here since they first crossed a 15-mile ice bridge from Canada 60 years ago. But there's only one pack left on this isolated, 45-mile-long, boreal atoll deep in Lake Superior. And the wolves' time looks to be running out. They might not survive to howl at your kids. Heck, they might be gone by 2020.
We know the odds of actually seeing a timber wolf are against us. Even in places like the Boundary Waters, where wolves are plentiful, humans rarely glimpse the elusive animals. (But imagine the odds against wolves establishing themselves on this island in the first place.) And if we fail, the booby prize isn't so bad—five days of hiking some of the 165 miles of raw, Northwoods trails that crisscross the island.

As we unload from the ferry at the Windigo dock at Isle Royale's western end, a smiling park ranger assembles the nearly 20 passengers (mostly day-trippers) for a mandatory Leave No Trace talk. He also shares good news: "You're here at a very special time of year, the moose rut. It's when our bulls are drunk on testosterone."
"I hope we see a bull moose getting devoured by wolves," Mike quips sotto voce.
Moose came to Isle Royale about 50 years before the wolves, crossing the ice, or maybe going for a long swim, sometime in the early 1900s. The phenomenon—an isolated wolf population on an island with an all-you-can-eat moose buffet—spurred a groundbreaking wildlife research study that started in 1948 and is now the longest-running such study worldwide. The research findings have been legendary: They have influenced not only wildlife management regulations but also unexpected fields like arthritis research (poor nutrition in early years increases risk by 50 percent). Scientists have witnessed some incredible population surges, such as the mid-1990s, when Isle Royale had more than 2,500 moose (more than six per square mile), and the late 1970s, when 50 wolves in seven packs patrolled the island (that's a wolf density five times larger than Yellowstone's).
But now both moose and wolf populations have dipped to their lowest levels in decades, and the wolf needs a miracle to keep from being snuffed out. At press time, only nine remain. Five exist as the island's Chippewa Harbor pack (with only one female); on the other end of the island, a male and female make a tandem biologists have dubbed the "West End Duo;" two more males roam as loners. The winter of 2011-12 was tough for the wolves: The Chippewa Harbor alpha male might have died, and no pups were born. Ecologist John Vucetich, one of the study's researchers, says, "The future of this population may well rest with the West End Duo."

Knock-knock. The ranger pops his head into our lean-to at Washington Creek Campground. "There's a nor'easter blowing in. Gale force winds on Superior," he says. "The ferry's coming back to get anybody with tickets to leave tomorrow—they've got to go tonight. Like, right now." Luckily, we're two of the few with permits to stay.
"Nor'easter? We have to check that out," says Mike, an enthusiastic storm-chaser whose passion for wild weather temporarily hijacks our itinerary. (Besides, while the Chippewa pack is known to frequent some areas more than others, the wolves are also known for ranging far and wide—who knows where they might be?) So instead of trekking into Isle Royale's interior, we devise a five-mile detour to the north shore and Huginnin Cove, where we can greet the storm head-on.
The trail climbs gently out of the evergreens into a stand of paper birch; their yellow leaves glitter like golden coins in the building wind. When we reach the cove, I cinch my hood tight and shiver in the face of the building storm. A 50-mph gust drops me to my knees. Then, a sharp snap! I look left, and a 40-foot-tall spruce splits in half right before my eyes. "Yeeeeaaaah booooy!" Mike cheers.
We huddle up at a campsite sheltered by a phalanx of spruces and make lunch. When the trees bend double, we retreat inland to Washington Creek. By dusk, the storm blows through. The sky is clear; the air still. Then, a mournful moan comes from deep in the woods: "Uugghh–AAAUUUUGGHHHH–uuuunnnnggghh!" A cow moose in heat. We listen to her desperate groan for a half hour, then hear a splashing in Washington Creek just 20 yards away. The sloshing grows louder, moving in the direction of the moan. An 800-pound suitor is answering her call. But for the total blackout of a new moon, we might have been able to glimpse the bull moose. I run to the creek and shine my light, but can only see its wake.
The next morning, we break camp and start a 10-mile hike southeast to Feldtmann Lake, which the ranger had said was good moose country with lots of marshy habitat. And where you find moose, you might just find wolves (a wolf feasts on as many as 20 moose per year). We could beeline straight to Chippewa Harbor, which the last wolf pack favors, but it's 40 miles away via the Greenstone Trail and even there the wolves are rarely seen, since that pack roams over the entire eastern half of the island. This way, we reason, we'll at least have moose as a possible consolation prize.

But even the island's moosiest hollows seem sparsely populated these days. Rolf Peterson, a Michigan Technological University ecologist who has worked on the Isle Royale research project since the 1970s, has tracked an 80-percent decline in the moose population since the late 1990s.
"We need to figure this out," he says. "We would expect the moose population to be spiking right now. There is plenty of food and the fewest wolves since we started keeping track, so we expect the number of calves counted each spring to go up. But that doesn't appear to be happening very quickly, though there have been signs of increase this year."
He postulates the stalled growth could be due to a warming climate. By collecting fecal pellets in winter and analyzing hormones, he has identified low pregnancy rates as a top factor in the flagging population. And since ovulation rates are directly related to fat reserves, perhaps female moose aren't feeding enough during warmer summers and autumns, spending their time cooling off instead.
To be sure, there are still lots of moose on Isle Royale—the 2012 count is up to 750, or more than 1.5 per square mile (a density nearly equal to that in Maine). And during the rut, the terrain in hot spots like Feldtmann may well be an ungulate red light district.
The route to the lake starts with a level stroll through mixed spruce–birch forest, then we take a hard left turn, climbing switchbacks 200 feet to a grassy ridge-top terrace. Dark red maples and yellow birches carpet the forest below, interrupted by ribbons of evergreen stands and a tangle of lazy creeks flowing through muskeg. From here, the trail rides the spine southeast through meadow after meadow. Alongside the trail in one of the clearings lays a moose-antler cairn—two antlers stacked atop each other. In the next meadow, another antler hangs in a tree. Since it's illegal to take antlers off the island, backpackers decorate the trail with moose sheds. At Feldtmann Lake, a stack three antlers high towers at our lakeside campsite.
The howl electrifies the still evening air. Mike and I freeze like scared rabbits. Our private lakeside campsite is tightly hemmed in by dark forest. We haven't seen another living thing all day, but obviously we aren't alone.
Another howl, this one closer. I peer into the veil of thick balsam firs, but all I can see are branches and needles. A third howl. Now all three in unison!
"They're just a few yards away!" Mike whispers. My heart pounds so hard I can barely hear Mike. I start to sweat, mostly with excitement, partly with fear.

The last time the wolf population was anywhere close to this low was in the early 1980s. During the wolves' heyday, a park visitor brought his dog to the island, and the dog brought a case of canine parvovirus. The wolf population fell from 50 to 12 before rebounding to 30 individuals in four packs by 2008. But then a moose decline translated into a food shortage, and this, combined with decades of inbreeding, started to take a toll. There were only two packs by 2010. Then in February 2011, the Chippewa Harbor pack raided the Middle Pack, killed its alpha male, and dispersed the others. If the two females on the island don't reproduce, the population is doomed. The last time Isle Royale's wolves had new blood for their gene pool was in 1997—during a severe winter that reconstructed the ice bridge to Canada and allowed a new male wolf to immigrate. But the warming temperature of Lake Superior has deflated biologists' hopes for another freeze-up.
If Mother Nature doesn't act, the National Park Service might, by introducing more wolves. It's been done before (Yellowstone, for example), but it would be unprecedented on Isle Royale, where scientists have remained hands off, observing wolves and moose in an isolated wilderness laboratory. Peterson says he is in favor of introducing wolves if they die off naturally on Isle Royale: "As long as there are moose on the island, I think there should be wolves. Ecosystem health is what's most important to me. And we know that large ungulates, in a setting without predators, can do extensive damage to an ecosystem if left uncontrolled."
Reintroduction might be easier said than done, though, given the glacial pace of bureaucracy. So far, all park officials have said is that they'll conduct an internal study on Isle Royale's moose and wolf populations in 2012, which will be followed up by a formal environmental review.
In camp, tearing into boil-and-mix tuna curry by lantern light, Mike and I ponder the meaning of the wolf chorus earlier. Were they on a fresh kill? Then another sound echoes across the lake—unnggh, unngghhh, UNNNNGGGHHH! A bull moose, grunting, in search of a mate. But, as before, I can't see him.
Three days into this trip, having trekked Isle Royale north to south, we've heard plenty of wildlife but haven't seen a thing. But Isle Royale isn't a zoo. If you want guarantees, go look at a wolf behind a fence. Here, I'm interacting with wilderness—finding antlers, hearing the grunts and moans of the rut, even getting scared stiff by howls. I take a last bite of noodles and walk over to the lake to look at a billion glinting stars. A faint light begins flickering to the north, subtle curtains of amoebic ghostly white. The aurora borealis. Something else you can't see in a zoo.

Dawn, and the lake is shrouded in gossamer wisps of fog. Howls erupt again, this time on either side of our camp. I am moments out of the warm cocoon of my sleeping bag, rubbing sleep out of my eyes. Then in a jolt, I am alert. A yipping just to the north of camp crescendos into a distressed wail.
Three full-throated howls answer from the south. The wolves exchange calls back and forth, drawing closer to our camp each time. My mind shorts out, unable to decide whether this is good or bad.
Again to the south, three howls explode. Closer still. Then a crashing in the brush. Along the trail leading to our site, a gray wolf appears and flashes into an opening. I catch a glimpse broadside in full trot, a ghostly gray streak, ears perked and broad snout pointing forward. It vanishes. Then dead silence. We've just witnessed a rendezvous of four of the island's last wolves.
We decide to hike five hours back to Windigo to tell the rangers; I gleefully fill out the wolf encounter report. Our observation will be relayed to the scientists, contributing one important tidbit to the research. The rangers are shocked to hear that we saw wolves exhibiting social behavior so far from the Chippewa Harbor pack's historic territory. Were they extending their claim? Were some wolves breaking to form a rival pack?
The answer, I realize later, is both wonderful and sad: We may never know.