Glen Canyon National Recreation Area: Ticaboo Creek
This hike explores a network of canyon forks anchored by scenic and isolated camping and reliable water sources in central Ticaboo Creek.
Heading out the door? Read this article on the new Outside+ app available now on iOS devices for members! Download the app.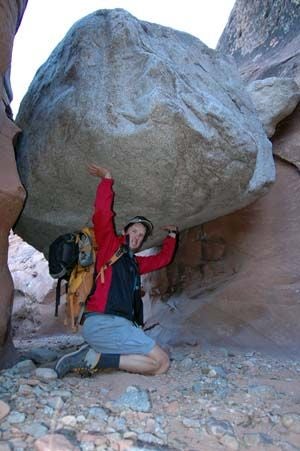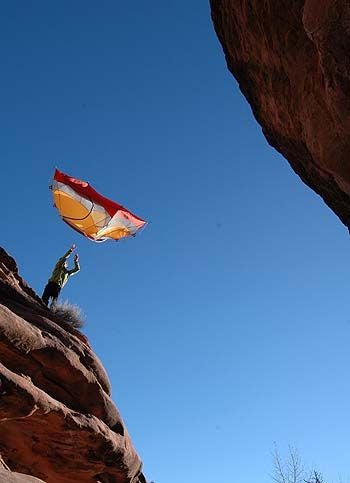 Trail Facts
Waypoints
TIC001
Location: 37.7018356323242, -110.579971313477
Among the 2,000 miles of winding shoreline and 96 side canyons, nowhere in Glen Canyon are there more hidden treasures than in the Ticaboo Creek-Fourmile Canyon region north of Bullfrog Marina. Here, a web of canyons cuts deeply into Navajo sandstone, creating well-watered gorges, slots, slickrock bowls, and soaring sandstone domes tucked between the Little Rockies and the lake's cliffy rim. Unknown to all but the most avid map studiers, the Ticaboo region offers a striking example of the secret worlds that lie within Glen Canyon.
Earmark 3-6 days for this trip. We scrambled through a network of canyon forks, all anchored by excellent camping and water sources in central Ticaboo Creek. The best way to get intimate with the area is to basecamp and explore side canyons to little-known gems and Lake Powell.
********
Start near a water tank managed by the BLM for cattle, and follow faint switchbacks into an arm of the South Fork.
TIC002
Location: 37.7039489746094, -110.576332092285
Main route veer R down canyon. Optional: Drop pack, and turn L for a short side trip up the South South Fork (labeled SSF01)
SSF001
Location: 37.7079162597656, -110.582229614258
Keep NE, passing over sandy washouts and seasonal potholes
SSF002
Location: 37.7120208740234, -110.590896606445
Big pothole; canyon deadends ahead
TIC003
Location: 37.708984375, -110.567497253418
Short side canyon on R, and even shorter one ahead on L.
SFR001
Location: 37.7193832397461, -110.56893157959
You've left Glen Canyon NRA and now back BLM country. The canyon walls are less dramatic. If time permits and you have a rope, it might be possible to link this point up with Waypoint TIC010 via sandstone domes and a short arm off the Ticaboo.
TIC004
Location: 37.7086219787598, -110.560050964355
South Fork on L. This rocky, sandy fork flattens out in a space bigger than a football field after about a mile (track labeled SFR01). To stay on main path, continue E down canyon.
TIC005
Location: 37.7068176269531, -110.558296203613
Graffiti on R. There's a copy-cat Kopelli drawing and several names with dates painted or carved into the red wall.
TIC006
Location: 37.7072334289551, -110.553886413574
Seasonal water source
TIC007
Location: 37.705883026123, -110.552047729492
Sandstone benches offer good campsites on R.
TIC008
Location: 37.7084007263184, -110.528015136719
Ticaboo Creek. Before you continue L on the main route, drop your pack, grab the camera, and head E to Lake Powell. This 2.2-mile sidetrip (labeled TLP01) is well-worth the detour. It leads into a re-vived redrock hallway bursting with new plant life.
TLP001
Location: 37.7069511413574, -110.522918701172
High water mark from 1999. Continue down canyon, past a gardens of new growth and leftover silt banks from the lake.
TLP002
Location: 37.703498840332, -110.514717102051
This marks the lake level in November 2005. There's two great overlooks–be weary of extremely undercut rocks–with views stretching into the lake. Look for schools of carp circling near the water's surface.
TIC009
Location: 37.728515625, -110.540946960449
This old cowboy camp has an old handmade table and is the best camp in Ticaboo. Reliable water source nearby and lots of shade.
TIC010
Location: 37.7308006286621, -110.547515869141
Just before this S-curve in the canyon there's a small cave on N wall.
TIC011
Location: 37.7354164123535, -110.547317504883
From this point, you can choose your own adventure to Fourmile Canyon. Turn L here for Middle Fork (labeled MFR01). Keep striaght for other options.
MFR001
Location: 37.736198425293, -110.55241394043
After a short bit through the narrows of the Middle Fork, turn R here and head striaght up the sandstone dome for far-stretching views of the surrounding sandstone country.
MFR002
Location: 37.737133026123, -110.55249786377
Great lunch spot, and photo opportunity. Head over dome and down into the North Fork.
TIC012
Location: 37.7362480163574, -110.546180725098
North Fork. This is the main route to Fourmile Canyon. Turn L. Or, continue striaght for another longer path (labeled SID06) to Fourmile and more side canyon exploration (labeled SID07).
SID001
Location: 37.744743347168, -110.536331176758
Turn L for a 2.2-mile NW route to Fourmile. Rocky but fairly easygoing.
Optional: Turn R (labeled FSD01) into one of the many fingered slots in this region. We took the one due E, hoping for an unmapped, non-technical route out.
SID002
Location: 37.7565574645996, -110.549644470215
Continue NW
FSD001
Location: 37.7479820251465, -110.52604675293
No luck. The canyon ends abrubtly at an impressive wall–gorged and shaped in all sorts of contortations by falling water.
TIC013
Location: 37.7431831359863, -110.555702209473
Continue NW, following North Fork
TIC014
Location: 37.757682800293, -110.566535949707
Great open sandstone views all-around
TIC015
Location: 37.7623825073242, -110.565017700195
Hike into Fourmile Canyon. Your route out goes left up canyon, heading W. Optional: Camp nearby and spend a half day hiking to Lake Powell (labeled FML01).
FML001
Location: 37.763599395752, -110.558120727539
Redrock walls narrow
FML002
Location: 37.7637825012207, -110.55256652832
Huge blocks broken off from the wall above sit in the sandy canyon floor; continue E to somewhat reliable water source
FML003
Location: 37.7664031982422, -110.537422180176
Running H20
FML004
Location: 37.7708854675293, -110.516014099121
Sea of tumble weed
FML005
Location: 37.768798828125, -110.497589111328
High Water Mark of Lake Powell
TIC016
Location: 37.7698822021484, -110.58251953125
A giant rock is supended in the narrow canyon wall. Ahead is some fun scrambling out of Fourmile.
Giant Rock
Location: 37.7699089050293, -110.582702636719
This rock is wedged between the canyon walls. The only way around is to climb under. © Kris Wagner
TIC017
Location: 37.7714538574219, -110.587265014648
Possible campsites near rim
Canyon Wall
Location: 37.7722244262695, -110.587104797363
The canyon walls are really tall here still. This shot was taken from the canyon bottom.
© Kris Wagner
TIC018
Location: 37.771656036377, -110.608100891113
The faint trail, marked with occasional cairns, climbs through a pass in the Little Rockies. Continue W.
TIC019
Location: 37.7823371887207, -110.64461517334
Trail ends @ UT 276.