Glen Canyon National Recreation Area: Rainbow Trail
This 27-mile, 5-day trek circumnavigates Navajo Mountain and leads to Rainbow Bridge, the largest natural bridge in the world.
Heading out the door? Read this article on the new Outside+ app available now on iOS devices for members! Download the app.
More Info: For permits write: Navajo Nation Parks and Recreation Department, P.O. Box 2520, Window Rock, AZ 86515 (928) 871-6647. Allow several weeks.
For shuttle service, call Leo Manheimer in Rainbow City, (928) 672-2408.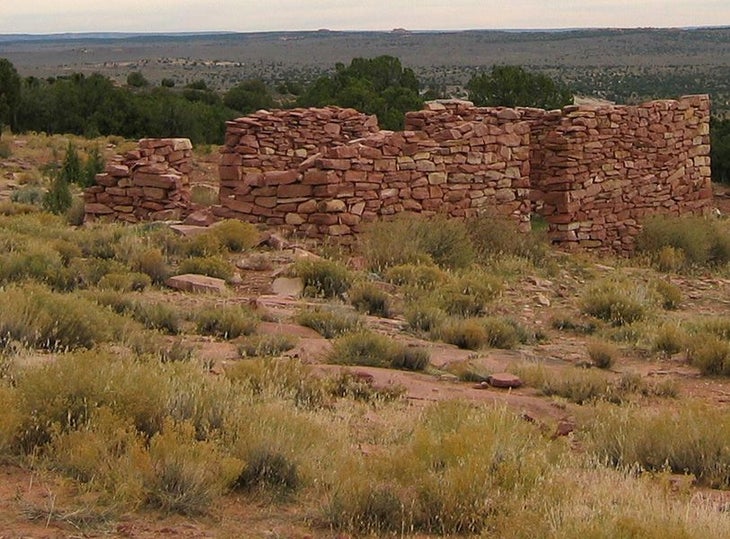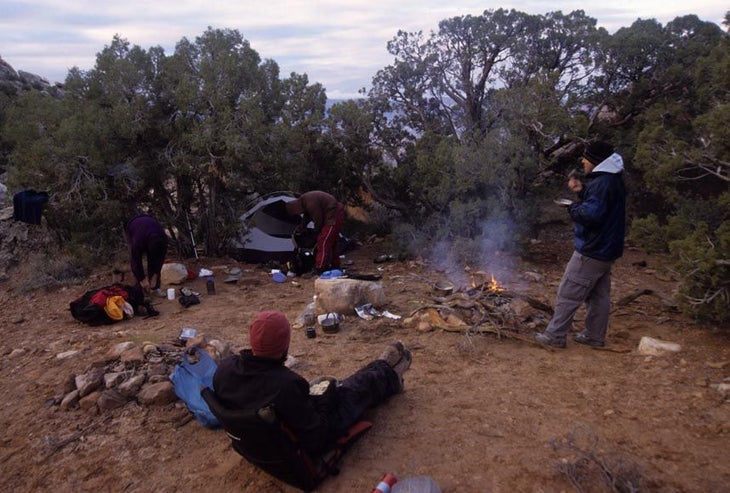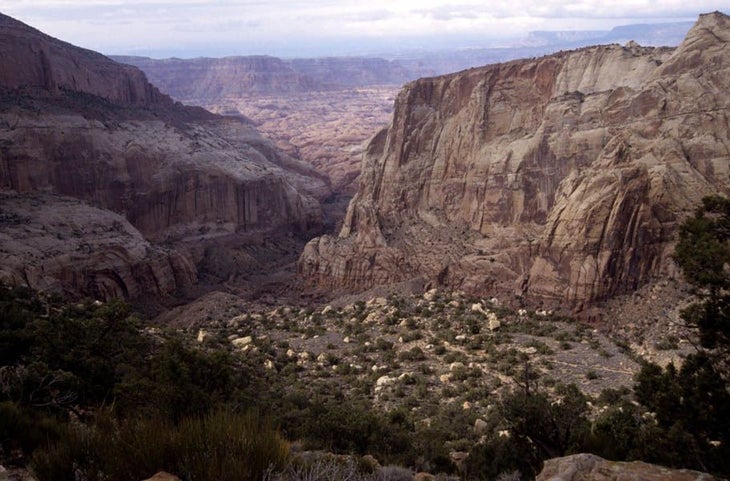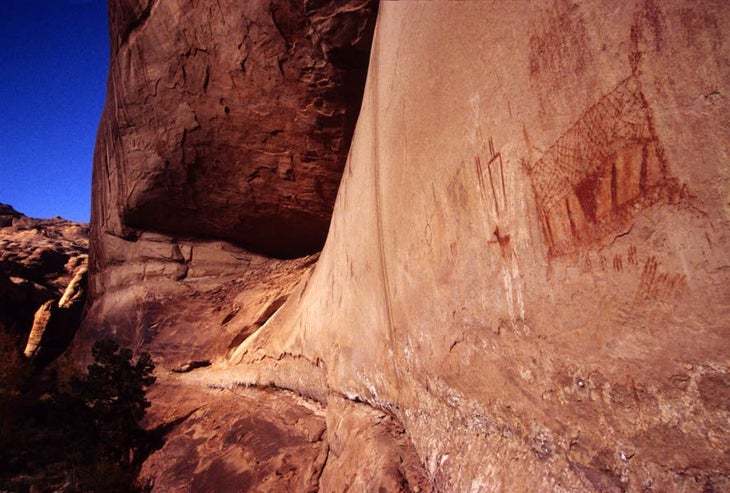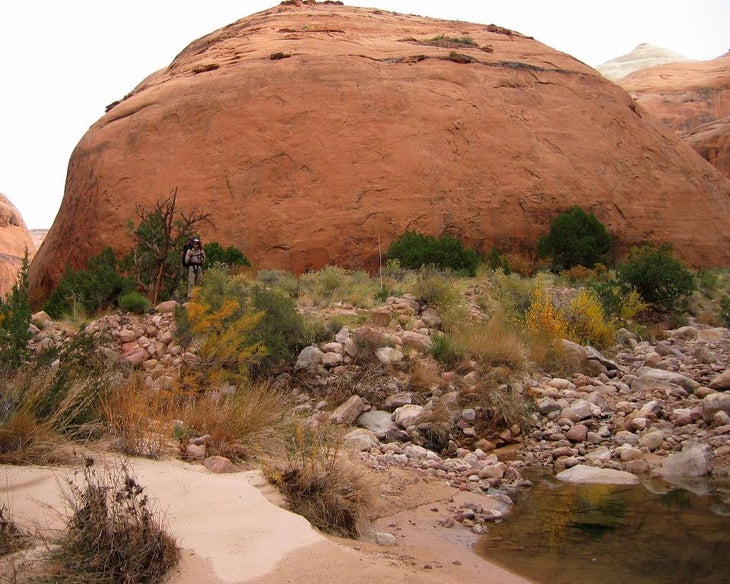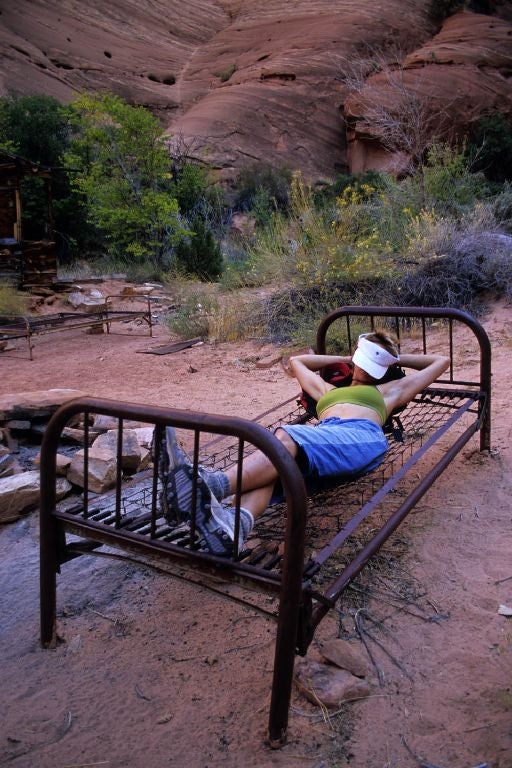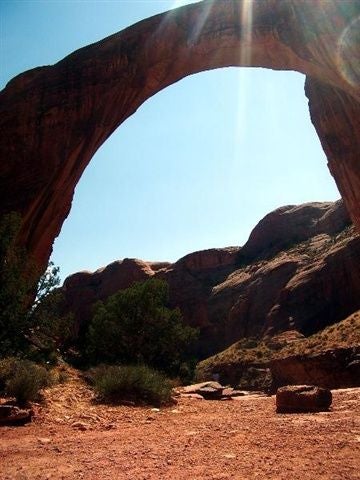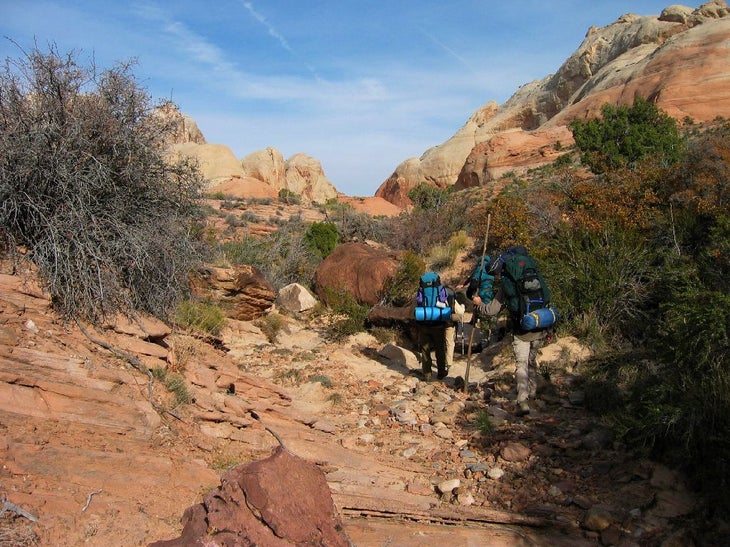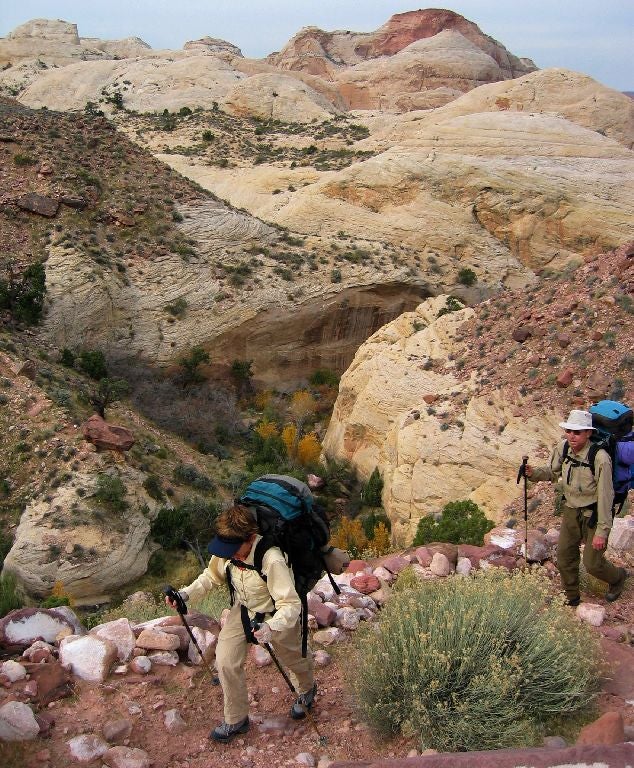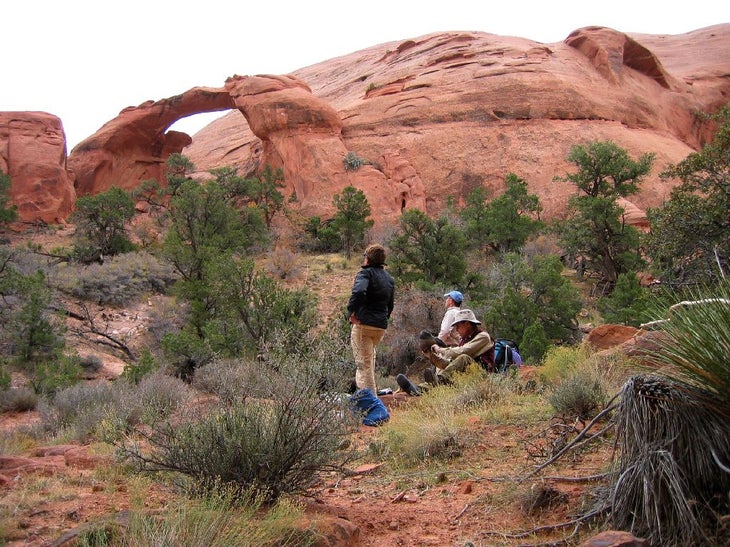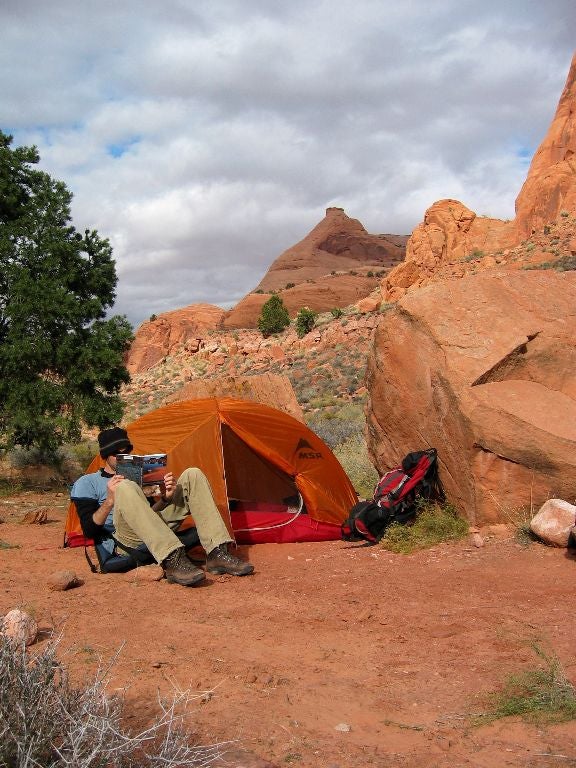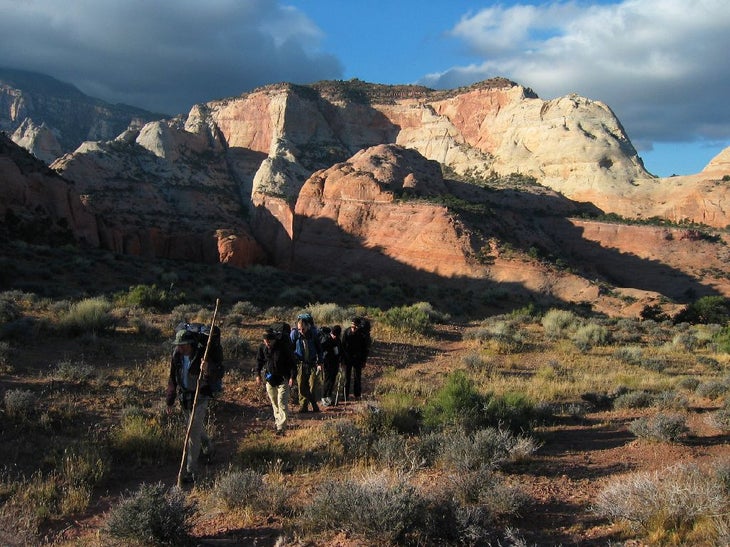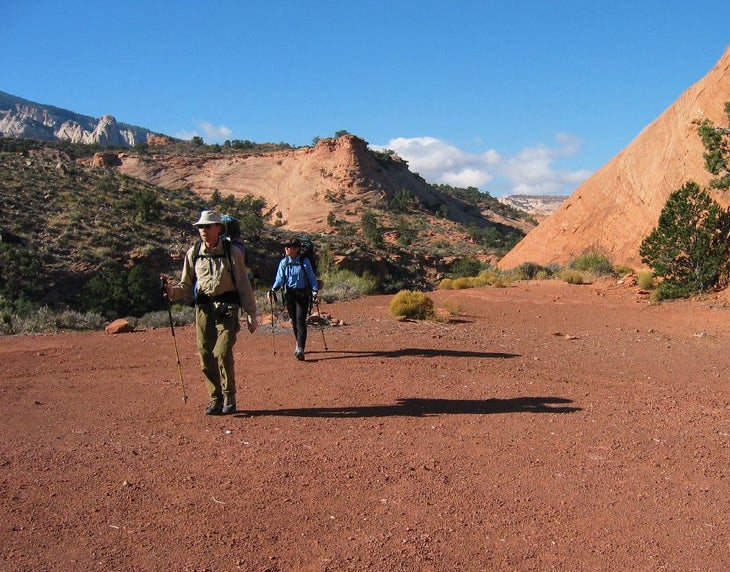 Trail Facts
Waypoints
RBT001
Location: 36.994236, -110.8938293
South Trailhead: The trail gently climbs to the N through a scrub forest (cairns mark the route). Pack enough water for 24 hours, including camp. The first reliable water source is 7 miles into this 27-mile circumambulate of Navajo Mountain.
RBT002
Location: 36.9997253, -110.9013367
Trail quickly dips into First Canyon. In a short bit, you'll cross the Arizona-Utah border.
Rainbow Lodge
Location: 36.9966278, -110.894455
Check out the old Rainbow Lodge ruins, once a thriving business owned by Barry Goldwater.
© Elias Butler (www.eliasbutler.com)
RBT003
Location: 37.0062561, -110.9093246
Trail slips in and out of Horse Canyon (dry creekbed)
RBT004
Location: 37.0246468, -110.9221268
Sunset Pass: From here, the trail drops 1,800 feet into Cliff Canyon. Walking sticks recommended.
Sunset Pass
Location: 37.0241737, -110.9217682
There's plenty of space for 6-8 people to camp (no water).
© Elias Butler (www.eliasbutler.com)
RBT005
Location: 37.0393066, -110.9449997
Descend into the main fork of Cliff Canyon (fill water containers when possible)
Big Views
Location: 37.0234795, -110.9213104
The views from Sunset Pass stretch to Cummings Mesa, Navajo Mountain, and into Glen Canyon.
© Elias Butler (www.eliasbutler.com)
RBT006
Location: 37.0469742, -110.9633484
This junction features a Navajo Hogan, a home for religious ceremonies, rock art, and a good camping or lunch spot with water. From here, leave Cliff Canyon and head E up steep, well-marked trail to Redbud Pass.
RBT007
Location: 37.0612106, -110.9485703
After climbing over Redbud Pass, descend to Redbud Creek and head downstream.
RBT008
Location: 37.0664101, -110.9542007
South Rainbow Trail meets the North Rainbow Trail. Continue downstream towards Rainbow Bridge, twisting along the creek bottom and occasional rock benches.
RBT009
Location: 37.0751152, -110.9559402
Echo Camp Alcove: This is the best spot to make camp near Rainbow Bridge. There's water, a large overhang, and oddly even several bed frames with springs (see photo). Drop packs and head NW on good trail to Rainbow Bridge.
RBT010
Location: 37.0770569, -110.9641037
Rainbow Bridge: This sacred and world's largest natural bridge stands 290 ft. and spans 275 ft. across. Please refrain from walking under the bridge, as requested by the Navajo Indians. Return to camp then backtrack to Waypoint 8, and head up the N Fork.
Rock Art
Location: 37.0470886, -110.9632034
Rock art decorates the red walls. Take photos but do not touch.
© Elias Butler (www.eliasbutler.com)
RBT011
Location: 37.0645561, -110.9337006
Trail leaves Bridge Canyon; look for the switchbacks to the E, marked with a big cairn.
RBT012
Location: 37.0721397, -110.9181137
Trail skirts around a fork of Oak Canyon. Once on the canyon rim, continue following the trail E.
RBT013
Location: 37.0751305, -110.9111099
Pleasant campsites with an adjacent stream make this a perfect overnight spot. To continue, take switchbacks up the E side of Oak.
Super Dome
Location: 37.0667648, -110.9544067
One crimson dome in an alluring red sea of slickrock formations concealing Lake Powell.
© Elias Butler (www.eliasbutler.com)
RBT014
Location: 37.0909157, -110.8845215
A small creek near Owl Bridge provides water. Good flat spots for campsites too. Continue E on trail, slowly ascending into Surprise Valley.
RBT015
Location: 37.1046638, -110.8527451
Descend a steep trail into Bald Rock Canyon. Another camp with a reliable water source sits near the creek. From here, go SE up Bald Rock Canyon.
A Bed to Rest
Location: 37.0750999, -110.9555664
These bed frames were brought by the original operators of the Rainbow Lodge.
© Elias Butler (www.eliasbutler.com)
RBT016
Location: 37.1025772, -110.8478546
Trail climbs out of Bald Rock Canyon. After rising several hundred feet, you'll emerge onto the rim with great views. Keep heading E on marked trail.
Rainbow Bridge
Location: 37.0776443, -110.9641266
Rainbow Bridge is not only a natural wonder carved by wind and water but also a sacred sanctuary for the Navajo. © Grant Palmer
RBT017
Location: 37.0930977, -110.8242416
Keep straight; trail veers above Cha Canyon, a narrow sandstond wonderland with waterfalls and petroglyphs. Learn more about Cha Canyon at:
www.trimbleoutdoors.com/backpacker/ViewTrip.aspx?TripID=12303
RBT018
Location: 37.0941811, -110.8130188
End @ North trailhead
Bridge Canyon
Location: 37.0649147, -110.9340363
Backpackers head out of Bridge Canyon.
© Elias Butler (www.eliasbutler.com)
Redrock Domes
Location: 37.0755615, -110.9108887
Trail overlooks blond and pink domes near Oak Canyon.
© Elias Butler (www.eliasbutler.com)
Owl Bridge
Location: 37.0919952, -110.8842697
Owl Bridge, a 50-foot high natural bridge, makes a prime break or camp spot.
© Elias Butler (www.eliasbutler.com)
Bald Rock Canyon
Location: 37.1051903, -110.8527908
This is a spacious and protected campsite with water nearby.
© Elias Butler (www.eliasbutler.com)
Rim
Location: 37.1031075, -110.8481598
The views on the rim of Bald Rock Canyon are nothing short of spectacular.
© Elias Butler (www.eliasbutler.com)
End of Hike
Location: 37.0947723, -110.8129807
Hikers near the end of the Rainbow Bridge Trail.
© Elias Butler (www.eliasbutler.com)