Glen Canyon National Recreation Area: Explorer Canyon
Venture into the lost world of the ancient Fremont people where smoke-stained grottos and some of the finest petroglyphs around highlight this 4-mile journey.
Heading out the door? Read this article on the new Outside+ app available now on iOS devices for members! Download the app.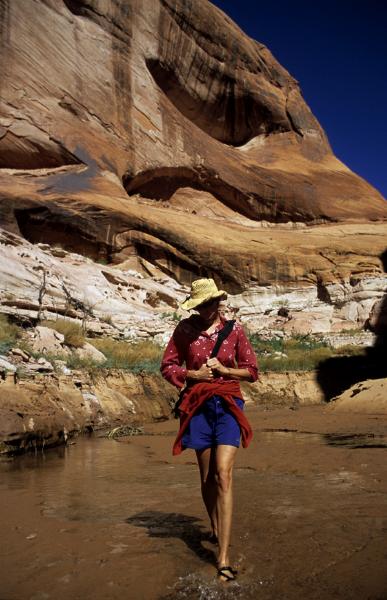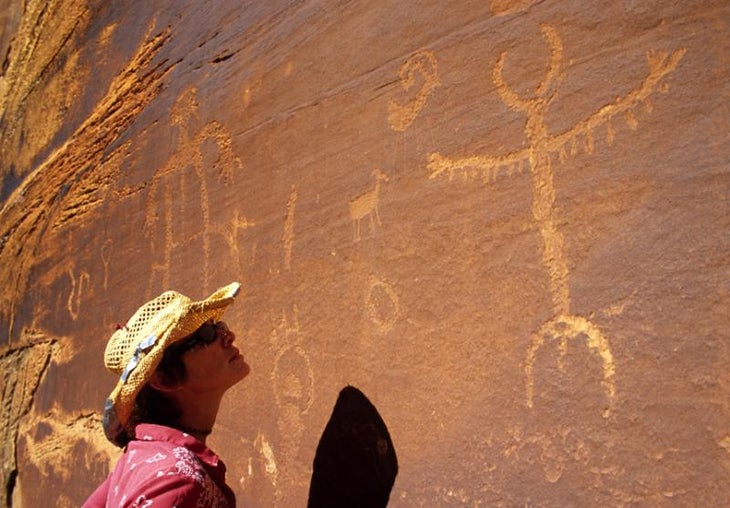 Trail Facts
Waypoints
EXP001
Location: 37.368350982666, -110.943542480469
From Escalante River, head SE into mouth of explorer canyon, navigating S around island
EXP002
Location: 37.369945526123, -110.934608459473
Tie off at waterline; begin short hike into Explorer Canyon, a tantalizing window into the mysterious world of the Fremont people where hikers pass three sites of rock carvings that depict human forms in a variety of poses. This canyon once contained rockslabs footprinted by dinosaurs.
EXP003
Location: 37.3718795776367, -110.92960357666
Fremont Petroglyphs; archaeologists believe that Fremont people inhabited this region from 400 A.D. to 1350 A.D., living a seminomadic hunter-gatherer lifestyle that many have ended with the coming of a decades-long drought like the one some scientists think is underway now.
EXP004
Location: 37.3787879943848, -110.917259216309
Sitting between the first two petroglyph panels is Zane Grey Arch, in a small box canyon to the north. This canyon leads to the last carvings and an insurmountable pour-off. Several springs that feed the creek begin here. Below, there's good camping amid oak trees
EXP005
Location: 37.3831787109375, -110.908348083496
Proceed past small cascades, often visited by deer, to upper end of Canyon where a sheer-walled pool marks turn-around.
Explorer Canyon
Location: 37.3708381652832, -110.93278503418
©Elias Butler
Fremont Petroglyphs
Location: 37.3722190856934, -110.928993225098
©Elias Butler