Glacier National Park: The Garden Wall via Highline Trail
Pass through some of the wildest land in the Lower 48 on this stout 11.3-mile route that offers a wildlife showcase of grizzlies, mountain lions, moose, and wolverines.
Heading out the door? Read this article on the new Outside+ app available now on iOS devices for members! Download the app.
PERMIT: Overnight camping in Glacier National Park requires a backcountry permit. Check out the latest fees and more details at nps.gov/glac/planyourvisit/backcountry.htm.
MORE PARK INFO: Glacier National Park, (406) 888-7800; nps.gov/glac/.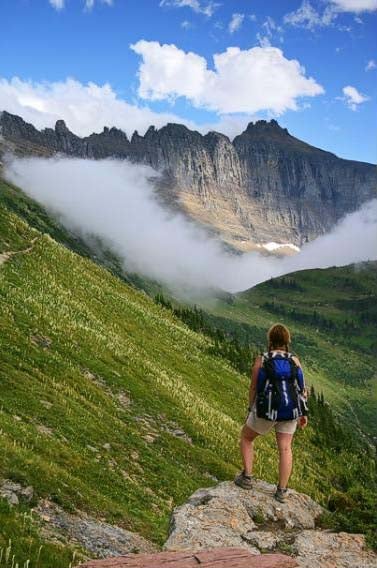 Trail Facts
Waypoints
GLR001
Location: 48.6965551, -113.7181199
Begin @ Highline trailhead across from visitor center parking lot
GLR002
Location: 48.7086716, -113.7158966
Mountain goats abound near small waterfall plunging into valley
GLR003
Location: 48.7343138, -113.72298
Brief break in switchbacks; cross creek; often capped by small snowfield
GLR004
Location: 48.7450403, -113.7398028
Hike along corridor sprinkled with beargrass, Indian paintbrush, and asters with striking views of Garden Wall
GLR005
Location: 48.763912, -113.7545657
Bear R @ T
GLR006
Location: 48.7676318, -113.7579346
Slight L @ intersection. Option: Turn R and hike to Grinnell Glacier overlook, a steep yet rewarding
sidetrip
GLR007
Location: 48.7712664, -113.7707877
Head L, skirting Granite Park to L
GLR008
Location: 48.7708139, -113.7720537
Granite Park Chalet; a fun, rustic cabin to reserve for the night; often visited by grizzlies
GLR009
Location: 48.7686784, -113.7771392
Stay L, hiking through charred snags with fresh fireweed and blooming wildflowers
GLR010
Location: 48.7569527, -113.8074589
Veer L @ Y toward The Loop
GLR011
Location: 48.754859, -113.8003564
Going-to-the-Sun Road; catch shuttle bus ($8) to return to lot, or run your own shuttle
The Garden Wall at Grinnell Glacier Overlook
Location: 48.7676601, -113.7576127
The Garden Wall from the Grinnell Glacier Overlook at Glacier National Park.