Glacier National Park
Scramble up class III peaks and cross late summer snowfields on this strenuous but straightforward trip through Montana's big-mountain country.
Heading out the door? Read this article on the new Outside+ app available now on iOS devices for members! Download the app.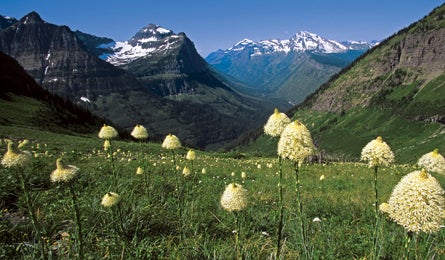 Beargrass Along Highline Trail (Cathy & Gordon Illg)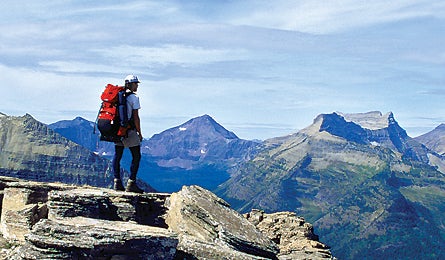 Dawson Pass Above Nyack Valley (Kirkendall-Spring)
INTRO | GLACIER | <a
href="/articles/12517″>YOSEMITE | GRAND CANYON | <a
href="/articles/12523″>GREAT SMOKY
| OLYMPIC | <a
href="/articles/12526″>YELLOWSTONE | DENALI
Entrance Strategy | The Trip | Exit Strategy
Glacier may be petite compared to America's bigger parks–at just over one million acres, it ranks 15th on the NPS size chart–but it sure feels huge on foot. The twisted topography packs 151 trails, 653 lakes, 37 glaciers, and 175 peaks into 1,583 square miles. Grizzly bears, mountain lions, and bighorn sheep roam the wildflower meadows and granite folds. For hikers, the sum is much greater than the parts, and what they add up to is America's most beautiful mountain park.
INTRO | GLACIER | <a
href="/articles/12517″>YOSEMITE | GRAND CANYON | <a
href="/articles/12523″>GREAT SMOKY
| OLYMPIC | <a
href="/articles/12526″>YELLOWSTONE | DENALI
Entrance Strategy | The Trip | Exit Strategy
Entrance Strategy
>> Getting there The nearest major airports are in Great Falls (200 miles east) and Missoula (156 miles southwest). Glacier has two main entrances: the bustling West Glacier, accessed from Whitefish and Kalispell, and the tranquil east side via St. Mary and East Glacier.
>> Season For low traffic and easier reservations–but snowier passes and higher river crossings–head to Glacier in mid-June (bring gaiters and an ice axe). July is best for wildflowers. The tundra turns to glorious tones of rust and gold by mid-September.
>> Best frontcountry campground Two Medicine Campground on Two Medicine Lake practically sits on the trailhead for your trip, ensuring you get an early start. It's 15 miles from groceries and restaurants in East Glacier. ($20, 99 sites, first come, first served)
>> Pre-trip breakfast Glacier Village Restaurant (406-226-4464), on Main Street in East Glacier, opens at 6:30 a.m. for espresso, homemade pastries, and box lunches that you can rebag for your pack.
>> Gear shop Get pepper spray and a holster at Sportsman & Ski Haus on US 93 in Whitefish, outside the West Entrance (406-862-3111). It's your grizzly country equivalent of peace of mind.
>> Permits Go to nps.gov/glac/planyourvisit/backcountry.htm for an application, campsite map, trail mileages, and charts that show open reservation dates. Half of all backcountry sites are held for walk-ins, but reservations ($30/party) are recommended. Applications are processed beginning April 16. Backcountry office: (406) 888-7857 from March 15 to October 31
INTRO | GLACIER | <a
href="/articles/12517″>YOSEMITE | GRAND CANYON | <a
href="/articles/12523″>GREAT SMOKY
| OLYMPIC | <a
href="/articles/12526″>YELLOWSTONE | DENALI
Entrance Strategy | The Trip | Exit Strategy
The Trip
Crown of the continent
Thread high peaks on this challenging thru-hike from Two Medicine Lake to Lake MacDonald.
Three out of five BACKPACKER editors prefer Glacier's quiet, spectacular southern half to its busier, though marginally more dramatic, northern environs. This 62-mile route traces ridgetops the Blackfoot Indians revered as "the backbone of the world," along Dawson, Triple Divide, and Gunsight Passes to Sperry Glacier and Lake MacDonald. The route passes thundering waterfalls, glaciers, and the shores of some of the park's largest lakes. But you'd best arrive in shape for big-mileage days.
From tranquil Two Medicine Campground, stroll to the outlet bridge of Two Medicine Lake. Hike west on the Dawson Pass Trail to Dawson Pass (mile 6.2), then north along high ridgelines, where you'll find smooth trail above yawning Nyack Creek and views west to the gigantic banded limestone pyramids of Mt. Stimson and Pinchot Peak. Round the shattered horn of Flinsch Peak, and continue across a narrow spur of Mt. Morgan. (Caution: The track crosses gullies that can retain hard ice well into summer.) From there, it's an easy mile over 7,874-foot Cutbank Pass, then 7,664-foot Pitamakin Pass. Your day ends at Morning Star Lake, which sits between 2,000-foot cliffs and a broad spruce-filled basin at mile 13.6.
Day two's 13-plus miles lead deep into grizzly country. From Morning Star Lake, continue north on the Cutbank Pass Trail under the lopsided pyramid of 8,315-foot Medicine Grizzly Peak to an intersection with the Triple Divide Pass Trail. Turn left and climb up the open, U-shaped valley of Atlantic Creek to Triple Divide Pass, a broad saddle beneath sweeping sedimentary cliffs. Watch for bighorn sheep as you drop through a dense thicket of fern and beargrass to camp at Red Eagle Lake (mile 27.4).
Three miles beyond Red Eagle, the forested trail spits you onto the shore of St. Mary Lake. Turn west and pass beneath small trailside cataracts pouring off Red Eagle Mountain, great for soaking swollen feet. Beyond the lake, cross the St. Mary River (with two campsites available at Reynolds Creek, mile 42.6).
In the morning, hammer 2.7 miles up steep trail cut through cliff outcroppings to Gunsight Pass. The route ahead goes through an area with high user demand and only two small campsites. If you've scored a camping permit, drop to nearby Lake Ellen Wilson; alternatively, continue over Lincoln Pass and into Glacier Basin and basecamp next to Sprague Creek.
On day five, tackle the 2.5-mile, 1,600-foot climb past Akaiyan Falls and Feather Woman Lake, and up the stone stairs of Comeau Pass to the Sperry Glacier Overlook, with its stunning rock and ice panorama. Have some mountaineering experience? Increase the challenge on day six with an attempt on the craggy, exposed class II-III East Ridge of 9,072-foot Edwards Mountain, which begins just west of Gem Lake at Comeau Pass.
Your final day includes a 6.7-mile plunge down to Lake MacDonald. From here, walk west along the road to Sprague Creek Campground ($20, first come, first served). A free hiker shuttle operates along Going-to-the-Sun Road, but you'll need a commercial shuttle (406-892-2525; glacierparkinc.com) to Two Medicine Campground.
>> Plan B: Lake isabel from walton ranger station Permits for your desired itineraries all taken? Try the four-day out-and-back along quiet Park Creek to Lake Isabel. The 16.9-mile approach up Park Creek Trail heads to a tight alpine cirque, where the spruce-ringed pool is surrounded by the stunning cliffs of Vigil Peak (8,593 feet) and Battlement Mountain (8,830 feet). It's a gentle 7.2 miles from Walton to Lower Park Creek campsite, great for late starters. Day two is mostly flat walking to a knee-deep ford near the patrol cabin at mile 14.6. Then the trail climbs gradually northwest to the lake. On day three either descend back down Park Creek or, if you've set up a shuttle, turn east at Upper Park Creek campsite, climb 3.8 miles to Two Medicine Pass, and descend to camp at Cobalt Lake, exiting via a 9.8-mile gradual downhill to Two Medicine Campground.
INTRO | GLACIER | <a
href="/articles/12517″>YOSEMITE | GRAND CANYON | <a
href="/articles/12523″>GREAT SMOKY
| OLYMPIC | <a
href="/articles/12526″>YELLOWSTONE | DENALI
Entrance Strategy | The Trip | Exit Strategy
Exit Strategy
>> Clean up The West Glacier KOA has a swimming pool, twice-weekly wildlife slideshows, and hot tubs for overtaxed thighs. Oh, and showers are $5. (800) 562-3313; westglacierkoa.com
>> Pig out East entrance: Park Café and Grocery in St. Mary serves possibly the best Razzleberry pie in the country (406-732-4482; parkcafe.us). West entrance: Tupelo Grille in Whitefish has spicy gumbo and a shelf of gourmet tequilas (406-862-6136; tupelogrille.com).
>> Best Dayhike: Highline Trail to Grinnell Glacier Overlook
This 13.8-mile highlight reel begins on a wildlife- and vista-rich traverse from Logan Pass along the Garden Wall, and it's always a solid bet for first-time visitors. Start early to see more animals and fewer people. Seven miles in, huff up a steep mile-long spur trail to the top of the knife-edged overlook for aerial views down to Upper Grinnell Lake and its shrinking–yet still impressive–glacier. Returning to the Highline Trail, continue a mile to the historic Granite Park Chalet and then plunge down to Going-to-the-Sun Road.
>> Try something new Tackle nine frothing rapids in a two-person ducky on the Middle Fork of the Flathead River. You'll drop 15 miles along the Nyack Coal Creek wilderness area, where parts of The River Wild were filmed. Better yet, you're in a ducky, so you're closer to the water than in a big raft–and you don't have to know how to roll. Glacier Raft Company, (800) 235-6781; glacierraftco.com
Beat the Crowds
>> Sneak In Pick a trailhead in the south or east, and you'll find less traffic and easier permits. Check trailheads along US 2 on the southern boundary, with convenient campgrounds like St. Mary, Two Medicine, Cut Bank, Marias Pass, and Essex.
>> Start Early Find more solitude and see more wildlife by setting off at dawn on Going-to-the-Sun Road (nps.gov/glac/planyourvisit/shuttles.htm).
You're a Tourist, Now Act Like One
Hike the boardwalk trail from Logan Pass Visitor Center to Hidden Lake Overlook for dramatic scenery and habituated wildlife, such as mountain goats and ptarmigan, nibbling mere yards from the planks. Go early or late: Logan Pass parking lot often fills between 10 a.m. and 2 p.m.
The Stats
Acres 1,013,594
Miles of trail 746
Website nps.gov/glac
Phone (406) 888-7800
2007 visitation 2 million (total), 27,993 (backcountry)