Glacier National Park: Gunsight Pass Trail
Ride Amtrak to Glacier's back door, then hike this 19.7-miler past glacial lakes and cascades and over two gorgeous passes.
Heading out the door? Read this article on the new Outside+ app available now on iOS devices for members! Download the app.
Stretching 19.5 miles and connecting St. Mary Valley with Lake McDonald, this 3-day trek begins at the Gunsight Pass Trailhead. Enjoy Jackson Glacier from the viewpoint before heading downhill toward Deadwood Falls and the St. Mary River valley. The trail turns west into the valley before climbing an open cliffside to the Gunsight Camp, a great spot to end day one.
Day two: Begin with a bouncy suspension bridge crossing that leads to a 2.9-mile ascent to Gunsight Pass. You'll likely spot mountain goats as the trail traverses vertical cliffs of the Helena formation en route to the 6,947-foot pass. The steep, switchback descent on the pass' west side ends near a towering waterfall at the head of Ellen Wilson Lake. The trail traces the hillside above the lake before climbing to the route's high point at Lincoln Pass. Stop for the day at Sperry Campsite, just half a mile from the pass. For a backcountry treat, consider making an advance reservation for a room or meal at the nearby Sperry Chalets instead of cooking or sleeping under the stars. The final 6 miles of trail descend through the Sprague Creek valley toward Lake McDonald and the lodge, be sure to check out Beaver Medicine Falls on the way down.
Note: This point-to-point hike requires a shuttle, but the park service busses run regularly throughout the summer are a simple way to access both trailheads without parking multiple cars.
PERMIT: Overnight camping in Glacier National Park requires a backcountry permit. Check out the latest fees and more details at nps.gov/glac/planyourvisit/backcountry.htm.
MORE PARK INFO: Glacier National Park, (406) 888-7800; nps.gov/glac/.
-Mapped by Richard Menicke and Charlie Williams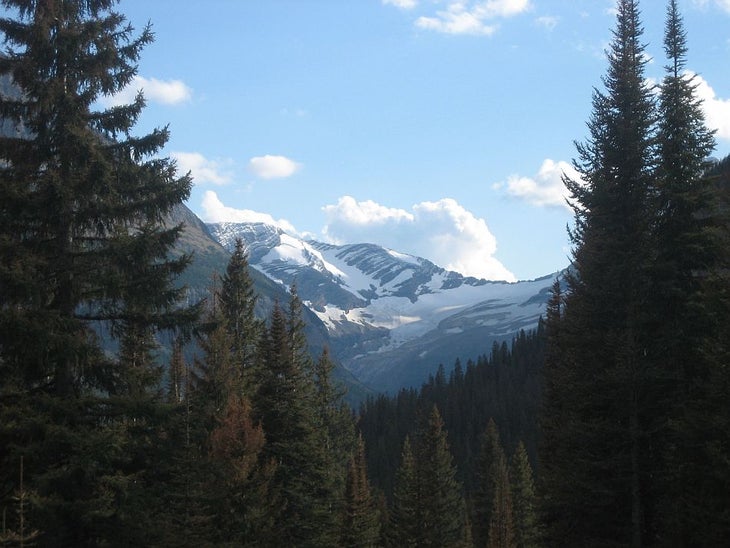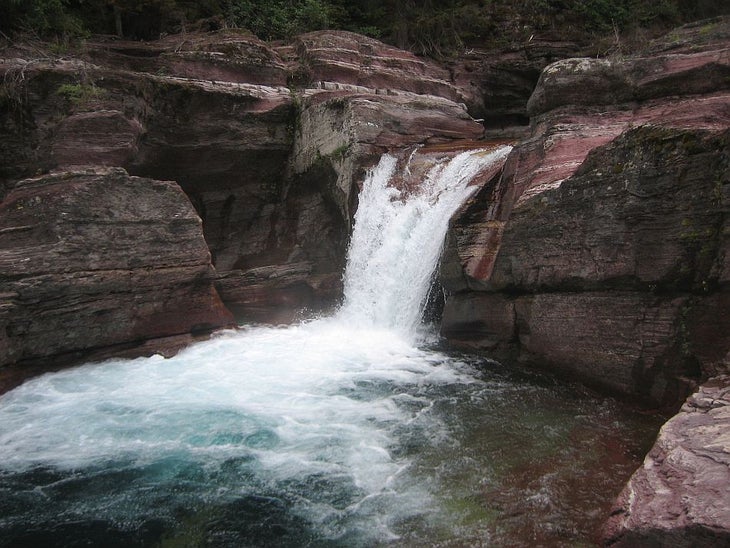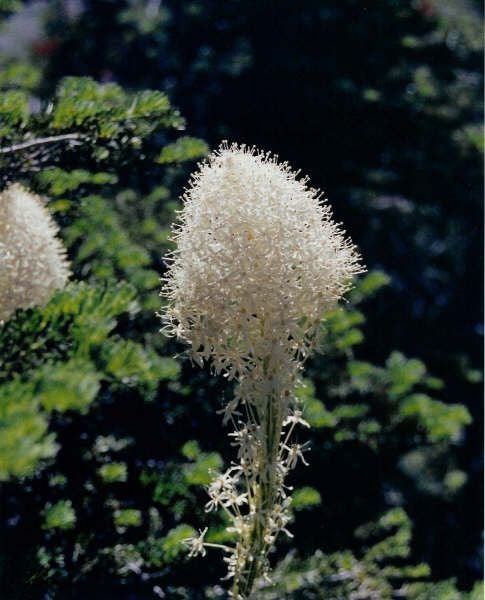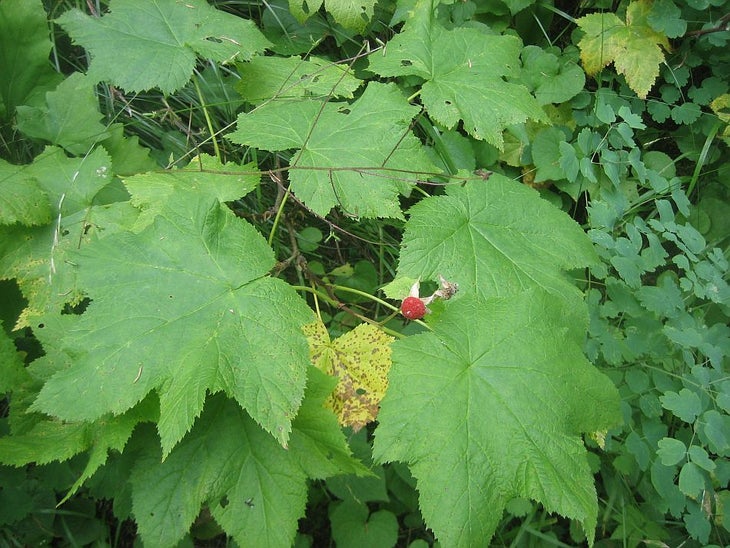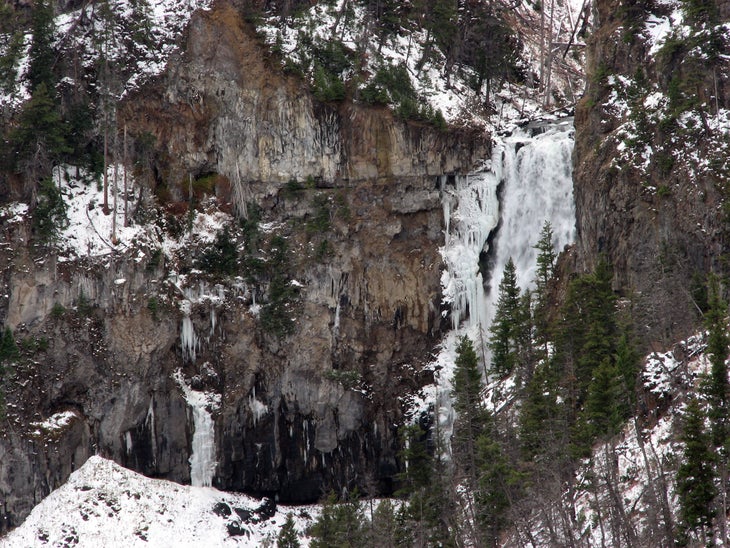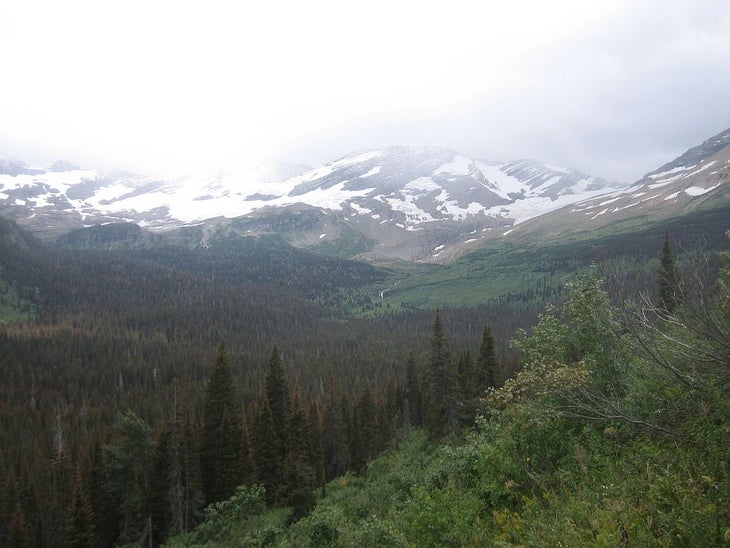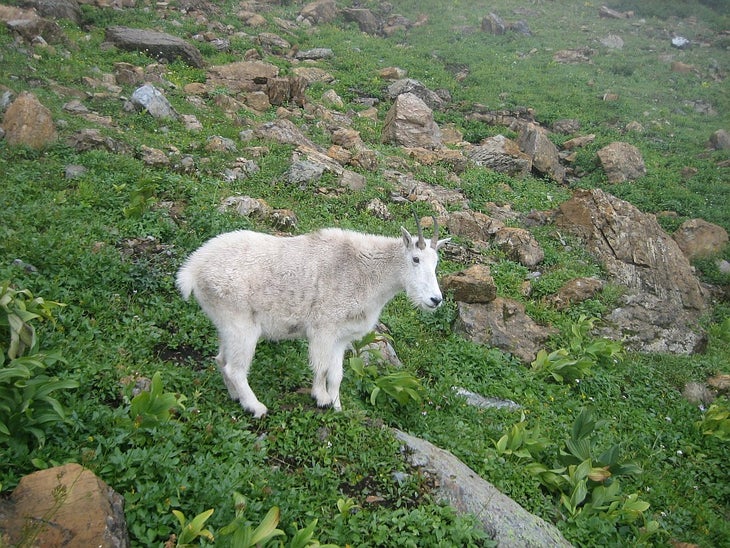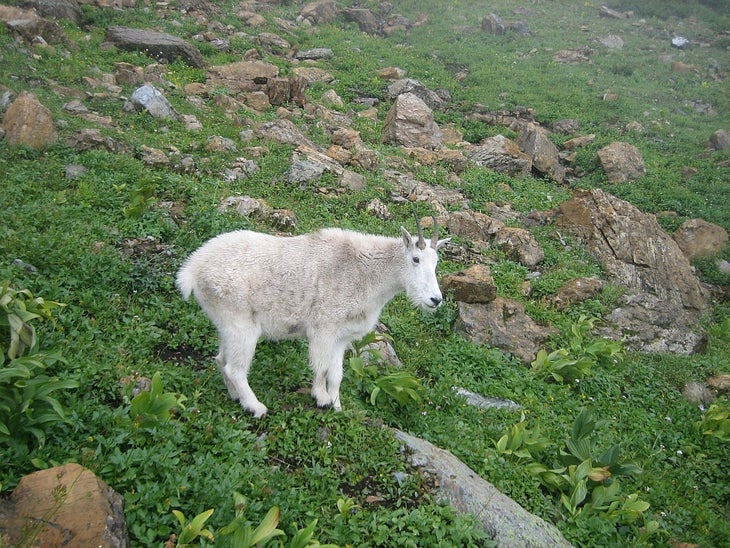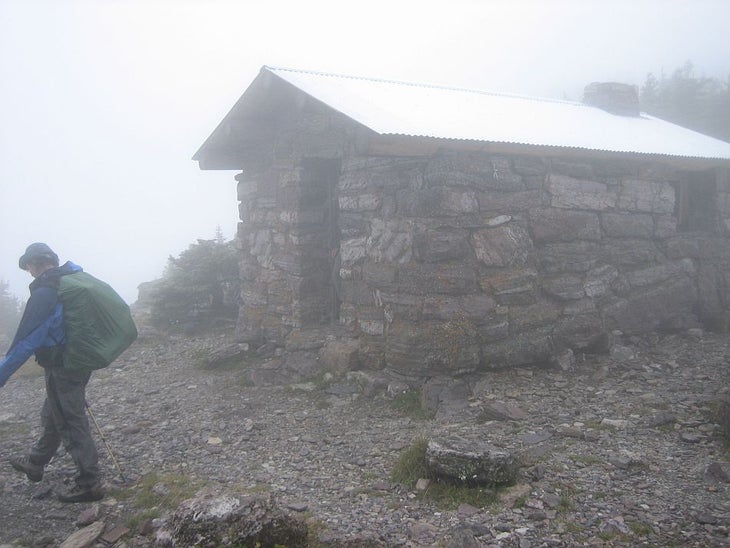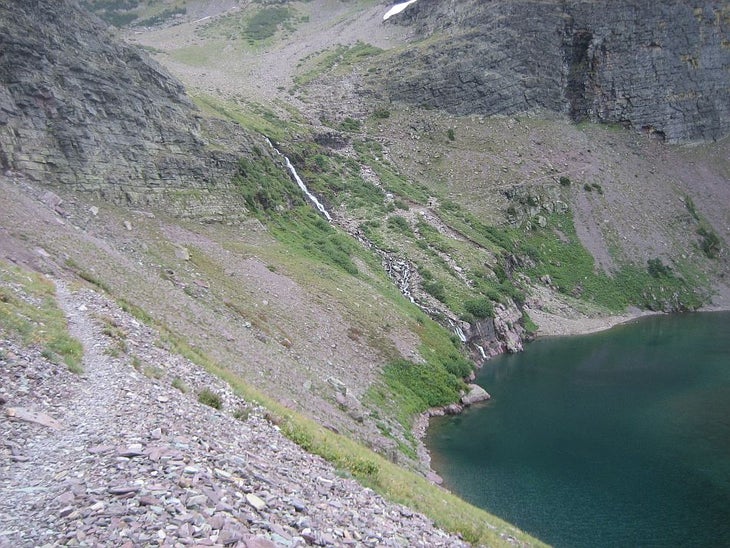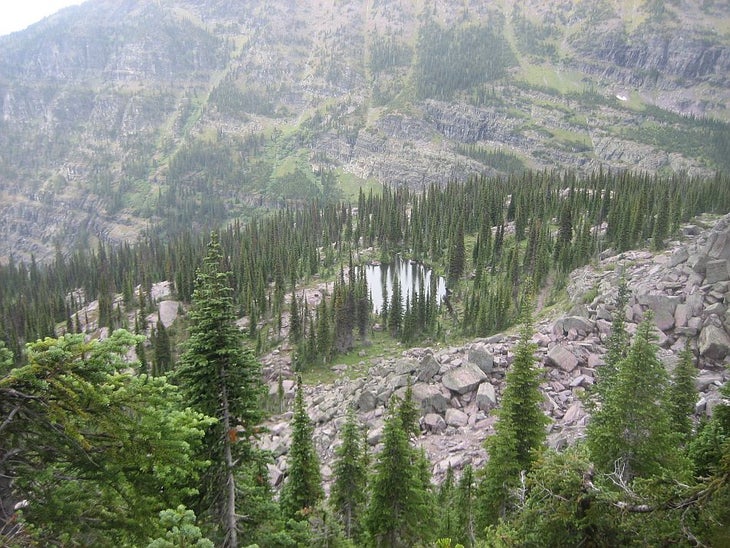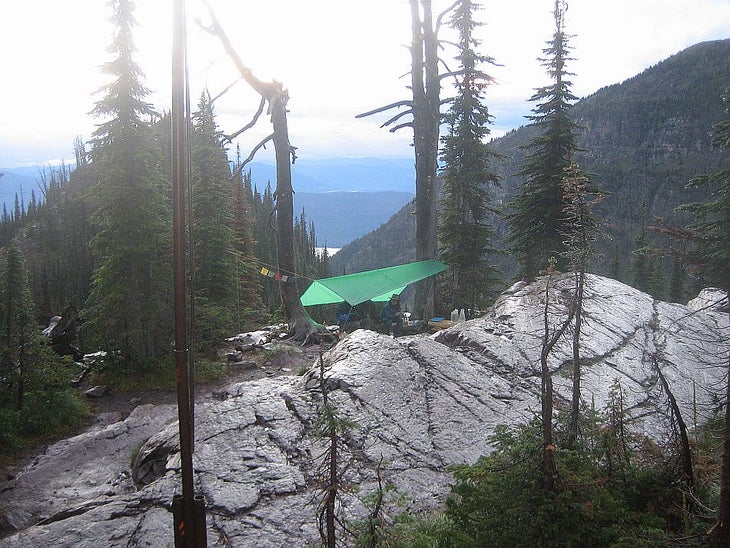 Trail Facts
Waypoints
GUN001
Location: 48.677456, -113.652069
Start hiking on the Piegan Pass Trail in the parking area's southwest corner. A gentle descent heads toward an impressive waterfall in 1.1 miles.
GUN002
Location: 48.666846, -113.636012
Turn right @ T-junction onto the Gunsight Pass Trail. Bypass the left-hand spur to the Reynolds Camp and continue toward the St. Mary River Valley.
GUN003
Location: 48.661943, -113.643351
The trail meanders through the verdant valley for more than 3 miles, look for thimbleberry, bear grass, and queens cup lily on the trail. Dusty Star Mountain's sheer face precedes a cirque below Citadel Mountain on your left.
GUN004
Location: 48.650017, -113.678848
Bear left @ Y-junction to continue across a small bridge and begin the 2.2-mile climb toward Gunsight Camp below Fusillade Mountain. If you have time, bear right for a 1.5-mile round-trip detour to Florence Falls.
GUN005
Location: 48.628654, -113.705835
Soon after cresting the hill, an open clearing and food preparation area mark Gunsight Camp. Small tent pads are scattered among Engelmann spruce and subalpine fir. Consider getting (required) permits for each tent, the pads are small and may not even accommodate the 2-tent-per-permit limit allowed by the park.
GUN006
Location: 48.626101, -113.707981
Gunsight Lake reflects a glacier-chiseled cirque and is an easy-access source of water for camping. On day two, you'll begin by skirting the lake's southern shore toward this one-at-a-time suspension bridge. Up ahead: Bear right @ Y-junction and continue west on the sparse slopes of Mount Jackson.
GUN007
Location: 48.616123, -113.722893
Switchbacks maintain a gradual climb toward the pass. As the trail gains elevation it reveals jagged skylines dropping down to St. Mary Valley behind you.
GUN008
Location: 48.60936, -113.737991
Cross the Continental Divide at 6,947-foot Gunsight Pass. If the weather is nice, enjoy views of the Lewis Range to the southeast. If it's not, duck into the stone shelter for a break before the steep, 1-mile descent toward Lake Ellen Wilson.
GUN009
Location: 48.606582, -113.744931
At the head of Lake Ellen Wilson, the trail follows a ledge that interrupts a tall, narrow waterfall. If it's been raining recently, you might end up with wet feet as you hop across the slippery stones.
GUN010
Location: 48.607799, -113.755425
Stay straight @ 3-way junction near mile 11 to continue toward the second day's campsite: Sperry Camp. The Ellen Wilson Camp is about 300 feet downhill on this spur and might make a good day-1 campsite for ambitious hikers who got an early start.
GUN011
Location: 48.599659, -113.783447
This hike tops out at 7,050-foot Lincoln Pass. The pass is preceded by an alpine valley peppered with red rocks of the Grinnell formation. On its west side, you'll switchback toward tree line and pass a pond above Sperry Camp.
GUN012
Location: 48.602495, -113.785744
The main trail continues toward the Sperry Chalets, but the spur trail to the right leads to the camping area. Consider making a dinner reservation at the Chalets for a luxurious backcountry treat.
GUN013
Location: 48.602098, -113.786516
Sperry Camp is situated in an bluff-top subalpine forest overlooking the Sprague Creek valley. Sites are laid along the 0.2-mile spur trail with all the tent pads on the north side and the food preparation area at the trail's southern end. The tent pads are generally small, but the one nearest the food prep area has the best views. Get water at the pond you spotted on the way down from the pass.
GUN014
Location: 48.607517, -113.785652
Turn left at this junction just past the chalets and continue 0.1 miles to a bridged crossing of Sprague Creek. This final stretch of trail is busy with hikers and horses…watch your step.
GUN015
Location: 48.602257, -113.795906
Look left after a series of switchbacks near mile 14.5 for a peek at Beaver Medicine Falls. The trail zigzags west as the forest changes from subalpine to montane, dominated by Douglas fir. Look carefully and you may notice some western red cedar.
GUN016
Location: 48.60891, -113.849258
Bear right @ Y-junction to cross Snyder Creek near mile 18. In the next 0.3 mile, you'll bypass two right-hand trails, the first to Snyder Lake and the second toward the Mount Brown Lookout.
GUN013
Location: 48.616787, -113.875534
The trail ends at Going to the Sun Road and Lake McDonald Lodge–a Swiss-inspired in-park tourist destination–with a few restaurants and concessionaires leading tours. The Orange and Green shuttles stop here, but you'll have to transfer to the red bus at Logan Pass to get back to the Gunsight Pass Trailhead.
Jackson Glacier
Location: 48.677346, -113.651762
A short climb from the trailhead parking lot offers views of Jackson Glacier.
Deadwood Falls
Location: 48.667838, -113.637986
Reynolds Creek cuts through the red rocks of the Grinnell formation at this impressive falls just 1.1 miles from the trailhead. Watch your footing on slippery rocks.
Bear Grass
Location: 48.661943, -113.642921
It belongs to the lily family, but bear grass looks a little like the yucca plant. It resembles a thick bladed grass and grows in clumps 8-10 inches high. A prominent stalk growing from the center of some of the clumps, individuals bloom once every 5-10 years.
Thimbleberry
Location: 48.661915, -113.642535
A delicious wild raspberry lines the trail and is plentiful in bear scat, too. Unlike the red raspberry (Rubus idaeus) with its one-to-two inch, oval shaped, pinnate leaves, the thimbleberry (Rubus parviflorus) has huge five pointed palmate leaves (shaped similarly to a maple leaf) that can be 12 inches across.
Falls
Location: 48.64998, -113.67837
The cascading creek near the Florence Falls Junction at mile 4 is a great spot to stop for a break before crossing the bridge and continuing west.
St. Mary Valley
Location: 48.636993, -113.695707
Looking up the St. Mary River valley toward Jackson Glacier.
Suspension Bridge
Location: 48.626073, -113.707552
Only one hiker at a time allowed on this suspension bridge near Gunsight Lake. It's a bouncy, but safe and dry, crossing.
Mountain Goat
Location: 48.612427, -113.727465
It's likely you'll spot mountain goats on the trail toward Gunsight Pass. They're not afraid of hikers and might wander within a few yards of you.
Mountain Goat
Location: 48.61237, -113.727207
Gunsight Shelter
Location: 48.609363, -113.737464
The fully-enclosed shelter atop Gunsight Pass has plenty of log benches inside. Though it's not open for camping, it's a welcome rest point in foul weather. Be wary of pack-chewing rodents inside.
Trailside Falls
Location: 48.60661, -113.744502
Looking back at the waterfall at the head of Ellen Wilson Lake.
Sperry Pond
Location: 48.600991, -113.785443
The descent from Lincoln Pass offers this view of the pond above the Sperry Camp.
Sperry Camp
Location: 48.60207, -113.786087
Western views from Sperry Camp, perched above the valley.