Glacier National Park: Belly River
With low altitude yet big relief, this route in Glacier National Park's little-visited northeast corner is perfect in early season. Hike this 22.9-mile lollipop loop in the Belly River Valley and cut through beargrass-filled meadows past misty waterfalls to a campsite overlooking Elizabeth Lake.
Heading out the door? Read this article on the new Outside+ app available now on iOS devices for members! Download the app.
Low altitude with big relief, the Belly River Valley in Glacier's little-visited northeast corner opens when other Glacier hikes are still choked with snow. At the trailhead just 200 yards short of the Canadian border, head downhill on the Belly River Trail. Make plenty of noise—this is Grizzly county—as you drop 800 feet through lush aspen and an overlook of the river at mile 3.
On the valley floor, look west across wildflower-sprinkled fields toward Sentinel and Bear mountains and south toward Cosley Ridge. At mile 5.6, skip the spur toward Gable Creek Campground and turn right on the Cosley Trail toward a bouncing suspension bridge.
Two miles later, detour for a 100-foot spur trail to an overlook of Gross Ventre Falls and finish day one's last 1.3 miles with a rolling meadow traverse above the Mokowanis River. Bypassing the Bear Mountain Overlook Trail—a great sunset side-trip—to set up at one of Cosley Campground's four lake-side sites.
On day two, backtrack .6 miles to the Ptarmigan Trail for a cable-assisted crossing of Cosley Lake's outlet. You'll traverse a forested ridge toward a .3-mile round-trip detour to a 50-foot cascade at Dawn Mist Falls. Continue 1.5 miles south to the gravel shore of Elizabeth Lake and camp in the shade of lodgepoles nestled between Ptarmigan Wall and Seward Mountain's Red Gap Pass.
Begin day three by backtracking to a suspension bridge, but continue north on the Belly River Trail for a back-side view of Chief Mountain. It's a mellow descent to the ranger station's horse pasture where the trails merge and head back through the river valley toward the base of the trailhead-bound climb.
Plan it
MAPS USGS quads: Gable Mountain, Mt. Cleveland ($8, store.usgs.gov).
PERMITS Overnight camping in Glacier National Park requires a free backcountry permit. Reserve in advance beginning April 15. Half of them are reserved for day-of walk-ins. Visit nps.gov/glac/planyour-visit/backcountry.htm
SEASON Belly River opens earlier than the rest of Glacier, typically in mid- to late May. It closes in early October. Check for road closures and trail conditions at (406) 888-7800 or nps.gov/glac/.
WEATHER Get the forecast by calling Glacier National Park at (406) 888-7800 or search for East Glacier Park, MT, at nws.noaa.gov
GEAR
ROCKY MOUNTAIN OUTFITTER
135 Main Street
Kalispell, MT
(303) 932-0600
rockymountainoutfitter.com
GRUB
GLACIER GRILL AND PIZZA
10126 Highway 2 E
Coram, MT
(406) 387-4223
LUNA'S RESTAURANT
1112 Hwy 49
East Glacier Park, MT
(406) 226-4433
GAS
JUNCTION GAS & GROCERIES
7322 US Highway 2 E,
Columbia Falls, MT
(406) 892-2004
BEAR TRACK TRAVEL CENTER
20958 Highway 2
East Glacier Park, MT
(406) 226-5504
GROCERIES
MOUNTAIN VALLEY FOODS
404 1st Ave E
Kalispell, MT
(406) 756-1422
Multi-day gear list
Backpack
Three-season tent
Down bag, sleeping pad
Compass, map, GPS unit
Gas stove and fuel bottles
Lighter and matches
Cookset, bowl, insulated mug, eating utensils
32 oz. water bottle (2)
Water treatment
Multitool/knife
Headlamp, batteries
Fleece and down jackets
Waterproof/breathable jacket and pants
Synthetic pants
Midweight baselayers
Synthetic T-shirt (2)
Hat and gloves
Hiking boots
Camp footwear
Wool/synthetic socks (2)
TP and trowel
Sunscreen (SPF 15+)
First-aid kit
Stuffsacks/zip-top bags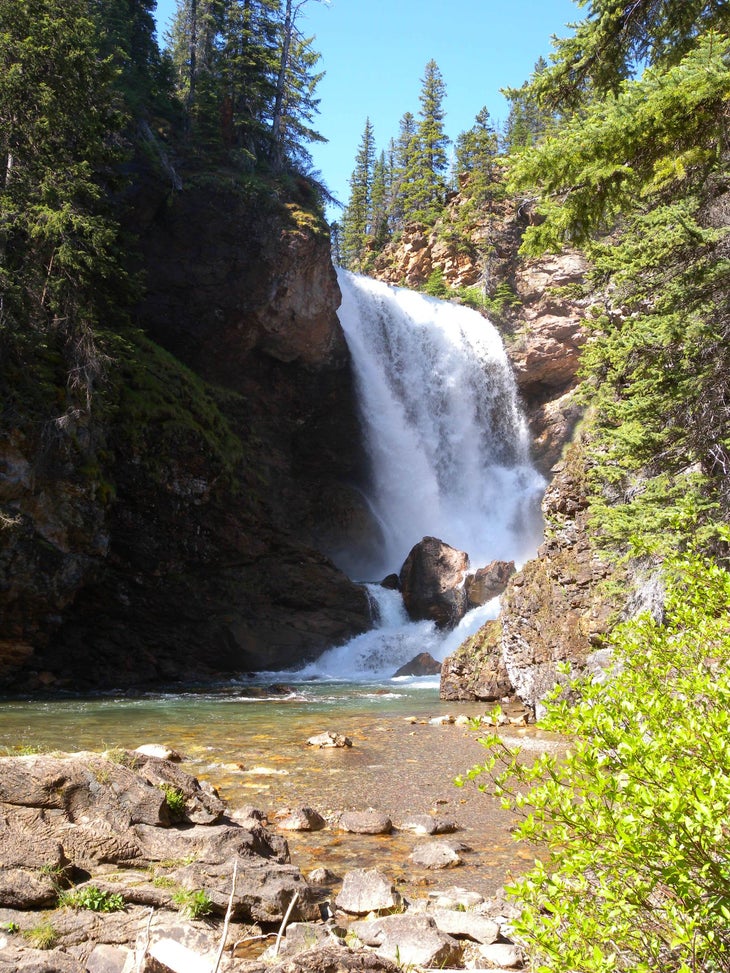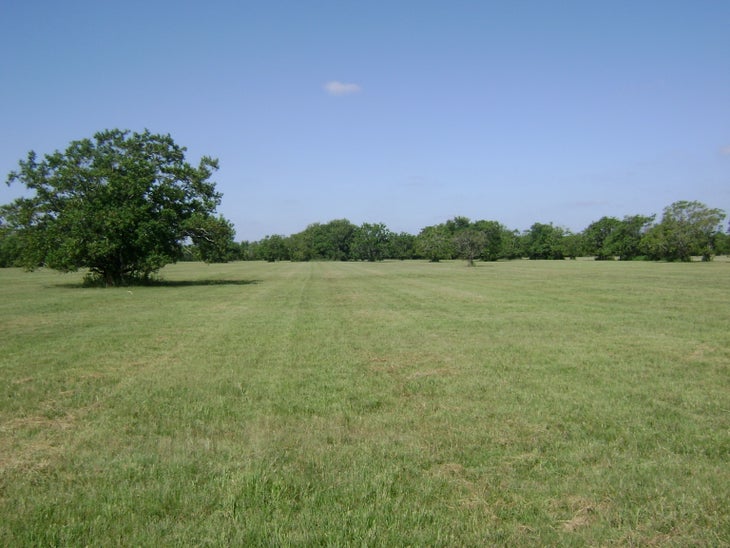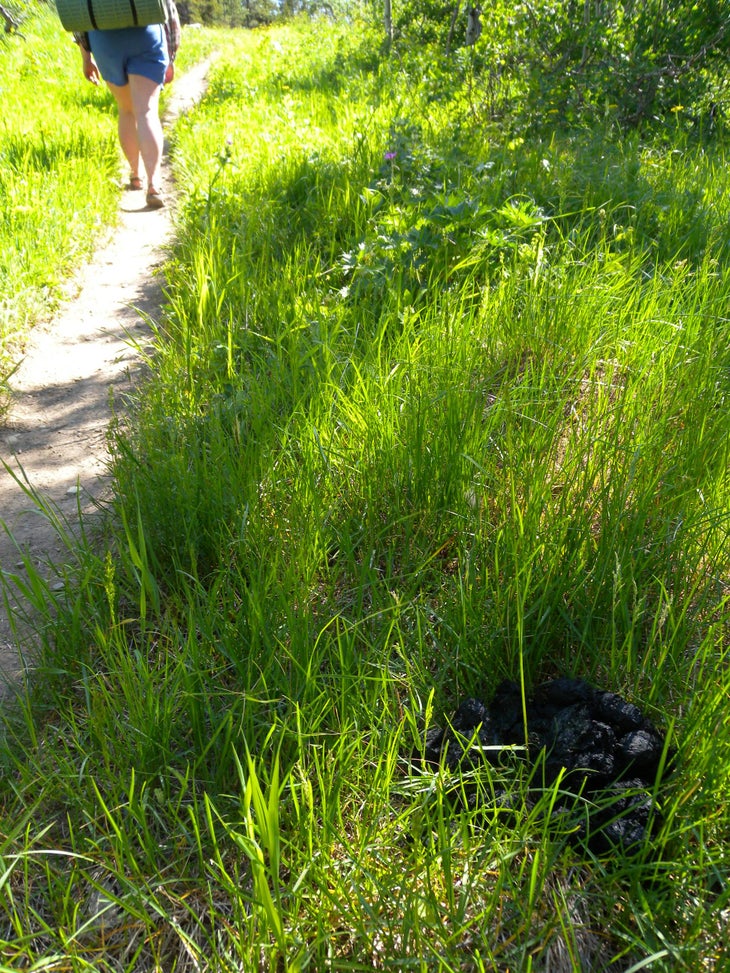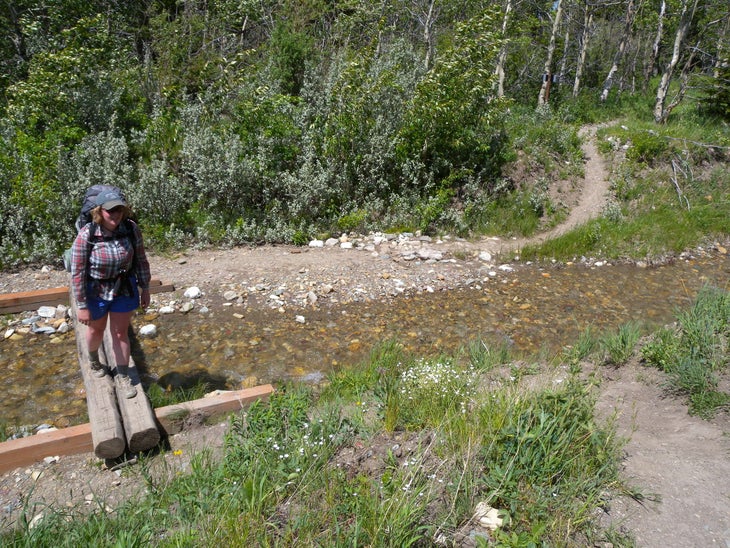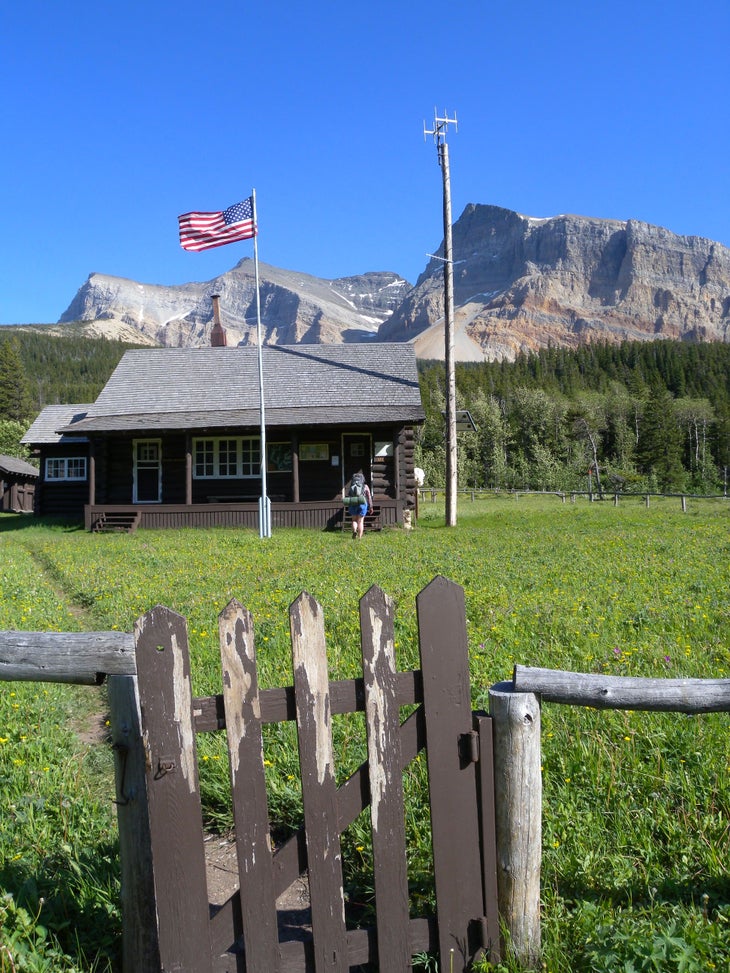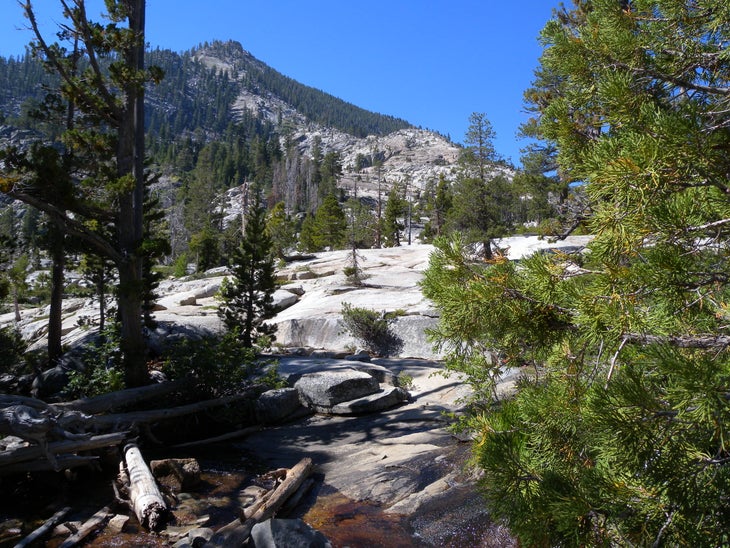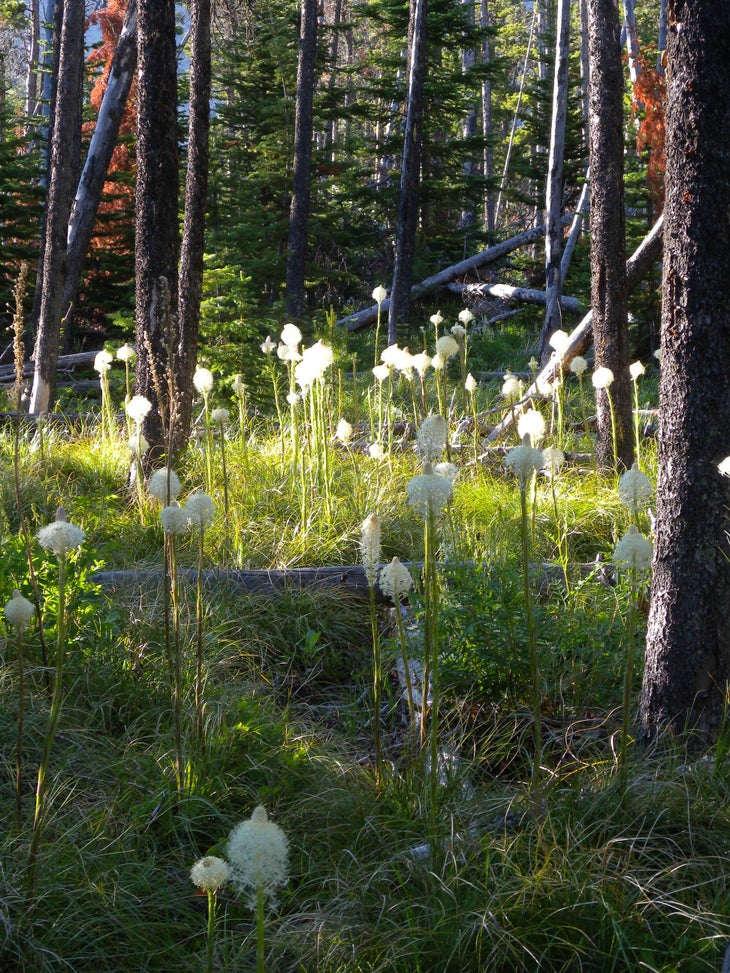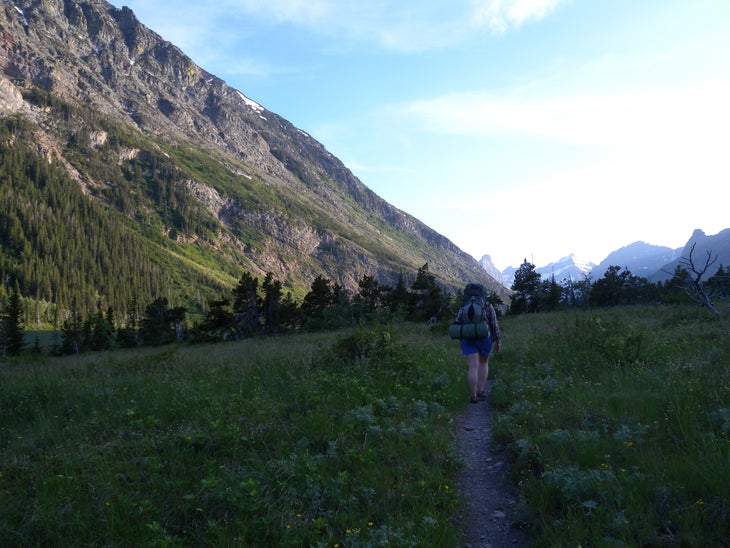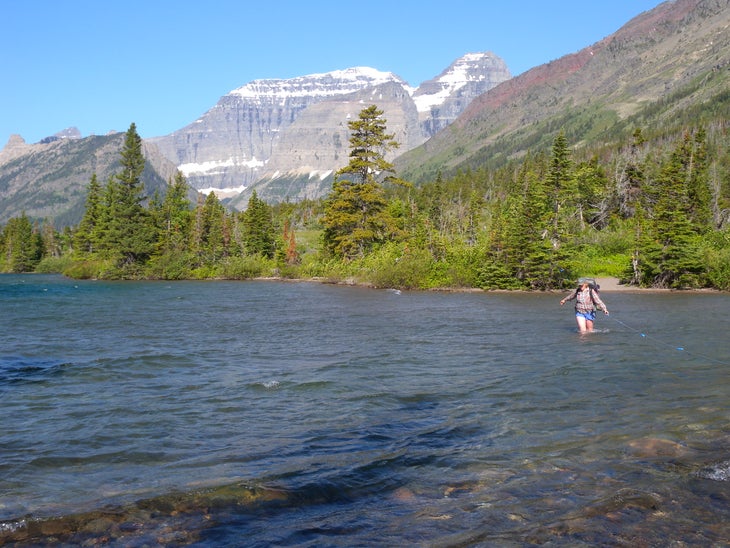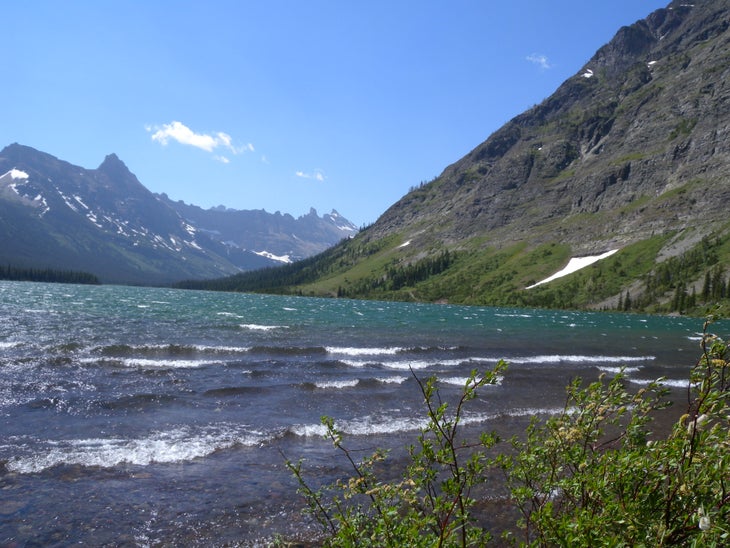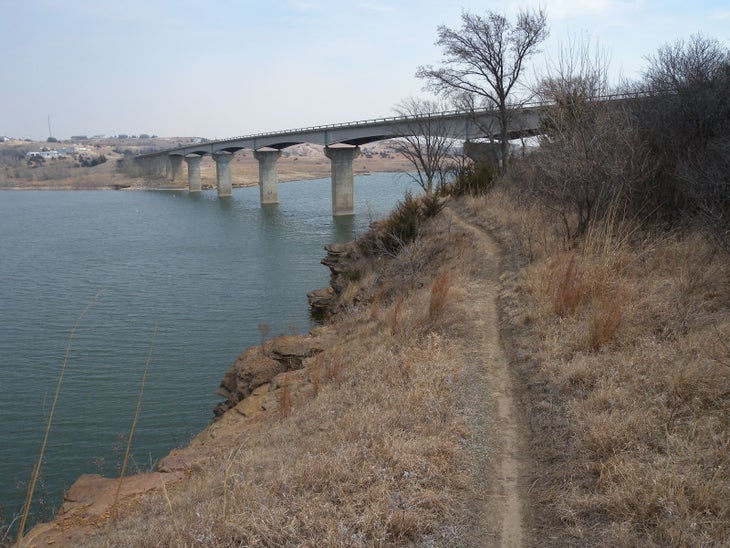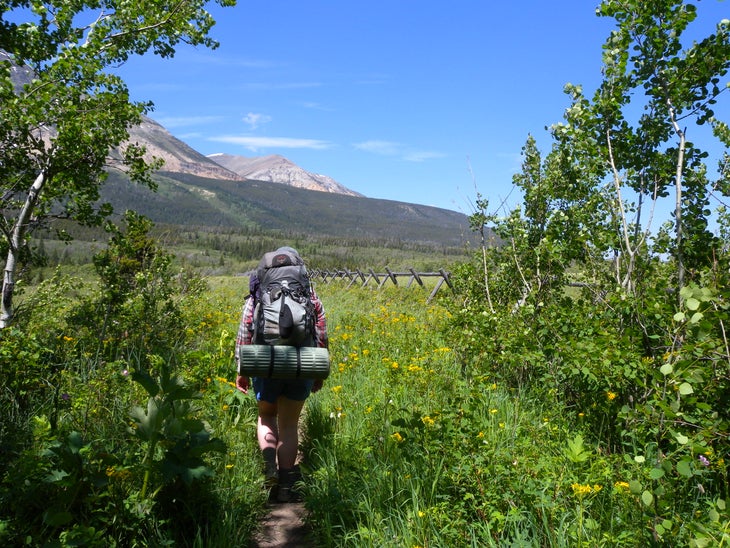 Trail Facts
Waypoints
BRV001
Location: 48.995908, -113.659916
The Belly River trailhead has pit toilets and parking, but no other facilities. Find the trail on the northwest corner of the lot and begin walking downhill through lodgepole.
BRV002
Location: 48.957699, -113.691358
At mile 3.8 the tree cover lifts and the trail cruises an open valley. Look left for views of Chief Mountain and south toward the rugged peak's of Glacier's Lewis Range. This route continues southwest through the valley for another 2.2 miles.
BRV003
Location: 48.933636, -113.712507
Bypass the right-hand spur toward the Gable Creek Campground and continue walking toward the fence where this route turns right on the Cosley Lake Cutoff Trail. If you see the backcountry rangers near the cabin, consider stopping to inquire about recent wildlife sightings and trail conditions.
BRV004
Location: 48.931766, -113.712216
There is a backcountry ranger station staffed in the valley during the summer, but the rangers are often patrolling the area on horseback. Consider stopping to check for warnings and condition updates before continuing to Cosley Lake.
BRV005
Location: 48.931311, -113.740429
You'll cross a small bridge just before this junction with the 100-foot spur trail to the Gross Ventre Falls. Turn left for a quick photo op before following this main trail another 1.3 miles to the Cosley Campground.
BRV006
Location: 48.929817, -113.747166
To continue toward camp veer left at this 3-way junction, bypassing the right-hand trail to Bear Mountain. The 1.7-mile hike to Observation Point is a great side-trip for sunset or sunrise.
BRV007
Location: 48.927662, -113.746511
Continue straight (on the Stoney Indian Pass Trail) for the final .6 miles to the campground. On day two, you'll backtrack to this point for a wet crossing at the base of Cosley Lake on the Ptarmigan Trail headed southeast.
BRV008
Location: 48.926344, -113.759401
There's a sign marking the short spur to the campground. Turn left and follow the trail to the food prep area and hang your food before proceeding to the lake-side campsites. On day two, backtrack from here to the Ptarmigan Trail.
BRV009
Location: 48.927289, -113.745598
Early on day two, you'll make this wet, cable-assisted crossing of Cosley Lake. The small gravel underfoot is stable and provides traction, but water levels can be high so take precautions as you would for any wet crossing.
BRV010
Location: 48.915985, -113.727218
Bear right at this junction to continue toward Elizabeth Lake. It's a steady 1.7 mile climb to below a forested ridge and past a small wetland. On day three, you'll backtrack to this point and follow the Belly River Trail from here. There's a suspension bridge to start the 7.5 mile trek to the trailhead.
BRV011
Location: 48.909248, -113.722679
Turn left at this signed junction for a 10-minute detour to the base of Dawn Mist Falls.
BRV012
Location: 48.893194, -113.724795
This small footbridge is just 100 yards from the center of Elizabeth Lake's foot-side campground. As you approach camp, stay on established trails to minimize impact around the 5 sites. In July and August, there's a 1-night limit at this popular spot.
BRV013
Location: 48.891302, -113.725362
It can be windy at Elizabeth Lake, but plan to spend some time admiring surrounding peaks from it's gravel shoreline.
BRV014
Location: 48.916126, -113.724782
Bear left on the Belly River Trail heading north. You'll pass beneath aspen and traverse the western slope of Gable Mountain before approaching the backcountry ranger station.
BRV015
Location: 48.931292, -113.714254
Pass through the gate at the corner of the ranger station's horse pasture and continue north to close this route's loop. Backtrack on the mellow trail through the valley toward the final climb to the trailhead.
Dawn Mist Falls
Location: 48.90843, -113.722076
The 50-foot falls creates lots of mist (careful with your camera) and makes for a good resting point en route to Elizabeth Lake.
Meadow
Location: 48.971859, -113.679324
The trail winds between aspen groves and open meadows in the Belly River Valley. You'll have even better views of Bear Mountain (right) and the Cosley Ridge (left) as you continue south.
Bears
Location: 48.958875, -113.689834
Evidence of bears–hair collection wire, ravaged plants, and scat–is always close. Make lots of noise to alert them to your presence.
Crossings
Location: 48.950736, -113.694832
There are several small streams on the upper stretched of the trail, but small bridges and stepping stones should keep you dry.
Ranger Station
Location: 48.931886, -113.712418
Stopping to look for announcements at the Belly River Backountry Ranger Station.
Bridge
Location: 48.934692, -113.715208
Some of the area's suspension bridges are seasonal. You'll have no problem crossing the Belly River on this example in the summer, but check with rangers before your trip to ensure bridge placement here (and at the day-three crossing below Dawn Mist Falls).
Bear Grass
Location: 48.929671, -113.730412
These delicate blooms are the unofficial park flower. Individual plants bloom only once every 5-7 years, so sightings aren't consistent.
Gros Ventre Falls
Location: 48.931409, -113.739996
A short spur trail leads to this view of the Gros Ventre Falls.
Cosley Ridge
Location: 48.927236, -113.747233
The rugged north face of Cosley Ridge–visible on the final stretch of the trail and from camp–is a great place to spot mountain goats. Bring your binoculars.
Crossing
Location: 48.927321, -113.745339
A cable strung between the shores helps at this crossing, but expect cold, fast-moving water.
Lake
Location: 48.891836, -113.725304
Other nearby trails allow for add-on options after an easy day two, but you might rather just relax on the shore.
Bridge
Location: 48.916383, -113.72684
Crossing over the Belly River heading back toward the trailhead.
Pasture
Location: 48.930157, -113.713514
Emerging from the forest approaching the ranger station's horse pasture near mile 17.