Glacier National Park: Appistoki Peak and Mount Henry
Hike up two mountain peaks with eye-popping vistas on this challenging 7.4-mile off-trail route on the park's lesser-traveled east side.
Heading out the door? Read this article on the new Outside+ app available now on iOS devices for members! Download the app.
PERMIT: Overnight camping in Glacier National Park requires a backcountry permit. Check out the latest fees and more details at nps.gov/glac/planyourvisit/backcountry.htm.
MORE PARK INFO: Glacier National Park, (406) 888-7800; nps.gov/glac/.
-Mapped by Eric Biehl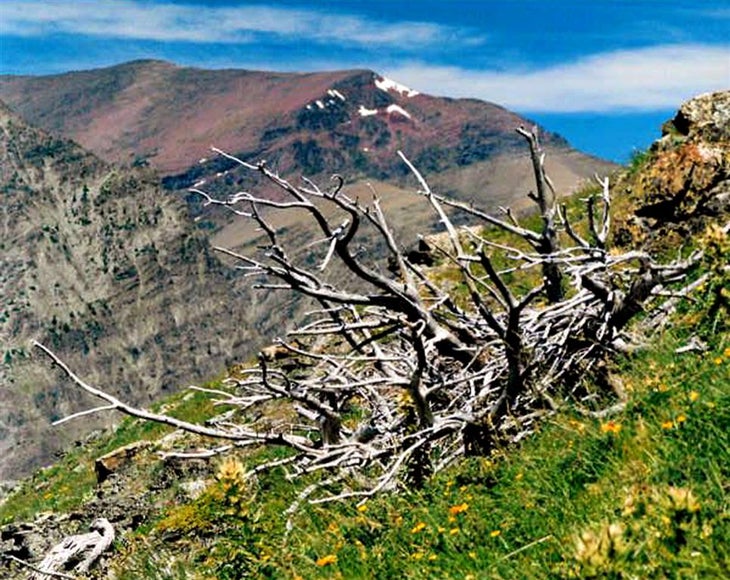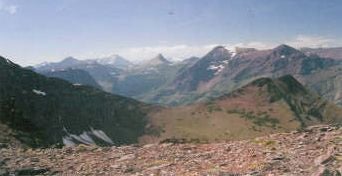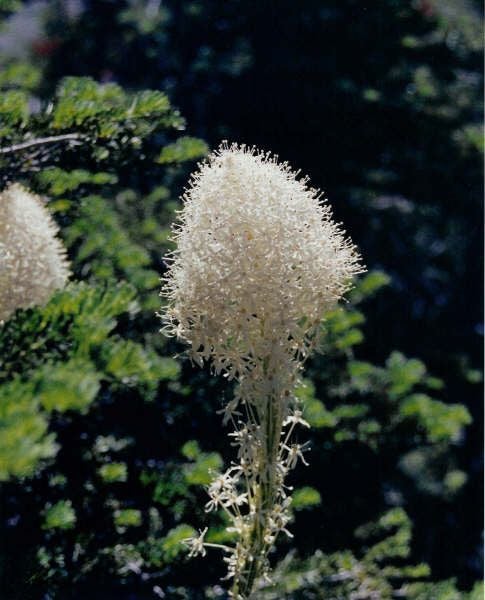 Trail Facts
Waypoints
Views of the SW ridge of Spot Mtn.
Location: 48.4677276611328, -113.35440826416
©Eric Biehl
APP001
Location: 48.4849586486816, -113.36075592041
Take Mt. Henry Scenic Point Trail; head E around the boneyard
APP002
Location: 48.4832725524902, -113.353317260742
Path zigs under conifers; side trail to Appistoki Falls veers off to R
APP003
Location: 48.4813423156738, -113.351234436035
Leave the Mt. Henry Trail behind; cross Appistoki Creek (no bridge) and head S toward Appistoki Peak
APP004
Location: 48.4785919189453, -113.352203369141
Terrain climbs @ steady pace; low windswept trees and open alpine meadows replace lodgepole pines
APP005
Location: 48.4757766723633, -113.353446960449
Trail starts to get steep. Look back to admire Scenic Point Mtn. in NE, plus (possibly) grazing bighorn sheep
APP006
Location: 48.4731254577637, -113.355522155762
Photo op: Two Medicine Lake and Sinopah Mtn. to the W
APP007
Location: 48.4670791625977, -113.354400634766
Appistoki Peak (8,164 ft.): Take in 360° views of Spot Mtn. to N, Bison Mtn. to E, and Painted Tepee Peak to SW; head S on ridgeline toward the saddle
APP008
Location: 48.4601516723633, -113.357002258301
Continue on ridgeline as it continues to climb S from the saddle
APP009
Location: 48.4539794921875, -113.355499267578
Photo op: Large rock arch. Ridge begins to curve to the E
APP010
Location: 48.4527435302734, -113.349166870117
Keep heading E, following ridgeline toward summit of Mt. Henry
APP011
Location: 48.4531288146973, -113.343597412109
Mt. Henry (8,845 ft.): Bird's-eye views of Big Sky country and the rugged Lewis Range stretch for miles
The view from Appistoki Peak
Location: 48.4665985107422, -113.354537963867
©Eric Biehl
Bear Grass
Location: 48.4820556640625, -113.35221862793
©Eric Biehl
Indian Paintbrush
Location: 48.4824333190918, -113.351280212402
©Eric Biehl