Get the Best Out of Estes Park This Summer
Navigate this Rocky Mountain hideaway and beat the crowds to mountain adventure.
Heading out the door? Read this article on the new Outside+ app available now on iOS devices for members! Download the app.
In 2018, Rocky Mountain National Park was the country's third most-visited National Park, playing host to over 4.5 million people. It's no wonder why: The soaring 14,000-foot peaks, scenic glacially-carved valleys, and pristine, ice-fed lakes, all accessed by roughly 355 miles of hiking trails are practically right around the corner. All that said, you'd be forgiven for wanting to shake the crowds. Thankfully, Estes Park and the adjacent Rocky Mountain National Park are filled with summertime adventure that can get you away from the traffic on Trail Ridge Road, without sacrificing even a little bit of Rocky's world-class hiking, rock climbing, backpacking, fishing, and more, if you know the tricks.
The Hidden Side of Rocky
With most of the crowds heading into the park through the Beaver Meadows Entrance, knock off at least a little bit of the wait by slipping in through the Fall River Entrance (purchase your entrance pass online to save even more time), then take your hike north into the Mummy Range. Dotted with five unspoiled 13ers and a limited number of trails, it will be far easier, here, to feel off the beaten path. Take the Lawn Lake and then Crystal Lake Trails 7.7 miles to a rock-lined basin dotted with wildflowers and blue tarns. Those with a summit in mind should take the one-way Old Fall River Road to the Chaplin Creek Trailhead and hike 2.6 miles to the 360-degree views from the top of Mount Chiquita (13,069 feet) or further to Ypsilon Mountain (13,514 feet)—with every step you take north, the scenery and trail company will only get more and more remote.
Time It Right
If possible, try to enjoy the area on weekdays. Crowds will be at a minimum, parking plentiful, and you can even enjoy some of the National Park's most popular spots without too many others. Before you head out, take a peek at the park website's webcams to get an idea of the lines at the Fall River and Beaver Meadows entrances.
If visiting on the weekend, plan for early mornings and even evenings as your best bet to free roam. Starting at 5 or 6 am rather than 9 means you'll almost certainly have a parking spot, and you'll get on the trail well ahead of the crowds and have it largely to yourself for at least a while. Most parking lots are usually filled by 8 or 9 am, and the park's website lists estimated times popular parking lots will fill up for more accurate insight into your plan. Another option is to park in town and take the free shuttle from the Estes Park Visitor Center in to some of the more popular spots.
The Rockies are notorious for afternoon thunderstorms, which can make summits and alpine areas dangerous, but the storms typically clear out well before sunset during the summer. Double checking the radar and sneaking out after the rain has stopped for a quick sunset hike or drive, as the sun dips behind the peaks, could be the highlight of your visit.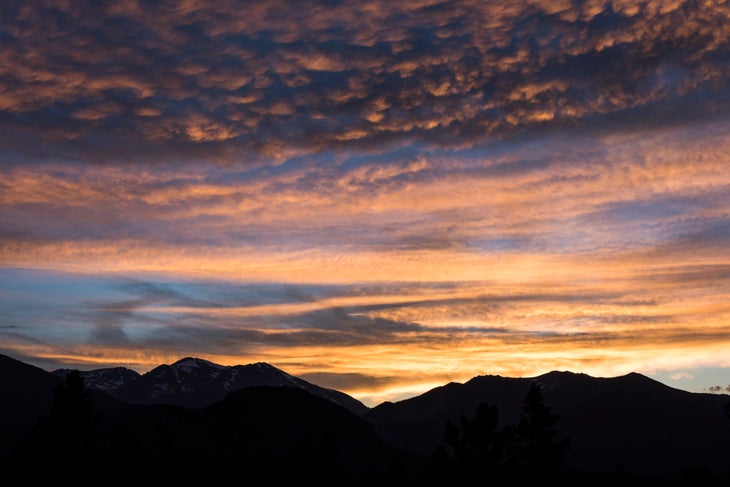 And if your goal is traveling beyond the day hiking hoards, consider spending the night in the backcountry. Backcountry campsites are limited and fill up early, but if you can secure a spot, you'll be well into solitude country. Check the park website for availabilities—remember, the further you are from the trailhead, the less likely you are to run into dayhikers. We recommend looking at the handful of sites on the Bluebird Lake Trail from the Wild Basin Trailhead. Experts can also secure a permit for a cross-country zone where established trails or campsites are nonexistent. These spots are hard to get to, but even on the busiest days, company will be all but nonexistent.
Navigate Downtown
Estes Park's small-town charm is one reason it's a popular place to hang out and re-coop from a day in the woods, but that also means parking can be a challenge. To make your search more efficient, pull up the town's Estes Parking App which highlights the lesser-known parking options (including one on the corner of Davis and Moraine and the Events Complex Park-n-Ride) and gives you an idea of parking availability in each so you can spend less time cruising for a spot.
Step a little further back and park at the Estes Park Visitors Center's lots or garage between Big Thompson Ave and N St. Vrain Ave, from which it's just a short walk along bike paths to all Estes has to offer. Real pros will bring a bike to tour around the town's web of bike paths, ride the Stanley Park Bike Park, loop around Lake Estes, or even up to Lumpy Ridge, without ever giving up a parking spot. 
Eat Like a Local
Once in town, hit one of these local spots. If a cold beer was on your mind for the second half of your hike, you won't find better options than at The Barrel. It features a selection of more than 60 brews which rotate almost daily, so you can avoid ever having the same beer twice. If you're heading back to the Front Range from there, avoid the traffic on Elkhorn and head south to Moccasin Circle Drive and Prospect Ave, a shortcut to the other side.
Just down the road, tucked unassumingly into the back of a Sinclair gas station, the Fresh Burger Stop is an Estes Park gem for a quick grab-and-go bite of juicy burger perfect for refueling after a couple days in the woods. Always get the secret sauce and an order of pork chili fries. Get everything to go and take it around the corner to Mary's Lake to drop a line for rainbow trout as the sun sets.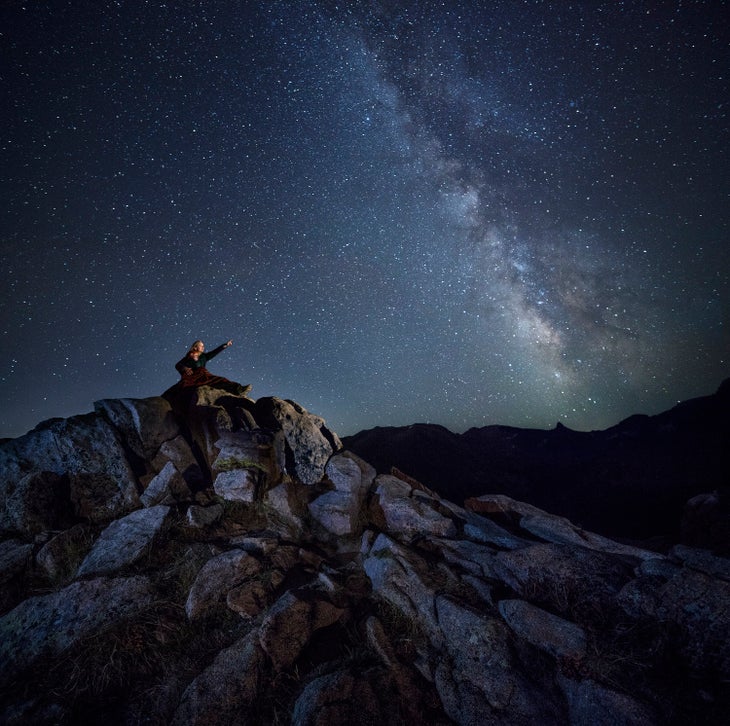 Stay Awhile
Camping is the best way to experience this part of Colorado. For your best chance at getting a spot within spitting distance of the rocky summits, try Forest Service campgrounds like Olive Ridge or Meeker Park, both south of town on Route 7. These sites are located two miles from Longs Peak Trailhead and two miles from the Wild Basin Trailhead giving you access to an array of trails. Olive Ridge has 56 sites and requires a reservation that you can make on www.recreation.gov. Meeker Park Overflow Campground is just south of Olive Ridge and has a first come, first serve policy. It has fewer amenities, but tends to fill to capacity on weekends due to the location.
Campsite reservations do fill up about 6 months ahead of time within and around the National Park. If you have less lead time for planning, getting a room at the Blue Door Inn is a great option. They go for less than $100 and come with free breakfast, an outside barbecue area, horseshoe pits, basketball hoops, a fire pit and more—It's basically camping but with the comforts of a room.