Fort Collins, CO: Arthur's Rock
Climb through pungent ponderosa to the summit of Arthur's Rock for views of Ft. Collins and the Colorado plains. It's a far-away feeling, but close-to-town 4.4-mile dayhike loop through Lory State Park.
Heading out the door? Read this article on the new Outside+ app available now on iOS devices for members! Download the app.
It's less than 2 miles to the loftiest point of Arthur's Rock, but this local favorite spills over with diverse flora and fauna, starting with the path's first steps. and continuing west through a narrow, rocky cleft colored with mountain mahogany, bitterbrush, and other hardy foliage. Beginning from the park's southernmost trailhead, you'll climb west alongside an intermittent stream which provides a soothing accompaniment as the trail switchbacks through a stand of ponderosa pine. Continue through a wide, sweeping meadow before winding back into the woods. After a couple more bends, the path lands at the base of a rocky, V-cut climb leading straight to the summit. A handful of rounded, rocky knobs atop this 1.7 billion year-old mountain offer stellar views of Horsetooth Reservoir, Ft. Collins, and Colorado's eastern plains.
On the return trek, head west on the Howard Trail, past one of the park's six backcountry campsites, and stroll through thick stands of ponderosa and Douglas-fir to traverse the ridge opposite Arthur's Rock. A final short-and-steep section of trail bypasses the Mill Creek Trail junction and loops north toward the trailhead.
-Mapped by Steve Johnson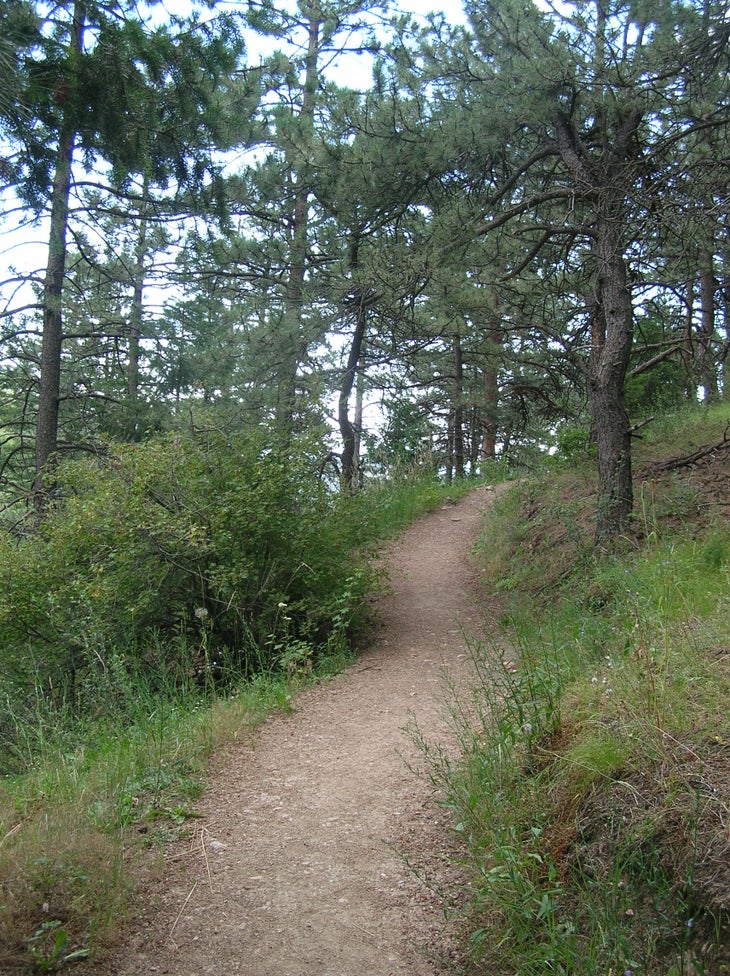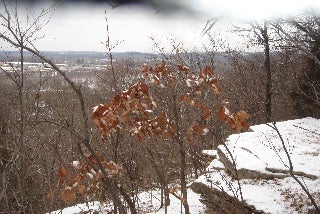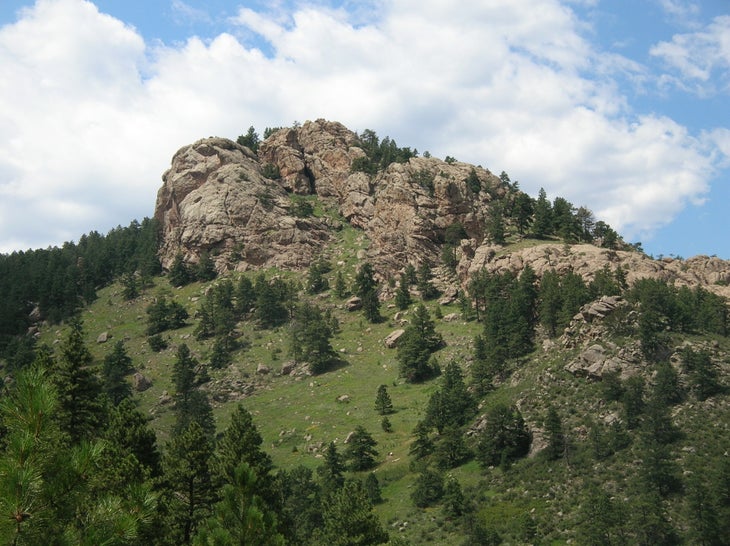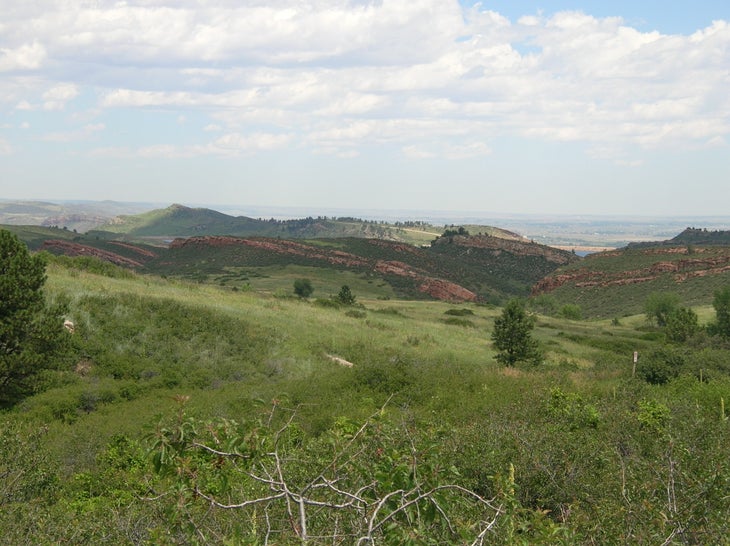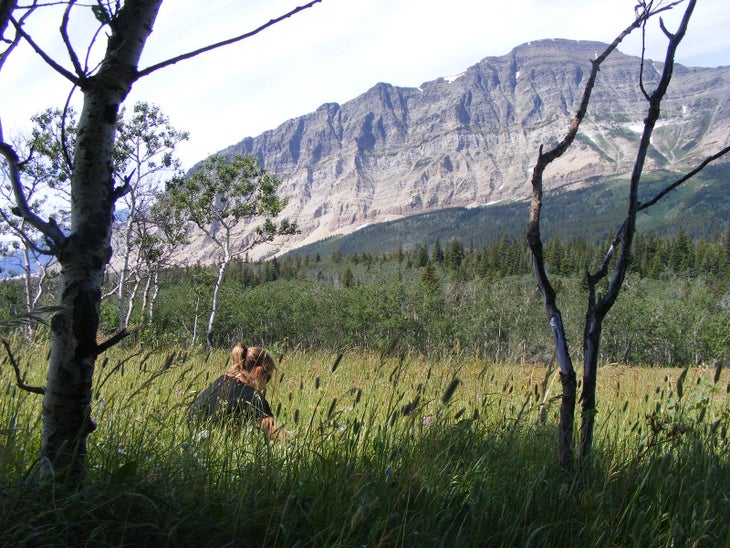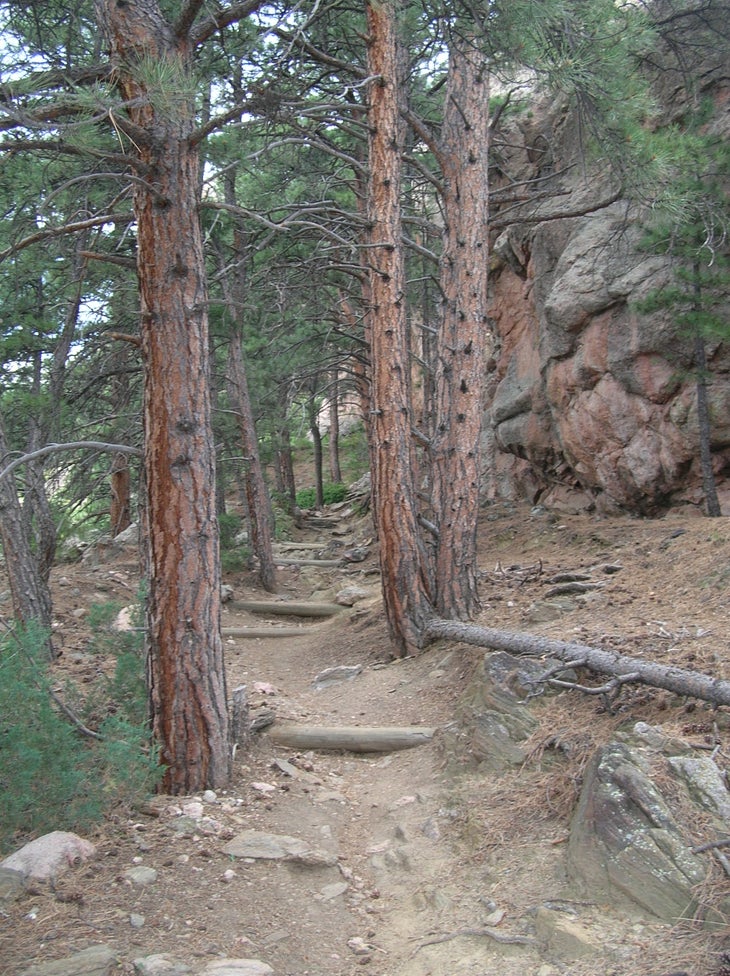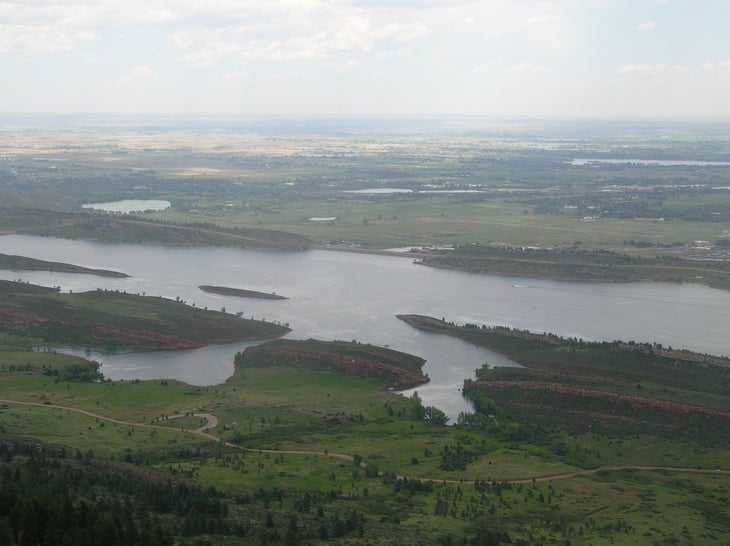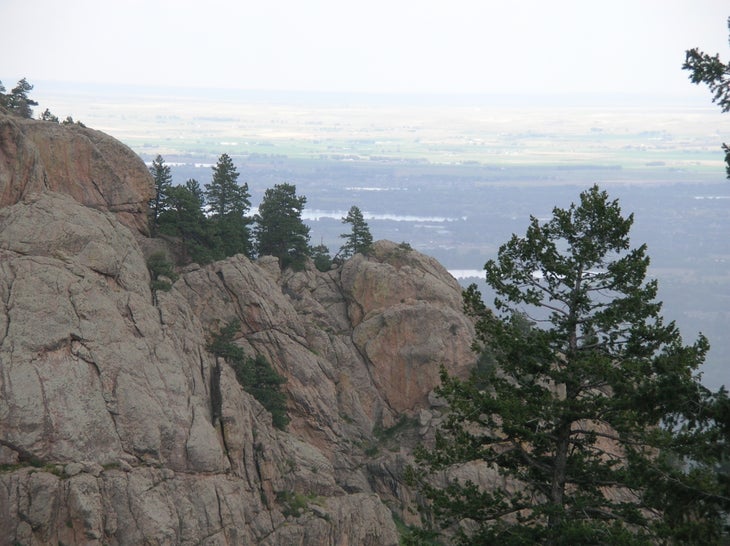 Trail Facts
Waypoints
ART001
Location: 40.5642894, -105.1740833
There is a restroom, picnic tables, plenty of parking and an information-packed kiosk at the trailhead. Begin by following the Arthur's Rock trail west as it warms-up with a gentle ponderosa shaded climb.
ART002
Location: 40.5640698, -105.1766574
Look around at rocky outcroppings near the trail and glance behind you for views of Horsetooth Reservoir.
ART003
Location: 40.5631814, -105.1806164
The trail dips toward the drainage before climbing through a wide, sloping meadow. Bypass a left-leading connector trail and get ready for the steeper hillside ahead.
ART004
Location: 40.566126, -105.1842118
The trail gets more rugged as it climbs and approaches the rocky faces below the summit. From the top of these switchbacks, it's still another 400 or so feet from the summit.
ART005
Location: 40.5682631, -105.1891834
Stay straight on the trail to continue toward last rugged steps to the 6,780-foot summit. To complete this route's loop, you'll backtrack from the summit to this point and turn right.
ART006
Location: 40.5681653, -105.1880085
Plan to spend some time admiring stellar views of Fort Collins and the eastern plains and scrambling around atop the rocky outcropping before turning back.
ART007
Location: 40.5688947, -105.1896018
Turn left onto the Howard Trail to follow this route's loop. You'll cross a small stream and traverse the far ridge heading downhill.
ART008
Location: 40.5625444, -105.188324
Near mile 2.7, the trail descends the steep, open ridgeline with a long series of steep switchbacks.
ART009
Location: 40.5623981, -105.1802405
Bear right at this junction to join the Mill Creek Trail for a slightly longer return to the trailhead. You could shave about 0.3 miles from this route by taking the right-hand trail and connecting with the Arthur's Rock Trail heading east.
ART010
Location: 40.5606383, -105.1777089
Bypass this left-leading path (and another in 0.4 miles). This last stretch of this mapped route offers a great look at the wide open, southern side of Lory State Park and these longer trails extending into Horsetooth Mountain Open Space.
Arthurs Rock trail
Location: 40.5644243, -105.175209
Early going on the trail, through ponderosa forest.
View
Location: 40.5641064, -105.1767004
Horsetooth Reservoir from the trail's first switchback.
Arthur's Rock
Location: 40.5634422, -105.1781917
Look to your right as you climb for the classic view of Arthur's Rock.
Hogbacks
Location: 40.5653453, -105.1853585
A trailside view of the Front Range's distinctive hogback ridges.
Meadow
Location: 40.5660788, -105.1841569
Upper Trail
Location: 40.5676518, -105.1886737
The trail gets increasingly rugged as it approached the summit.
Horsetooth Reservoir
Location: 40.568149, -105.1879013
Looking east toward Horsetooth Reservoir from the summit of Arthur's Rock.
South Face
Location: 40.566144, -105.1913023
The sheer south face of Arthur's Rock, and Ft. Collins in the distance.