Florence, OR: Haceta Head and Hobbit Trail
Start with a casual romp through lush rainforest and a beaver pond meadow, traverse a coastal headland to an historic lighthouse, then delve down through "Middle Earth" to a mystic beach on this 6-mile loop hike.
Heading out the door? Read this article on the new Outside+ app available now on iOS devices for members! Download the app.
There are quicker and easier ways to reach each of these locations, but if you wanted quick and easy, you could refer to your Oregon AAA travel guide. Heading north from Florence, pass the tourist trap that is the Sea Lion Caves, the parking area for the Haceta Head Lighthouse, and continue another 2 miles to the Washburn State Park day use area for a fantastic loop hike with minimal crowds that offers all the best features of the Oregon Coast.
Start by picking up the trail opposite the restrooms and head east away from the beach, through a winding tree tunnel, to cross Hwy 101. Follow the road up toward the camping area to the signed Valley Trail, and head south. The trail undulates gently through beautiful coastal rainforest to a fork in a meadow popular with roaming elk. Take the right fork, following signs to Haceda Lighthouse, and soon come upon a viewpoint over a wide meadow with a large beaver pond. From there, start a gentle climb to the trail's end at a small parking area on Hwy 101. Cross to the other side and pick up the trail about 50 yards north. After a short descent, the trail forks left to Haceda Head and right to Hobbit Beach.
Start by going left toward Haceda Head through a forest of spindly windswept Sitka spuce, salal, rhododendron and hedge nettle. The trail starts to climb in earnest to traverse to the other side of the headland. On foggy days, watch the mists swirl eerily though the trees; clear days offer views out over the Pacific. Cresting the headland, switchback down the other side to the 115 year-old Haceta Head Lighthouse, Oregon's most photographed relic of pre-GPS coastal navigation. If it's not too crowded, sign up for a free (though donations are happily accepted) tour of lighthouse that climbs up to the lens room and offers a view into its historical significance. After your tour, some bird and sea lion watching, and absorbing the views down the coast, retrace your trail back over the headland to the Hobbit Beach junction.
Head down the 0.5-mile Hobbit Trail toward the ocean through lush coastal rainforest, displaying a variety of colorful seasonal flowers and mushrooms. At the end of the trail, duck through one of many "Hobbit Tunnels" to emerge onto the open beach. Note the placement of unusual rock and stick piles occasionally left on the beach by supposed mystical creatures. From here, simply wander north up the beach a little over a mile, searching for sand dollars, admiring the layered escarpment of ancient sand dunes, or try spying a whale spout. Look for a stepped trail back to the day use area of Washburn State Park and the end of your loop.
-Mapped by Eli Boschetto, Bosco Mountain Photo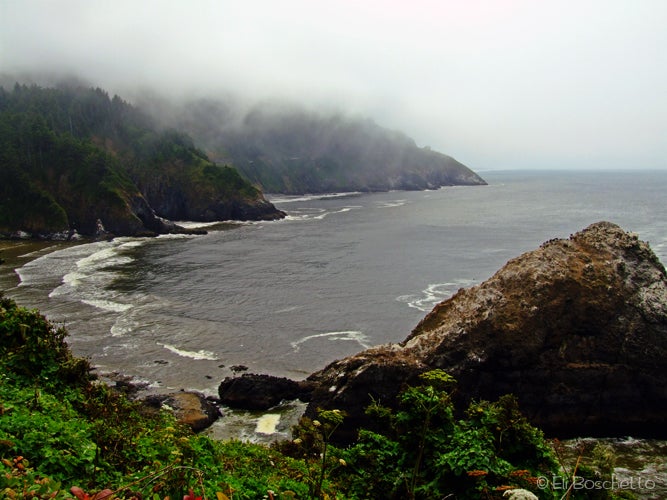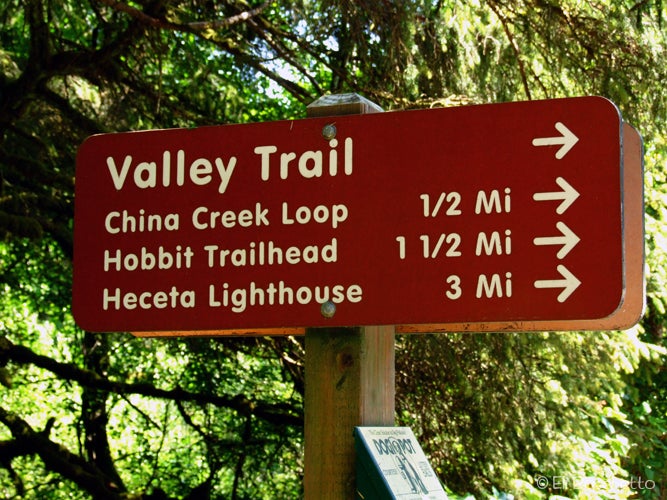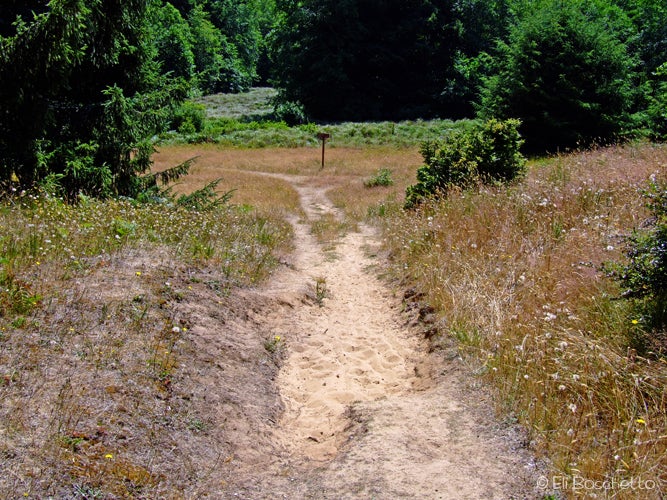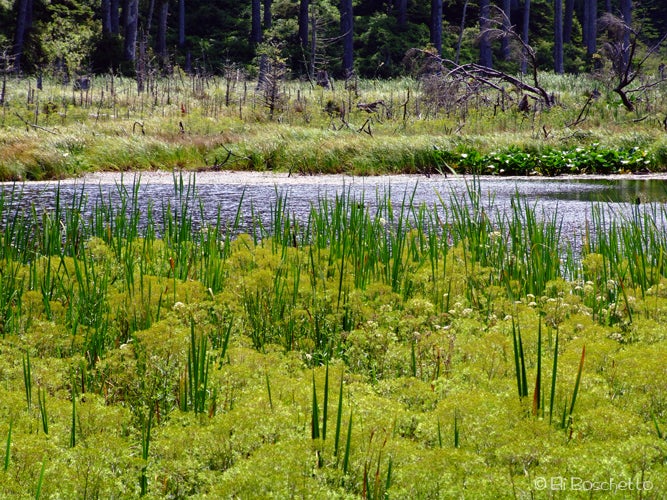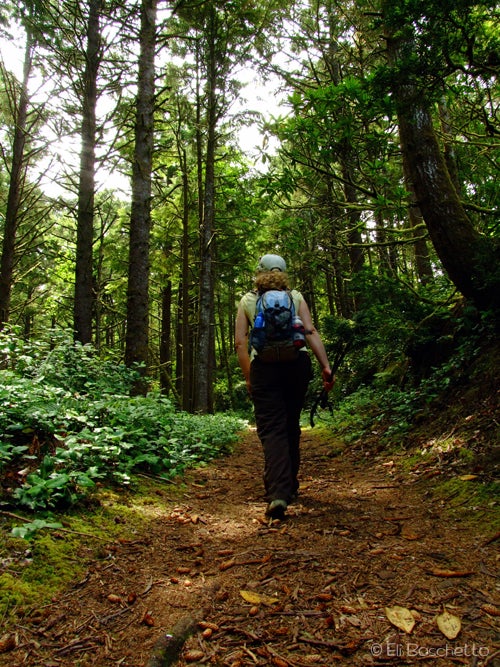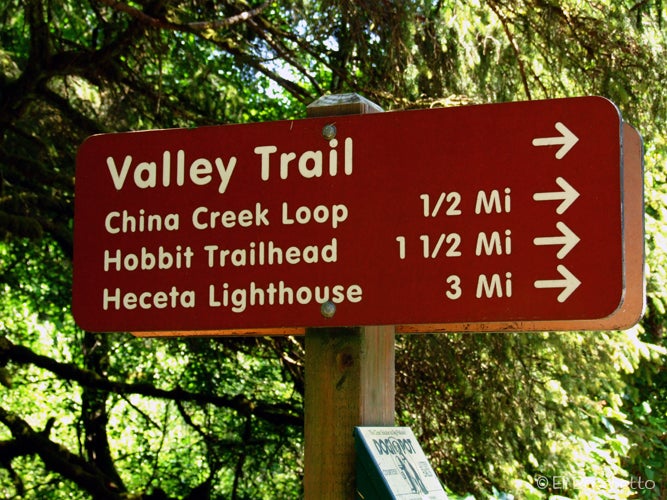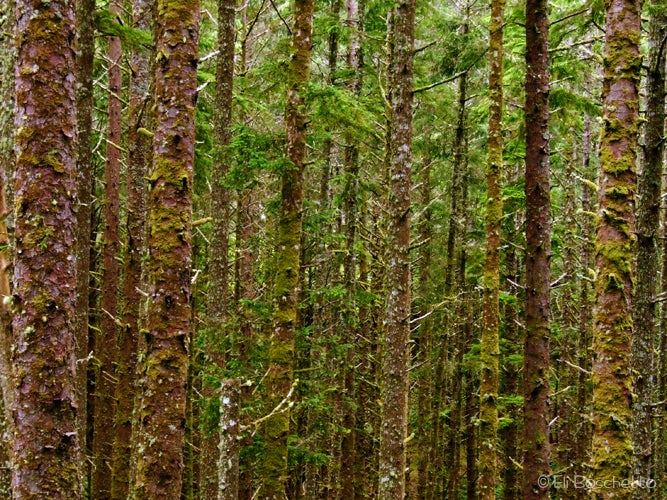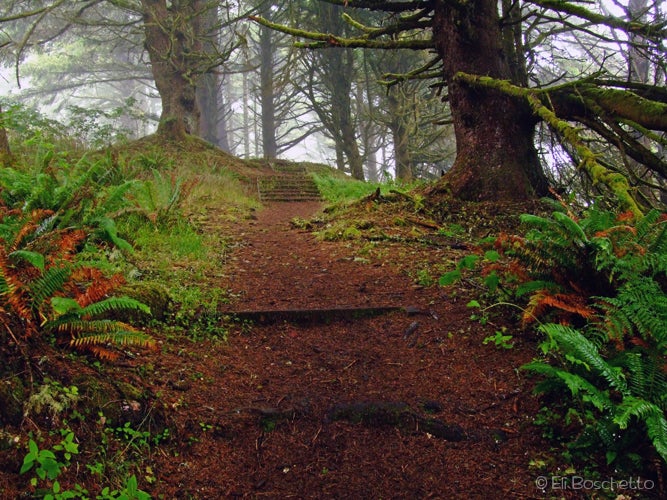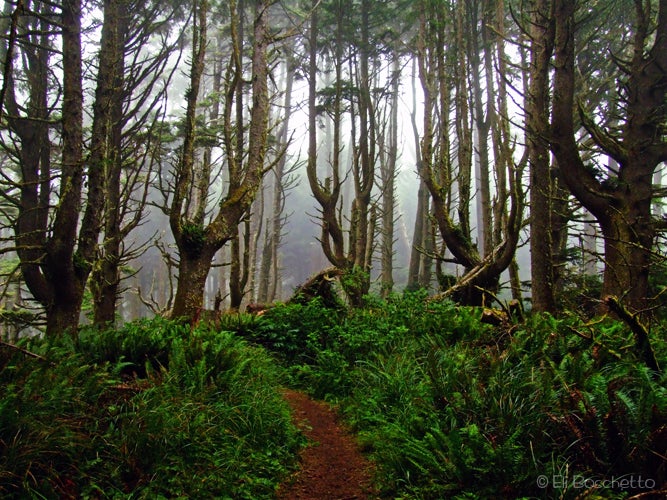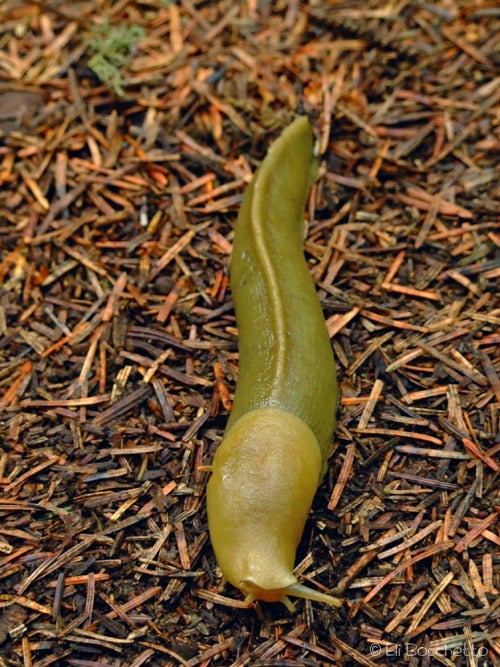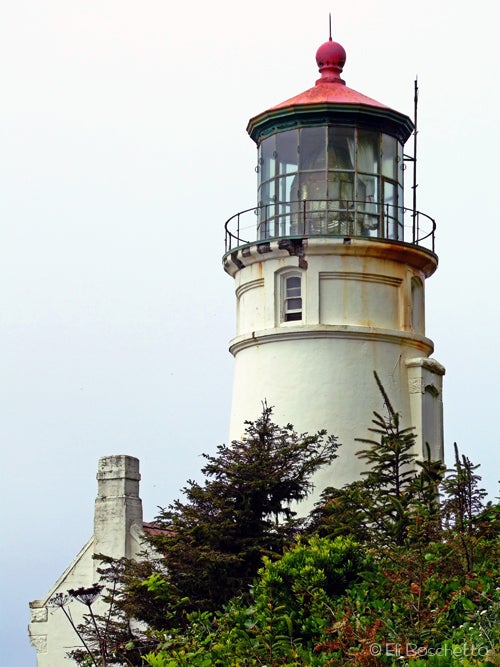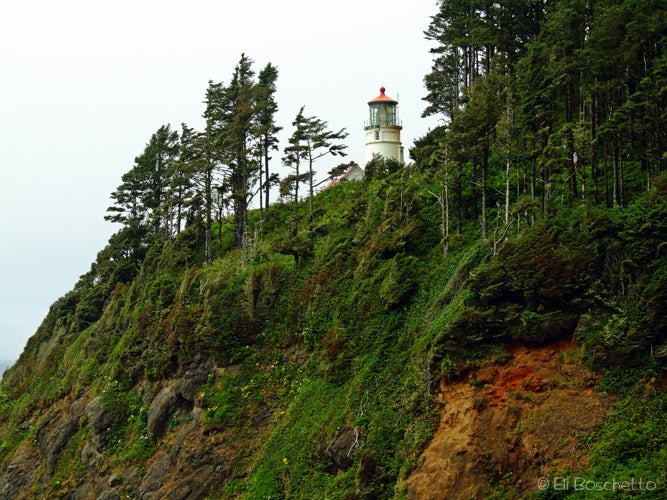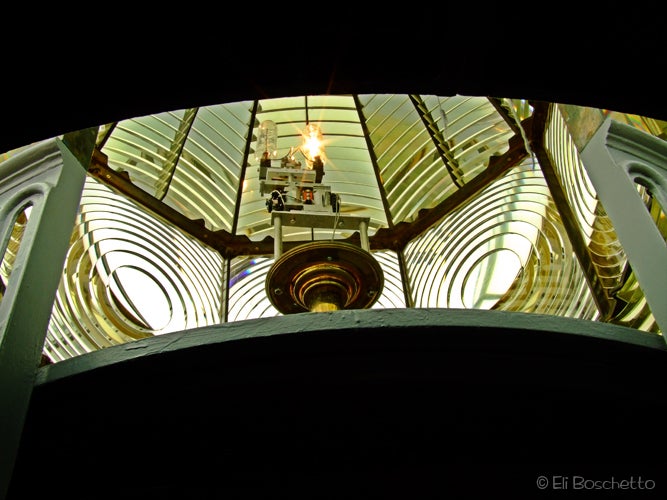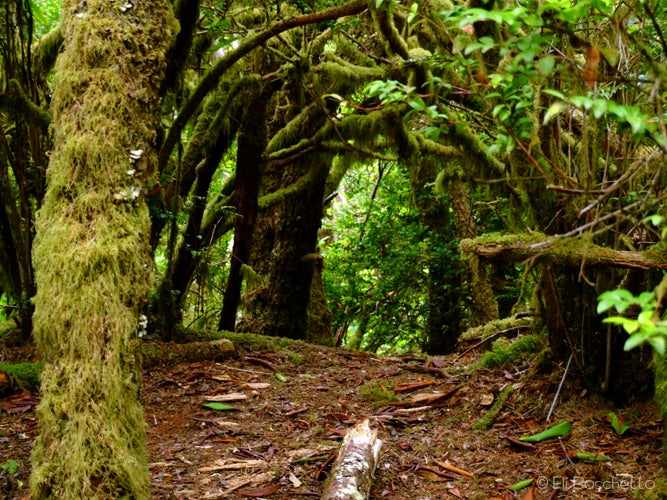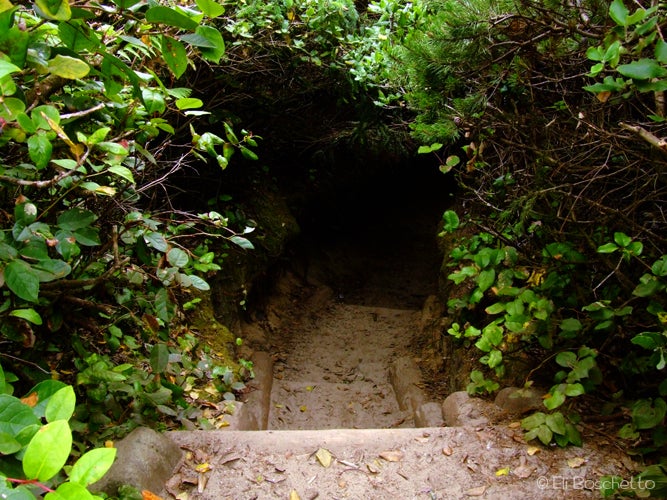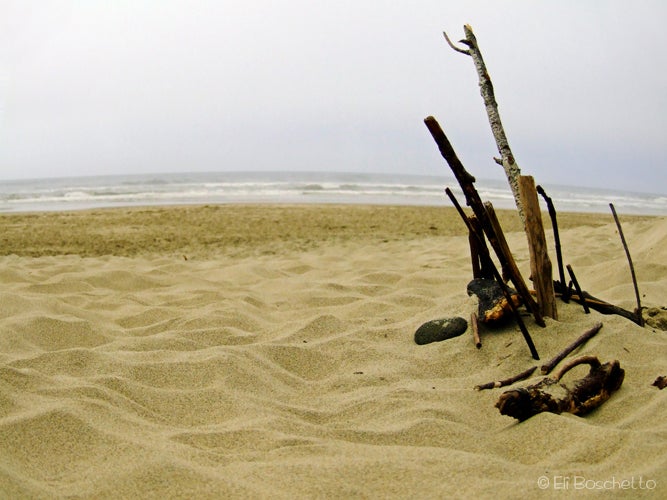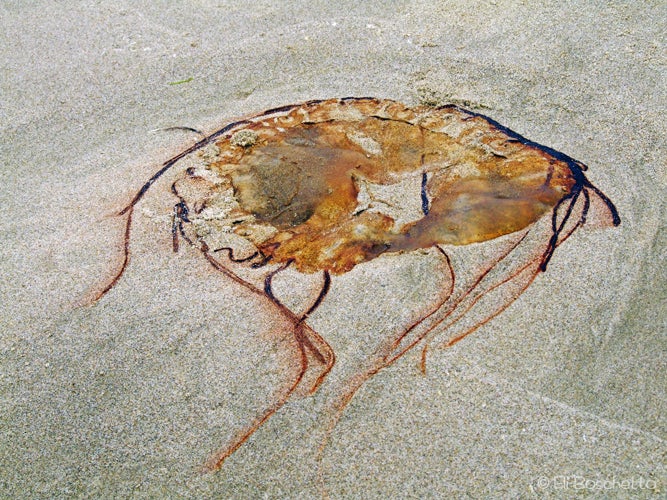 Trail Facts
Waypoints
HAC001
Location: 44.161426, -124.116542
Trailhead is located opposite the restrooms. Head east to cross Hwy 101.
HAC002
Location: 44.159943, -124.113731
Pick up Valley Trail, heading south to Haceda Lighthouse.
HAC003
Location: 44.155358, -124.111203
Fork right at this junction in a grassy meadow. Watch for elk.
HAC004
Location: 44.154708, -124.111975
Continue straight through this junction with the China Creek Trail.
HAC005
Location: 44.147455, -124.115399
Stop for a view of a large meadow with beaver pond.
HAC006
Location: 44.143175, -124.117479
Trail ends at Hwy 101. Cross to other side and pick up again 50 yards north.
HAC007
Location: 44.143727, -124.117885
Haceda/Hobbit junction. Fork left first to visit Haceda Head Lighthouse; take right fork on return to descend to Hobbit Beach.
HAC008
Location: 44.137225, -124.127911
Haceda Head Lighthouse. Sign up for a free tour. Watch birds and sea lions on the rocks below.
HAC009
Location: 44.136719, -124.125562
Historic Lightkeeper's House. More views.
HAC010
Location: 44.145141, -124.121037
Emerge through "Hobbit Holes" onto Hobbit Beach. Head north up beach to complete loop.
HAC011
Location: 44.160633, -124.11783
Short trail back to parking area.
Heceta Lighthouse Viewpoint
Location: 44.137162, -124.126754
Watch for a variety of seabirds and sea lions from the Heceta Lighthouse viewpoint. © Eli Boschetto
Junction
Location: 44.159826, -124.11345
After crossing Hwy 101, pick up the Valley Trail and head south to Hobbit Trailhead/Haceta Lighthouse. © Eli Boschetto
Meadow Fork
Location: 44.155577, -124.111862
Look for elk wandering this meadow before forking right to Heceta Lighthouse. © Eli Boschetto
Meadow View
Location: 44.147509, -124.114952
Beaver pond along the Valley Trail. © Eli Boschetto
Valley Hike
Location: 44.145816, -124.116669
Hiker on the Valley Trail. © Eli Boschetto
Junction
Location: 44.143722, -124.118085
Fork left at the Hobbit Junction to Heceta Lighthouse first, then right to Hobbit Beach on return. © Eli Boschetto
Coast Forest
Location: 44.142182, -124.117784
Sitka rainforest en route to Heceta Head. © Eli Boschetto
Heceta Head
Location: 44.140303, -124.120831
Fog swirls in the trees near the trail crest of Heceta Head. © Eli Boschetto
Enchanted
Location: 44.139903, -124.122248
Trail over Heceta Head. © Eli Boschetto
Don't Step
Location: 44.139041, -124.124694
Watch out for big banana slugs on the Heceta Trail. © Eli Boschetto
Heceta Lighthouse
Location: 44.137285, -124.127483
Heceta Head Lighthouse at the end of the trail. Sign up for a free tour. © Eli Boschetto
Heceta Bluff
Location: 44.136299, -124.125509
Heceta Lighthouse view from near Keeper's House. © Eli Boschetto
Old-school GPS
Location: 44.137254, -124.128213
Peek inside the lens chamber of Heceta Lighthouse on a free tour. © Eli Boschetto
Hobbit Trail
Location: 44.145138, -124.118943
Imagine hobbits and elves hiding among the mossy passages along this short trail to Hobbit Beach. © Eli Boschetto
Hobbit Hole
Location: 44.144953, -124.120746
Delve through small passages to access Hobbit Beach. © Eli Boschetto
Hobbit Beach
Location: 44.14597, -124.121347
Look for mysterious stacks of rocks and sticks adorning Hobbit Beach. © Eli Boschetto
Beach Fossil
Location: 44.15336, -124.120102
Jellyfish washed ashore on Hobbit Beach. © Eli Boschetto