Five of the Best European Adventure Cities
Rich culture and easy access to some of Europe's most stunning scenery? Count us in.
Photo: LOLA AKINMADE AKERSTROM
Heading out the door? Read this article on the new Outside+ app available now on iOS devices for members! Download the app.
For me, adventure isn't limited to epic expeditions out in the backcountry. It also means spending a day navigating dynamic neighborhoods or hiking trails in nearby parks with the city's skyline as your backdrop.
Living in vibrant Stockholm, Sweden, means endless opportunities for micro adventures. I'm never more than 10 minutes away from bodies of water in any direction and three miles away from a green park or nature reserve. Having a multipurpose travel pack that adapts as I flow from city to country within minutes makes it easier for me to mentally transition as well. I don't have to dash home to repack. Especially since I could already be hiking around a downtown park faster than the 20 minutes it takes me to get home and change gear.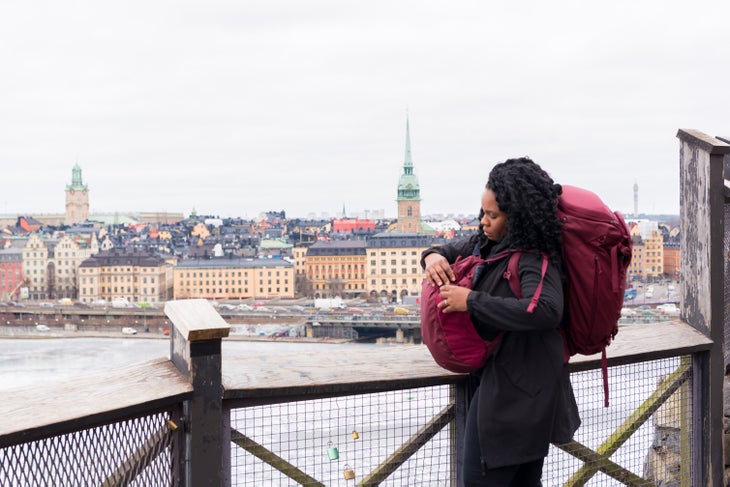 While exploring the city, a light daypack with solid security features and easy access to my phone, camera, notebook, and snacks on the go is important for me. Once it's time to go hiking in nature parks or island hopping around Stockholm's archipelago, I need a sturdy waterproof backpack that's ergonomically designed to fit my spine. This lets me focus on enjoying my adventures, not fighting off discomfort.
Besides the rich wine color (Dark Bordeaux) of my 70L pack, what I aesthetically love about Thule's Landmark travel collection is its streamlined design. Intricate attention has been paid to details so everything such as excess dangling straps and zippers can be tucked away and out of sight. The pack opens like a duffel bag which provides easy access to my gear. Its detachable daypack is excellent for urban adventures or short hikes.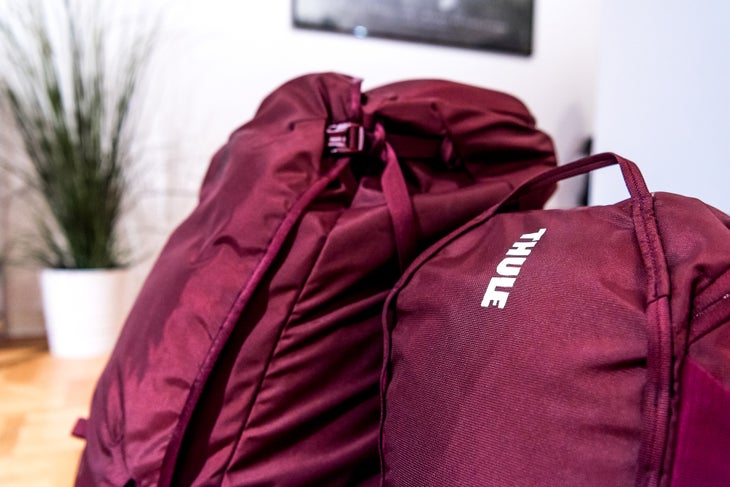 When it comes to security and warding off pickpockets while exploring cities, it has both locking systems in its main compartment and zippers you can lock. There's also a "SafeZone" section on top – reminiscent of the hard-domed head of a Pachycephalosauria dinosaur – where I can store quick access essentials such as my wallet, phone, and small valuables I need to reach without worrying about theft. The daypack also comes with a built-in pocket inside which allows you to store items such as cash, credit cards, and ID cards, making it perfect for worry-free exploration.
Five European cities for adventures
With the Thule Landmark collection in tow, here are some cities around Europe which are prime for both micro and epic adventures.
Stockholm, Sweden
Built across 14 islands with 30,000 more in its outer archipelago, Stockholm is equal parts greenery, water bodies, and buildings, which means two-thirds of the city is nature, making it ideal for adventures. The government's institution of a public law called "Allemansrätten" ("Every man's right") allows you to freely and responsibly camp, hike, and pick berries/mushrooms anywhere within the archipelago.
Chamonix-Mont-Blanc, France
Commonly known as Chamonix, this French resort city bordered by Switzerland and Italy is located at the base of Mont Blanc, the highest summit in the French Alps. From skiing and hiking to riding cable cars up peaks and exploring glaciers, it is a world-class ski resort and it attracts mountaineers of all levels.
Lucerne, Switzerland
Switzerland's vibrant lakeside city, Lucerne, offers a mix of city exploration and outdoor living. The city is a quick 15-minute drive from Mount Pilatus, which is part of the Emmental range of the Swiss Alps, so you can be booted up and hiking within 30 minutes. Lucerne's proximity to water also means you can take boat trips or go kayaking and canoeing along Lake Lucerne with stunning backdrop views of Pilatus.
Innsbruck, Austria
Few cities can boast being surrounded by the Alps. For picturesque Innsbruck, the capital of Austria's Tirol region, this means access to all manner of mountain-related adventures. Leisure bikers and easy hikers can share space with hard-core cyclists and experienced trekkers all around the foothills of the Alps.
Turin, Italy
The Northern Italian city of Turin is your gateway to the Graian Alps which cut through the Piedmont region of the country and the Aosta valley. With Turin as your base, a 1.5-hour drive will take you to Gran Paradiso National Park with tons of hiking trails and scenic alpine views including Nivolet Mountain Pass.