Farmington, NM: De-na-zin Wash
There aren't any trails in the De-na-zin Wilderness, but this 3.9-mile route scours northwest New Mexico's wash bottoms in search of petrified wood caches and hoodoo-filled ravines.
Heading out the door? Read this article on the new Outside+ app available now on iOS devices for members! Download the app.
Combined into one 45,000-acre wilderness area in 1996, the prehistoric setting of the Bisti/De-na-zin Wilderness is the stage for this 3.9-mile lollipop loop. Begin by following an old jeep road .4 mile north from the trailhead and turning west to follow a wash downhill. As it descends, the wash swells and takes a couple of tight, hairpin turns before this route bears north to begin a .8-mile loop. The loop cruises the De-na-zin Wash toward hoodoo-filled ravines on its northern side, turns south toward the access wash and then east to close. The last 1.5 miles backtracks uphill to the jeep road and the trailhead.
There are endless opportunities for side exploration to fields of petrified wood; strange, round stones; rolling dunes; and weather-worn hoodoos. If you're prepared with plenty of water, snacks and sun protection, consider spending all day exploring. The landscape takes on new dimensions as shadows shift and new details emerge.
There are few cairns in this remote wilderness, so expect to spend some extra time route-finding throughout this hike. And, keep in mind that the dirt access roads are nearly impassable after heavy rains.
-Mapped by Christina Frain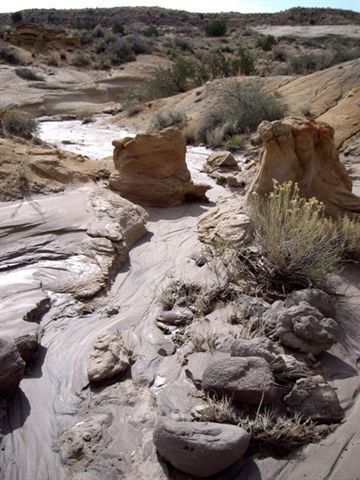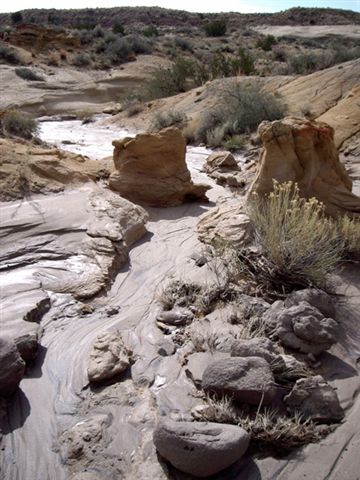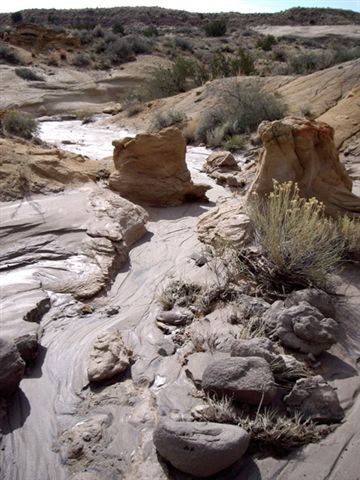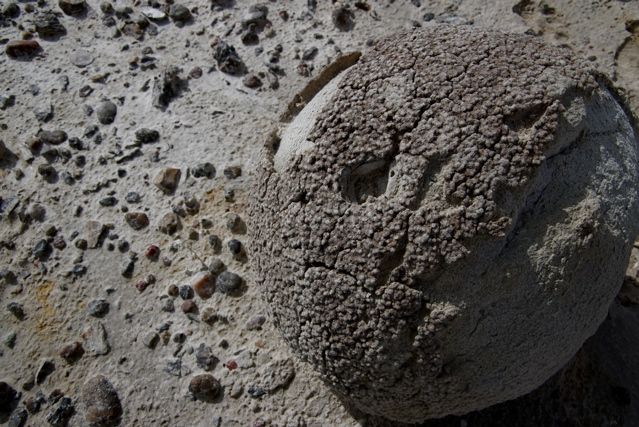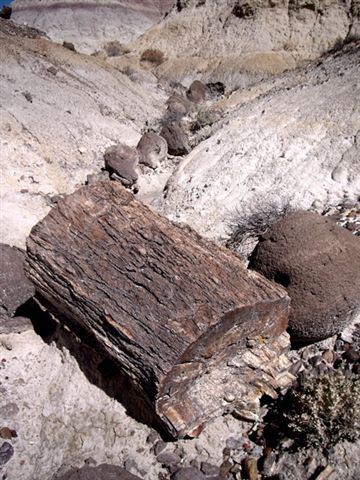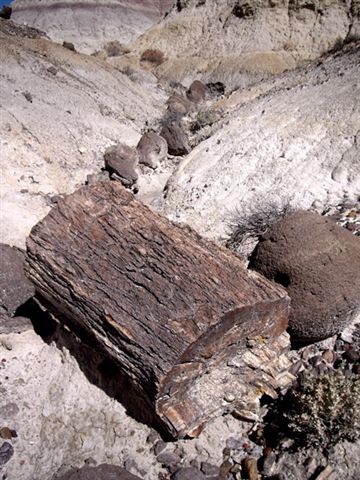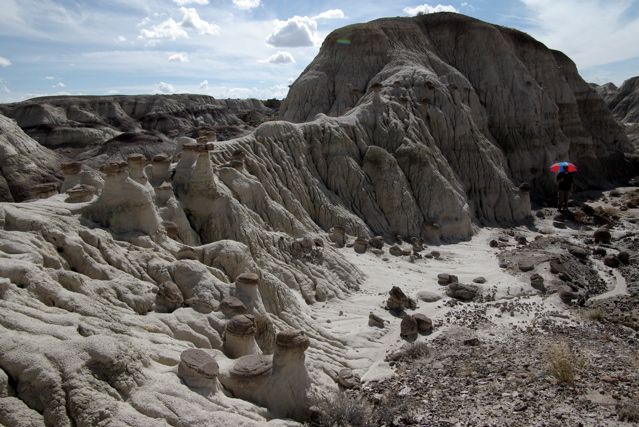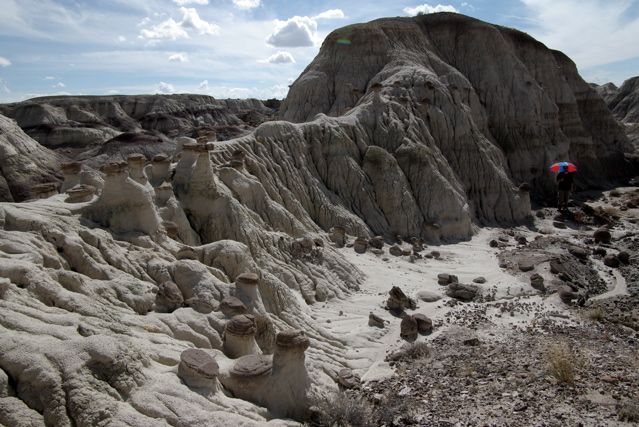 Trail Facts
Waypoints
DNZ001
Location: 36.31215, -108.0028
There are no facilities in the wilderness area, so come prepared with all the water, food and supplies you'll need. The trail begins heading north on an old jeep road from this parking area.
DNZ002
Location: 36.31766, -108.0036
At this point, the jeep trail ends. Turn left to follow this mapped route into a wash. This rugged downhill intersects the larger De-na-Zin Wash to the north and west up ahead.
DNZ003
Location: 36.31732, -108.0067
Just a few hundred yards into the wash, look uphill to your left to see the remains of a small, wooden structure.
DNZ004
Location: 36.31681, -108.0128
Continue following the wash downhill as it joins other tributaries and curves to the left. You may have to climb over ledges and pick your way over desert plants and rocky stretches.
DNZ005
Location: 36.31453, -108.0179
Make a hard right, following the wash. You'll follow two large turns, but bear right before the third.
DNZ006
Location: 36.31593, -108.0191
Turn right to head into the dunes for a little exploration, and to begin this route's 0.8-mile loop through the De-na-zin Wash. Keep an eye out for fields of petrified wood, polished red and yellow mineral chunks, and odd stone balls.
DNZ007
Location: 36.3168087, -108.0188951
Look for this spectacular field of petrified wood. Fragments range in size from two to three feet. Admire the rocks, but remember that it is illegal to remove fossil, plant, animal or minerals from the wilderness area.
DNZ008
Location: 36.31775, -108.0197
Exploring the wash, this route heads north on a short out-and-back over some dunes to check out the hoodoo formations of the De-na-zin's north side. After the out-and-back, bear right to follow this mapped route downhill to a point slightly west of loop-end.
DNZ009
Location: 36.3193092, -108.0197775
Continue north following ravines toward the wash's edge. Weathering of the sandstone and other sedimentary rocks forms spires and Seuss-like hoodoo formations.
DNZ010
Location: 36.31585, -108.021
Turn left at this T-junction with a larger wash. To close the loop, head 300 yards east through a couple of very sharp turns.
Wash
Location: 36.3166121, -108.0089736
Wash
Location: 36.3172518, -108.0066562
A view of the barren landscape in the eastern portion of the wash. These petrified swamps are rich with fossils and evidence of the age of dinosaurs.
Wash
Location: 36.3169924, -108.0076647
Another view of the wash, though it is wet in this photo, expect it to be dry during most of the year.
Egg Rock
Location: 36.3168109, -108.0188656
This strange round, crusted rock looks vaguely like an egg, and is surrounded by petrified wood.
Petrified Wood
Location: 36.3171653, -108.0193967
This petrified log lay in a side ravine riddled with odd, rounded rocks.
Petrified Wood
Location: 36.3178656, -108.01952
All of the organic material in this ancient wood has been replaced by minerals, and it is no longer alive… but the lichens living on its surface are.
Hoodoos
Location: 36.3194475, -108.0196381
Hoodoos
Location: 36.3195513, -108.0195844