Enchanted Rock State Park: Enchanted Rock Loop
See Enchanted Rock's pink granite dome, one of the most famous landmarks in Texas on this overnight loop and side trip to the 1,825-foot summit.
Heading out the door? Read this article on the new Outside+ app available now on iOS devices for members! Download the app.
Take the Loop Trail to one of the park's two primitive camping areas, Walnut Springs (1.2 miles) or Moss Lake (1.7 miles). Drop your pack, set up camp, and hike the Echo Canyon Trail to the Summit Trail, which rises 400 vertical feet up the slabby granite to the summit. The rock glows pink at sunset. Next day: Finish out the Loop Trail clockwise (2.6 or 3 miles, depending on your campsite).
GUIDEBOOK Hiking Texas, by Laurence Parent ($17, falcon.com)
PERMIT Required ($12 per 4 people per night, see Contact).
CONTACT (830) 685-3636; tpwd.state.tx.us
-Mapped by Melissa Gaskill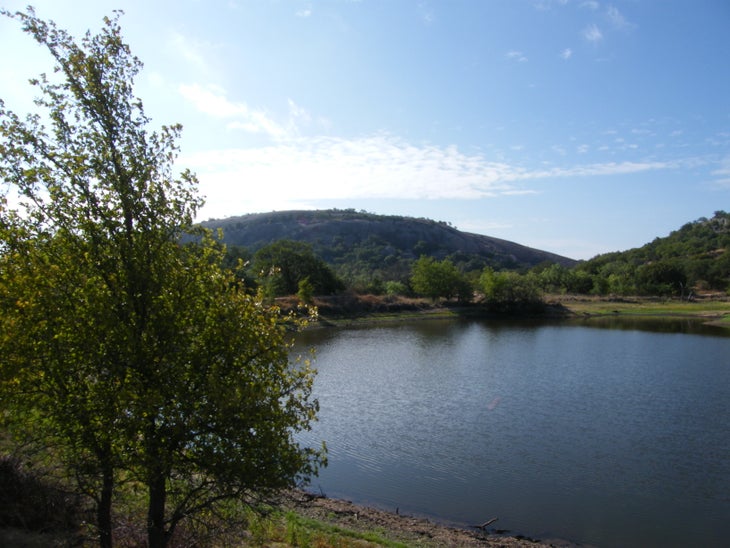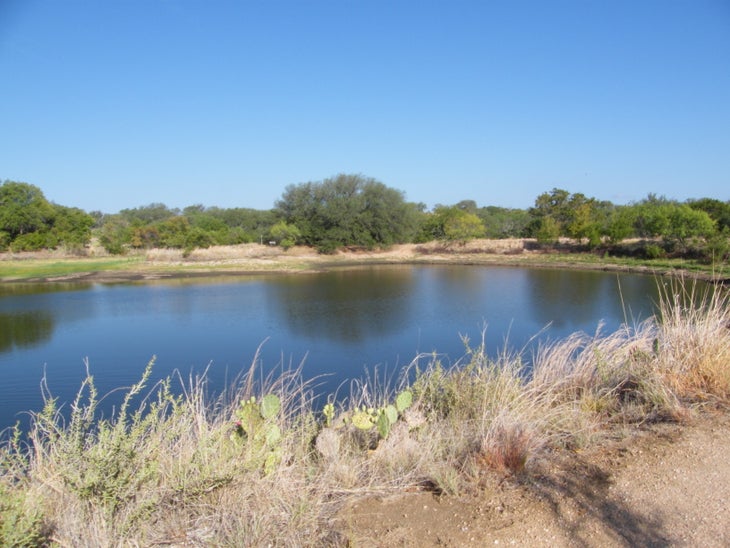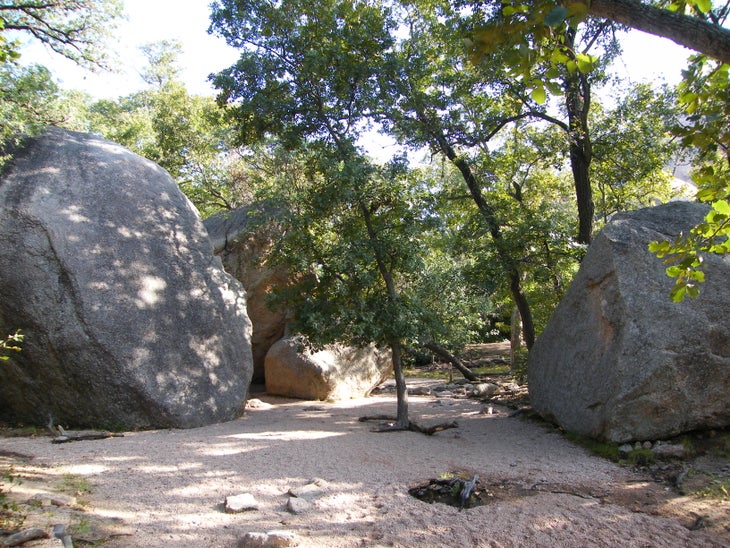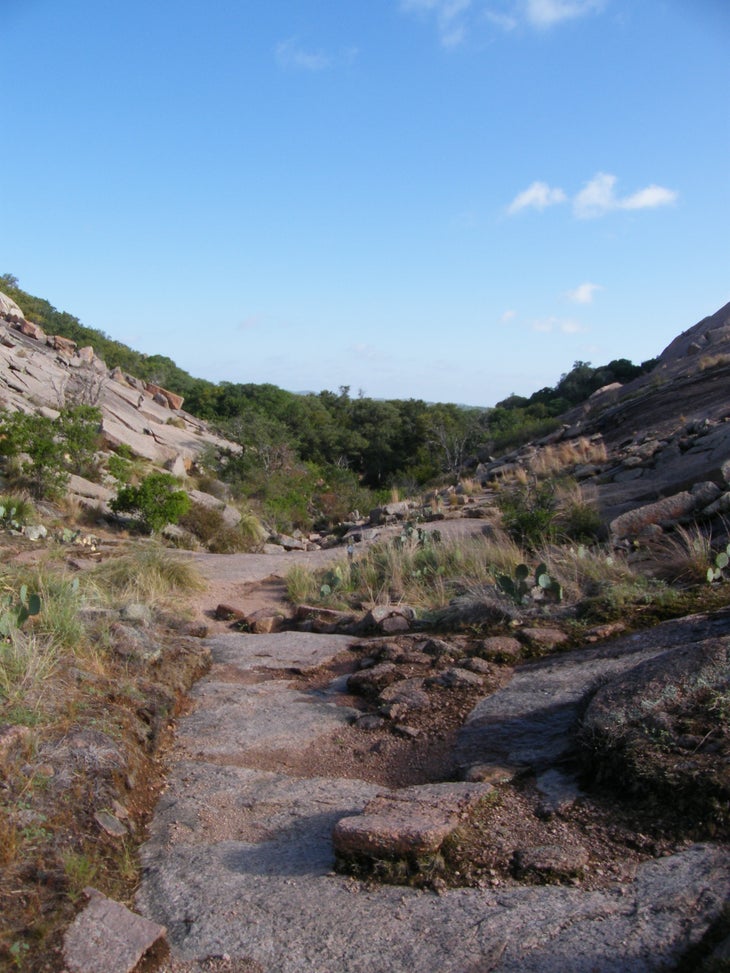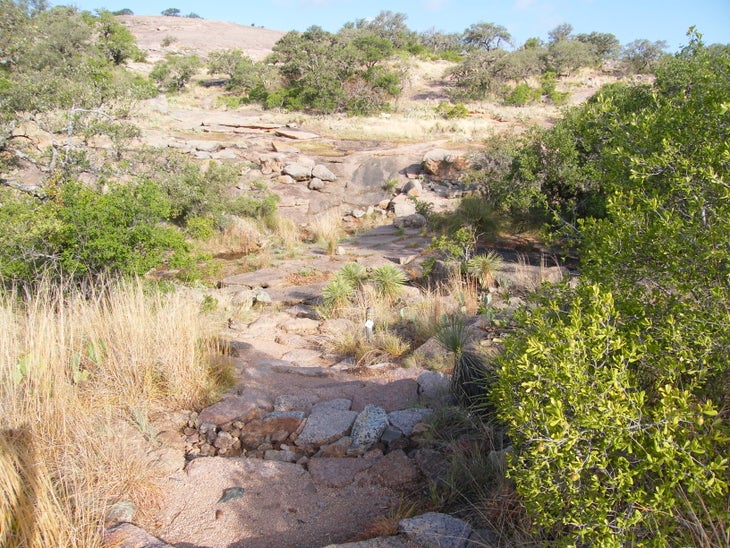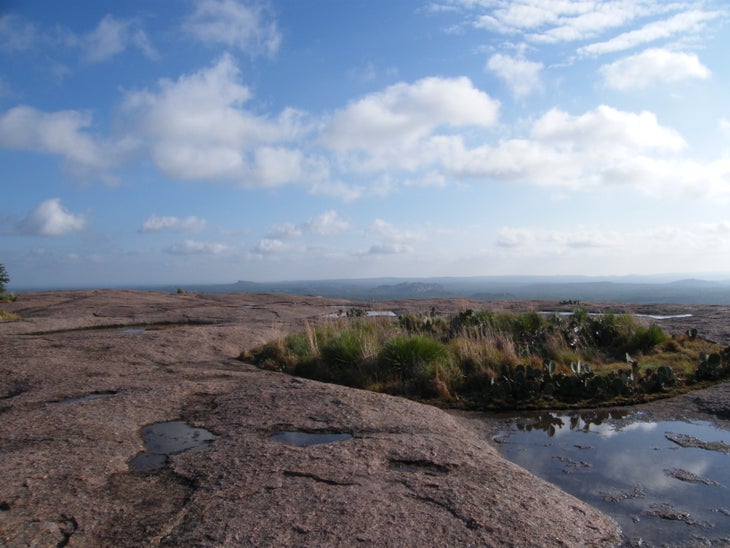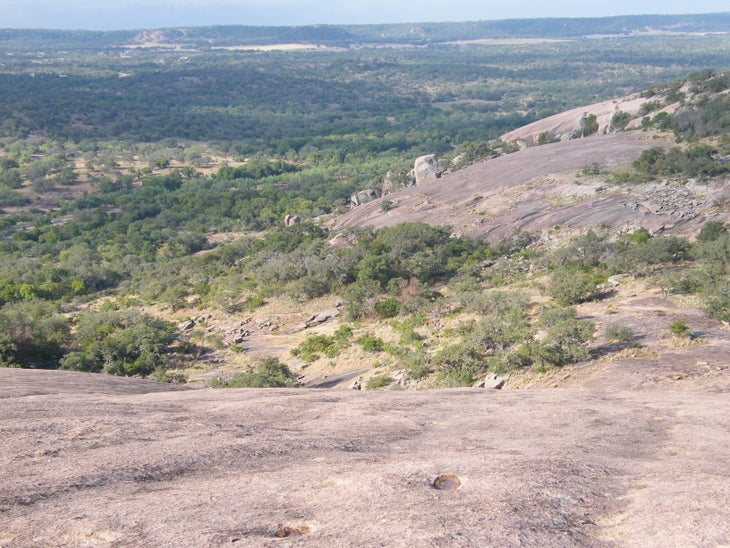 Trail Facts
Waypoints
ENC001
Location: 30.497368, -98.818006
This route approaches the Loop Trail from the day-use parking area just east of park headquarters. There is a large parking area and picnic tables here, but you'll have to stop at headquarters if you need a restroom.
ENC002
Location: 30.500164, -98.816491
Continue straight on the Loop Trail as another trail from the summit and Echo Canyon joins this wider one from the left. This trail descends to Sandy Creek and parallels it ahead.
ENC003
Location: 30.5015, -98.814318
At mile 0.4 you'll approach a large covered pavilion and group activity area. Stay straight on the Loop Trail and bypass the Turkey Pass Trail which takes off to the left near the pavilion itself.
ENC004
Location: 30.507832, -98.808659
About 100 yards from the 3-way junction with the Buzzard's Roost Primitive Campground spur, you'll reach a sandy crossing of Sandy Creek. If water levels are high, this crossing can be deep, be sure to check its condition with rangers before setting out.
ENC005
Location: 30.510704, -98.81085
As you reach the north side of Freshman Mountain you'll pass the left-hand spur where the Turkey Pass Trail starts. Though you could turn here and shorten your trip or add some difficult climbs, this route stays straight on the Loop Trail.
ENC006
Location: 30.512315, -98.825669
This northernmost stretch rolls through open grassy areas (look for deer and wildflowers), then crosses a small creek and climbs 0.2 mile to a junction with the trail to Moss Lake Primitive Camping area. There is also a backcountry toilet just off the trail to your right.
ENC007
Location: 30.510245, -98.826822
As the Loop Trail continues south, you'll bypass three junctions: stay straight on the main trail at all three junctions and roll gently uphill from this point toward an overlook up ahead.
ENC008
Location: 30.509507, -98.826906
Turn left at the T-junction and hike east.
ENC009
Location: 30.508941, -98.824883
Skirt the eastern shore of Moss Lake and continue south. The trail runs through open country, passes a primitive campground, then crosses terrain dotted with rock piles and boulders.
ENC010
Location: 30.508314, -98.824193
Moss Lake primitive camping area
ENC011
Location: 30.506824, -98.822308
Continue straight at this 3-way junction.
ENC012
Location: 30.505354, -98.82192
Pass a kiosk and climbing rocks.
ENC013
Location: 30.502087, -98.819149
The trail swings north at the Echo Canyon trailhead. Begin climb to Enchanted Rock's summit. Once you reach the big "Summit Trail" sign, you're on your own to clamber up the slope of this enormous granite batholith, an underground rock formation uncovered by erosion. You'll have to go left or right around a small ledge in the middle about halfway up, but otherwise the route is up to you.
ENC014
Location: 30.506482, -98.818663
Enchanted Rock: There's not a defined peak, just a wide top to the dome; wander around it to take advantage of views in every direction.
ENC015
Location: 30.500238, -98.818671
Turn right at the intersection of Summit and Loop Trails. Head south.
ENC016
Location: 30.498713, -98.818848
Continue south at the Summit trailhead and return to the parking area.
View of Enchanted Rock from Moss Lake
Location: 30.509662, -98.825691
Moss Lake
Location: 30.509551, -98.825133
Shaded Canyon
Location: 30.505077, -98.821743
Rocky Scrambles
Location: 30.503487, -98.821013
Echo Canyon Trail
Location: 30.502304, -98.819683
Summit View
Location: 30.506519, -98.818556
More Summit Views
Location: 30.506464, -98.818427
Descent
Location: 30.505188, -98.818143
Look closely and you'll see some tiny people starting out on the Echo Canyon Trail.