Elko, NV: Ruby Crest National Recreation Trail
Dazzling high-country lakes, glacier-carved cirques and miles of stunning alpine scenery render this secluded 38-mile National Recreation Trail a must-hike.
Heading out the door? Read this article on the new Outside+ app available now on iOS devices for members! Download the app.
The Ruby Crest Trail wastes no time boasting its bounty of breathtaking terrain: from the trailhead at Lamoille Canyon, you're only 1.5 miles away from the magnificent Dollar Lakes, backdropped by a craggy ridge linking the Liberty and Snow Lake peaks. The lakes set the stage for the pristine mountain scenery ahead, beginning with a picture-perfect panorama of Liberty Lake and Wines Peak from Liberty Pass at mile 3.5. Descend from the pass to stroll alongside Favre Lake and Castle Lake before climbing through the North Furlong Drainage. Fill up water bottles at Furlong Creek – the last water source for 9 miles – before pushing toward Wines Peak (10,863 feet).
Past Wines, roll over 4.3 miles of terrain above 10,000 feet as you stomp through prime territory for mountain goat and Bighorn sheep while swinging past excellent vistas of the valleys to the east and west of the Rubies. Drop down in altitude as you walk through the rolling grasslands of Overland Drainage before reaching the postcard-like Overland Lake, home to some of the route's best campsites. After climbing away from Overland, descend toward Smith and McCutcheon creeks as the alpine scenery yields to a wonderland of Aspen groves punctuated by exploding late-summer wildflowers. From McCutcheon Creek, climb toward Green Mountain and connect with the Jeep road that leads to the trail's southern terminus at Harrison Pass. The hike concludes with a jaunt through arid terrain scrubbed with sagebrush and Utah junipers.
The trail is traditionally hiked north-to-south in any time from one day to week. Established campsites are sparse alongside the trail, but the terrain is generally favorable for setting up camp in most places except Overland Drainage. Both trailheads are accessible by road: National Forest Road 660 for the northern trailhead at Lamoille Canyon and National Forest Road 113 for the southern trailhead at Harrison Pass. 
-Mapped by Bill Homan, Backpacking In The Ruby Mountains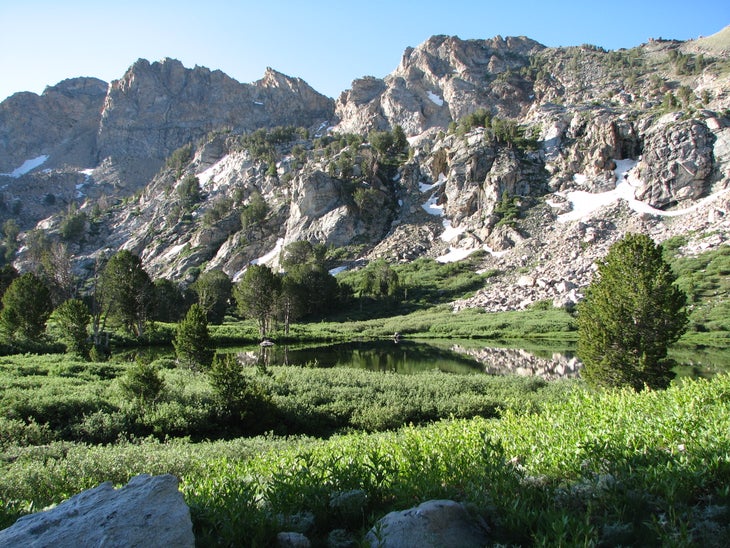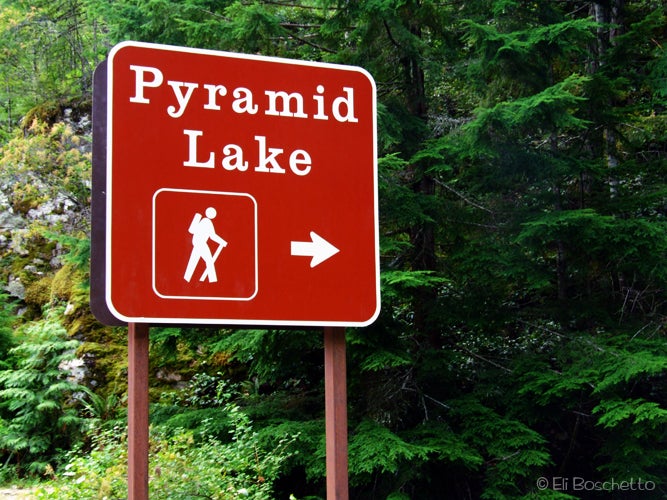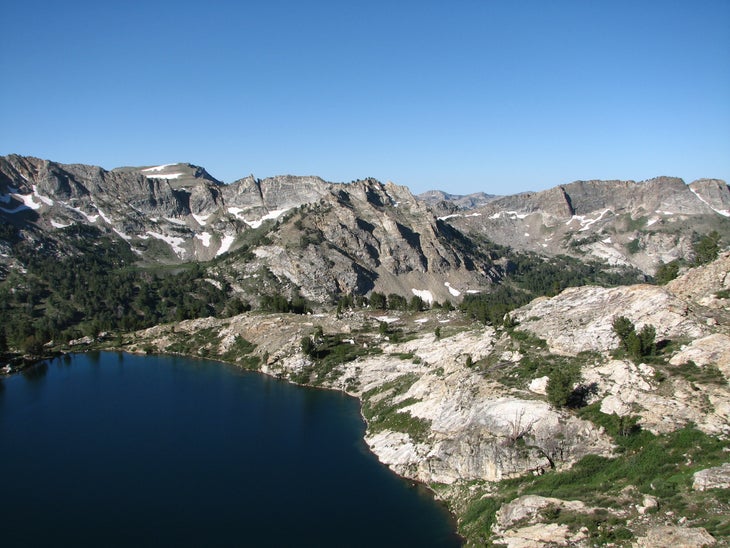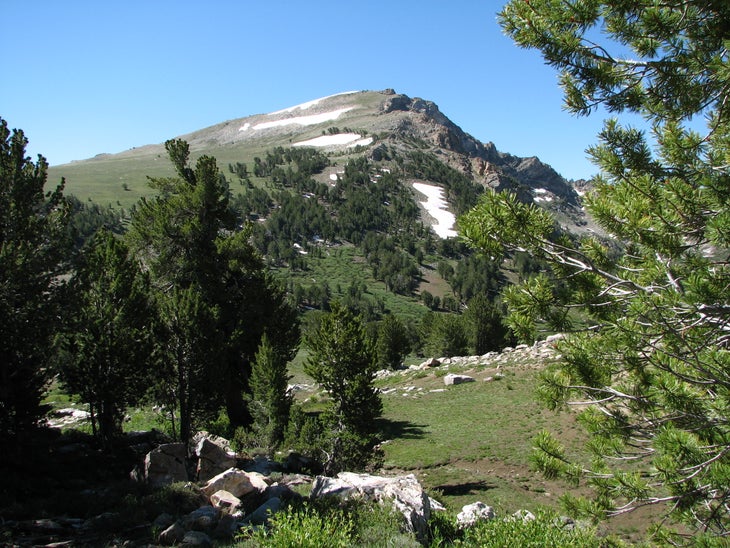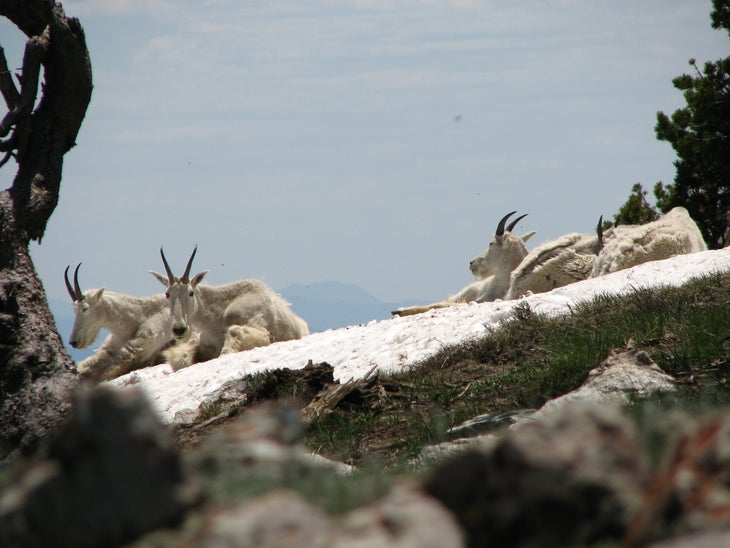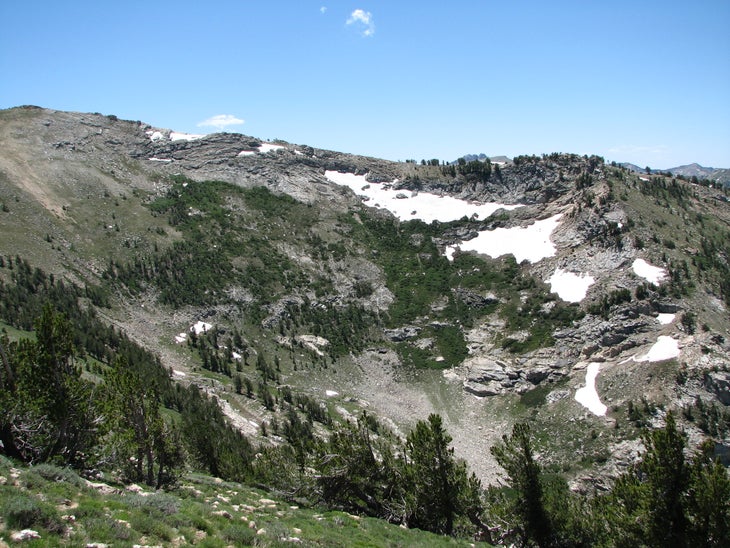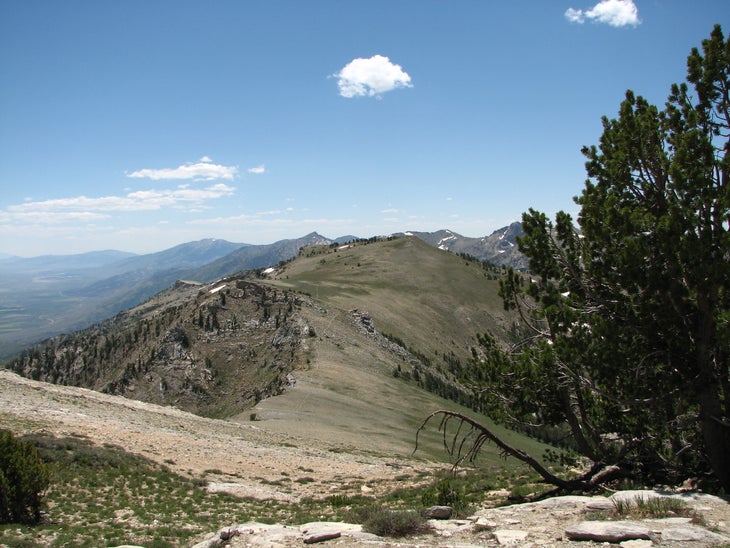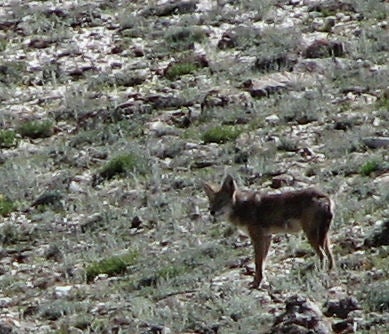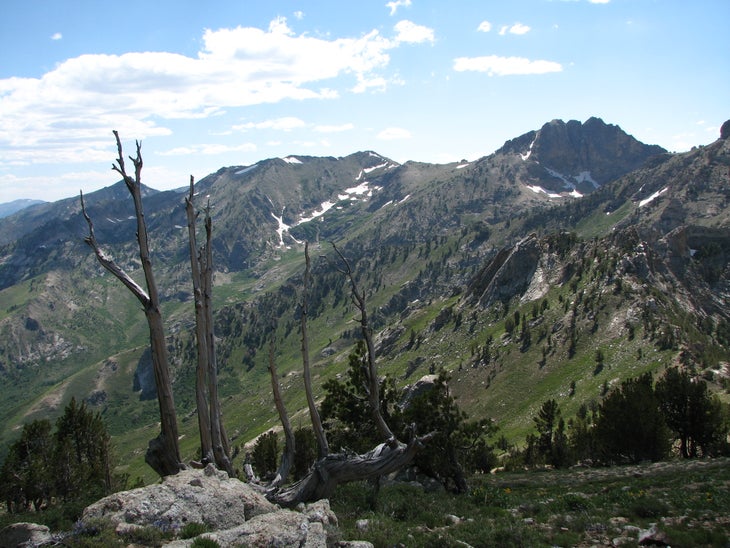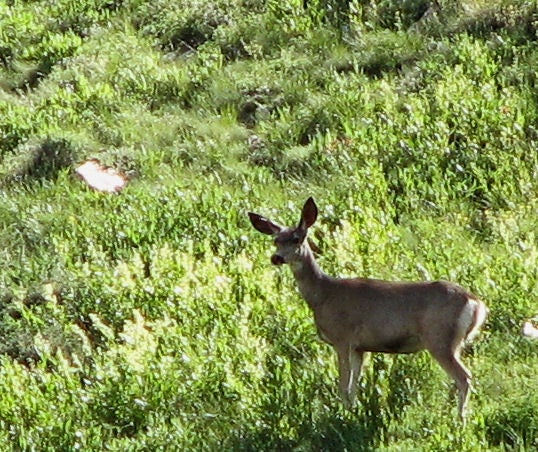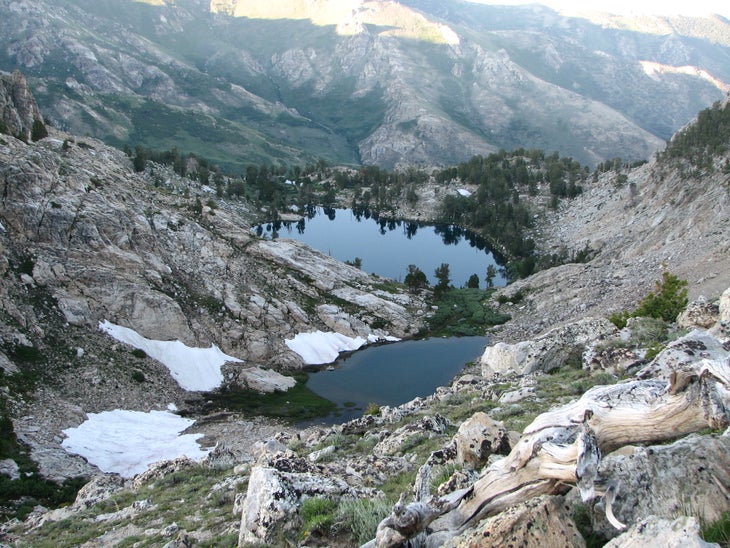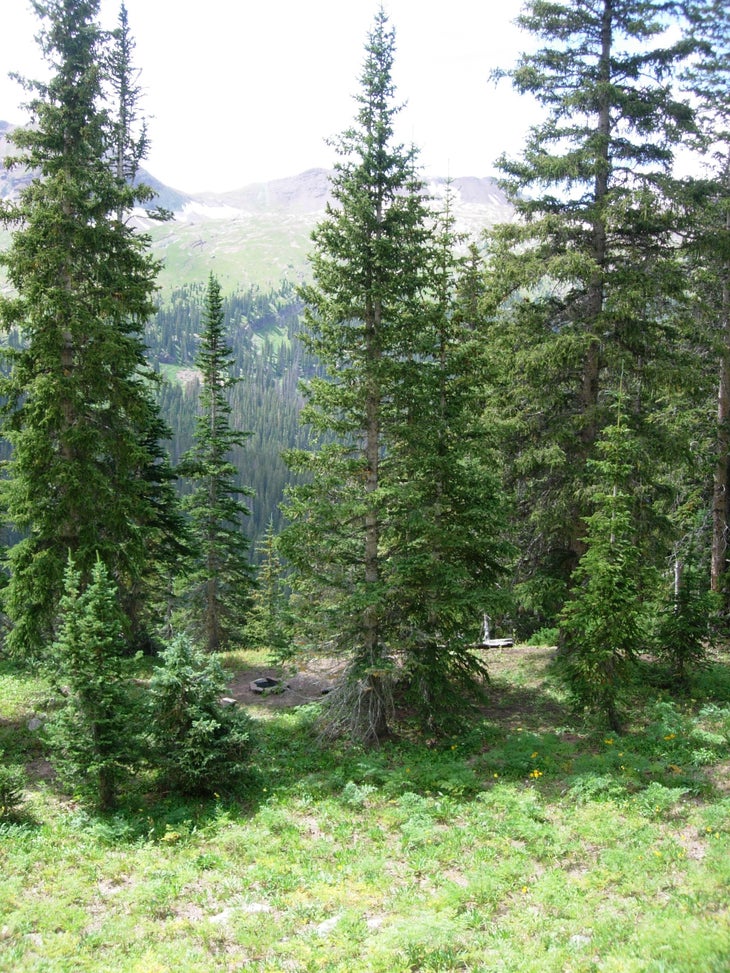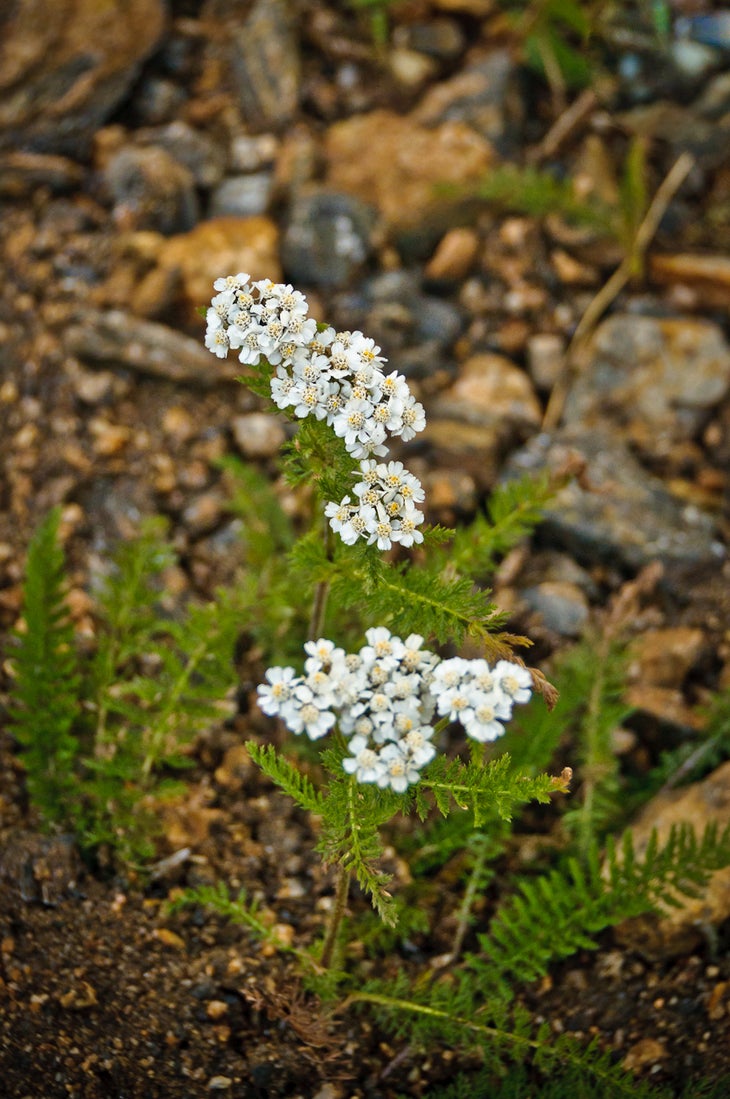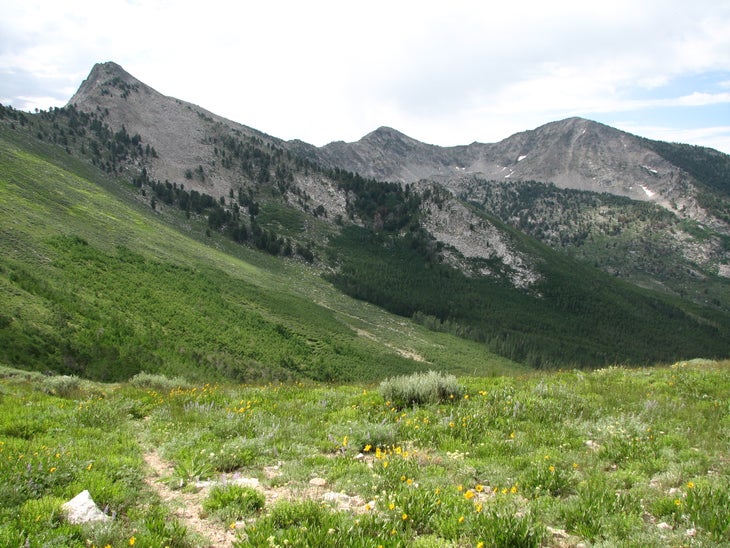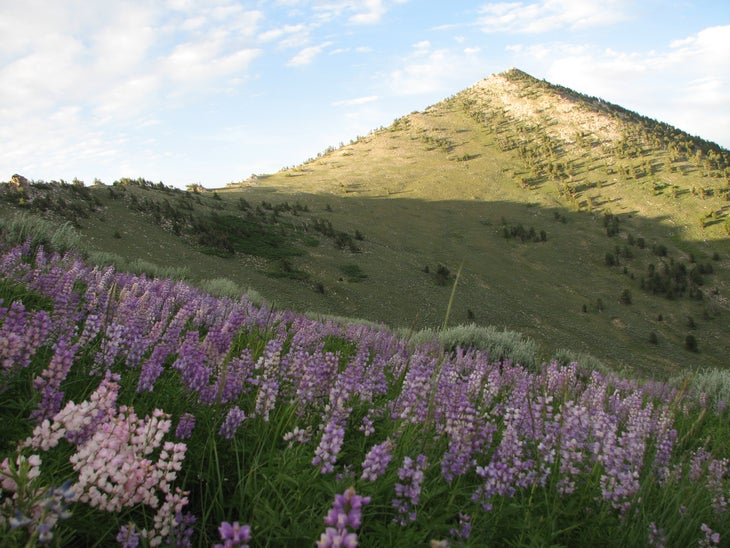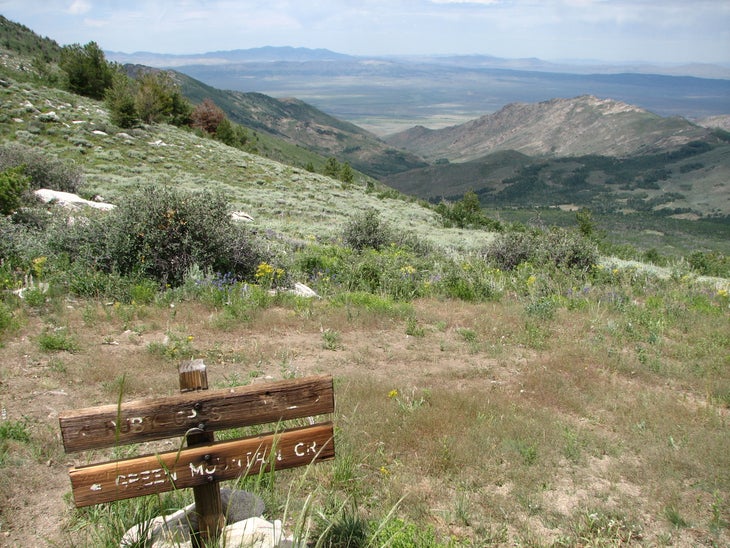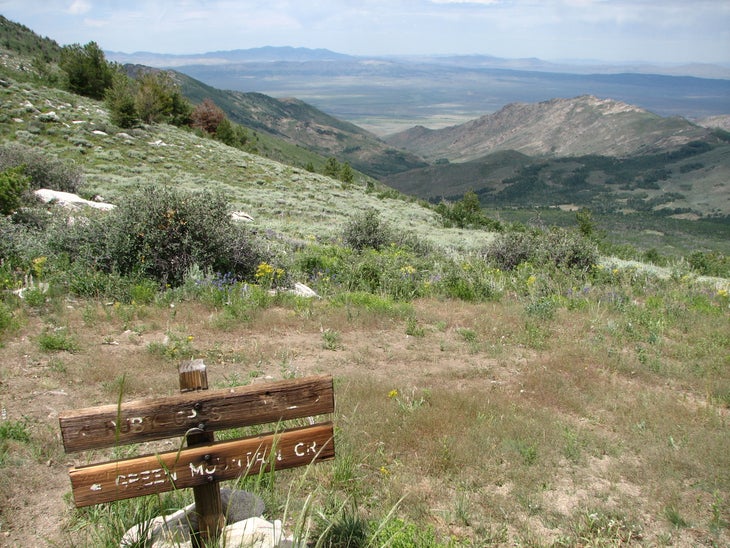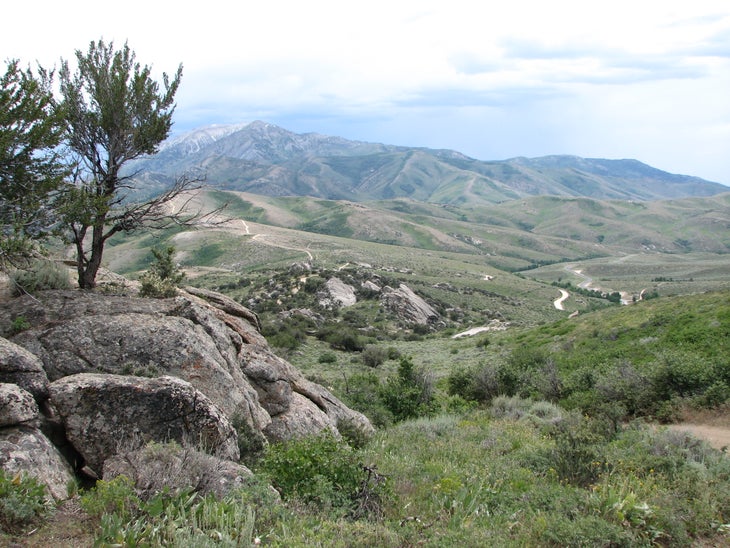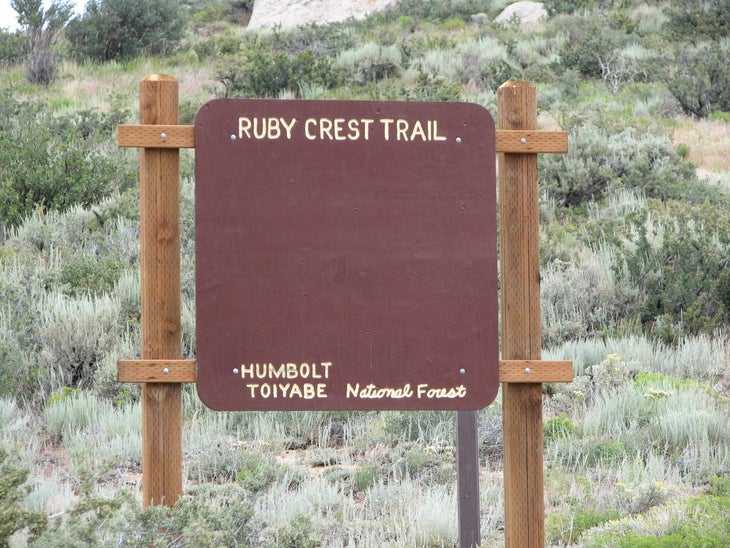 Trail Facts
Waypoints
RCT001
Location: 40.604244, -115.375671
Parking is available in lot next to trailhead. Head south on Ruby Crest Trail.
RCT002
Location: 40.593002, -115.383611
Reach the Dollar Lakes at mile 1.5.
RCT003
Location: 40.593197, -115.390735
Begin the 1.5-mile climb through Liberty Pass (10,444 feet).
RCT004
Location: 40.575761, -115.400648
There are established campsites with fire pits alongside both Favre Lake and Castle Lake, just under 5.5 miles from the trailhead. Bear left to access the lakes.
RCT005
Location: 40.574196, -115.404768
Cross Kleckner Creek and begin climbing away from Favre Lake toward Wines Peak. You'll gain nearly 1,400 feet of elevation over the next 3.8 miles.
RCT006
Location: 40.560732, -115.403159
Fill up water bottles here at North Furlong Creek. The next water source is at Overland Creek, 9 miles south. There are campsites along the shores of North Furlong Lake below.
RCT007
Location: 40.54857, -115.40554
Reach Wines Peak (10,863 feet). The next 4.3 miles of trail, which snake through terrain above 10,000 feet, provides access to plenty of flat, open ground for camping.
RCT008
Location: 40.496146, -115.433908
In 0.5 mile, you'll drop into the Overland Drainage. Terrain conducive to camping is all but nonexistent between here and Overland Lake (5.3 miles away).
RCT009
Location: 40.487432, -115.45352
Refill water bottles at this stream.
RCT010
Location: 40.460499, -115.455408
Some of the route's best campsites are perched along the banks of Overland Lake. Water is also available here, though some hikers find it easier to fill up at the smaller lake 0.3 mile up the trail.
RCT011
Location: 40.438749, -115.510098
Water and camping are available as the trail crosses the South Fork of Smith Creek.
RCT012
Location: 40.369763, -115.510769
Bear left at the Y-junction to pick up the jeep road.
RCT013
Location: 40.325248, -115.511284
Harrison Pass marks the trail's southern terminus.
Dollar Lakes
Location: 40.593621, -115.388138
The Dollar Lakes are the first of many for hikers heading south along the trail.
Trailhead
Location: 40.604223, -115.375489
The Ruby Crest Trail's northern trailhead lies in Lamoille Canyon.
Liberty Pass Vistas
Location: 40.584219, -115.393782
From the south side of Liberty Pass, enjoy vistas of Liberty Lake and Wines Peak.
Wines Peak
Location: 40.562982, -115.406291
Notch views of Wines Peak as you push south.
Mountain Goats
Location: 40.532328, -115.40803
Mountain goats frequent the high-altitude terrain near Wines Peak.
Ridgeline Vista
Location: 40.538525, -115.410047
Looking toward the middle fork of Mahogany Creek.
Southward Ridge Vistas
Location: 40.528675, -115.410583
Looking south down the trail.
Coyote
Location: 40.49657, -115.43365
Looking South
Location: 40.494155, -115.43777
At mile 15, gain spectacular valley vistas before heading downhill and into the Overland Drainage.
Mule Deer
Location: 40.483711, -115.454292
Small Lake
Location: 40.456858, -115.458477
Just north of Overland Lake.
Overland Lake
Location: 40.454132, -115.461481
Northern vista of Overland Lake.
Campsite
Location: 40.452825, -115.465751
There are several campsites peppered alongside the trail. This site rests above Overland Lake at mile 21.5.
Wildflowers
Location: 40.455617, -115.469323
Descent through wild-flower dotted meadows en route to North Fork Smith Creek.
Green Mountain
Location: 40.427022, -115.508494
Heading south toward Green Mountain.
Wildflowers
Location: 40.374209, -115.512357
Junction
Location: 40.369272, -115.510168
The trail turns to a jeep road here.
Junction
Location: 40.358351, -115.493817
Pass this bulletin board at the junction with National Forest Road 111.
Harrison Pass Panorama
Location: 40.337075, -115.504965
Looking south toward this route's southern terminus at Harrison Pass.
Harrison Pass Trailhead
Location: 40.325477, -115.511155
The route's southern terminus.