El Paso, TX: Hueco Tanks State Park
Explore constant pools in the rock, called huecos, along with rock art and desert views on this hike through the part of the state park open to the public.
Heading out the door? Read this article on the new Outside+ app available now on iOS devices for members! Download the app.
To protect the rock art and fragile hueco ecosystem, access to Hueco Tanks State Park and Historic Site is limited. Reservations are required for camping,and recommended for any visit. All visitors must watch a 15 minute orientation video and brief presentation by an interpretive ranger on the significance of the site and its art. After the orientation, visitors receive a card which allows continued access for one year without another orientation.
You can start this hike from the interpretive center, or drive to the official trail head parking a short distance away. Depressions in these rocks, called huecos, collect and hold scant rainwater, offering a near-constant supply of the vital stuff. Because of this water, this area has been used or inhabited by humans for thousands of years, beginning with the earliest Native Americans to tribes still living in the area, ranchers, and travelers. The interpretive center occupies one of the ranch houses, and near it are ruins of the Butterfield Stage Coach stop that took advantage of the water supply.
From the interpretive center, the trail switchbacks up a small rise, then skirts the edge of a large rock formation, through small mesquite trees. At the next parking area, turn right toward the rock. There are chains along the steep parts, and it's a good idea to use them, as the rock can be slick. If there's been recent rain, there will be many pools of water in the pock-marked rock. If not, only the deepest huecos still contain water. At the end of the second set of chains, pause to enjoy the view, then veer left and work your way through the rocks to a large, open area on the top. Grasses often cover this area, and it has good views of much of the park. Return the way you came, down the rock to the trail on the ground and turn right. You'll wind around the back of the rocks you just climbed and cross over a few wooden bridges. At several points in this area, signs indicate where self-guided access ends; beyond these points you are allowed only on guided tours. Pictograph, bouldering, and hiking tours are offered by advance reservation Wednesdays through Sundays, and birding tours the third Sunday of each month. Tours are included in park admission.
Follow the self-guided trail to a small rock overhang where you'll observe rock art. There are benches and restrooms in this area.
Return the way you came, but turn left to Site 17. Here you can see ancient rock art covered over by folks who carved their initials and names here in the 1800s and 1900s – ample evidence that current restrictions and rules are a good idea.
Another trail leads from the interpretive center in the other direction around the other side of the rocks. That route includes several art sites and restrooms as well.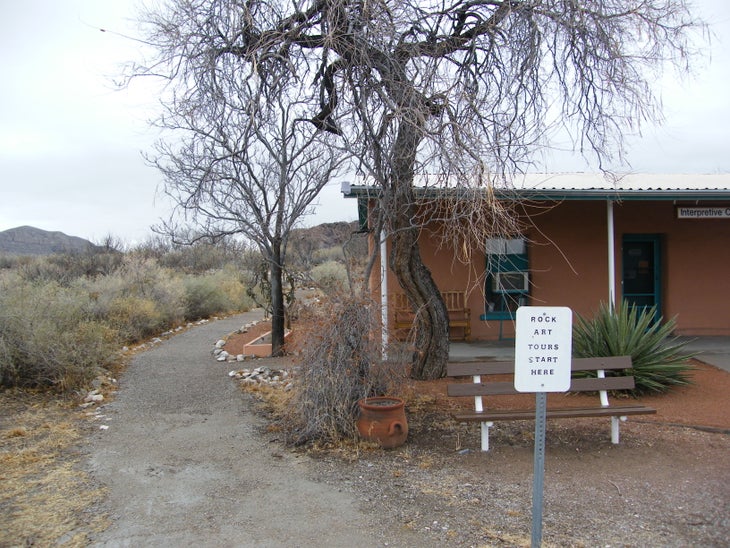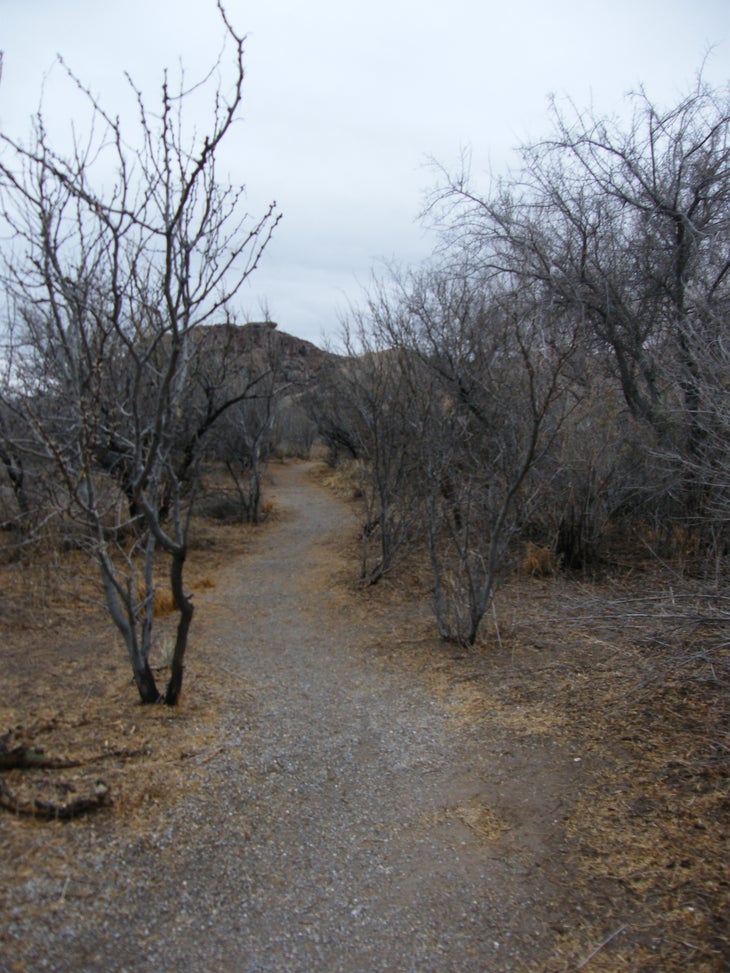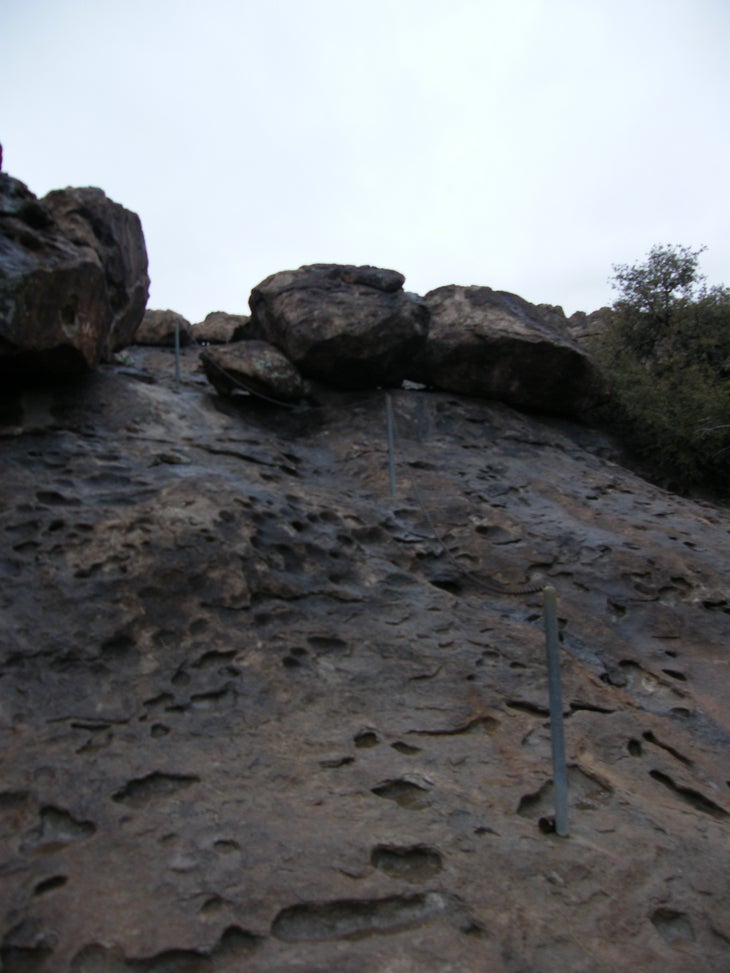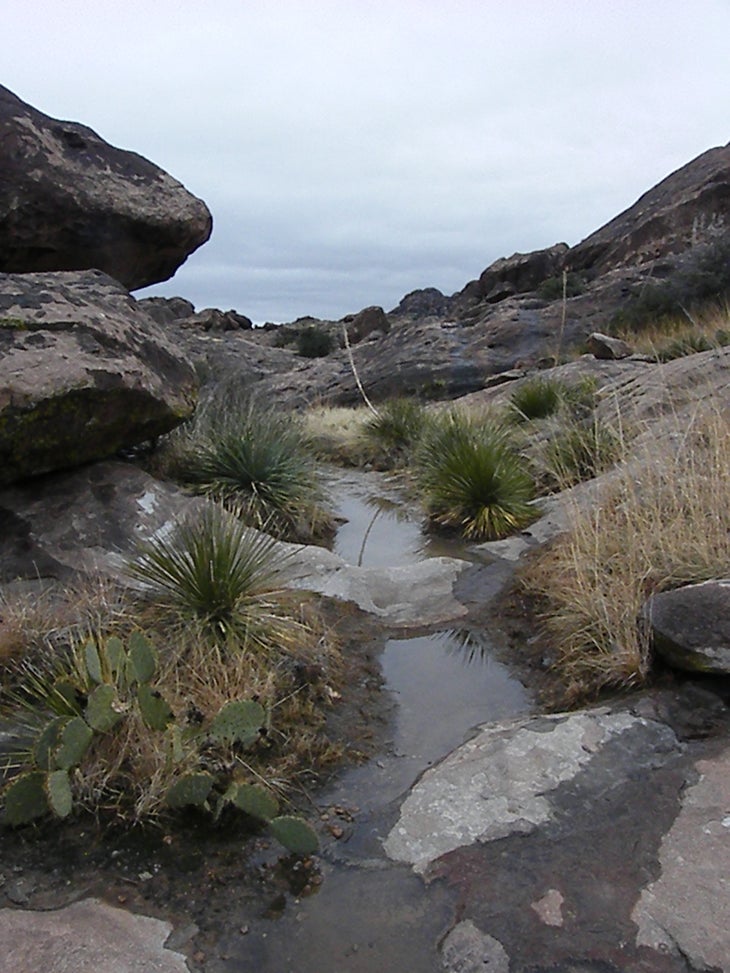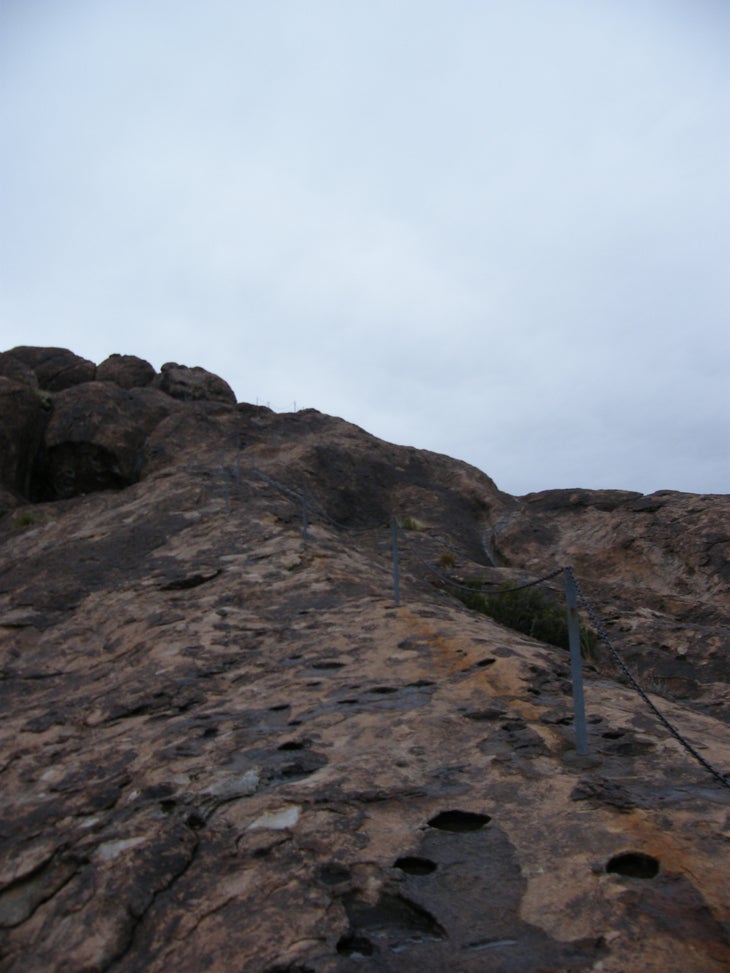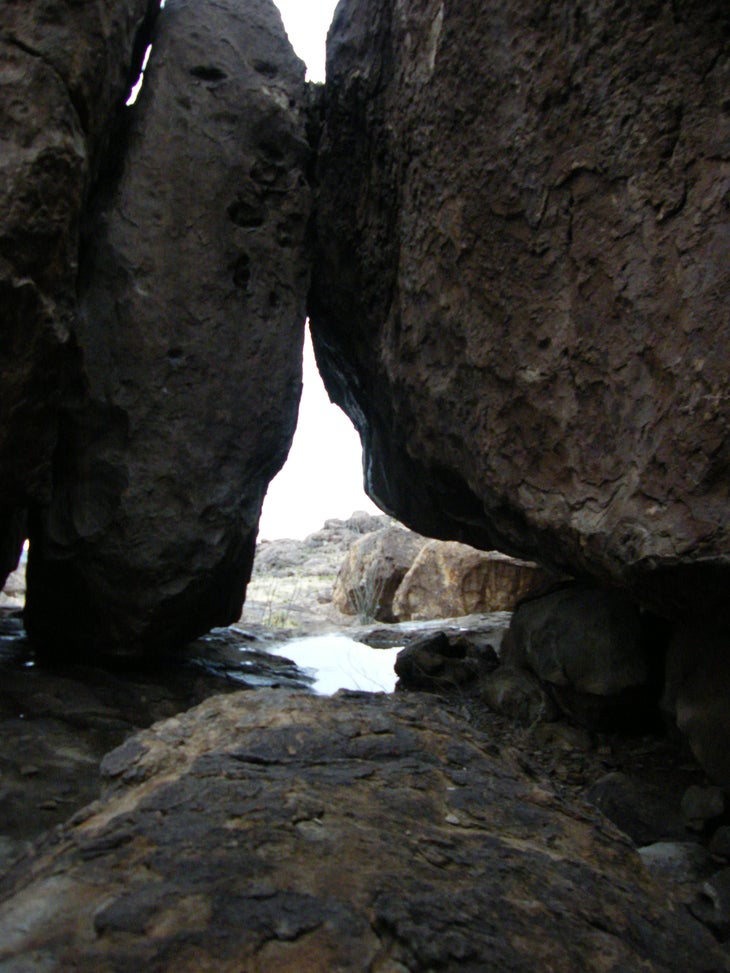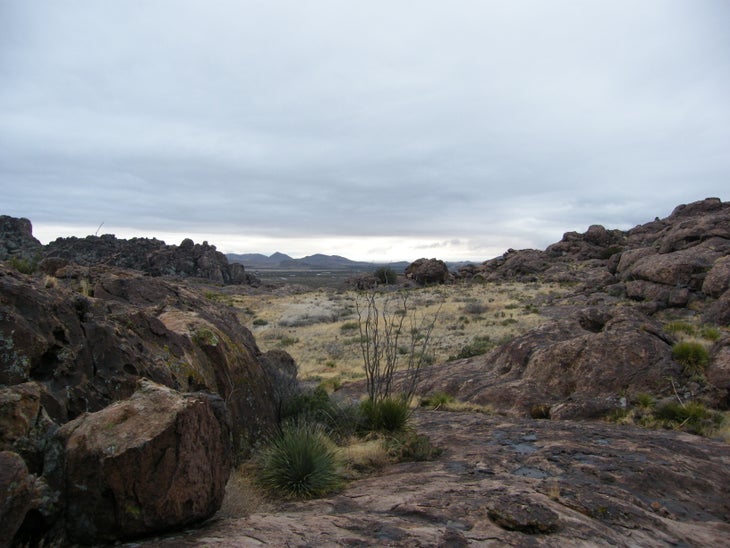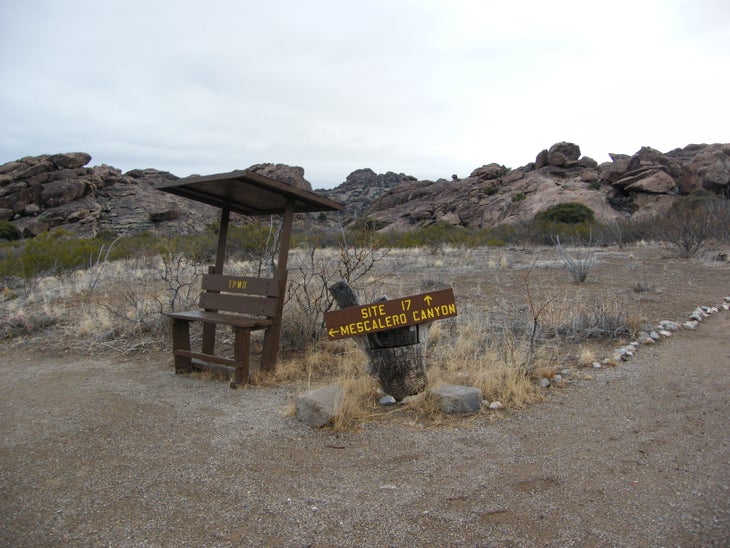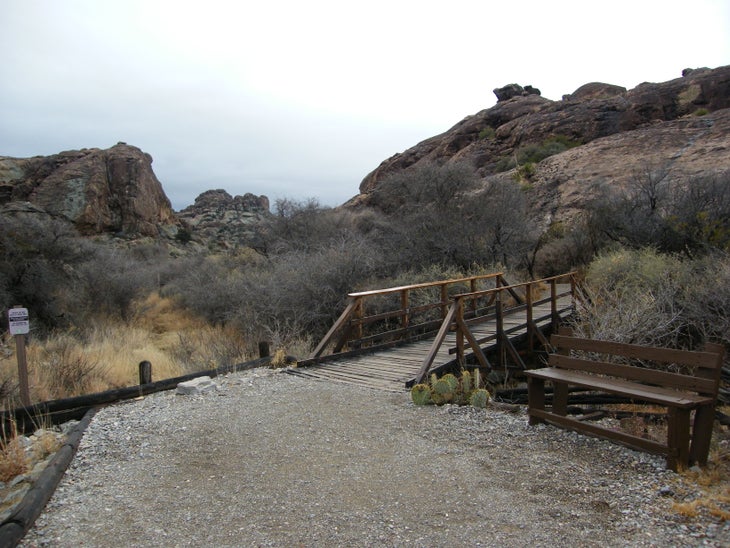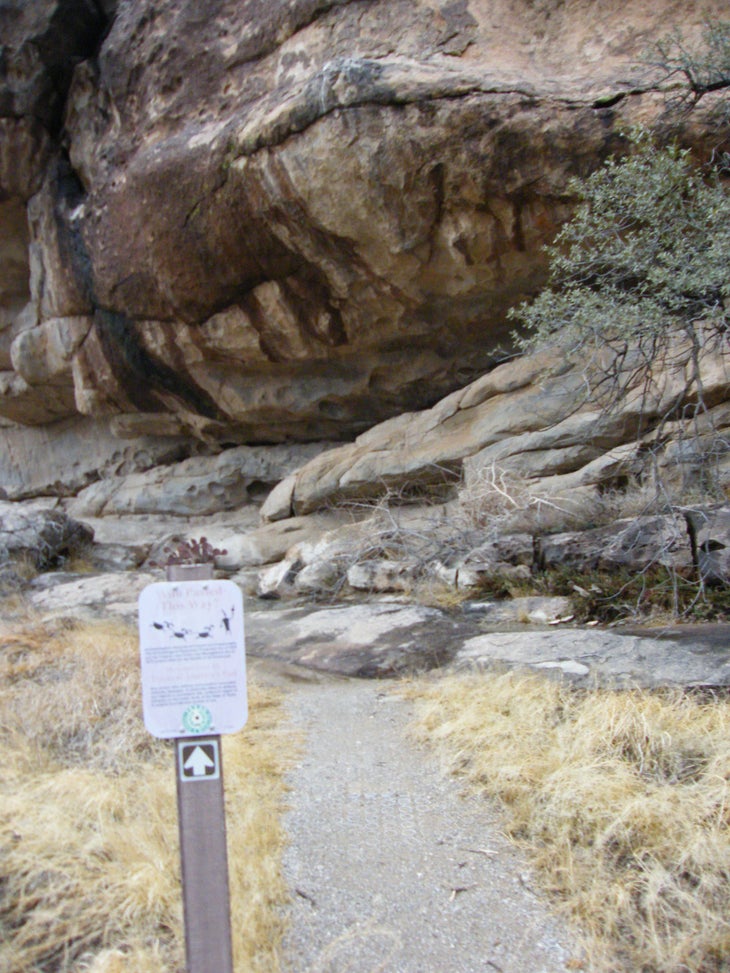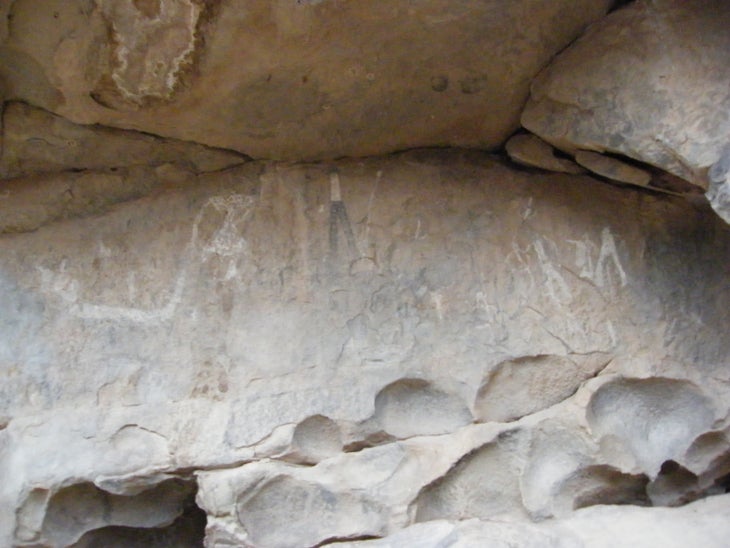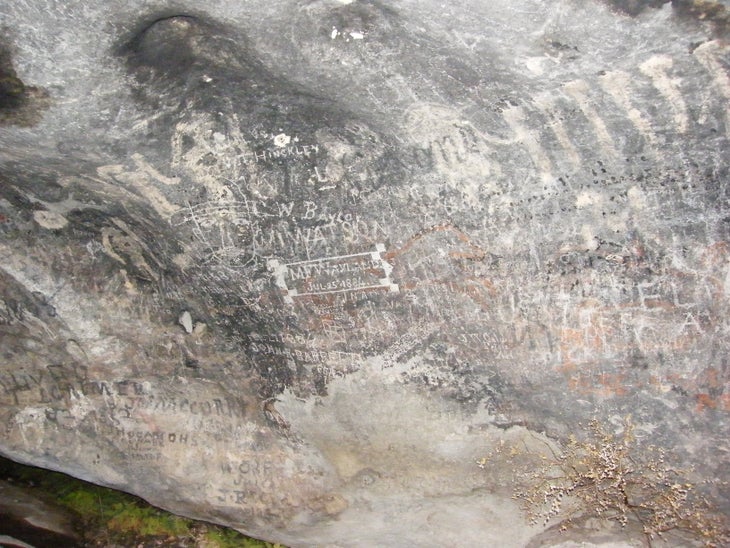 Trail Facts
Waypoints
Bridge
Location: 31.923598, -106.041005
28-JAN-10 5:33:50PM
Another parking area.
Location: 31.923303, -106.040825
28-JAN-10 6:00:35PM
Trail to site 17
Location: 31.922916, -106.040332
28-JAN-10 6:02:33PM
Bridge, edge of open access area.
Location: 31.921221, -106.041013
28-JAN-10 6:05:20PM
End of open access
Location: 31.920215, -106.041976
Guided access only beyond here.
Site 17.
Location: 31.922485, -106.041138
28-JAN-10 6:20:10PM
Interpretive center at trail head.
Location: 31.924876, -106.041589
Tree-lined trail.
Location: 31.924256, -106.041353
Chains help climbing up the rock.
Location: 31.923, -106.041611
Small pools of water on the rock.
Location: 31.922599, -106.042
Second set of chains.
Location: 31.922421, -106.042418
View of camping area.
Location: 31.922503, -106.042772
Passage through boulders.
Location: 31.922217, -106.043572
View of grassy area atop rocks.
Location: 31.92208, -106.043826
Signage at intersection.
Location: 31.922981, -106.040364
Bench overlooking rock shelter.
Location: 31.9203, -106.041337
Small rock shelter.
Location: 31.920377, -106.041139
Art under rock overhang.
Location: 31.920423, -106.041179
Defaced rock art.
Location: 31.922485, -106.041058