A Kid's First Journey in Ed Abbey's Utah
In Canyonlands' backcountry, a family learns that the wonder of our parks belongs to anyone who goes looking for it.
Heading out the door? Read this article on the new Outside+ app available now on iOS devices for members! Download the app.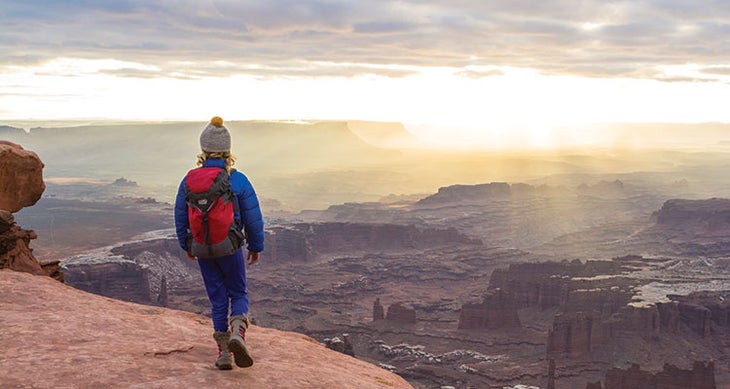 When I tell my 6-year-old son, Archer, that we're going to Canyonlands National Park in Utah, he puts a hand on each cheek and starts screaming: "Candyland? We're going to Candyland?!"
Given this, Archer doesn't seem terribly surprised to see a cactus covered in gigantic gumballs from the window of our Jeep. It appears among a string of signs marking other peoples' territory: No Camping!For Sale! A placard near the cactus announces: Souvenir Shop! He wheels his head around to watch it recede.
I can see him thinking: Isn't this the place? For good reason: He's ready to claim a piece of land that grows candy.
"That's a tourist trap if I've ever seen one," my husband, Matt, says, pointing toward the sculpture.
He eyes Archer in the rearview mirror. "What's the difference between a tourist and a traveler?"
Archer shrugs, unsure whether this is a joke or a riddle.
Matt delivers the punch line: "A tourist exchanges currency. A traveler exchanges experiences!"
"I choose traveler, definitely," Archer says, emphatically nodding. Sprigs of straw-blond hair splay from under his jacket hood. He's an adventurous kid and a thinker. Up until now, his outings haven't included desert backpacking.
We live in the southern Appalachians, where Archer has spent a lot of time in greenery-lined creeks, communing with salamanders and crawdads. So this arid environment feels strange.
That's one of the reasons I'm eager to introduce him to it. I want Archer to know the United States as a marvelous and infinitely surprising place. When he says the Pledge of Allegiance every morning at school, I want him to understand that his country is more than a flag or an idea. It's also deserts and mountains—some of which look a lot different than the verdant ones he's used to.
I also want him to understand that the national parks—including this one—belong to him. And me. And his dad. Archer's still figuring out what that means. But I'm hoping he'll see, at an early age, that ownership means nothing without connection—and connections are best made by experiencing the parks at ground level.
I'll be on a similar journey. Like many people who aren't from the Southwest, I was introduced to the canyonlands in my 20s, while reading Edward Abbey's Desert Solitaire. His notion of freedom spoke to me. Yet I somehow failed to put it together that he wasn't charting a lifestyle for just anyone. The solitude he referred to, the ideal he embodied, was intended for man, alone.
Maybe as a result, I left desert backcountry to be the sole territory of the beard brigade. Not women. Not children. Certainly not young families. So when a friend recently told me that Abbey's wife and child were with him in that mouse-infested trailer while he was writing Desert Solitaire, it was as if the sealed doors of the past flew open before me.
Now, with a family of my own, I was ready to stake a claim to this land. Our land.
National parks have attracted the curious for more than 100 years, adventurers hoping to experience raw nature that might change them for the better. There's a certain type of experience that lives in the parks, unchanged since John Muir said: "Everybody needs beauty as well as bread, places to play in and pray in, where nature may heal and give strength to the body and soul."
And that understanding, more than any gorgeous canyon view, is what I want Archer to have. But to find it, we need to go beyond the overlooks. We have to get dirty and sweaty to make it stick. Abbey, famously anti-tourist, would probably have approved.
Matt steers the Jeep past Canyonlands' visitor center and a herd of mule deer to the Elephant Hill parking lot, where we'll leave our car to access the Chesler Park Loop. The 11-mile route is billed as a dayhike, which makes it a perfect backpacking trip for a 6-year-old. Our plan calls for immersion: We'll spend three days in the backcountry, exploring.
An hour down the trail, Archer starts crawling on his hands and knees. "Mom," he says, pointing toward the foot of a spire. "I think I'm seeing mirages!" I crack open a bag of bite-size Snickers to revive him, but he's not hallucinating. There are, indeed, snow patches lingering in stone-made shade. It's early spring, when desert wildflowers are just beginning to bloom. He has a knack for pointing them out, beauty I might have passed by without noticing.
When the trail opens into Chesler Park, a grassy area completely encircled by spires, we're submerged in a bowl of beauty. Within three minutes of reaching our sandy camp, Archer's barefoot. "The sand feels ticklish!" he says. "It's like a mud bath, but you don't get dirty!"
I slip off my shoes, and we plant our toes.
We walk the trail of silken sand in front of camp, and our tracks cover the patterns of boot soles, transposing them with our soft animal pads. Archer finds a pinyon tree oozing sap. He sits to watch, as if it might bleed before his eyes.
We can see for miles. There's no wind, no visible movement outside of ours. The desert is hard, but there's something impossibly gentle about this moment. It's like the movable world has paused just for us.
In the shadows of spires, air darkens until it is the smoky gray of a tintype photo. Archer is at my side, nestling. "Shhhh," he hisses, though I'm not speaking. "I think I see a herd!"
"Those are actually low-lying trees," I say, studying their contours. "But there used to be bison here. There used to be bison where we live, in the mountains."
"What happened to them?" Archer asks.
"Some people got greedy and took more than they needed."
"More than they could eat?" he asks. I nod in affirmation.
"Sounds like they should have cared more about experiences," he says.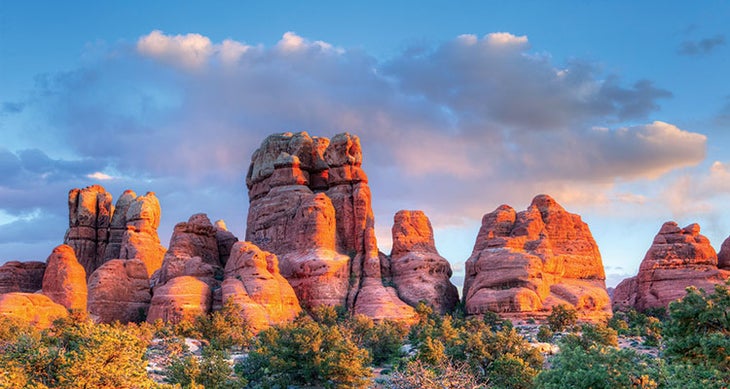 I spend the next morning pulling cactus needles out of Archer's backside. And his pants. And his underwear. In exploring the campsite, he found a collection of compacted cans, half-covered in sand. "Rusty gold!" he shouted, over and over, while backing into a prickly pear.
There are dozens of needles. Each time I pull one he mutters, "Be brave! Be brave!"
"Does saying that make you braver?" I ask.
He assures me that it does.
I've been reading Desert Solitaire passages to Archer for the past few nights. Abbey, as a character, intrigues him. Archer takes a break from his bravery mantra to tell me that he suspects the rusty cans belonged to Abbey, who he views as some sort of billy-goat-gruff—not a wholly unfair assessment, really.
One, two, three needles out. Six more found.
"Mom, did Edward Abbey really live in the wild?" Archer asks.
Learning that Abbey lived in the desert with family empowered me in a way I hadn't known I needed. And my son, now crouched like a cub on all fours, seems like he could use a little help becoming comfortable with the landscape that's just bitten him.
"Ol' Ed lived in the wild sometimes," I tell Archer. "Other times he lived in the city. But get this: Sometimes, his son lived in the wilderness with him! And the little boy's mom, too!"
Archer is amazed. He awkwardly twists his head in an attempt to look at me. "A kid?" he says. "Living in the desert with his mom and dad? Is that a true story?"
I can see his eyes—and his understanding of the American West's mythos—widening. There was a kid out there! Archer's guiding parables will be different from the ones handed down to me. Exploring wild places—on an epic level, beyond his backyard—won't be something to postpone until after he has facial hair. And all sorts of people, moms included, will be in his version of the narrative.
Give us Desert Solitaire. But give us desert solidarity, too.
Spine-free and back on the Chesler Park Loop, crumbling stone becomes dusty trail. In the distance, mesas fall into buttes to create windows for the La Sal Mountains, sprinkled with snow. Meadow turns to ravine. You don't see where you're going until you're already there. It's disorienting, but we're proving adaptive. The Joint Trail, part of the route, is narrow. Even after descending into the slip of trail between stone, it's impossible to anticipate the peculiar slant of light, the surrounding stones' breath, cool and steady against exposed skin.
The sensation of being underground gives Archer new empathy for plants trying to thrive in the desert, under conditions that seem paltry compared to the lush Appalachian mountains. When our trio emerges, a small green succulent catches his attention. He adjusts one of its leaves as one might brush a curl off of a loved one's cheek.
"I think we should add some water to that to help it grow," he says.
"That's really thoughtful, but it's adapted to desert conditions," I say. "Humans don't always know best."
We continue up the trail and I can see he's working something out. We've just read about cryptobiotic soil, which means hidden life. There's a mature patch nearby, dark from the lichen, bacteria, and moss that hold the desert in place. I explain that this crust is sort of like skin. He looks into the canyon and says, "Then all of that is alive!"
He runs to the edge of the slickrock to get a close-up look. A patch of ground that he thought looked like moldy bread has become the flesh of a gigantic creature on whose back we're treading. Archer stretches out his hand and places it on a patch of soil. I follow his lead.
"Can the Earth hear everything we say?" he asks.
"I think so," I say. "It's affected by everything we do."
He pats the soil. Then, as solemn as I've ever seen him, my son looks up and asks: "Is this God?" Silently, he lifts his hand again, inspects it as if the lines of his palm contain a message. Then, he presses it down again, gently.
Solitude slips away as matt, Archer, and I move toward the trailhead on our final morning. We see more people in the span of two hours than we've seen in days. There are large-crowd noises coming from the parking area. At the trailhead, I find a woman studying a posted map. She's Linda Aaron, trip leader of 40 at-risk students from Salt Lake City's Glendale Middle School. They're training to mentor younger kids. Some of them have already made declarations that visiting Canyonlands is the most amazing thing they've ever done—and they haven't been beyond an overlook.
They're wearing cotton tights and carrying glitter-encrusted purses. They're eating white-bread sandwiches that ooze jelly and drinking water out of recycled soda bottles. None of them are wearing anything you'd find in an outdoor store.
Yet, here they are.
"Some of them haven't ever been out of the city before," Aaron says. "They've been climbing rocks and saying things like: My mom's not going to believe I did this. There are kids here who are already talking about how they're going to try to come back and bring their entire family. They want to share the experience."
Archer signals approval with a thumbs up.
Public land. Travelers exchanging experiences. The opposite of greed. He gets it.
In his work, Abbey announced that the canyonlands of Utah were "Abbey's Country." And now, watching Archer play greeter to the older kids, I can tell he feels that sense of ownership, too.
He runs alongside the middle schoolers, feeling bold, cheering them on. The backcountry isn't just for men like John Muir and Edward Abbey. Archer's 6. If he can do this hike, so can they.
Archer takes out what's left of the miniature Snickers. He wants to share them with the novice hikers. This is as good as Candyland, after all, and my son is letting them know we all belong.