East Haddam, CT: Devil's Hopyard State Park
Stroll through the lush woodlands of Devil's Hopyard State Park on this 4.5-mile loop highlighted by a visit to the picture-perfect Chapman Falls.
Heading out the door? Read this article on the new Outside+ app available now on iOS devices for members! Download the app.
From the parking lot on the north side of Foxtown Road, cross the street and head under the stone arch to enter Devil's Hopyard State Park. Kick off your hike with a visit to the oft-photographed Chapman Falls, which spill down 60 feet of Scotland Schist stone into a rock-ringed pool. Then pick up the Red trail to begin a loop through the park's western reaches. Amble through classic New England woodland at an easy grade as you link the Red, Green and White Trails en route to the lake that feeds Chapman Falls.
Cross the lake on a quaint covered bridge connecting to the Orange Trail. Head south along the gentle, tree-shaded Eightmile River before picking up a short spur trail to a small cave called Devil's Oven. Break away from the Orange Trail as it cuts inland and continue following the river up toward a steep ridgetop that breaks into a far-ranging northern panorama of the state's tree-blanketed and field-carved countryside. Then head back down to the Orange Trail to wind back toward the trailhead. The route circles back to a final vista of Chapman Falls before culminating at the Foxtown Road parking lot. 
-Mapped by John Thomas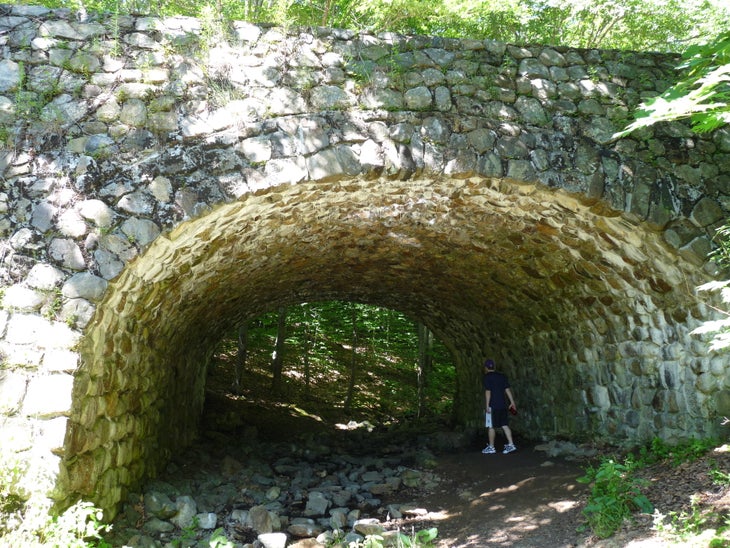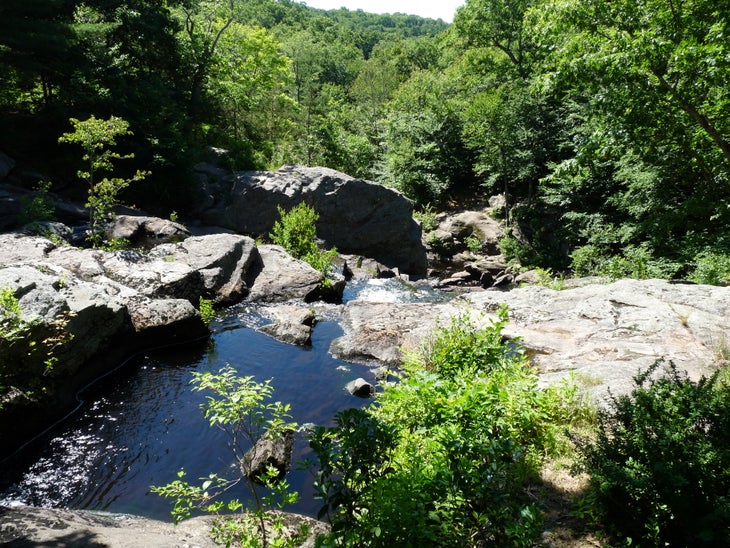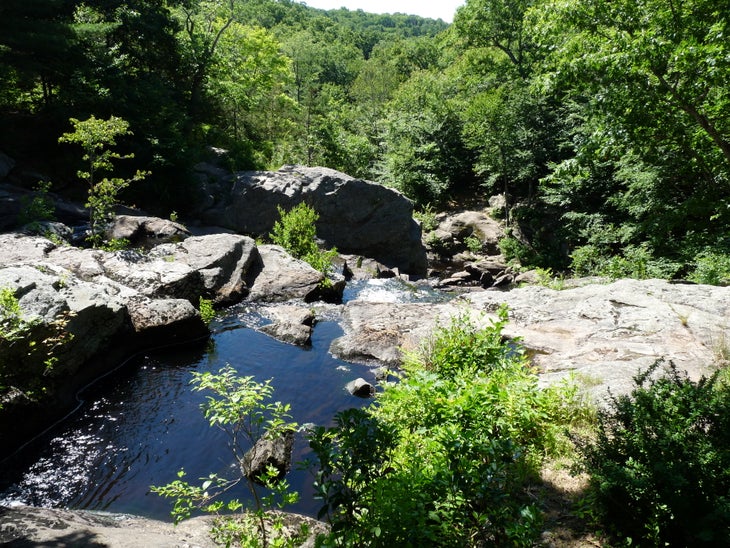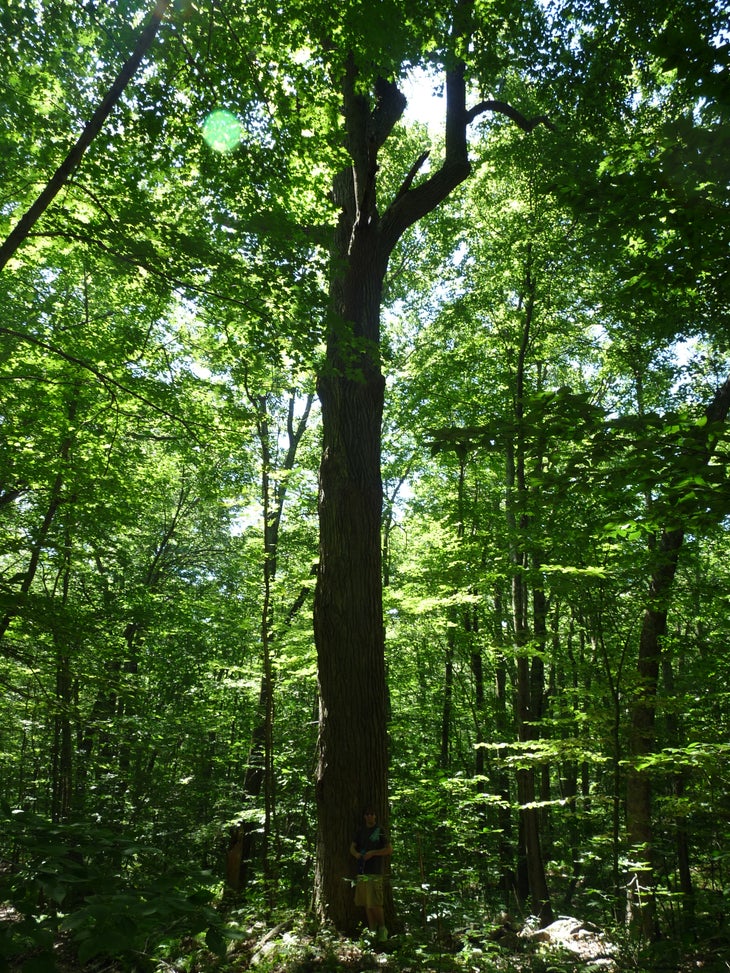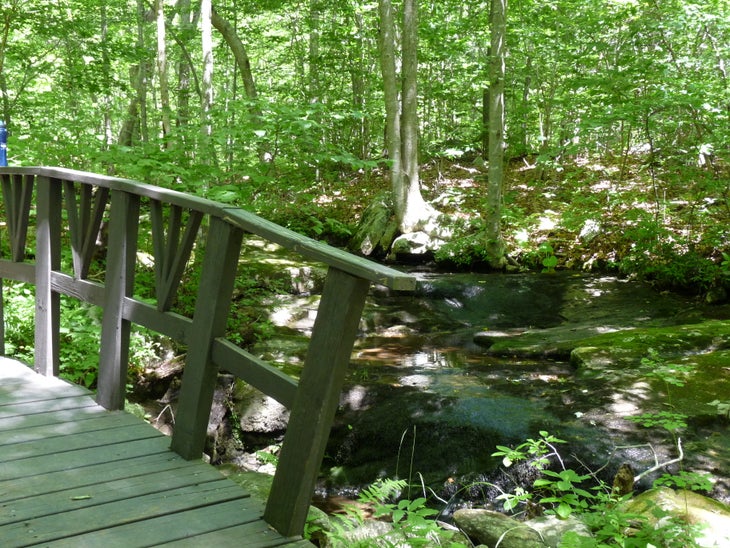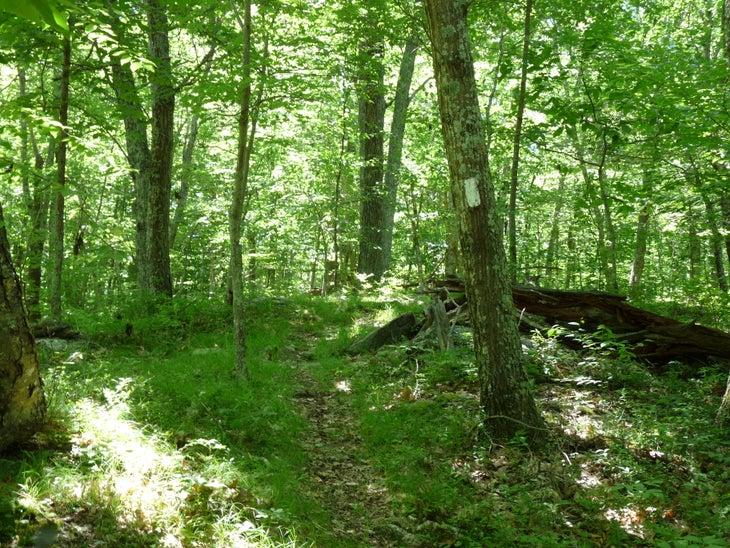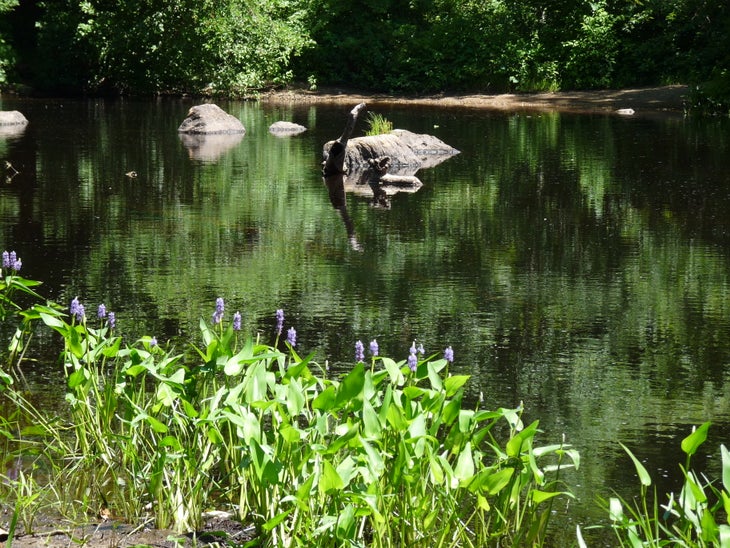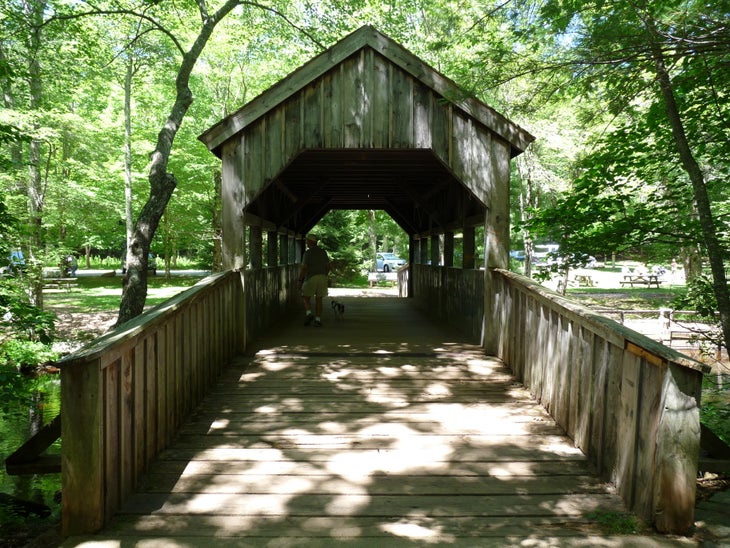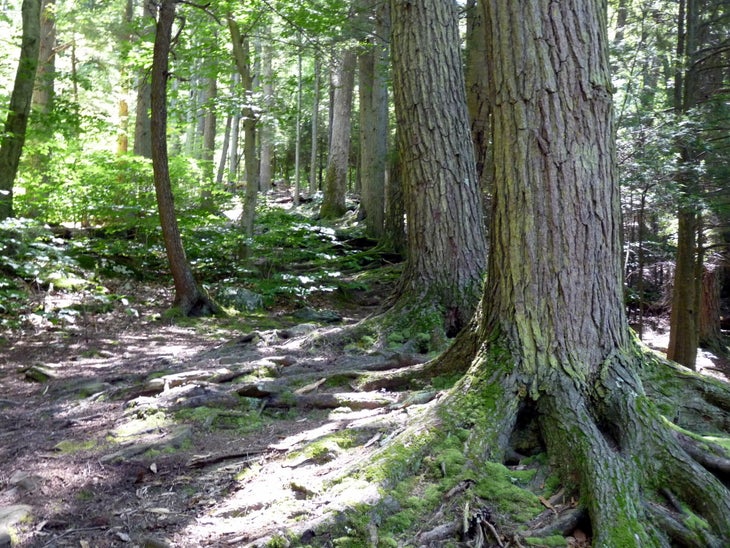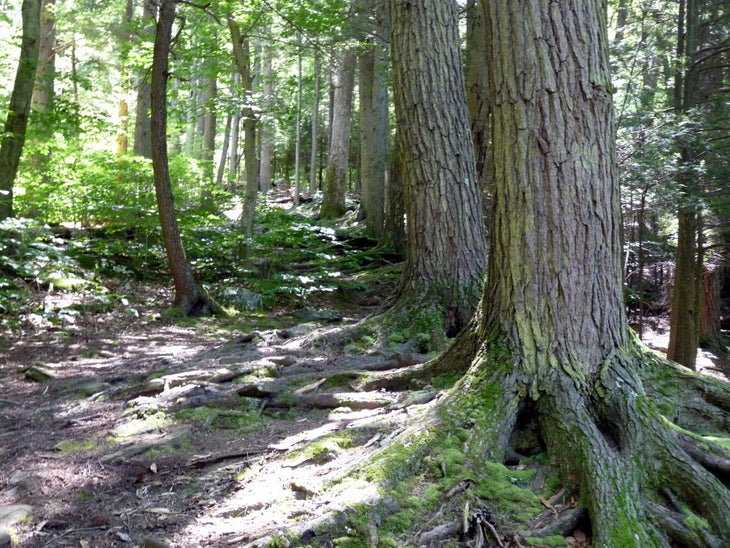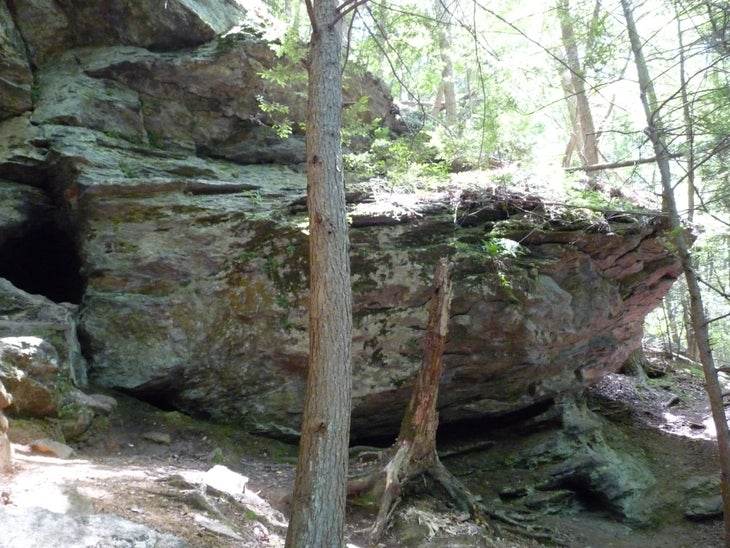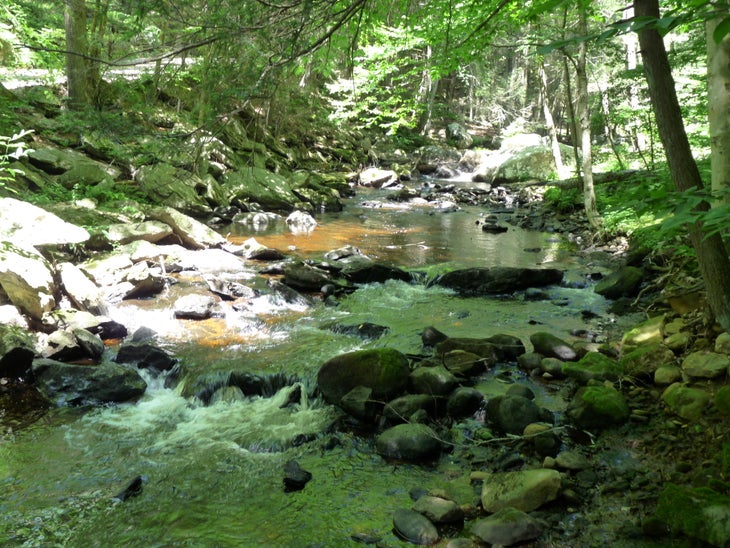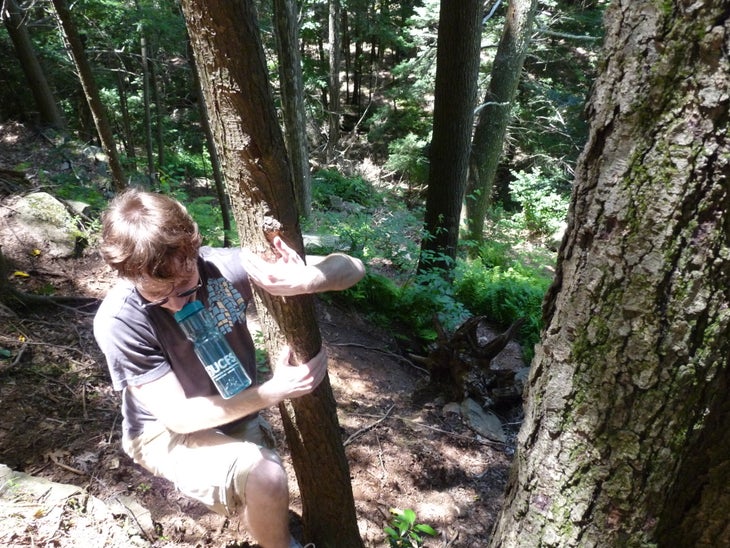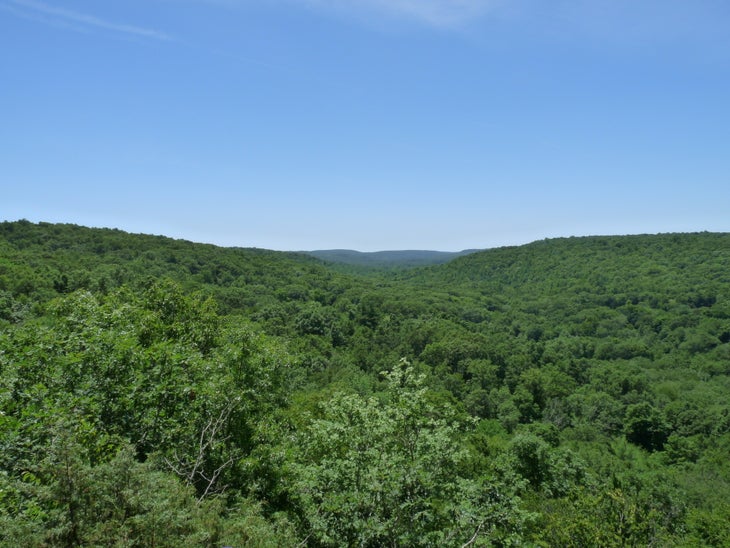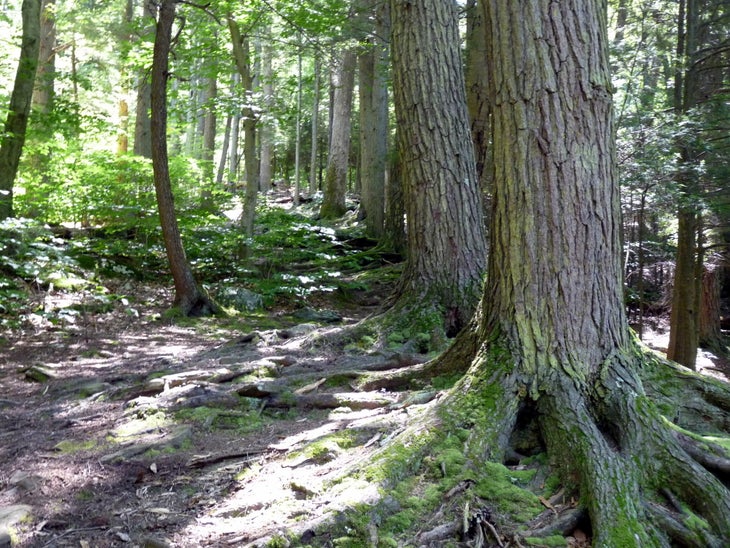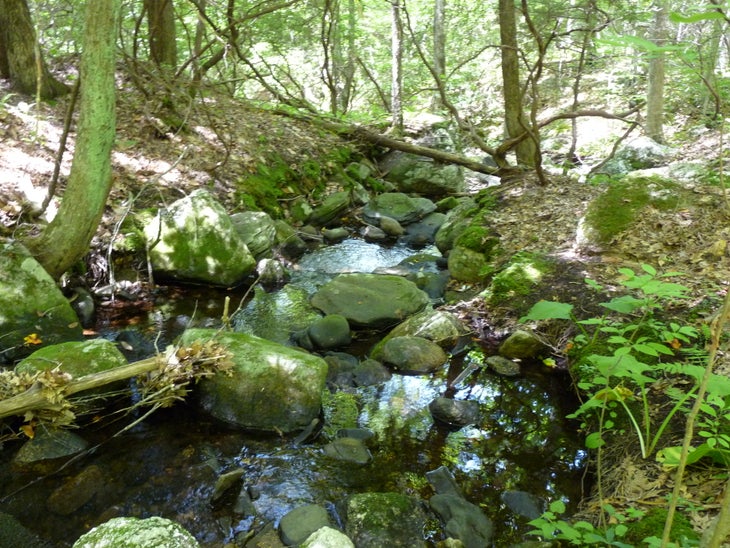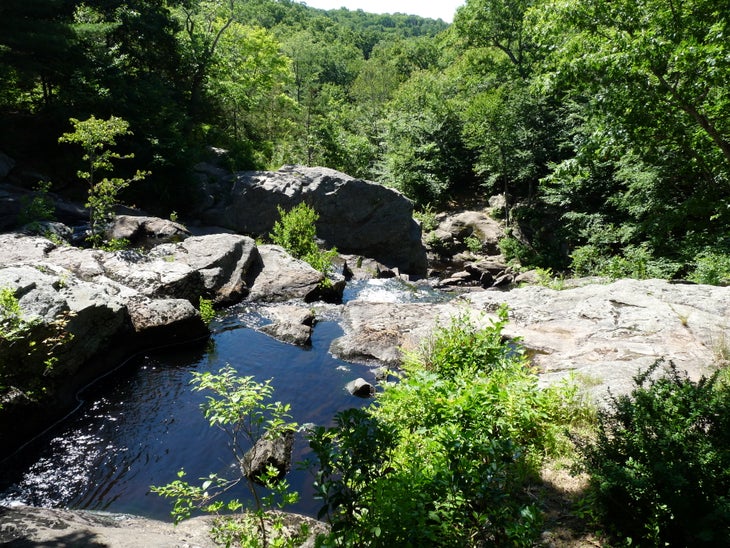 Trail Facts
Waypoints
DHY001
Location: 41.484643, -72.34216
From parking lot, walk south across Foxtown Road and through stone arch.
DHY002
Location: 41.483622, -72.341765
Lower view of Chapman Falls.
DHY003
Location: 41.483873, -72.342256
Turn left onto Red Trail.
DHY004
Location: 41.481415, -72.351762
Turn left to stay on the Red Trail.
DHY005
Location: 41.478618, -72.348694
Continue over small bridge.
DHY006
Location: 41.477364, -72.346312
Turn left on Green Trail.
DHY007
Location: 41.47939, -72.347299
Turn right on White Trail.
DHY008
Location: 41.481399, -72.344209
Turn right on Red Trail.
DHY009
Location: 41.483357, -72.341967
Turn right to walk toward lake.
DHY010
Location: 41.483099, -72.341645
Turn left and descend stairs.
DHY011
Location: 41.482943, -72.341334
Continue straight through picnic area.
DHY012
Location: 41.482143, -72.341033
Continue across covered bridge and pick up Orange Trail.
DHY013
Location: 41.479824, -72.339392
Trail follows Eightmile River.
DHY014
Location: 41.477294, -72.339368
Pass by a cave known as Devil's Oven.
DHY015
Location: 41.476118, -72.33936
Bear right to fork away from the Orange Trail and continue following the river.
DHY016
Location: 41.472179, -72.338067
Begin a short but steep climb culminating in a tree-top vista.
DHY017
Location: 41.47185, -72.336098
Panorama of woodlands to north.
DHY018
Location: 41.472702, -72.33627
Turn right on Orange Trail.
DHY019
Location: 41.481689, -72.33584
Bear left to continue walking toward Chapman Falls.
Arch
Location: 41.483879, -72.342243
Cross under this stone structure as you enter the park.
Chapman Falls
Location: 41.483618, -72.34165
Chapman Falls
Location: 41.483594, -72.341757
The oft-photographed Chapman Falls spill down 60 feet of Scotland Schist stone.
Tall Tree
Location: 41.481359, -72.351757
Small Bridge
Location: 41.478602, -72.348651
White Trail
Location: 41.479084, -72.345175
Lake
Location: 41.482955, -72.341275
Covered Bridge
Location: 41.482129, -72.341006
Orange Trail
Location: 41.479744, -72.339405
Orange Trail
Location: 41.47849, -72.339853
Devil's Oven
Location: 41.477256, -72.339319
Eightmile River
Location: 41.473136, -72.339081
Climbing
Location: 41.471898, -72.337289
Panorama
Location: 41.471858, -72.336168
Orange Trail
Location: 41.475982, -72.336463
Creek
Location: 41.48185, -72.336001
Chapman Falls
Location: 41.48367, -72.341666