Duluth, MN: Wolf Creek Falls
Tour old quarry country and the hardwood forests of Banning State Park on this 7.2-mile lollipop loop that passes a waterfall payoff--twice!
Heading out the door? Read this article on the new Outside+ app available now on iOS devices for members! Download the app.
From the trailhead at Robinson Park, this route heads north along the Kettle River skirting an old dam, a quarry, and a railroad trestle before reaching Banning State Park's Wolf Creek Falls. The pretty, 12-foot cascade lands in a shaded pool—a perfect place for a quick dip on the return trip—before joining the river downstream.
The 4.8-mile loop section begins with a stepped climb on the High Bluff Trail and descends to the river approaching the Little Banning Rapids, one of a series of 5 Kettle River Rapids that make this area popular canoe and kayak destination. Evidence of the Banning State Park's quarry history abound along the old-railroad-turned-trail: carved walls of pink sandstone, the foundation of a crushing and sorting room, and the 3-story frame of an old power house. Climbing away from the river, the trail transitions to clay as this route zigzags toward the northbound Cartway Trail and loops back under hardwood and aspen toward Wolf Creek. Heading south, the waterway's namesake trail passes campgrounds and several left-hand spurs before arriving back at the falls where hikers can retrace their steps to Robinson Park.
-Mapped by Steffan Fay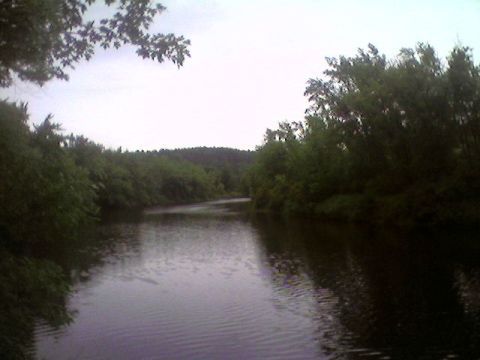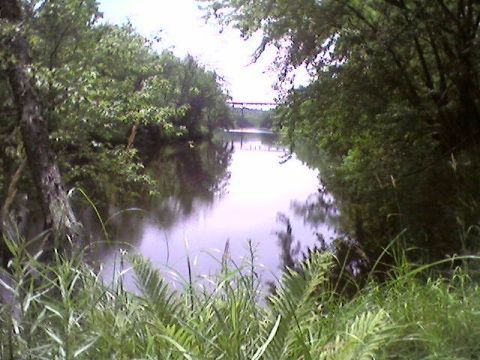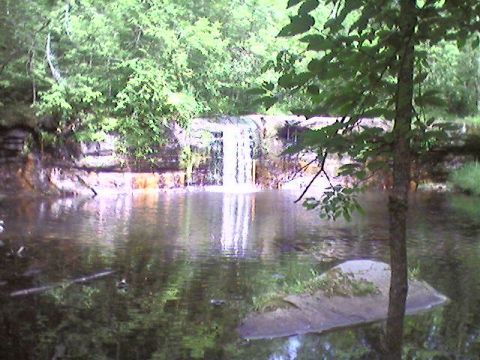 Trail Facts
Waypoints
WCF001
Location: 46.132839, -92.85746
Hike north from the trailhead. There is plenty of parking, a restroom, picnic area and public boat launch.
WCF002
Location: 46.134311, -92.857958
Stop for a few minutes above the Quarry Rapids, an old logging dam, to read the interpretive signs that detail local quarry history.
WFC003
Location: 46.135044, -92.858337
Bear right @ Y-junction to continue toward Wolf Creek Falls and Banning State Park, or bear left for a short detour to explore the climber-friendly blast caves of an old quarry.
WCF004
Location: 46.137127, -92.858688
The trail passes beneath a soaring railroad trestle.
WCF005
Location: 46.139774, -92.860176
Funky trailside cave: Heed the graffiti warning you to keep out.
WCF006
Location: 46.146202, -92.860672
Wolf Creek Falls. If the water is low, scramble along the edge of the falls' 12-foot ledge for a different perspective.
WCF007
Location: 46.146469, -92.861038
Approaching the Banning State Park main trail system (north of the falls), the trail crosses several rocky sections but is wider and better maintained.
WCF008
Location: 46.14946, -92.860153
Begin a loop section of trail by turning right on the High Bluff Trail and ascending a series of rock steps under a hardwood and maple canopy.
WCF009
Location: 46.155888, -92.852341
Turn right @ T-junction onto Deadman Trail, heading downhill through maple and birch woods.
WCF010
Location: 46.157513, -92.84948
Take a hard right onto Quarry Loop Trail, continuing downhill toward the river's edge.
WCF011
Location: 46.155018, -92.85006
Turn left to stay on the Quarry Loop Trail. The Hell's Gate spur trail turns south along rocky bluffs for 0.25 mile to a view of Hell's Gate rapids.
WCF012
Location: 46.15979, -92.846909
Evidence of the area's quarry history, the crusher building foundation and the 3-story walls of the power house sit beside the trail.
WCF013
Location: 46.161945, -92.843071
Turn hard left onto Spur Trail and begin moderate ascent out of the river gorge.
WCF014
Location: 46.161701, -92.84539
Turn right from Spur Trail onto the Quarry Loop Trail's upper section, heading east.
WCF015
Location: 46.162369, -92.84391
Turn left onto the Cartway Trail @ T-junction for a railroad-grade ascent through the woods.
WCF016
Location: 46.168697, -92.845474
Turn left @ 4-way junction onto the Trillium Trail. The trail passes through a stand of red pine. Watch for ripe raspberries along the trail in the fall.
WCF017
Location: 46.17062, -92.852325
Cross gravel park road.
WCF019
Location: 46.160995, -92.854889
Cross gravel park road and continue straight @ 4-way junction.
WCF018
Location: 46.171227, -92.854637
The Trillium Trail ends @ T-junction. Turn left to complete this loop section of trail and skirt the marshy edge of Wolf Creek along it's namesake trail.
WCF020
Location: 46.158119, -92.853714
Several trails intersect the Wolf Creek Trail near the state park campground. Bear right to continue south and complete this route's loop.
River North
Location: 46.143522, -92.861509
A north-looking view of the Kettle River belies the series of Hell's Gate rapids upstream. ©Steffan Fay
River South
Location: 46.144816, -92.861381
The southern view of the Kettle River from the heavily wooded shoreline includes the railroad trestle near the trailhead. ©Steffan Fay
Wolf Creek Falls
Location: 46.146302, -92.860801
Lucky you! This route passes Wolf Creek Falls' cascade twice. ©Steffan Fay