Don't Let Poison Ivy Deter You From These 7 Beautiful Trails
Poison ivy, oak, and sumac plague these gorgeous trails. But Tecnu will give you the peace of mind to tackle them anyway.
Heading out the door? Read this article on the new Outside+ app available now on iOS devices for members! Download the app.
There's Type I fun, like the time you backpacked to a hot spring with perfect weather and got exactly zero blisters. Type II fun is rosy in retrospect, like that sufferfest you hated every minute of but remember fondly thanks to the epic sunset. Type III fun is no fun at all, ever, even with a decade between you and the Snowstorm That Almost Took Your Nose.
And then there are the poison ivy hikes. It's hard to categorize the hikes where everything seems wonderful until an itchy rash announces, loud and clear, that you didn't pay quite enough attention to where you were putting your bare calves.
Risking poison ivy, oak, and sumac is part of the price we have to pay for the beautiful sunrise summit views that start at 4 a.m. in the dark. But there are things you can do to mitigate the risk even after those poison leaves have rubbed you the wrong way.
A sharp eye for these nasty plants and a handy product can keep you in the clear. Tecnu Original Outdoor Skin Cleanser removes urushiol oil, the stubborn irritant in poison ivy, oak, and sumac that sticks to your skin. If you use it within two to eight hours after exposure, it can wash away urushiol before the rash starts to form. You can also use it on your pets and in your laundry, to remove the itchy oil from your clothes.
If you're prepared with these tactics, you can keep that itchy curse from following you home from these poison-prone trails.
1. Black Canyon of the Gunnison, Colorado—This narrow, deep canyon along Colorado's Western Slope is the ultimate place to find solitude. Few people desire to make the steep trek down well-worn but unmaintained routes to the Gunnison River below—especially given the five-foot-tall poison ivy that grows along its banks. The green river is stark against the sheer, marbled Painted Wall, Colorado's tallest cliff at 2,250 feet. Even on a weekend, you are unlikely to see more than a few hikers on the trail. Your chances of having the river—and an exceptional fly fishing spot—to yourself for at least a few hours are high.
2. Lost Coast, California—The 53-mile Lost Coast Trail is the wilderness equivalent of California's Pacific Coast Highway—windy roads through jagged cliffs that offer ocean views, rocky beaches, and crashing waves for miles. If you're patient and lucky, you might stumble upon seals sleeping along the trail. Wear long pants, no matter the heat, to avoid brushing up against the poison oak that covers the trail in some sections.


3. Secret Canyon Trail, Arizona—Along the 8.8-mile Secret Canyon Trail, in the Red Rock-Secret Mountain Wilderness, you'll find a shaded desert hike without the crowds of Sedona's more popular trails. Hike along Dry Creek—often dry, as its name suggests—and pop in to explore the slot canyons that dot the trail. Be warned: While you won't have to battle other backpackers for a campsite here and on other trails in and around Secret Canyon, you will have to fight swarms of mosquitoes for some peace. You'll also want to hop over the patches of poison oak.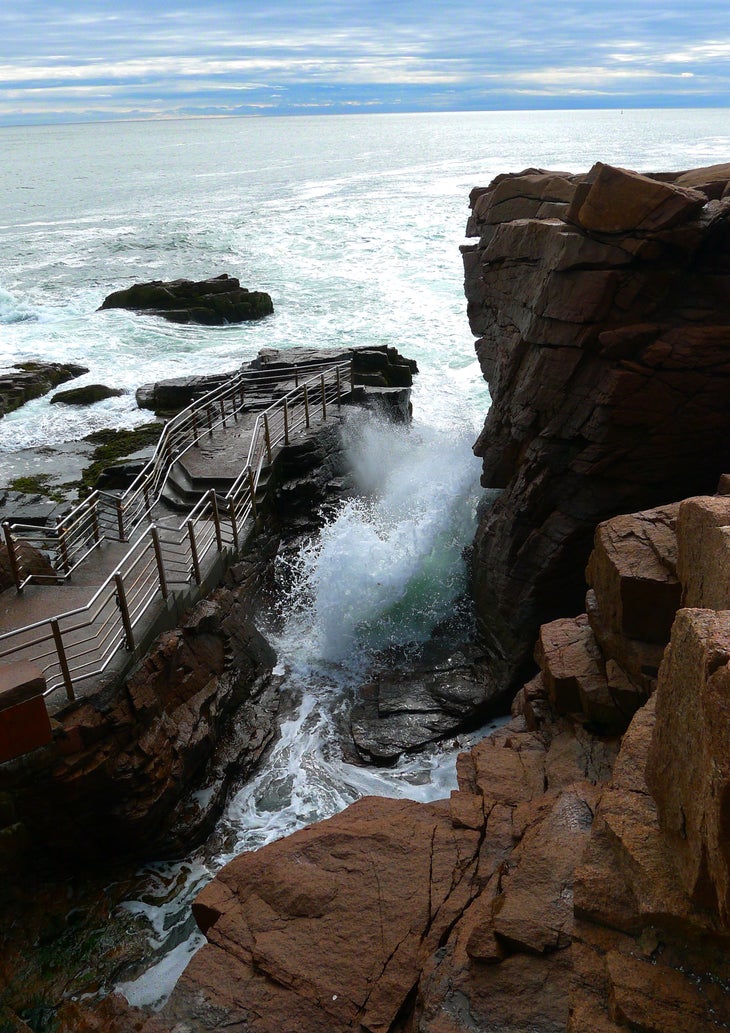 4. Ocean Path, Maine—You might find poison ivy on the way to one of Acadia National Park's most stunning ocean vistas, but it's worth the risk. Ocean Path, a 4.4-mile out and back trail, winds along the rocky Maine coast. You'll hear Thunder Hole, along the trail, before you see it—here, waves crash into an inlet in the cliff, sending spray 40 feet high and drenching hikers who dare descend the stairs to the viewpoint close to the water.

5. Whitewater Creek Trail, New Mexico—For a challenging weekend, set out for a 19.7-mile lasso loop along Albuquerque's Whitewater Creek. The trail is one adrenaline rush after another with ledges, bridges, stairs, creek crossings, and the Catwalk, a steel platform along the steep, pink walls of Whitewater Canyon. Watch for rattlesnakes sunbathing on the rocks, poison ivy, and stinging nettle along the creek.


6. Big Piney Trail, Missouri—From super-clear springs and waterfalls, shady forests, and jagged bluffs overlooking the Ozark highlands, you won't get bored of the ever-changing landscapes along Big Piney Trail in Missouri's Mark Twain National Forest. You might even spot a few bears along this 16.5-mile trail, which makes up for the dense patches of poison ivy, oak, and sumac that spill onto the trail and cover some camp sites.


7. Grandstaff Trail, Utah—Not all of Moab's stunning rock bridges are in Arches National Park. The smooth, orange Morning Glory Bridge at the end this fairly easy 2.2-mile trail was carved long ago at the base of a waterfall. Now, the 263-foot long natural bridge—the sixth largest in the U.S.—spans a mostly dry desert floor, save for a spring that bubbles out from the canyon wall. Watch for poison ivy growing in pools under the bridge—and along the stream you must crisscross to get there.