Discover Death Valley's Roof on Telescope Peak
Climb to the top of Death Valley National Park on this 12-mile out-and-back.
Photo: Pablo García Saldaña on Unsplash
Heading out the door? Read this article on the new Outside+ app available now on iOS devices for members! Download the app.
Driest, highest, furthest, beariest: We're collecting some of our favorite extreme hikes in this series.
Death Valley National Park, the hottest place on earth and the driest in the United States, gets less than two inches of average rainfall and often sees temperatures above 120 degrees Fahrenheit.  So why hike there? Well, between the rainbow-bright rocks of the foothills, the 11,000-foot mountains, and the singing sand dunes, a better question might be why not. Sure, it takes some extra prep and precautions, but the payoff is worth it. Experience this desert from above on the climb to 11,049-foot Telescope Peak, the highest point in the park.
If you're reading this and thinking "11,049 feet isn't that high," you're looking at the wrong number. While Telescope may not boast the same altitude as some of its larger cousins in California, it beats most of them in sheer rise, towering some 10,000 feet over the floor of the Panamint Valley,and 13,331 feet above nearby Badwater Basin, the lowest point in the continental US at -282 feet elevation. The difference is obvious: Parts of Telescope hold snow well into the summer, allowing thirsty hikers to melt their own water.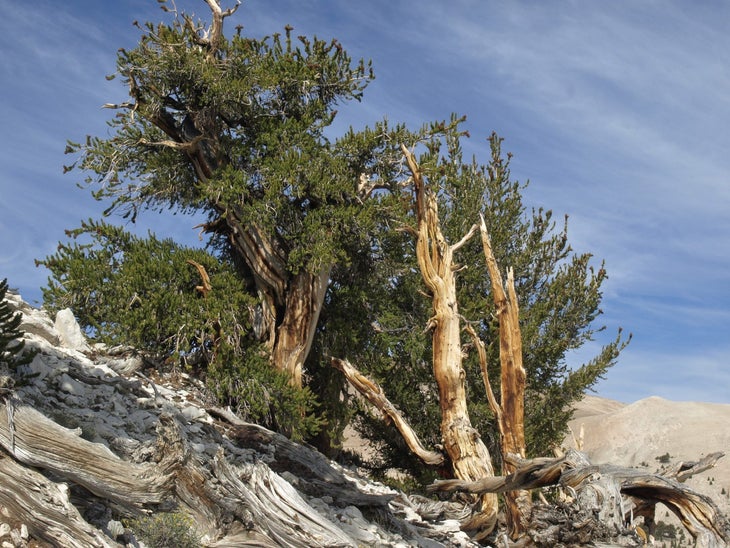 Spot This: Bristlecone Pines
On the way up Telescope Peak you might spot some gnarled, wind-scoured evergreens clinging to the rock. These are bristlecone pines, some of which are the oldest living organisms in the world—they can be several thousand years old. Look for inch-long needles arranged in packets of five to make a definitive identification.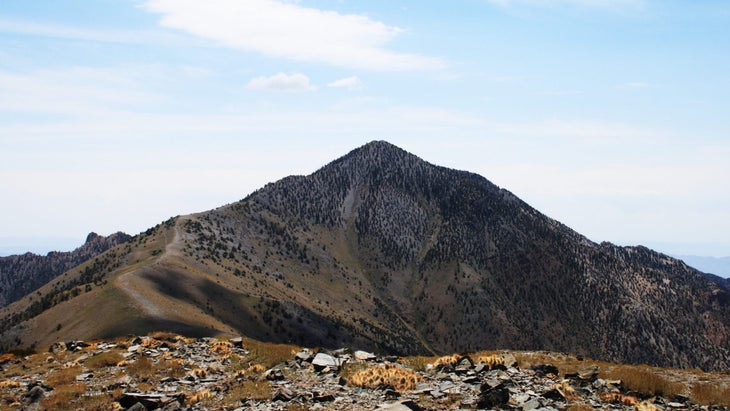 The 12-mile round-trip trek up Telescope Peak can be done year-round, thanks to a trailhead elevation over 8,000 feet. (If you're going in winter, pack for potentially severe weather. The trail can become icy too, so bring traction.)
Start from Mahogany Flats Campground, then head into an arid forest of pinyon and juniper. Round Rogers Peak, taking in views of Badwater Basin 11,331-feet below (the basin, the lowest point in the US, is below sea level). At mile 2.4 your horizon expands to Panamint Valley and the Argus Range. From the summit at mile 7, look past Death Valley's border ranges to the Sierra Nevada, then see if you can pick out the pale glint of salt flats in the desert below.
Death Valley: Know Before You Go
Desert hiking, especially in the country's driest desert, requires extra precautions. Carry all the water you'll need with you unless you've confirmed that snowmelt is available along your route, and plan to drink more than usual (up to a gallon a day in the summer). Add hydration tabs or switch out some of your water for sports drink to avoid hyponatremia.
If you're planning on doing more hiking around Death Valley, keep in mind that temperatures can vary drastically between Telescope's alpine trails and the occasionally-harsh desert bottoms of the rest of the park. There's little shade to be found in most of Death Valley, so pack sunscreen, sunglasses, and a hat in with your regular hiking gear.