Disappearing Act: Paddling the Boundary Waters
Want to vanish into the quietest, wildest corners of the Boundary Waters? Say these magic words: Primitive Management Area.
Heading out the door? Read this article on the new Outside+ app available now on iOS devices for members! Download the app.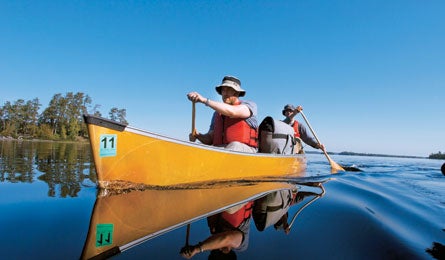 The author and co-hort paddle across Ester Lake. (Layne Kennedy)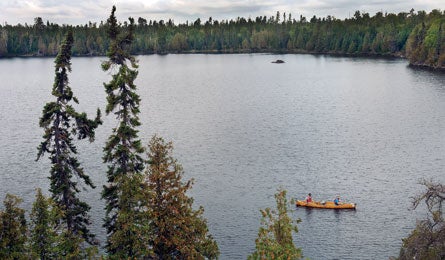 Crossing 10-foot-deep Nawakwa Lake. (Layne Kennedy)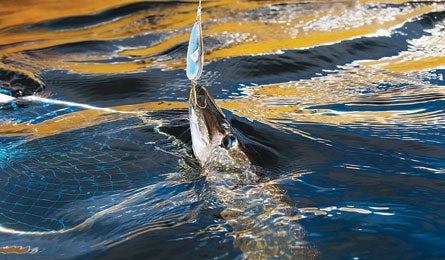 Catching a four-pound northern pike. (Layne Kennedy)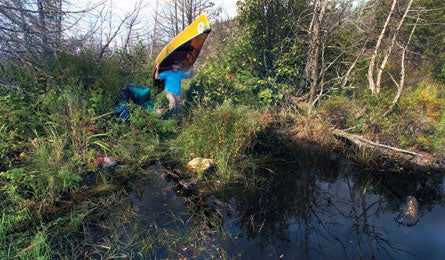 Bushwacking from Gift Lake to Fish Lake. (Layne Kennedy)
Solitude guaranteed.
An officious permit keeper in a green U.S. Forest Service sweater stands between me and paradise. She peers down her nose and looks me up and down. "Not a lot of people go back there," she huffs. "It's just too hard." I wonder if she's measuring my ability by some inscrutable means, but then she scribbles on the authorization sheet, granting entry to the Pitfall Lake Primitive Management Area, deep within Minnesota's Boundary Waters Canoe Area Wilderness (BWCAW).
By definition, the BWCAW is "an area where the earth and community of life are untrammeled by man." But the reality is, much of it is plenty trammeled. Established portage trails run between the lakes, and the Forest Service routinely clears them. Camping is restricted to designated sites with a fire ring, a biffy (outhouse), and tent pads. Given that 250,000 people visit the BWCAW annually (it's the nation's most popular federal wilderness area), the impact-mitigating infrastructure makes sense. But it doesn't deliver the experience of true wilderness–going where it looks and feels like no human has ever gone. That's where the Primitive Management Areas (PMAs) come in. Pitfall Lake is a six-square-mile restricted entry zone–no campsites, no portage trails–and now my party of four has the sole permit for the next five days.
"Good luck," the marm says with a faint smile. Then a parting shot: "Some people say it's Shangri-la, but you'll have to go through hell to get there."
The 1.1-million-acre BWCAW contains 12 PMA units totaling about 125,000 acres. Pull out a canoe country map, however, and you won't immediately see them. The PMAs are the places in between the developed regions; they're the empty spots, off the web of established portage trails and the shotgun blast of red triangles indicating maintained campsites. Since they're unmarked and difficult to access, PMAs see very few paddlers–fewer than 100 groups per year combined.
"We only let one party into a PMA unit at a time, so you're really on your own," explains Steve Schug, assistant district ranger for recreation and wilderness in the Superior National Forest and BWCAW. "The PMAs are set aside to offer the most outstanding opportunity to experience solitude. But there's no management, so it's just you and the land. Risks are higher. It can mean a lot of crawling through brush and hauling canoes over downed trees."
Schug says PMAs are a bit of a secret. "We don't market them. We don't go out and actively tell the public about them, because we don't want them to get busy," he says. "When we get questions about them, we emphasize that they're really only for experienced paddlers. People who know their map and compass skills and Leave No Trace principles. "Most visitors never go 10 feet beyond their campsite's pit toilet. But for those who wonder what's beyond the biffy, you can travel into a PMA and step on land that maybe hasn't seen people in 50 years."
Our party of two canoes–my friend Mike Kooi and I in one, photographer Layne Kennedy and Mike Prom of Voyageur Canoe Outfitters in the other–will travel about 40 hard miles over five days to Pitfall Lake PMA and back. It takes a full day just to reach the unit's doorstep, 12 miles from entry point #55 at Saganaga Lake.
En route, we decide to camp on Ester Lake and enjoy a night of relative luxury before we go primitive. The tents go up easily on cleared and spacious tent pads. There's a bundle of firewood graciously left by the campsite's previous tenants. Prom lights a blaze in the fire ring and places fat steaks (packed frozen and now thawed in the bottom of a portage pack) on the USFS-provided cooking grate.
Wispy gray plumes rise from the other five campsites on our lake. A couple of loons appear on the water, followed by a couple of human onlookers in kayaks, and offer an evening yodel. I go for a swim, thoroughly enjoying our easy entry, like we're putting a toe in before jumping.
Prom calls me back with a plate of food in one hand and a Nalgene growler of India pale ale in the other.
"Steak and ale," he says cheerfully.
The next morning, we leave the relative comforts behind and learn what Primitive Management Area actually means: war zone. Branches snap and curses fly as we bull overturned canoes through a tangle of brush and tree limbs. "Have we reached hell?" Kooi grins as he mops up a bloody forearm, courtesy of a black spruce that didn't yield the right-of-way. Earlier, we'd crossed Pitfall's threshold at Link Lake, then paddled a sinuous and overgrown arm to a short overland crossing to Gift Lake. Now, we're negotiating a beaver dam, teeter-tottering on the flotsam of sunken logs with packs held over our heads. The logs sink six inches into the swamp under our weight.
Paddling on, we cross into the western expanse of the 30,000-acre Cavity Lake Fire, which burned halfway into Pitfall Lake PMA in 2006. The sun shines brightly here, since there's no forest canopy. We see rock ridges that were exposed when the duff burned away and boulders that were cracked open by the fire's intense heat. It's eerily silent; not even a songbird calls. Only our dipping paddles make any sound.
From Gift we paddle and portage onto Fish Lake, then consult the topo to find a route to our day's goal–Nawakwa Lake, just four miles from Ester. The shortest way tracks through a clump of bushy green cedar trees. We land the canoes at the cedars and start humping our gear overland, only to meet up with a tangle of fallen trees. A flat, 30-yard portage takes more than an hour as we manhandle our canoes over and under the Pick Up Sticks puzzle of timber. "This had better be worth it," says Kooi, looking at his scratched-up arms and legs.
We paddle the perimeter of Nawakwa Lake, scouting for outcrops. According to our permit, we must find a durable surface for our campsite, a place that won't show impact. "Your challenge is to blend into the wilderness," reads the sheet, in an eloquent departure from standard backcountry regs.
We find a bald granite face on the forested west shore (where the fire didn't reach), with plenty of room for our canoes and a cooking area. I bushwhack into the woods and find a spot in the underbrush for our tent (shoreline camping is forbidden). When I return, Prom is building a platform for a fire in a large divot where he cut and peeled back sod. He's observing another PMA rule: no ashes or burn scars. "After our fire, I'll disperse the ashes and roll the sod back," he says.
Treetop shadows are just beginning to slide across the lake, so we have another hour or so before sundown–prime fishing time. We launch the canoes and troll Rapalas and Daredevle spoons. For a while, we have zero success, but then we encounter a pair of whiskered, furry heads glaring at us. Otters are a dead giveaway to a fishing hole. We soon land two feisty, 24-inch northern pike and paddle back to camp with eight pounds of fish for dinner. Prom lays out an assembly line of ingredients for fish tacos atop an overturned canoe: tortillas, chopped cabbage, tomatoes, onions, and peppers. After dinner, we uncap IPAs and kick back in Crazy Creeks on the lakefront ledge, where we watch Jupiter outshine the stars in a darkening sky. The night is silent save for a beaver that stealthily cruises the shore to see the intruders.
"This doesn't feel like the Boundary Waters," Prom says over coffee the next morning. "It's like northern Canada. This isolation, being certain that we won't see another soul." Today, we'll take a daytrip to an even more remote corner of the PMA. The map shows a squiggly blue line that connects Nawakwa to Trust Lake then Faith Lake–two apt names, since trust and faith are all we have. Who knows if the line is navigable?
We paddle two miles before we discover it's not. This is the kingdom of beavers. Chewed and stacked logs create an obstacle course for our canoes; we pry and wedge and scoot our boats over the underwater hurdles. A square, brown beaver head surfaces to see what we're up to, then silently submerges, leaving behind only bubbles. Sedge and willow squeeze us from both sides as we round each bend of the snaking channel. Soon, the vegetation brushes our arms as we paddle, and we're ducking under deadfall. Then the bow hits a dam we can't climb over. We're about a quarter-mile, maybe more, from Trust Lake. And we're not going any farther without stepping into hip-deep muck.
I climb a boulder for a better view, and I see a sedgy meadow. The Voyageurs–who shuttled pelts through this region 200 years ago–called these "savannahs," because they look like grassy fields and could be used to shortcut impassable waters on foot. It's still swampy, but it holds our weight. I see moose tracks in the sludge.
Trust turns out to be a shallow, turbid lake full of floating detritus. We paddle slowly, and Kooi, in the bow, asks, "What, exactly, are we doing here?" He's losing faith that there'll be any payoff. Maybe this is the reason nobody ever goes back here.
"Let's just see where it goes," I say half-heartedly. We land on Trust's south shore, lug the canoes over a spit of burned forest, and we see it.
Faith Lake is about 20 feet deep and Tanqueray clear. It sparkles in the sun. We fall silent, perhaps waiting for the next trick to be played on us in this forbidden zone. I eyeball the shore at the northeastern end. Yellow sand? We paddle over to find a sun-bleached moose antler, a signpost of pure solitude. Wolf tracks weave up and down the beach. We've reached the deepest point of the PMA accessible by canoe.
We remove our boots, and the sand massages our feet, tenderized by the epic portages. We wade out for a swim. Prom's eyes widen to saucer-size as he contemplates water where no one has cast a line in years or decades. Or ever? He launches a canoe and casually trolls a spoon, landing and releasing two pike pushing 40 inches–trophies that are twice the size of the fish we ate for dinner last night.
We lazily eat our lunch and then recline on the warm sand. I pull my hat over my face for a siesta. Now, I can't say that the ranger in the permit office was wrong. This primitive area in the Boundary Waters is indeed rough. But who says there's no comfort in that?
GOING PRIMITIVE

In order to keep PMAs completely devoid of visual human impacts, BWCAW officials ask visitors to observe these special Leave No Trace rules.
>>Spread out Unlike other areas of the BWCAW, where paddlers are encouraged to stick to the network of maintained portage paths, PMA visitors should fan out to disperse the impact of their footsteps.
>>Hide out There are no campsites in the PMAs. Choose durable surfaces and pitch tents away from the lake and out of sight. Set canoes and packs on rocks or bare ground (instead of delicate vegetation).
>>Put out The USFS prefers camp stoves over fires. If you like fires, use a fire pan or roll back a patch of sod (replace it before you leave). Use wrist-size sticks (or smaller) to keep flames down.
>>Pack out all garbage and your TP. No matter how conscientious you are about catholes (150 feet back from the shore, six inches deep), animals will investigate–and any buried toilet paper will get strewn around the woods. Don't burn it; throwing trash in fires is prohibited.