Denver's Top 5 Backpacking Trips
Colorado's best multiday trips, as selected by BACKPACKER Local scout Stasia Callaghan
Heading out the door? Read this article on the new Outside+ app available now on iOS devices for members! Download the app.
Denver is close to countless superlative backpacking trips–so you know that these picks, which range from the jagged San Juan Mountains to the lonely Gore Range to the iconic Rocky Mountain National Park, must be really special. Our top five stand out from the crowd with their incredible scenery, wildflowers, wildlife, challenge, and solitude.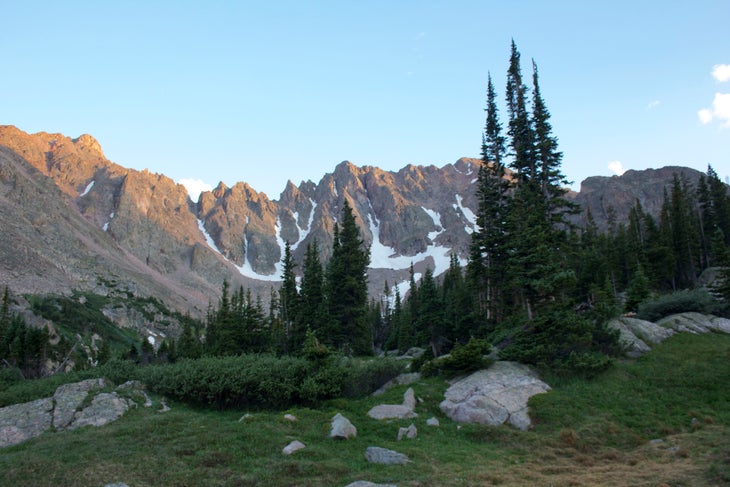 1. Willow Lakes, Eagles Nest Wilderness
Trailhead: Rock Creek (Silverthorne)
Mileage: 16 (round-trip)
Elevation gain: 2,367 feet
Drive from Denver: 1 hour 45 minutes
The Gore Range is one of Colorado's hidden gems, and this easy out-and- back gives weekenders some serious bang for buck. Classic Summit County views of Red Peak's jagged ridgeline trace the horizon while three perfect subalpine lakes—Lower Willow, Upper Willow, and Salmon Lake—dot the surrounding landscape. Do it in a single overnight or bring the fly rod and spend an extra day on the lake's shore casting lines and basking in the Colorado sun.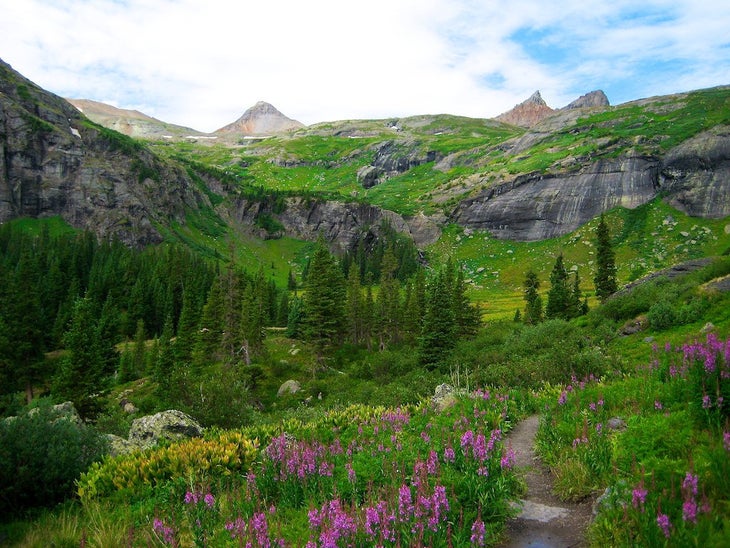 2. Ice Lakes & Island Lake, San Juans
Trailhead: South Mineral Campground
Mileage: 9 (round-trip)
Elevation gain: 3,000 feet
Drive from Denver: 6 hours
This one includes a lot of windshield time, but it's worth it: You'll be immersed in the classic southwestern Colorado scene of turquoise lakes surrounded by rocky, high-elevation peaks. Bonus: This trail's got waterfalls, too. Be prepared for a steep hike in; hitting it early leaves plenty of time to linger at the lake after setting up camp. You'll hit Lower Ice Lake Basin first, then continue up to Ice Lake and then Island Lake at 12,400 feet. Do it in midsummer to catch blooms like columbine, alpine forget-me-nots, and sky pilot, or see killer fall colors later in the year.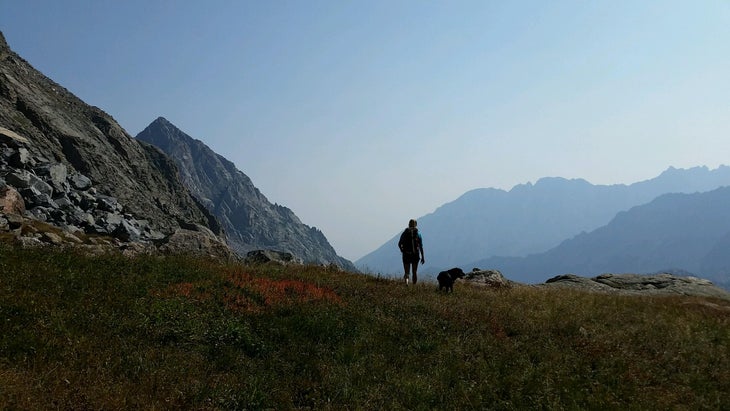 3. Bubble Lake via Kneeknocker Pass, Eagles Nest Wilderness
Trailhead: Piney Lake
Mileage: 13 (round-trip)
Elevation gain: 3,500 feet
Distance from Denver: 2 hours 30 minutes
Getting anywhere in the rugged Gore Range is far from easy, and venturing all the way to Bubble Lake, tucked deep in the craggy peaks and scree-covered slopes of the Eagles Nest Wilderness, requires sheer determination. But, it's worth it: You'll have views of high peaks and a cobalt-blue alpine lake all to yourself. Begin the journey at the Piney Lake Trailhead outside of Vail and follow the Upper Piney River Trail about 3 miles, then take the obvious but unmarked trail to the northeast to the base of Kneeknocker Pass. Pitch a tent here before taking on the climb over the 12,000-foot pass in the morning. Once over the pass, the final push to Bubble Lake requires a bit of routefinding. Continue down the gully for about a mile—scrambling over boulder fields along the way—and then ascend the ridge to the south to reach Bubble Lake. Camp at the lake and rise early to hike back to the trailhead the next day or, better yet, bring your fly rod and stay an extra night in the solitude of the Gores.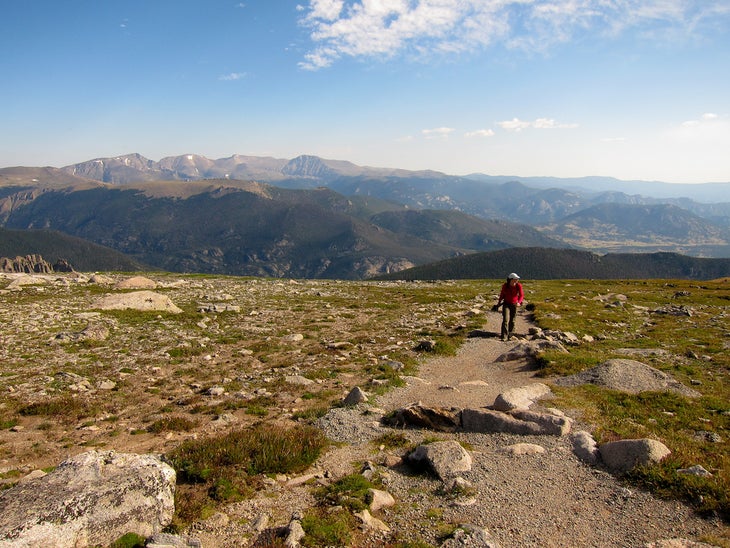 4. Continental Divide Loop, Rocky Mountain National Park
Trailhead: Tonahutu Creek
Mileage: 25-mile loop
Elevation gain: 3,800 feet
Distance from Denver: 2 hours
This multiday loop along the Continental Divide National Scenic Trail is without a doubt a Colorado classic. Driving across Trail Ridge Road alone offers impressive views, but backpacking through Rocky Mountain National Park is where the real bliss is. Waterfalls, mountain meadows, and wildlife—including elk and moose—are scattered along the trail, unveiling new views around every bend. Begin at the Tonahutu Creek Trailhead just outside of Grand Lake and follow the loop counterclockwise. Link the Tonahutu Trail with the North Inlet Trail for a glorious 25-mile loop with classic scenery of Longs Peak and views from summit of 12,362-foot Flattop Mountain.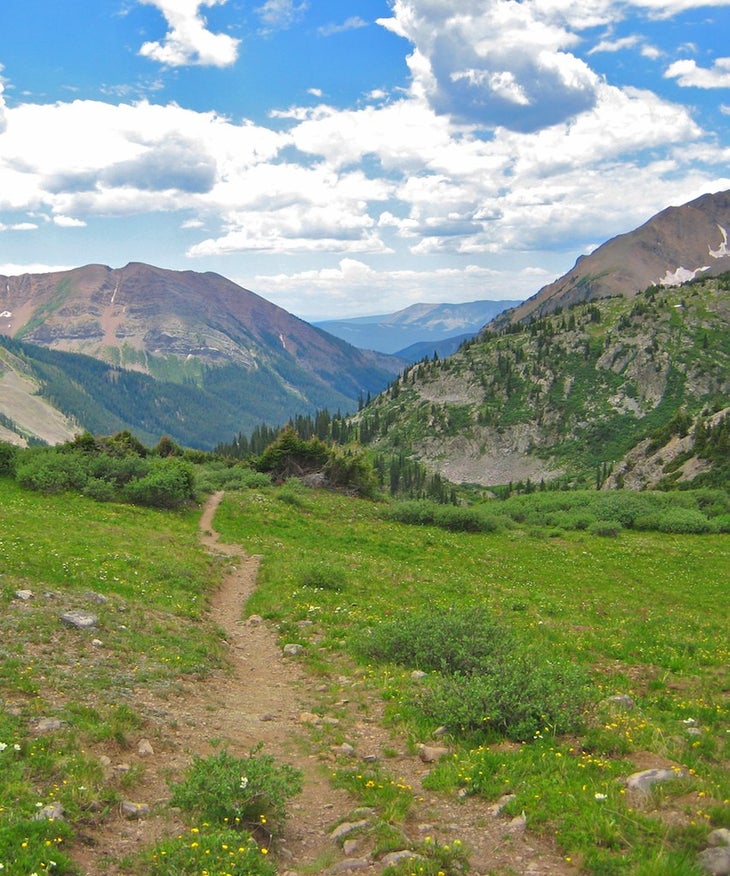 5. Aspen to Crested Butte via East Maroon Pass, Maroon Bells-Snowmass Wilderness
Trailhead: Maroon Lake
Mileage: 14 (point-to-point)
Elevation gain: 3,091 feet
Distance from Denver: 4 hours (to Aspen)
Any hike near the Maroon Bells is popular, and for good reason: Few places in the state are more picturesque than the ruggedly beautiful Elk Mountains. Dodge the crowds of Aspen's most popular trails and hike from Aspen to Crested Butte via East Maroon Pass for equally jaw-dropping views. (Expect to still see other happy hikers along the trail—you are still in the Maroon Bells-Snowmass Wilderness, after all.) Split the 14-mile trek into two days, camping on the Crested Butte side of East Maroon Pass near Copper Lake. Shuttle back to Aspen from Crested Butte (after grabbing grub at Teocalli Tamale, of course) or return on the extra-scenic route by hiking back to Aspen via West Maroon Pass.