Denver, CO: Beaver Brook
One of the Front Range's best hikes, this 10.1-mile point-to-point offers solitude, mountain views, and a couple of thigh-burning climbs.
Heading out the door? Read this article on the new Outside+ app available now on iOS devices for members! Download the app.
This 10.1-mile point-to-point begins in Genesee Park and turns downhill toward Beaver Brook—there's a set of steep downhill switchbacks at mile 1—and follows the bottom of the river briefly before turning up the route's first major climb. There is a rest-worthy rocky outcropping at mile 1.8, but the trail winds along the hillside past several outcroppings offering equally great views of Clear Creek, Centennial Cone and distant, snow-covered peaks.
There is another major climb just before mile 6, but near the top of the hill, you'll catch motivating views of Golden's radio towers and Lookout Mountain. Beaver Brook Trail's eastern reaches are rocky and there are a few hand-over-hand and stone-hopping sections through outcroppings before the trail hits Windy Saddle. The final 2 miles follow well-worn multi-use trails though Chimney Gulch, skirting several houses and crossing a flood-control ditch before ending at the trailhead lot off US-93.
Drop a shuttle car if you can, but if you're planning this hike as an out-and-back consider starting at Windy Saddle and hiking west (uphill) first, or adding the Gudy Gaskill trail loop as a turn around.
-Mapped by Kristy Holland and Lisa Ventimiglia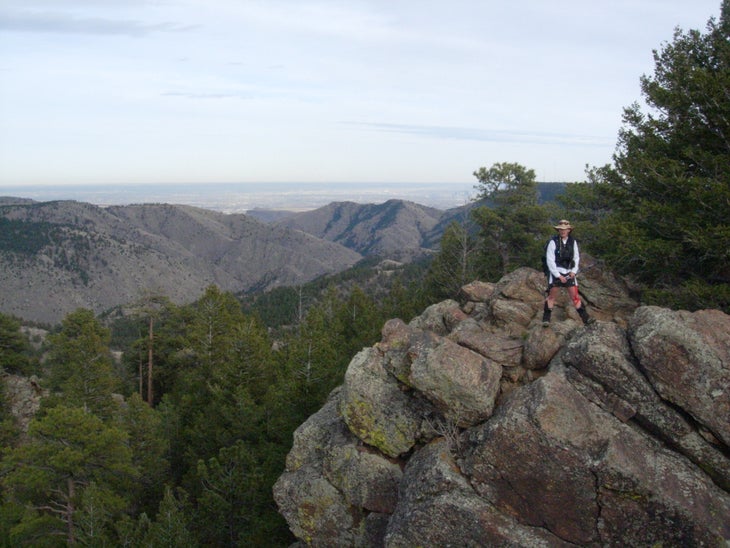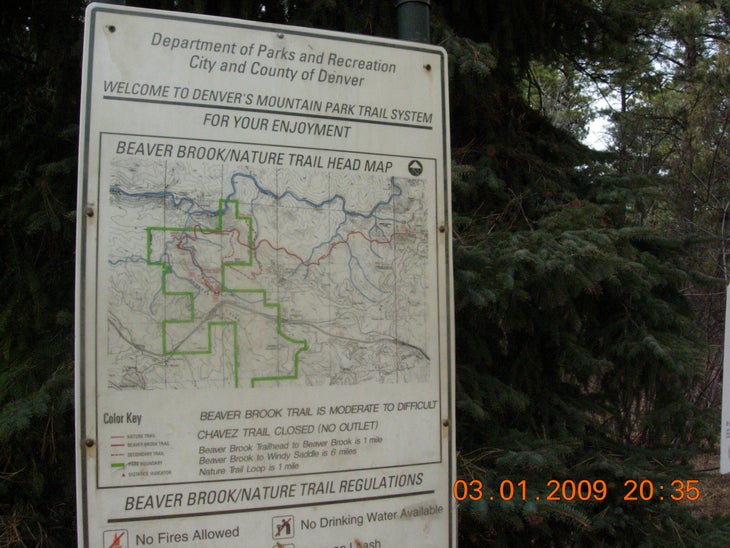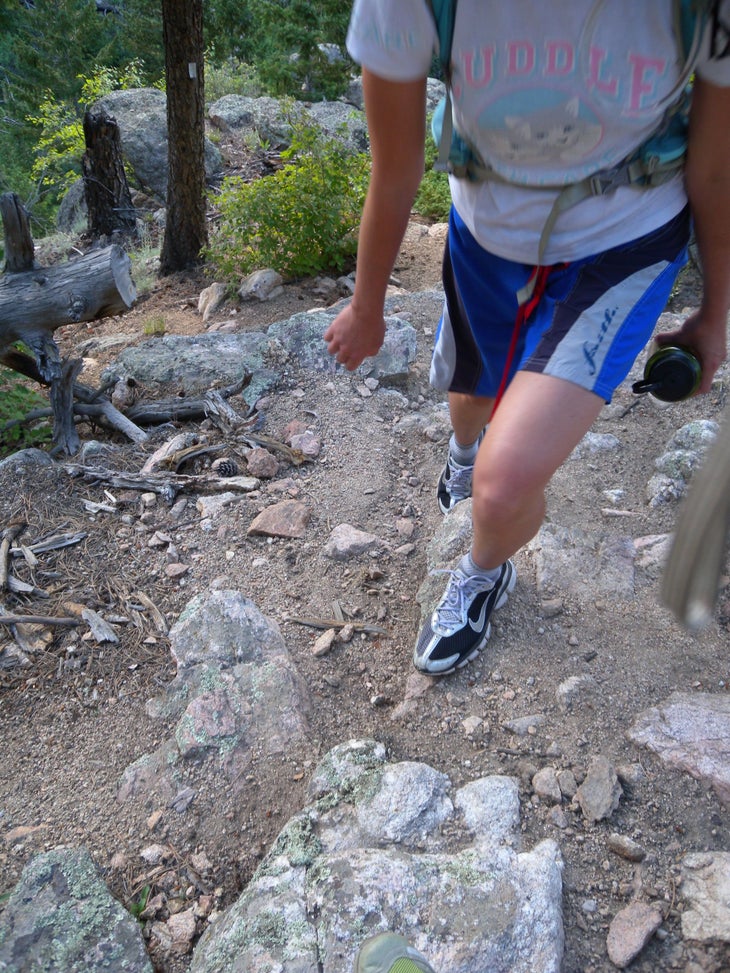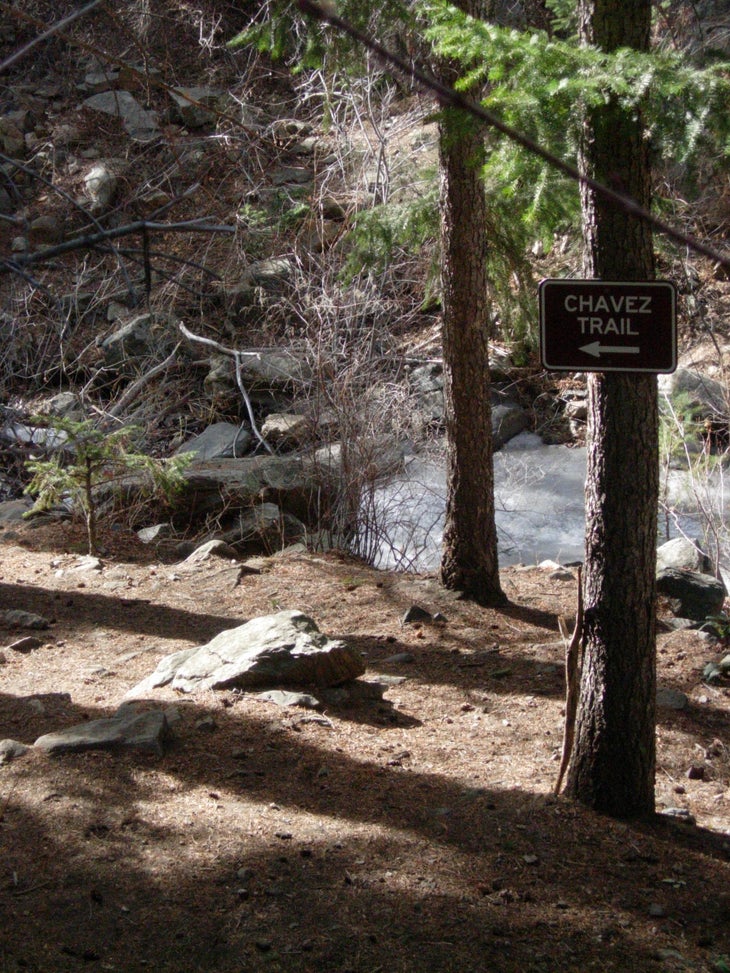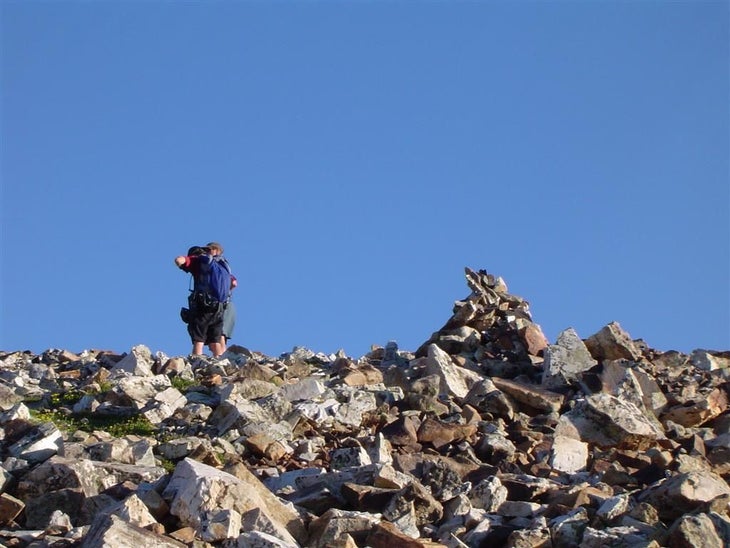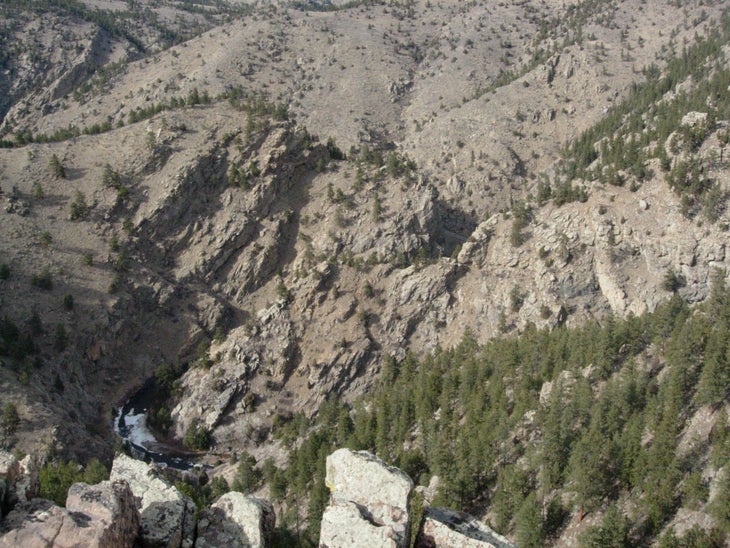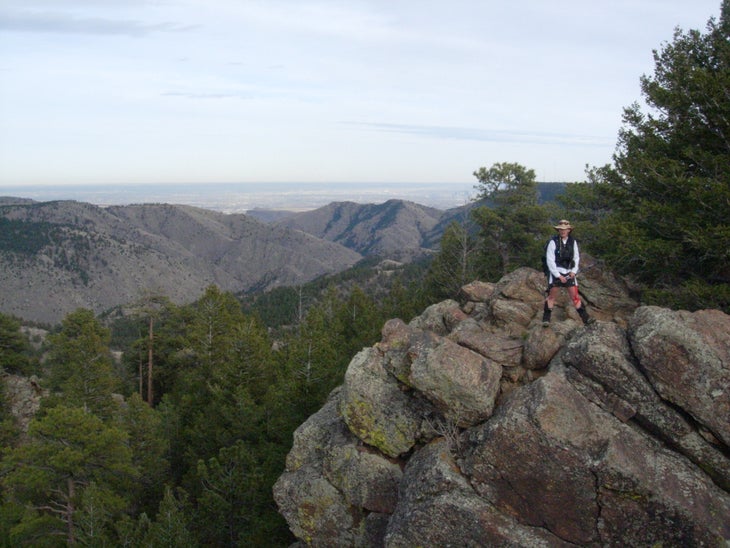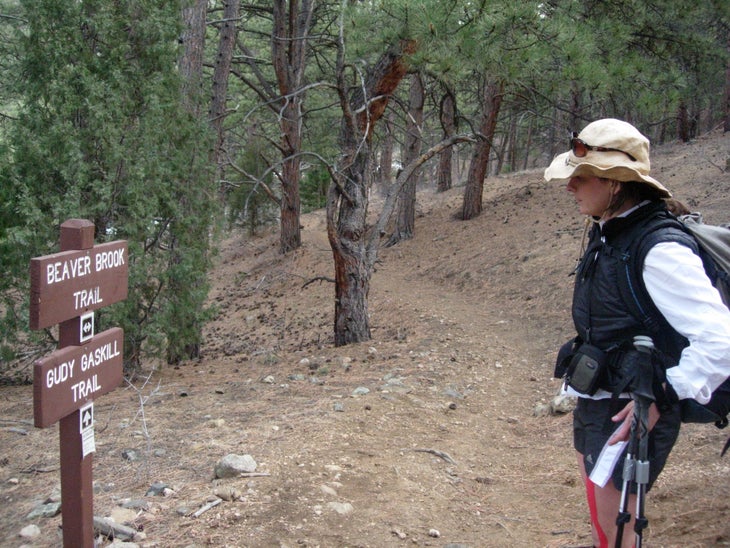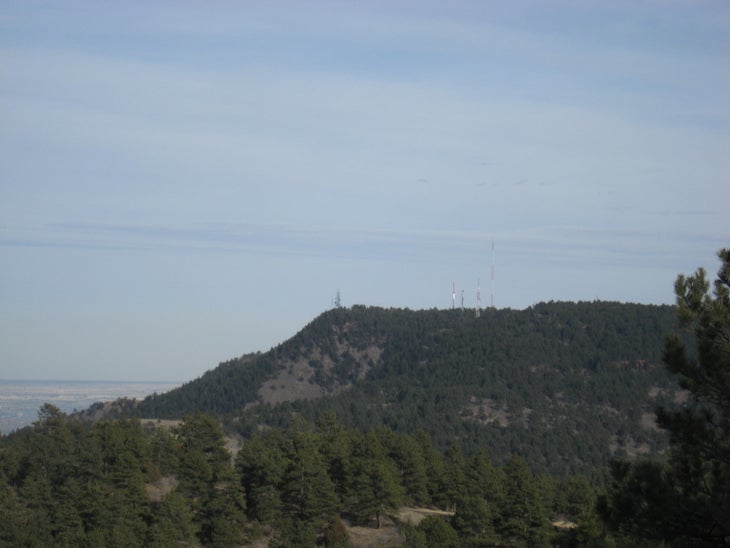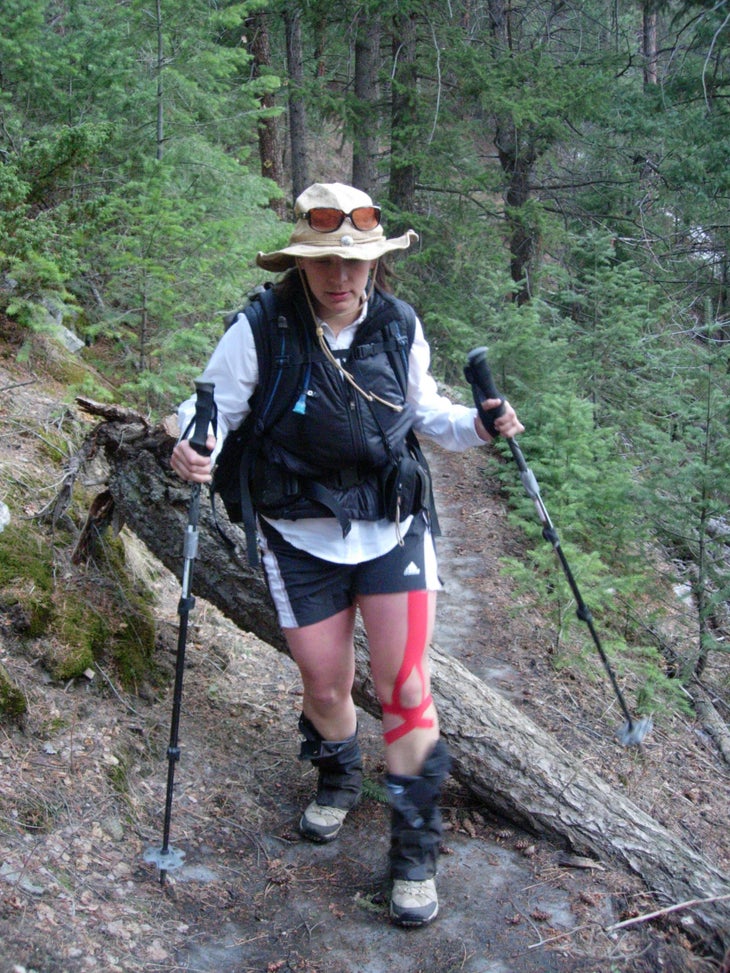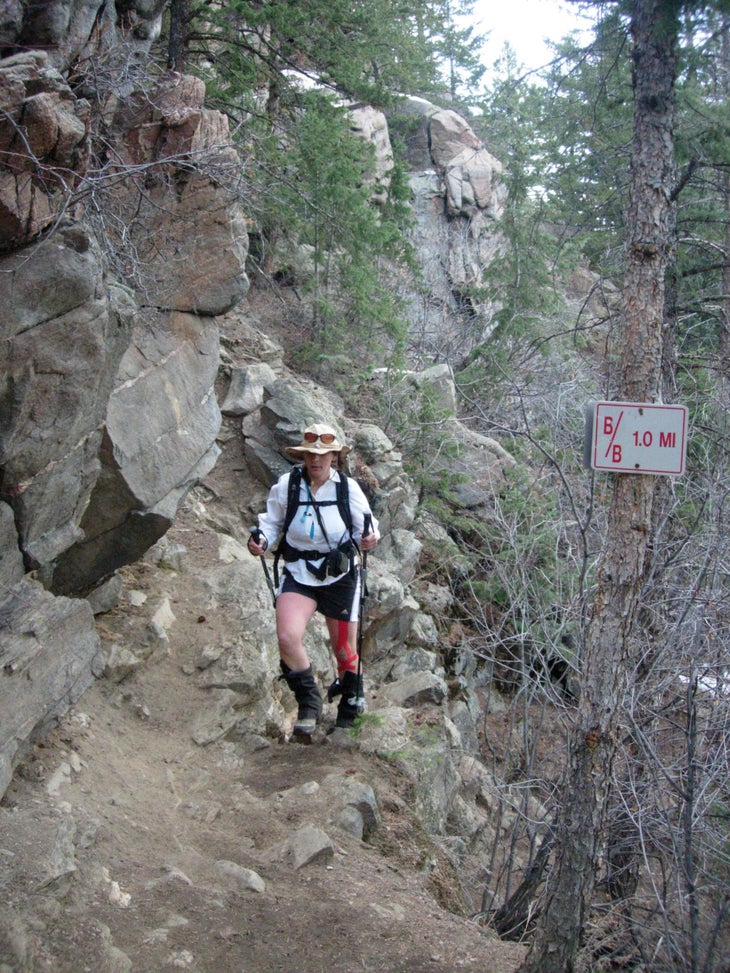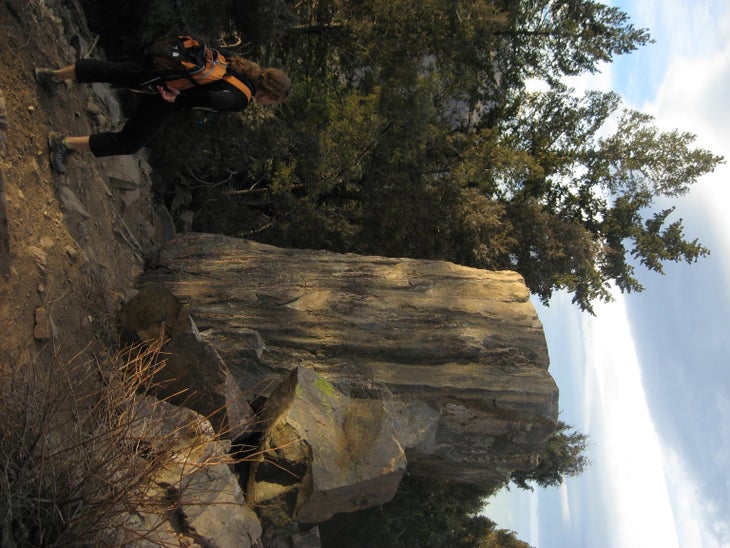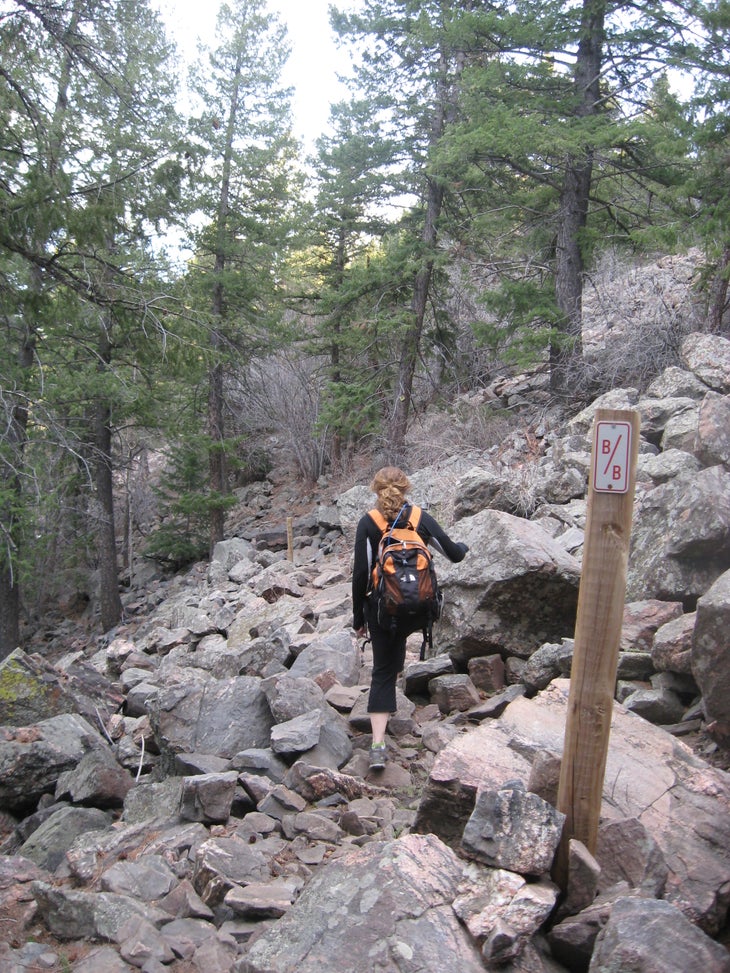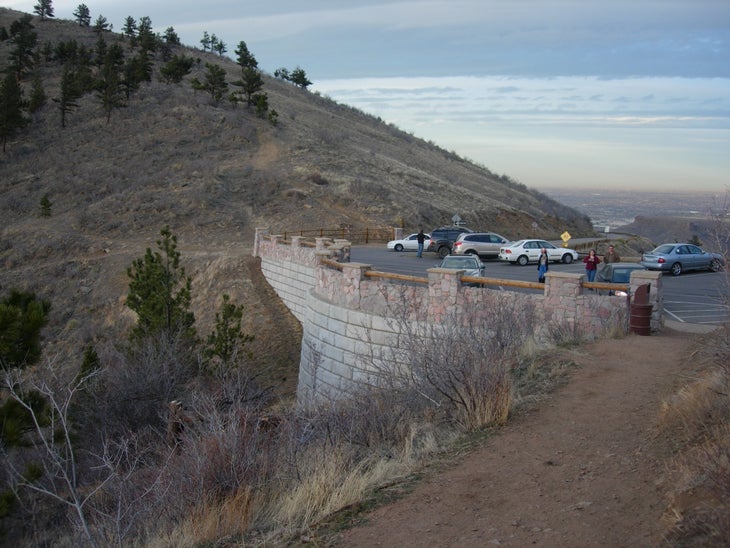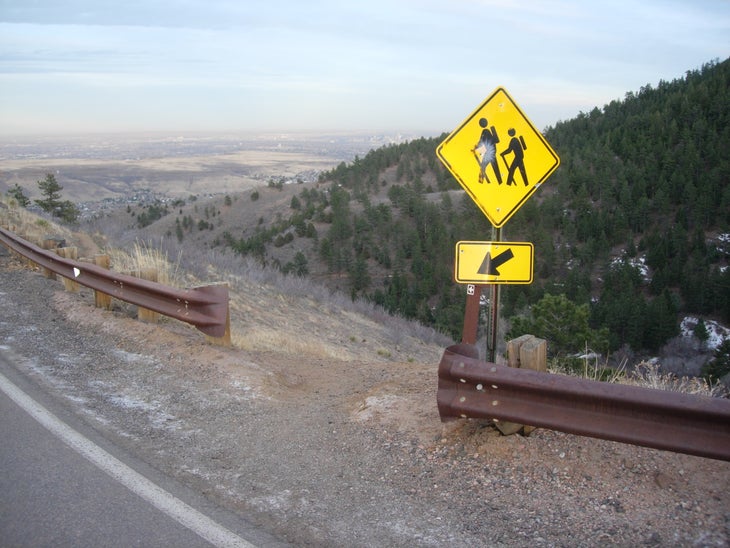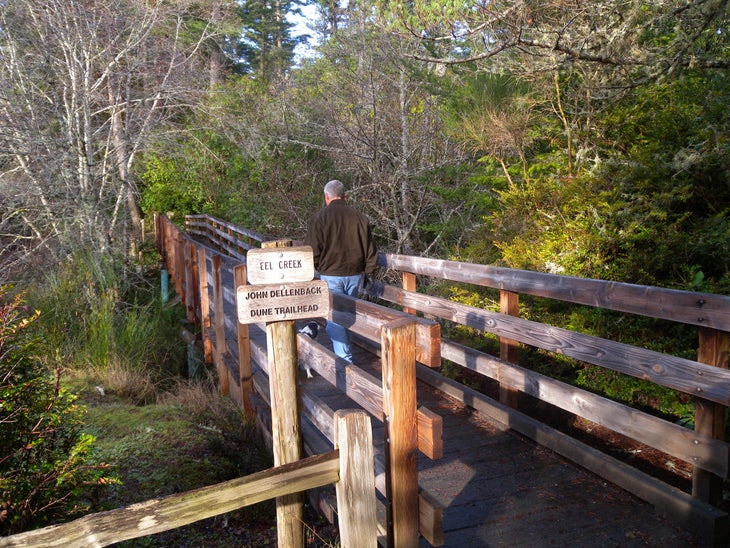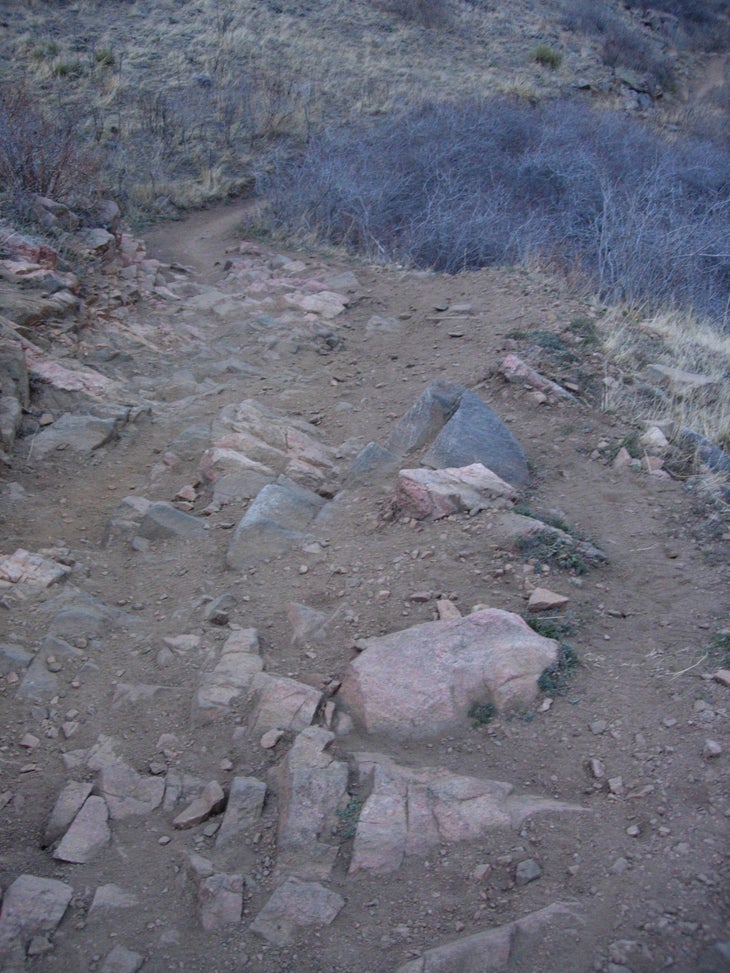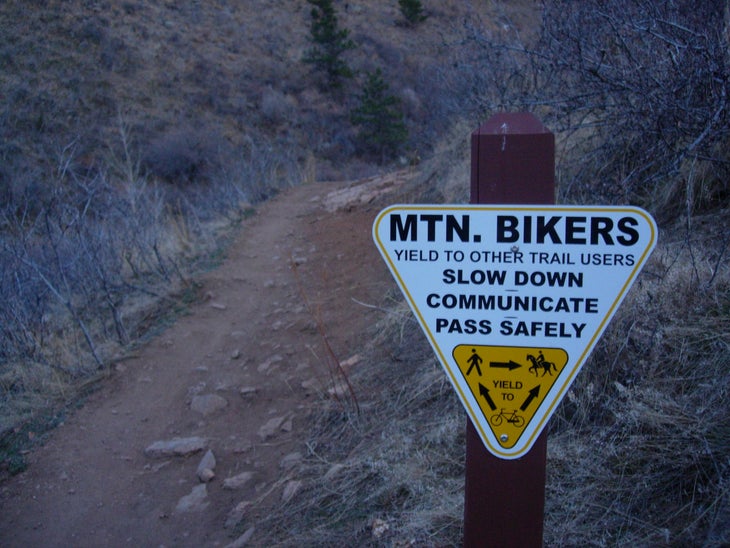 Trail Facts
Waypoints
BBT001
Location: 39.7161663, -105.3107357
Though relatively low elevations make this trail accessible much of the year, the road is closed below this point during winter. Expect to trek an additional 0.6 mile if the main trailhead is off limits.
BBT002
Location: 39.7199085, -105.3182864
Follow either branch of the Nature Trail downhill from the trailhead. The upper branch is dotted with interpretive signs, but both lead downhill to the beginning of Beaver Brook.
BBT003
Location: 39.7218817, -105.3197602
Bear left just before the picnic area and descend a steep set of steps. This marks the end of the nature trail and the beginning of the Beaver Brook Trail. Look for red and white blazes marking the way.
BBT004
Location: 39.7312302, -105.3265715
Stay straight at this 3-way junction with the Chavez Trail. This flat, signed section of trail follows the river for a few minutes and rolls over a rocky face before turning right, uphill and into the woods.
BBT005
Location: 39.7312234, -105.3245439
It's possible to jump the distance across this rocky creek. The trail is marked on the creek's far side and heads uphill to the right. In this area, you'll also see yellow diamond blazes in addition to the Beaver Brook ones.
BBT006
Location: 39.7334984, -105.3219053
It is over 500 feet from Beaver Brook's banks to this rocky outcropping at mile 1.85. Stop to rest, admire the view and peek at cars on US-6 just north of here. The trail continues uphill another 0.7 mile to the route's high point.
BBT007
Location: 39.732373, -105.3155422
A small bench flanks Charm Spring to the left side of the trail. The trail winds gently through relatively open forest and occasional rocky outcroppings with stunning views to the north across Clear Creek.
BBT008
Location: 39.7303969, -105.3059882
Stay straight on the Beaver Brook Trail at this mile 3 trail junction. The Gudy Gaskill Trail loops 2.48 miles toward Clear Creek Overlook and joins the Beaver Brook trail 0.75 miles east of here.
BBT009
Location: 39.7283305, -105.3024737
Follow the doubletrack uphill for 100 feet and turn left, back into the woods, up ahead.
BBT010
Location: 39.7281165, -105.2955274
The Gudy Gaskill Trail re-connects to Beaver Brook at mile 3.8. The trail continues gently downhill following the contour of the hill and dropping briefly into stream-cut ravines.
BBT011
Location: 39.7307278, -105.2698935
There are a few unstable logs thrown over this creek crossing at mile 5.8. From here, the trail heads up and to the left for one of the hike's toughest climbs.
BBT012
Location: 39.7344522, -105.2658462
After climbing out of the ravine, look east for your first glimpse of Windy Saddle, Golden and North and South Table mountains before the trail turns back into the woods. Signs up ahead indicate private property lines on both sides of the trail.
BBT013
Location: 39.7314882, -105.2575582
The eastern side of the trail gets increasingly rockier. Expect to use your hands to climb through several outcroppings.
BBT014
Location: 39.733759, -105.2504364
A 100-foot section of trail traverses a pile of rocky debris. The trail is marked by wooden posts on either side making it easy to pick your way across.
BBT015
Location: 39.7350627, -105.2485299
Continue straight at this 3-way junction to join the Lookout Mountain Trail headed toward Windy Saddle.
BBT016
Location: 39.7368036, -105.2453917
A busy overlook and a great place to watch the sunset, you'll reach Windy Saddle at mile 7.5. Continue across the road, head downhill for 150 feet and join the Chimney Gulch Trail to your right. Chimney Gulch follows the ravine to the trailhead.
BBT017
Location: 39.7400333, -105.2386888
Watch for mountain bikers and other users on this multi-use section of the trail. Up ahead, you'll see another small parking area and cross the road again for the final .8 mile to the trailhead.
BBT018
Location: 39.7447234, -105.2334452
After the road crossing, the trail borders a neighborhood. Turn left for a few feet on this dirt driveway and turn right to follow the switchbacking singletrack downhill to the trailhead.
BBT019
Location: 39.7504235, -105.2292824
This small gravel lot off Golden's main thoroughfare doesn't have any facilities and is approximately a 20-minute drive from the Genesee Park Trailhead.
Outcropping
Location: 39.7326856, -105.3088575
There are many outcroppings and viewpoints on this section of trail that look down toward Clear Creek and across toward Centennial Cone.
Map Kiosk
Location: 39.7199006, -105.3182459
Check the map for trail changes and rules before heading out.
Steps
Location: 39.7263116, -105.322019
Just after passing a restoration area, these steps precede a series of steep switchbacks leading down to Beaver Brook.
Chavez Trail
Location: 39.7311143, -105.3266458
The Chavez Trail is undergoing restoration and may be closed. Check trail conditions with park officials before exploring this route.
Cairns
Location: 39.7312096, -105.3244793
The trail up this river gully is marked with cairns near the crossing.
Outcrop View
Location: 39.7335446, -105.321883
Looking down toward Clear Creek and a sliver of US-6 in the notch between the north facing slopes.
Outcropping
Location: 39.7326856, -105.3088575
Gudy Gaskill
Location: 39.7303978, -105.3059895
The sign marking the junction of the Gudy Gaskill Trail.
Radio Towers
Location: 39.7300957, -105.2982473
The open field below the trail offers the first views of the radio towers atop Colorow Hill in Golden.
Deadfall
Location: 39.731001, -105.2702697
Though the trail is well maintained (and off-limits to horses and mountain bikers) there are occasional logs to maneuver around.
Mile Marker
Location: 39.7314773, -105.2575019
A mile marker near a rocky section of the Beaver Brook Trail.
Pillar
Location: 39.732901, -105.2527571
A hiker stops to admire the monstrous stone pillar alongside the trail.
Scree
Location: 39.7337426, -105.2504182
Wooden posts mark the trail across this 100-foot scree field near Beaver Brook's east end.
Windy Saddle
Location: 39.7366225, -105.2458247
This trailhead parking area is another nice place to park your shuttle car, you'll also shave 2 miles from the length of the hike.
Chimney Gulch
Location: 39.7371124, -105.2451393
On the north side of Windy Peak, this sign marks the access to Chimney Gulch. Watch for traffic as you cross the road.
Bridge
Location: 39.7354924, -105.2431113
The first of two wooden bridges in Chimney Gulch.
Rocky
Location: 39.7399554, -105.2387112
One of several rocky sections of trail through Chimney Gulch
Parking Area
Location: 39.7420735, -105.2357364
This small parking area is about half-way down Chimney Gulch.
Multi-use
Location: 39.7423601, -105.2347973
Right-of-way can be an issue on fast, downhill sections of the Chimney Gulch Trail. Be courteous and pass other users safely.