Denali National Park: Mount McKinley
Sample the perils of North America's tallest peak in this Q&A with mountain guide Mike Haugen. Plus, downloadable GPS coordinates and photos.
Heading out the door? Read this article on the new Outside+ app available now on iOS devices for members! Download the app.
Last spring, BACKPACKER outfitted Mike Haugen with a GPS and asked him to map an expedition to Alaska's 20,320-foot Mt. McKinley. He made two climbs: a successful ascent with clients up the standard West Buttress Route, and a storm-abbreviated attempt with friends on the more technical Cassin Ridge.
BACKPACKER: You've made four expeditions to McKinley. What keeps you going back?
MIKE HAUGEN: It's just so beautiful. It has everything other mountains have, only on a much bigger scale. It has bigger crevasses, fiercer weather, steeper slopes, even more sunlight.
BACKPACKER: Do you use GPS on the mountain?
MIKE HAUGEN: It's part of my standard guiding gear. I waypoint the whole route so I can keep traveling in a whiteout. It's a buffer—it gives me a little more margin of error.
BACKPACKER: What's your favorite view from McKinley?
MIKE HAUGEN: There's a spot just outside the 14,000-foot camp called Edge of the World. You can see all these classic, intense peaks—Hunter, Foraker, and so on—and you're looking down onto the Kahiltna Glacier, which sweeps out to the tundra where everything's so green.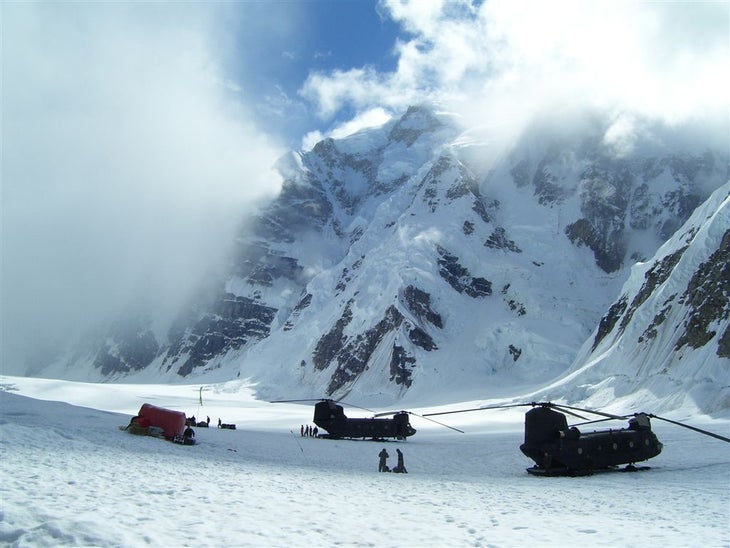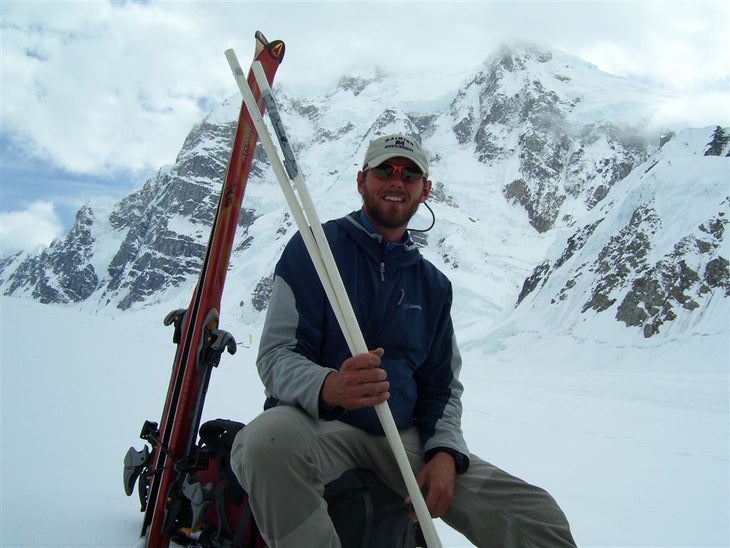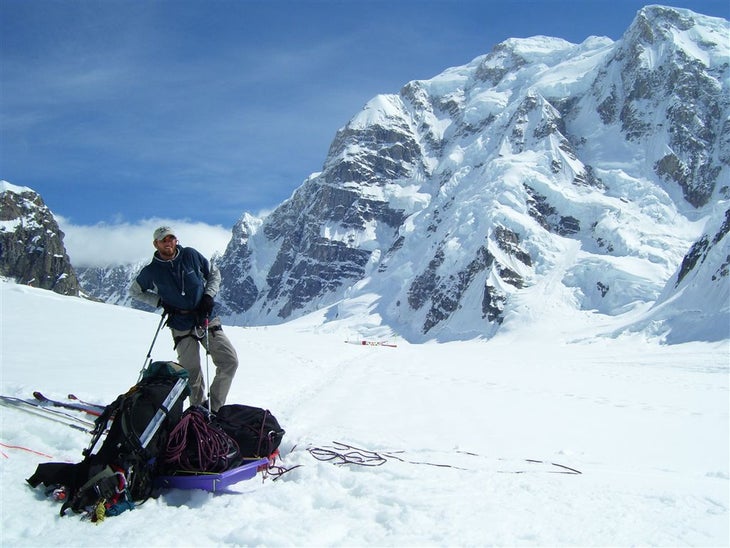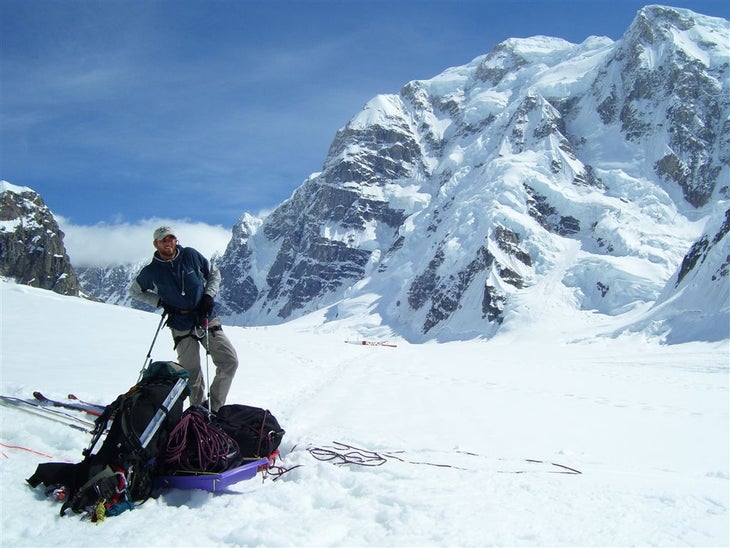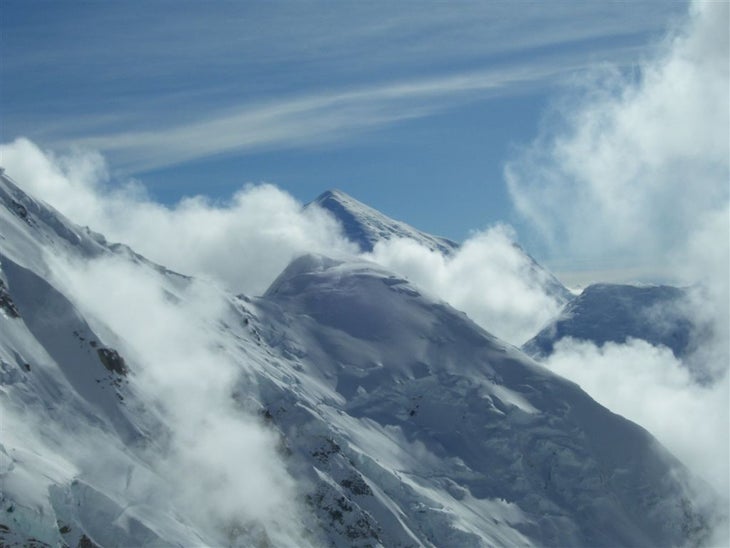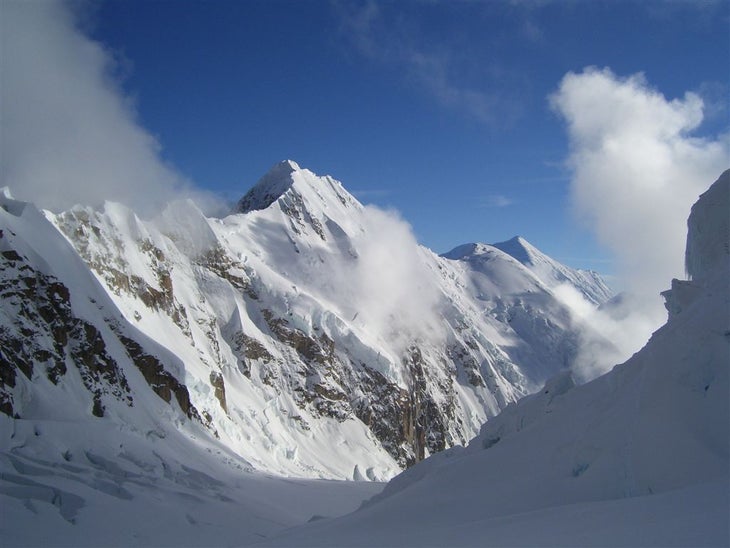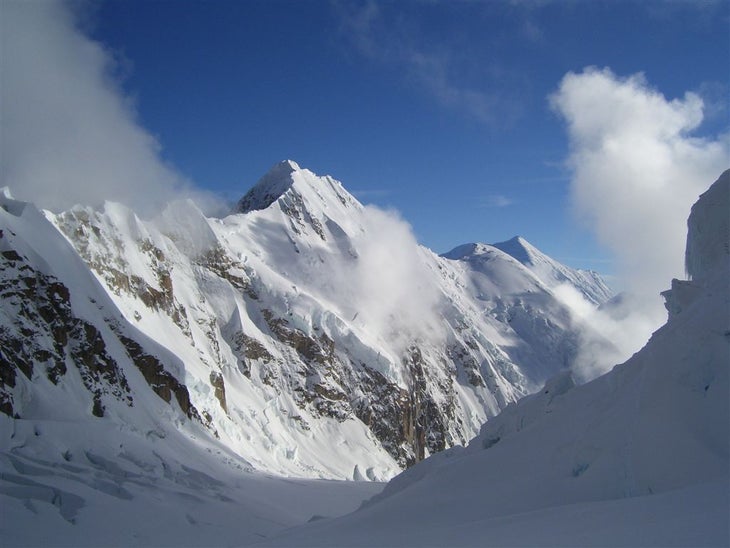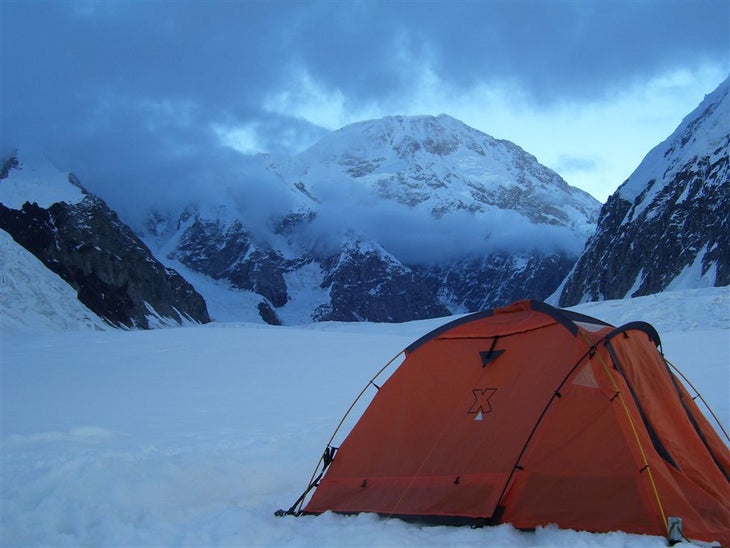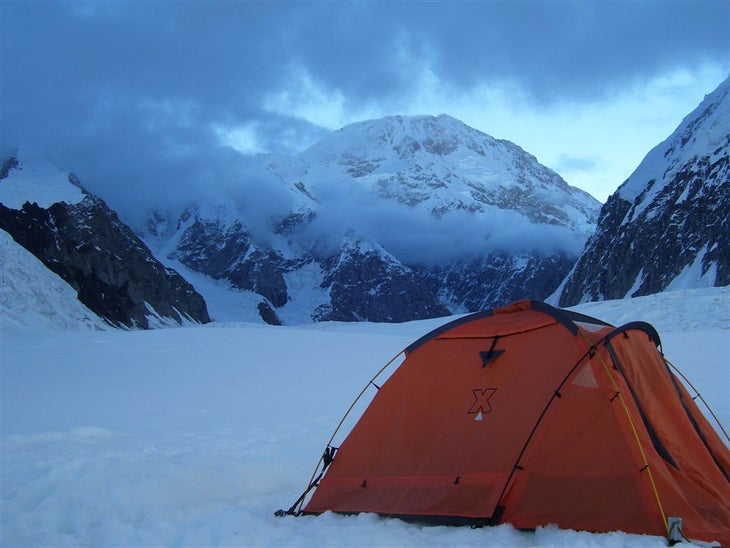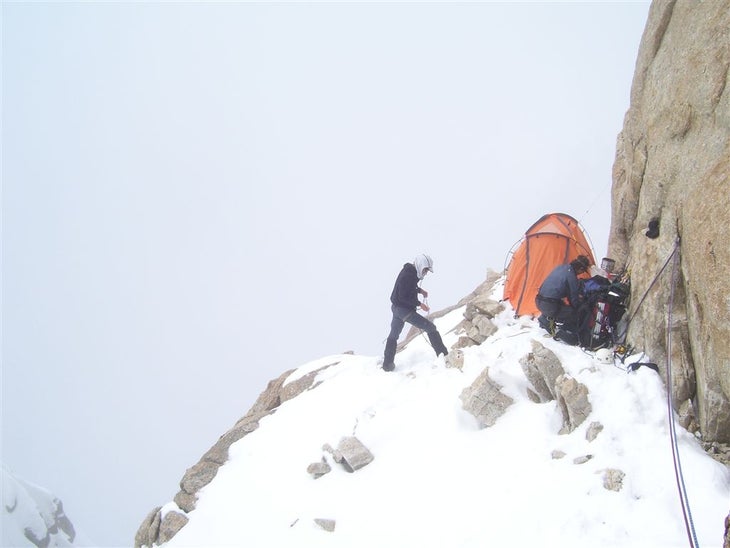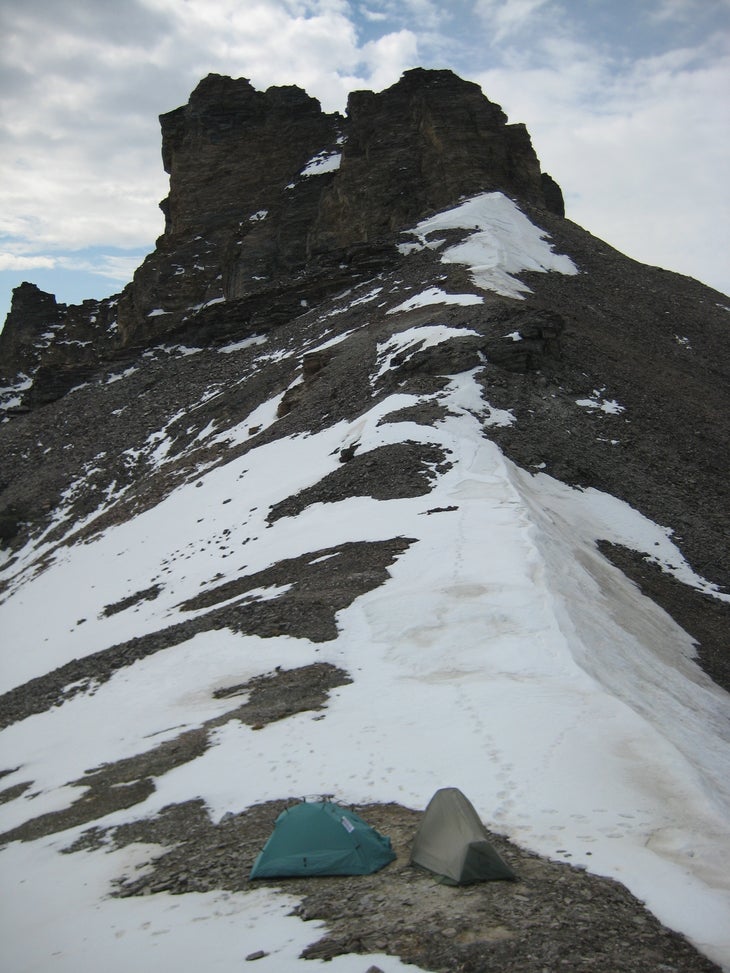 Trail Facts
Waypoints
Basecamp
Location: 62.968586, -151.175265
Mike at Basecamp
Location: 62.968742, -151.174407
Kahiltna Glacier
Location: 63.036324, -151.181831
Kahiltna Glacier
Location: 63.045468, -151.183891
Windy Corner
Location: 63.068024, -151.097546
Views east of Windy Corner
Location: 63.06989, -151.079693
Views east of Windy Corner
Location: 63.068957, -151.070766
Northeast Fork
Location: 63.042939, -151.070423
Northeast Fork
Location: 63.042277, -151.062956
Camp
Location: 63.047919, -151.031349
Camp
Location: 63.048327, -151.026843
WBR001
Location: 62.968508, -151.17578
Basecamp: Flown in by ski plane. For the West Buttress Route, head N on the Kahiltna Glacier. Or head E on the Northeast Fork Kahiltna Glacier for Cassin Ridge.
WBR002
Location: 63.001656, -151.199402
Kahiltna Glacier
WBR003
Location: 63.029162, -151.178806
Camp I (7800 ft.): This camp is well-protected in the middle of the Kahiltna Glacier.
WBR004
Location: 63.051594, -151.183167
Some climbers camp here to cut the distance between the camps at 7,800 ft. and 11,000 ft.
WBR005
Location: 63.065857, -151.178894
People tend to cache gear between this area and the top of Motorcycle Hill. Climbers typically haul gear from the 7800-foot camp and cache it near here in a deep snow hole, then return to 7,800 feet to sleep. This reduces the load when moving up to camp above ski hill or the 11,000-foot camp.
WBR006
Location: 63.075306, -151.168518
Turn corner before the base of the Kahiltna Pass.
WBR007
Location: 63.07444, -151.145493
11,000′ Camp: This camp is relatively protected although avalanches and icefall have historically ripped through the camp.
WBR008
Location: 63.075687, -151.136169
Motorcycle Hill: It's a steep ascent to reach the base of the West Buttress.
WBR009
Location: 63.072845, -151.124067
Long relatively flat traverse at the base of the West Buttress.
WBR010
Location: 63.070572, -151.115097
Beginning of hill up to Windy corner
WBR011
Location: 63.068211, -151.109009
Windy Corner is well-known for the unusal weather patterns that blow through. This spot on the mountain can have perfectly clear weather on one side and huge storms on the other. Caution: Rock fall is common.
WBR012
Location: 63.067924, -151.099625
Traverse along the base of the West Buttress towards 14000′ Camp. Many people cache gear along the route to shorten their "carry day" instead of hauling gear all the way to the next big camp. In summer, bottomless crevasses open up below.
WBR013
Location: 63.071293, -151.087524
Swing uphill to avoid the massive crevasse
WBR014
Location: 63.069702, -151.076004
14,000′ Camp: This is a "home away from home" camp. There is a medical tent, pit toilets, and room to spread out. Expedition teams spend time at this camp getting acclimatized to the thin air.
WBR015
Location: 63.07626, -151.073273
This point at 14,928 ft. is just below the fixed ropes section up to the West Buttress. The giant serac nearby is nicknamed the "eyebrow."
WBR016
Location: 63.08049, -151.071457
West Buttress: Many teams will carry gear and cache it at this mid-point between high camps.
WBR017
Location: 63.080444, -151.066925
This large rock is named after Bradford Washburn, a legendary explorer and cartographer.
WBR018
Location: 63.079849, -151.056473
17,000′ Camp: Most teams will start their summit bid from this camp. Expect high winds and lots of weather exposure. For this reason and the high altitude, teams generally don't hang out at this camp for very long.
WBR019
Location: 63.078865, -151.049026
Ahead is a long gradual traverse up and across slopes to Denali Pass.
WBR020
Location: 63.079933, -151.037277
The traverse continues on icy, steep slope. There are some anchors and snow pickets to put some running belays in.
WBR021
Location: 63.082954, -151.030777
A common place to take a short break
WBR022
Location: 63.076904, -151.033188
18,701′: The route runs up a couple of steep slopes past a battered weather station.
WBR023
Location: 63.071583, -151.021515
Football Field: This is a giant flat area where teams break before the final summit push. Some climbers drop their packs and only take warm clothes, water, food, and camera to the summit.
WBR024
Location: 63.069252, -151.015472
Summit Ridge: Sparse oxygen and bitter cold adds extra challenge on the knife-edge approach to the top of North America. This last approach gets your adrenaline pumping.
WBR025
Location: 63.069256, -151.006622
Mt. McKinley (20,320 ft.): Icy peaks scrape the skyline and clouds drift below. The cold air is thin and harsh on the lungs. Take several glory photos and begin 13,000-foot, multi-day descent back to camp 1.
LWR001
Location: 63.068306, -151.06369
From 14,000′ Camp, head E on the Lower West Rib, an advanced route with many large, and tricky-to-navigate crevasses.
LWR002
Location: 63.068102, -151.056175
Keep moving up the slope and traverse towards the rock of the West Rib.
LWR003
Location: 63.062309, -151.053429
There are several notches that will allow you to get from one side of the ridge to the other. Some are much steeper than others.
LWR004
Location: 63.062037, -151.052055
Rib Cutoff: Search for the best way to gain access to the other side of the ridge.
LWR005
Location: 63.058693, -151.05257
This is a common camp for people ascending the West Rib. You can tuck a tent or two near the bergschrund to offer a bit of protection.
LWR006
Location: 63.053463, -151.057465
Use the rocks as a visual "handrail" so that you do not get downslope too far.
LWR007
Location: 63.050518, -151.061401
This airy camp is little more than a flat spot before the snow drops onto several different cliffs. Fantastic views!
LWR008
Location: 63.047974, -151.063477
Rap Rib: Rappel down the large couloir towards the bottom of the West Rib. The snow/ice slope is steep (60 degrees) and hard. In a pinch, there is a small area for bivy on the top of the couloir.
LWR009
Location: 63.0462, -151.057449
This is the bottom of the West Rib access couloir. The glacier is quite broken up here and rock fall and avalanche are a major concern. Move swiftly but safely.
LWR010
Location: 63.045993, -151.049094
This area requires superb crevasse navigation (i.e. shucking and jiving) skills. From here, go W back to basecamp for the air taxi. Or, continue E on wrinkled glacier and pick up the Cassin Ridge route (your next point is CRR006).
CRR001
Location: 63.039932, -151.141342
The exit on or off the Northeast Fork of the Kahiltna Glacier.
CRR002
Location: 63.043697, -151.112732
Lots of amazing ups and downs illustrate how big the glaciers in Alaska actually are (9,022′).
CRR003
Location: 63.044704, -151.084824
Glacier travel skills are pushed to the max in this cravasse-filled terrain.
CRR004
Location: 63.042912, -151.066467
On the return to basecamp, this ice cliff required a long rappel into a cravasse and then a climb back out of the other side.
CRR005
Location: 63.042568, -151.065063
This ice fall area is a major hurdle going up the northeast fork or walking out, especially later in the season.
CRR006
Location: 63.047901, -151.031616
This is a relatively protected camp below a bergshrund just below the entrance to the Japanese Couloir. This camp can be nerve-racking when major snowfalls trigger huge avalanches.
CRR007
Location: 63.048298, -151.028015
Just past the crux of the Japanese Couloir, you can take your pick at a 80-degree ice slope or a 5.6 mixed climb with snow and ice in alpine boots.
CRR008
Location: 63.048302, -151.027176
This narrow rock ledge barely has enough room to prop up a two person tent. Warm weather triggered huge avalanches near Cassin Ledge, forcing our map scout's team to retreat. Note: The rest of the route from here to the summit was not mapped.