Delta Mountains, AK: Castner Glacier
Witness the effects of climate change on a challenging trek in the Delta Mountains.
Heading out the door? Read this article on the new Outside+ app available now on iOS devices for members! Download the app.
There's more to the Alaska Range than Denali National Park and its heavily regulated backcountry: Discover equally impressive sections of Alaska's namesake range east of the park's main entrance. There you'll find the Delta Mountains, with a million acres of lower-elevation but equally glaciated peaks.
This 20.5-mile round-trip up the Castner Glacier takes you into the heart of it all. In addition to stunning views of soaring ridgelines and glacial icefalls, you'll also get a firsthand look at the profound effects of climate change. The Castner Glacier is losing ice mass rapidly, literally collapsing in on itself, and much of the central glacier has become a deep trench with water flowing between icy, muddy banks.
The route begins from asphalt roadside along the Alaska Pipeline, and climbs up massive glacial moraines of the Castner to the spectacular cirque of the Silvertip Icefield. There's no trail to follow, and simple routefinding mistakes can cost you time and effort (download our field-scouted GPS tracklog to eliminate the guesswork). Despite being almost entirely on the glacier proper, the trip does not require crampons, ice axes, or ropes, because most of the ice is bare and hard with minimal crevasses, or buried entirely under moraine rubble. You will, however, need good fitness, cross-country routefinding skills, and bear awareness–grizzlies prowl the alder and willow thickets of the lower glacier.
Begin by walking away from the highway up a fading roadbed on the left/north side of Castner Creek. Within a half mile you'll encounter the glacier toe, where the creek emerges from beneath a hard ice wall. Climb up talus ramps left of the stream to the rim above, and begin working your way east-northeast toward an obvious 100-foot-high dirt cone a mile distant. From the cone, turn right; drop down across the deep slumping glacier center on mud, loose talus, and bare ice, then climb an obvious ramp to reach the vegetation-covered bench on the far side. Follow this bench east-northeast through willow thickets and across collapsing muddy ground, all of which overlies the ice.
By following the line of least resistance, you'll eventually encounter faint trail that appears and disappears. Follow it past several ponds and decent emergency campsites as the terrain flattens out and travel becomes easier. After 7.9 miles you'll finally reach bare ice. A superb campsite sits atop the medial moraine here, with expansive views of all three upper forks of the Castner, and the blocky, ice-clad, 9,500-foot summits that surround it, like Silvertip, Black Cap, and White Princess. In good weather, this makes a superb base from which to explore the glacier-floored upper cirques.
The northern fork is short, but ends in a broad snow cirque beneath serac-draped icefalls on Mt. Silvertip. The southern, M'Ladies Fork can be traveled for at least seven miles without ice gear by following its medial moraines, but easy travel ends below a steep pass leading to the remote, 20-mile-long Johnson Glacier. The central/eastern fork leads into the Silvertip Icefield, which is surrounded by steep, cliffy walls and dominated by a view of the shining snow pyramid of White Princess.
In bad weather, you'll definitely want to check out the tiny Thayer Hut, located on a high isolated bench overlooking the glacier junction, and invisible from all approaches until the last 200 yards of a steep, loose talus ascent. This small, rustic, four-person Alaska Alpine Club hut offers superb views and an excellent refuge from storms, but it's amenities are limited to a Coleman stove, lantern, flat plywood floor, and dry roof. It is strictly first come, first served. Be prepared to share on weekends or holidays. When it was first finished in 1964, the Thayer Hut was only 100 feet above ice level; now, it's 400. At this rate of melting, the Castner Glacier, like many of its neighbors, could disappear within 50 years. But for now, it's one of the most stunning and easily accessed glacier basins in all of Alaska.
–mapped by Steve Howe
PERMITS: None needed, but use of the Thayer Hut ($1/person/night) requires advance contact with, and prepayment to the Alaska Alpine Club (uaf.edu/aac). We recommend an additional donation for hut upkeep and expanding the hut network.
MORE INFO: BLM Glennallen Field Office, 907-822-3217; blm.gov/ak/st/en/fo/gdo.html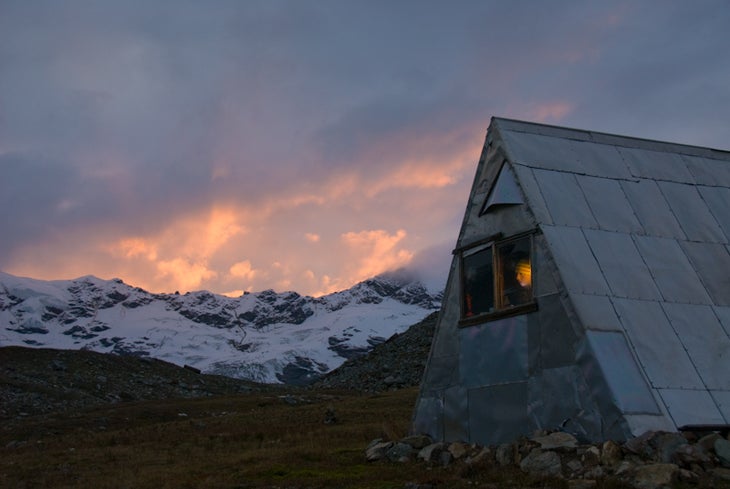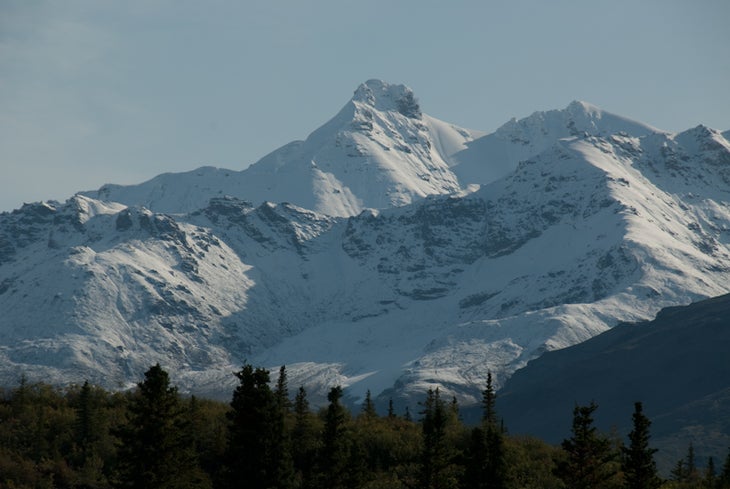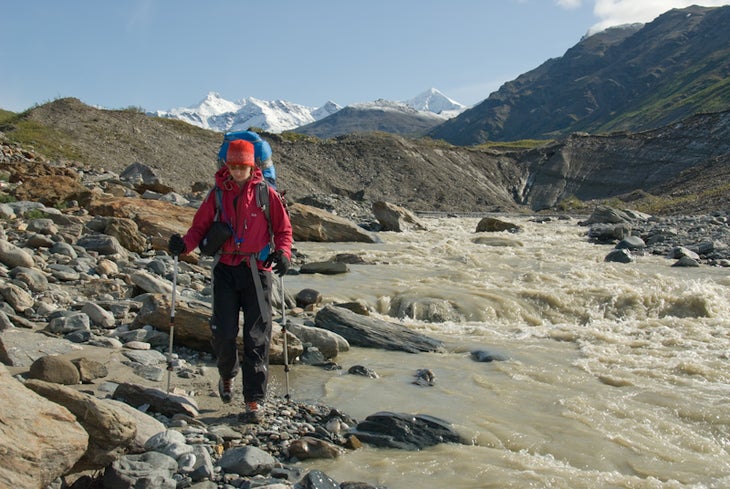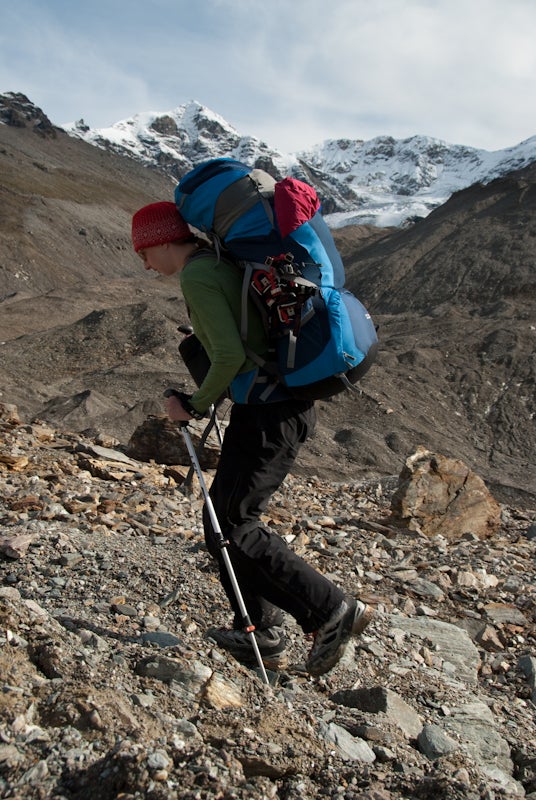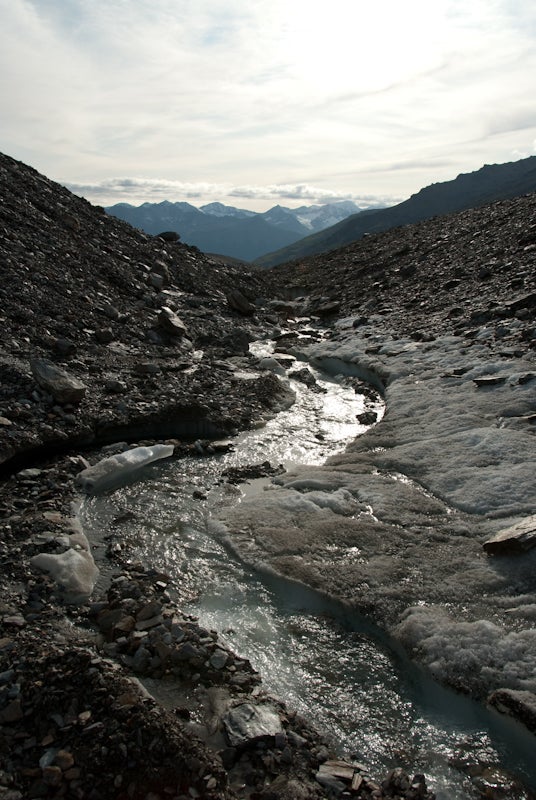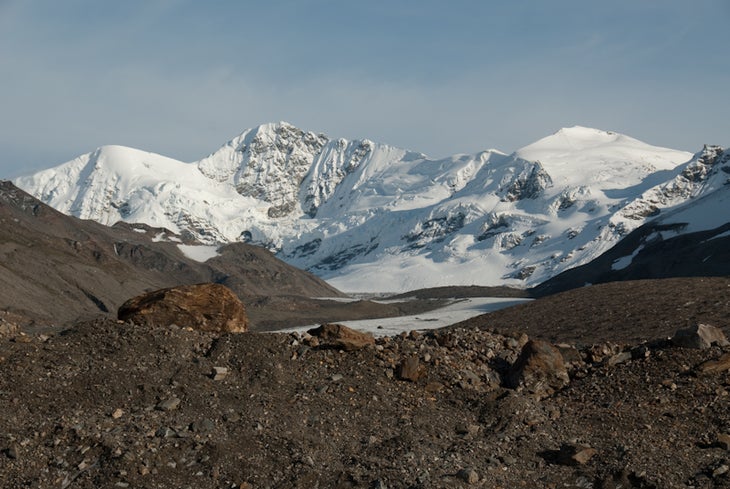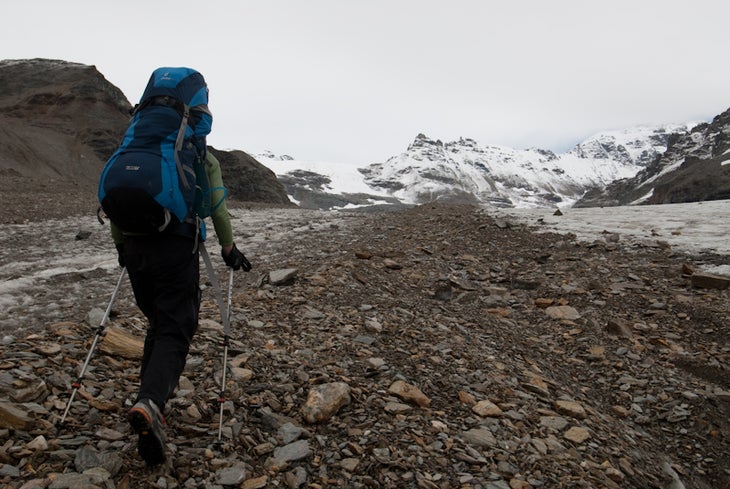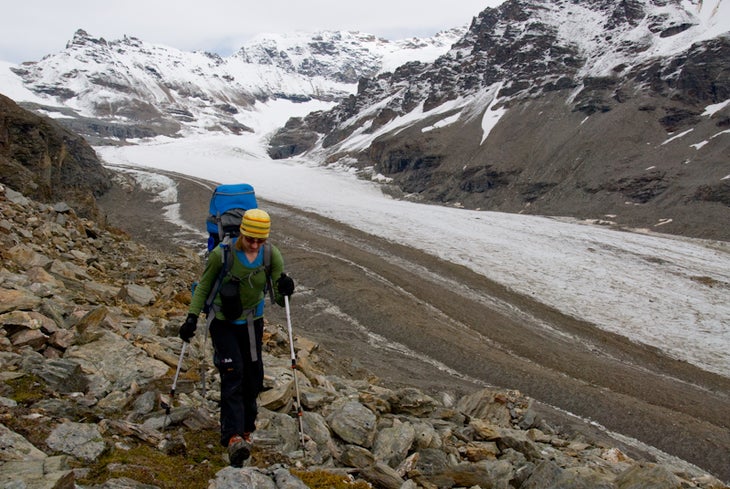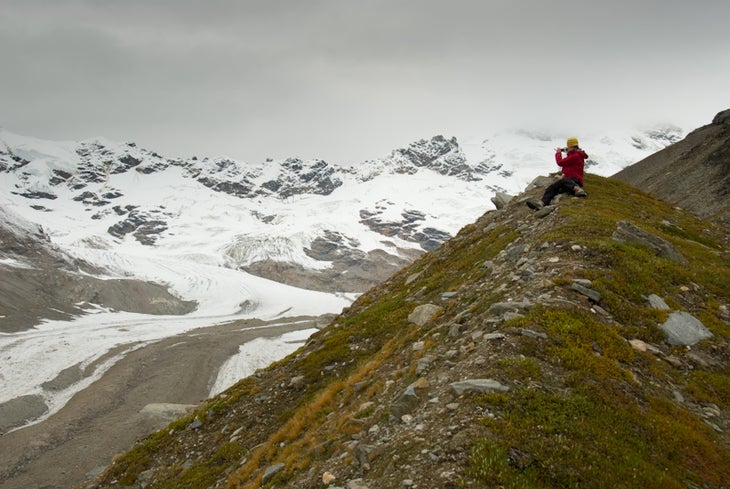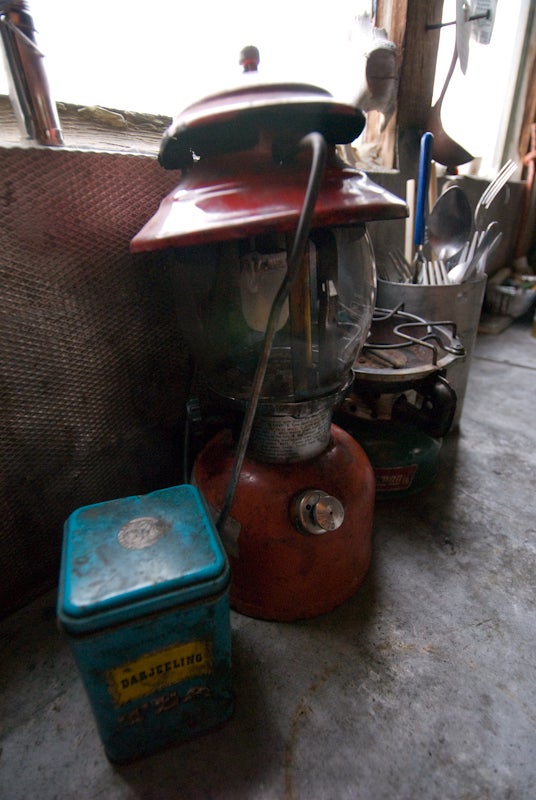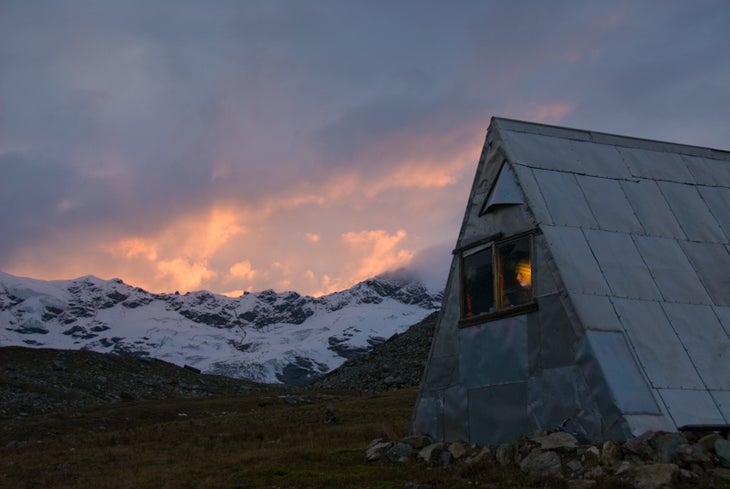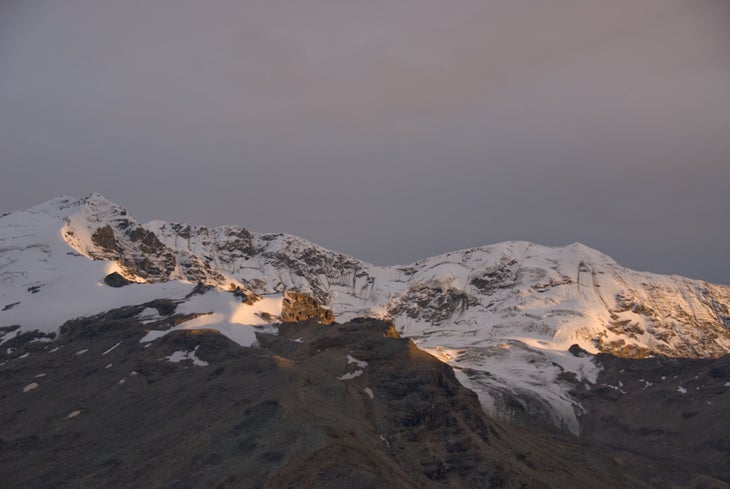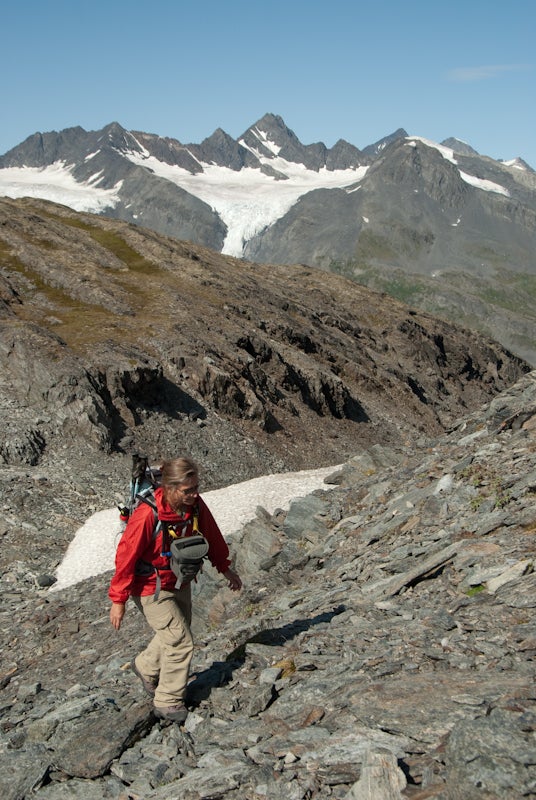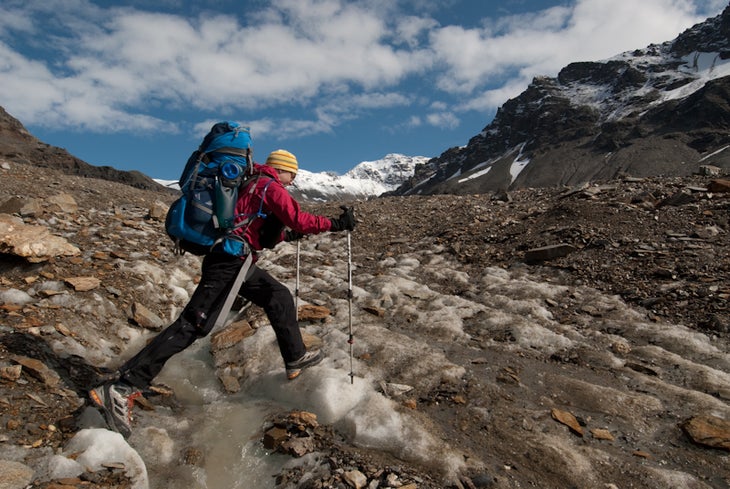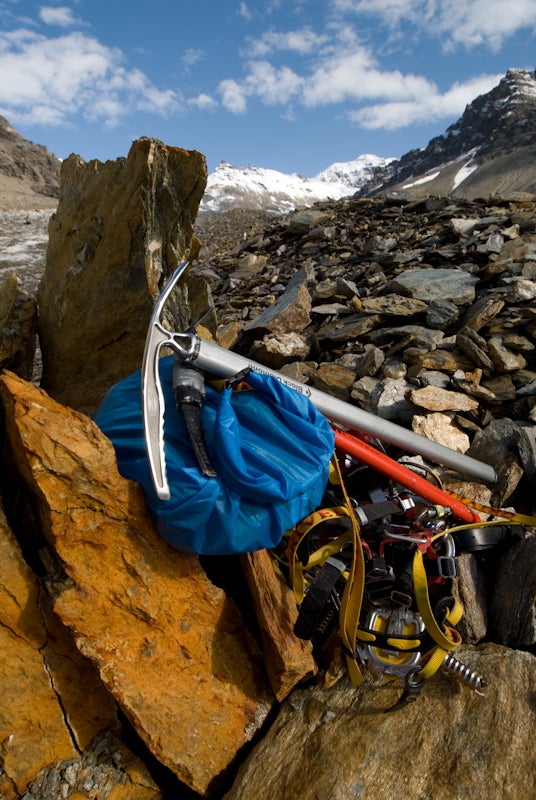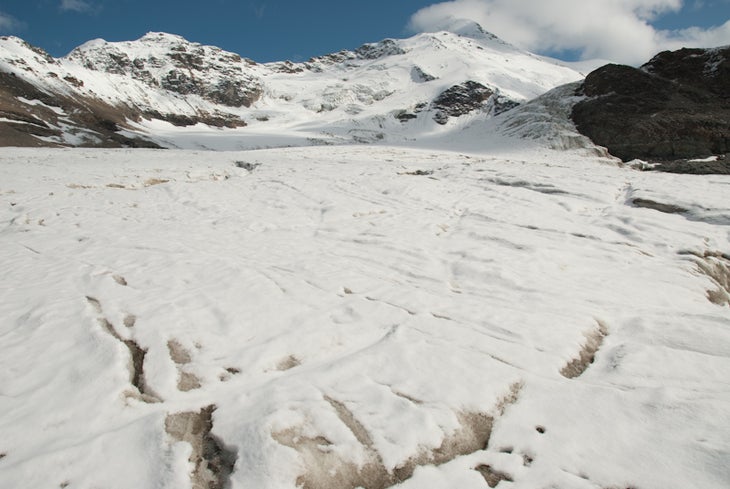 Trail Facts
Waypoints
WPT001
Location: 63.403874, -145.735576
Turn off Richardson highway just north of Castner Creek.
WPT002
Location: 63.404233, -145.727348
Parking pull-out. 2WD accessible.
WPT003
Location: 63.403191, -145.718647
Climb dirt ramp to Left/North of outlet stream.
WPT004
Location: 63.407609, -145.683286
Pass just right/South of obvious cone-shaped dirt peak. Turn right/SE.
WPT005
Location: 63.405078, -145.674532
Cross talus/ice valley and climb dirt ridge to rim of tundra bench
WPT006
Location: 63.406388, -145.661694
Intermittent trail appears through clearings in thick willows.
WPT007
Location: 63.407895, -145.656222
Possible campsite. Flat ground with nearby pools.
WPT008
Location: 63.41074, -145.64597
Trail appears again. Follow best as possible.
WPT009
Location: 63.41831, -145.616828
Water source in clear pools
WPT010
Location: 63.420651, -145.610201
Water
WPT011
Location: 63.432624, -145.576054
Good camping atop ice cliff
WPT012
Location: 63.437517, -145.544891
Beginning of bare ice. Walking much easier from here on.
WPT013
Location: 63.440084, -145.536909
Excellent campsite with good views all around on medial moraine at junction of glacier forks.
WPT014
Location: 63.452763, -145.523435
Turn left/north and begin rising traverse across steep talus/boulder slope to grassy bench 400 feet above ice.
WPT015
Location: 63.454296, -145.527874
Begin trending left across vague benches. Follow line of least resistance.
WPT016
Location: 63.452589, -145.536344
Thayer Hut. Perfect for two. Room for four. Minimum charge $1/night per person. Contact Alaska Alpine Club. Backtrack then continue north to icefield.
WPT017
Location: 63.464479, -145.493326
Silvertip Icefield. Top of medial moraine. Travel beyond here requires crampons, ice axes, ropes and harnesses.
Thayer Hut
Location: 63.452504, -145.535545
Snowy Peaks
Location: 63.401669, -145.735016
Silty Runoff from Castner
Location: 63.402591, -145.714417
Glacial Moraine
Location: 63.431782, -145.583954
Melting Glacier
Location: 63.437923, -145.542755
M Ladies Mountain
Location: 63.438844, -145.539322
Backpacker.com producer Katie Herrell enroute to glacier
Location: 63.444984, -145.531082
Climbing Toward Hut
Location: 63.454345, -145.529022
Rest Stop with Views
Location: 63.453271, -145.539665
Old Lantern in Thayer Hut
Location: 63.452351, -145.535202
Thayer Hut
Location: 63.452811, -145.535545
Alpine Glow
Location: 63.453732, -145.541039
Picking a Route
Location: 63.453578, -145.530739
Creek Jumping
Location: 63.450202, -145.525589
Ice Gear (not required for main route)
Location: 63.452811, -145.523529
Castner Glacier
Location: 63.46401, -145.495033