Delaware Water Gap National Recreation Area, NJ: Mount Tammany
Trek up 1,500-foot Mount Tammany for far-reaching views of the Kittatinny Mountains and the Delaware Water Gap on this 3.6-mile loop.
Heading out the door? Read this article on the new Outside+ app available now on iOS devices for members! Download the app.
Roughly 4 miles southeast of Stroudsburg, PA—where the western border of New Jersey meets Pennsylvania—the Delaware River flows through a mile-wide gap in the Kittatinny Ridge. Bordered to the west by Mount Minsi and to the east by Mount Tammany, the Delaware Water Gap is a 1,200-foot-deep gorge that attracts a wide variety of outdoor enthusiasts. Explore this dramatic landscape by foot on this 3.6-mile dayhike that traverses Mount Tammany.
From the Dunnfield parking area, the trail travels north, then southeast up Tammany's wooded slopes. Less than halfway to the top, stop at the overlook on the right for picture-perfect views of the Delaware River snaking around Mount Minsi's emerald-colored slopes. After 1.2 miles—and more than 1,000 feet of elevation gain—the southern half of the Kittatinny Mountains unfolds at a vantage point just below the summit.
From here, merge onto the Blue Trail, walking north through wide-open wooded area with knee-high bushes. Farmland and forests appear in the valley to the east. Shortly thereafter the route descends through the woods into a magnificent gorge known as Dunnfield Creek Natural Area. Trickling water and birdsong are the only noise here. (You'll also spot rock walls overrun with moss.) The loop follows the stream, paralleling the Appalachian Trail before finishing at the Dunnfield parking lot.
MORE PARK INFO: Delaware Water Gap National Recreation Area, (570) 426-2452; nps.gov/dewa/.
-Mapped by MacKenzie Ryan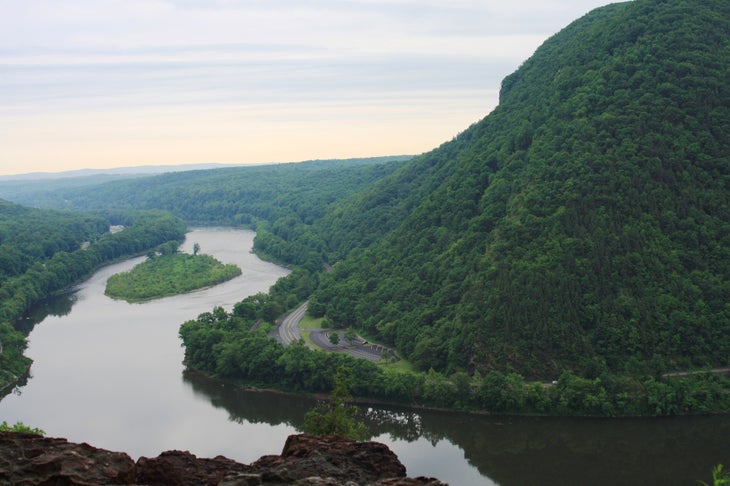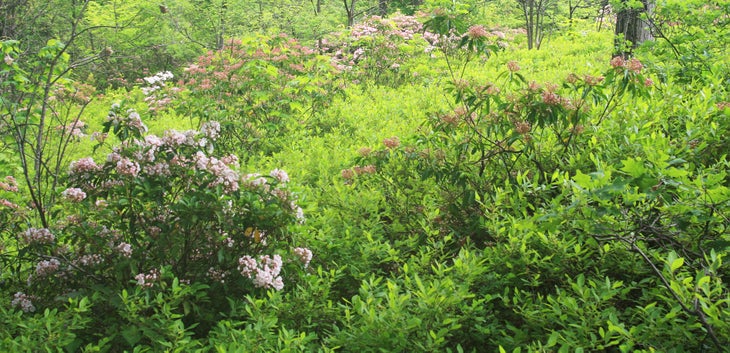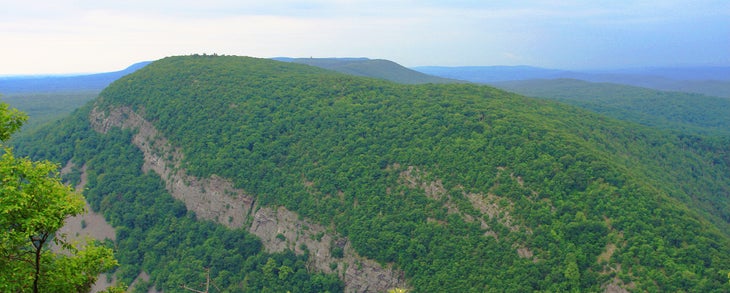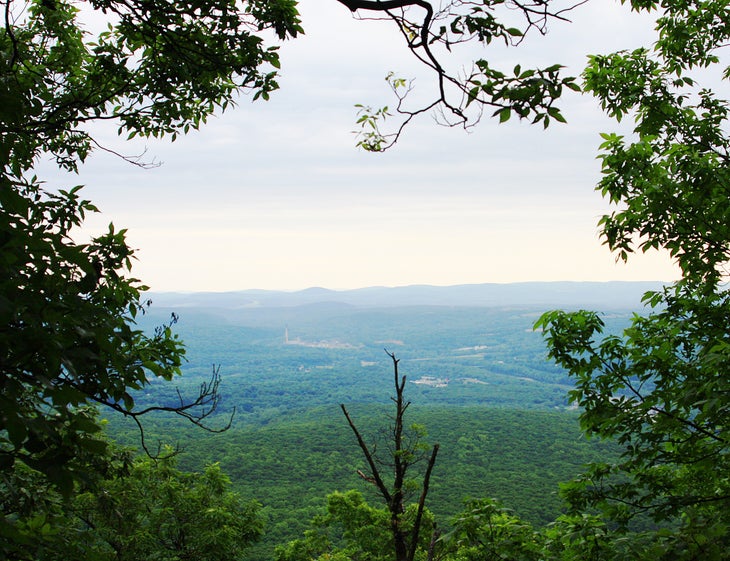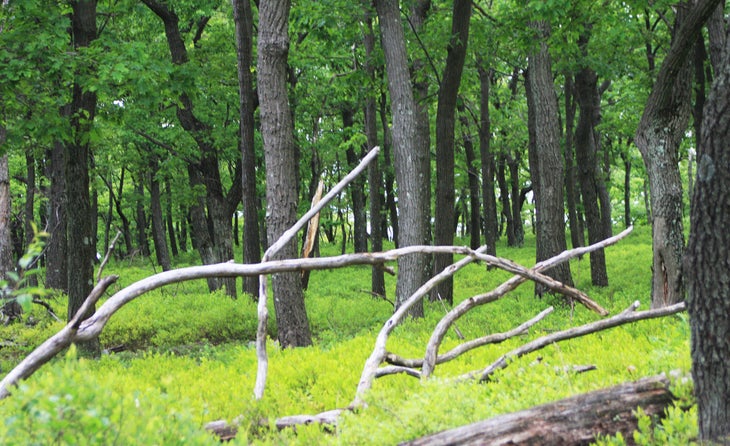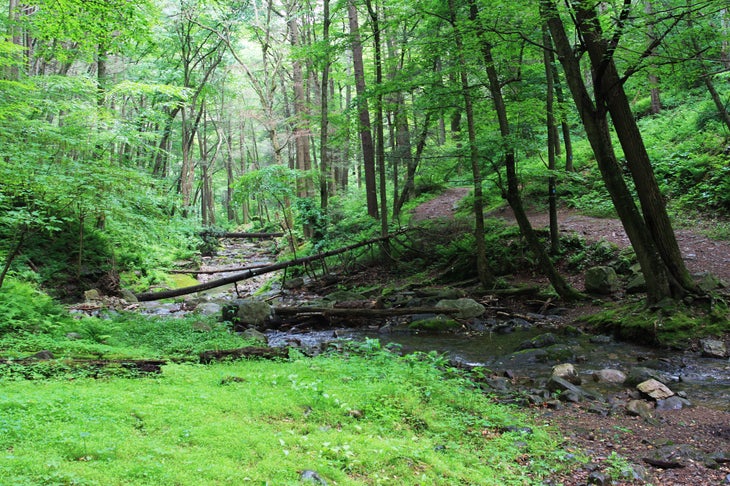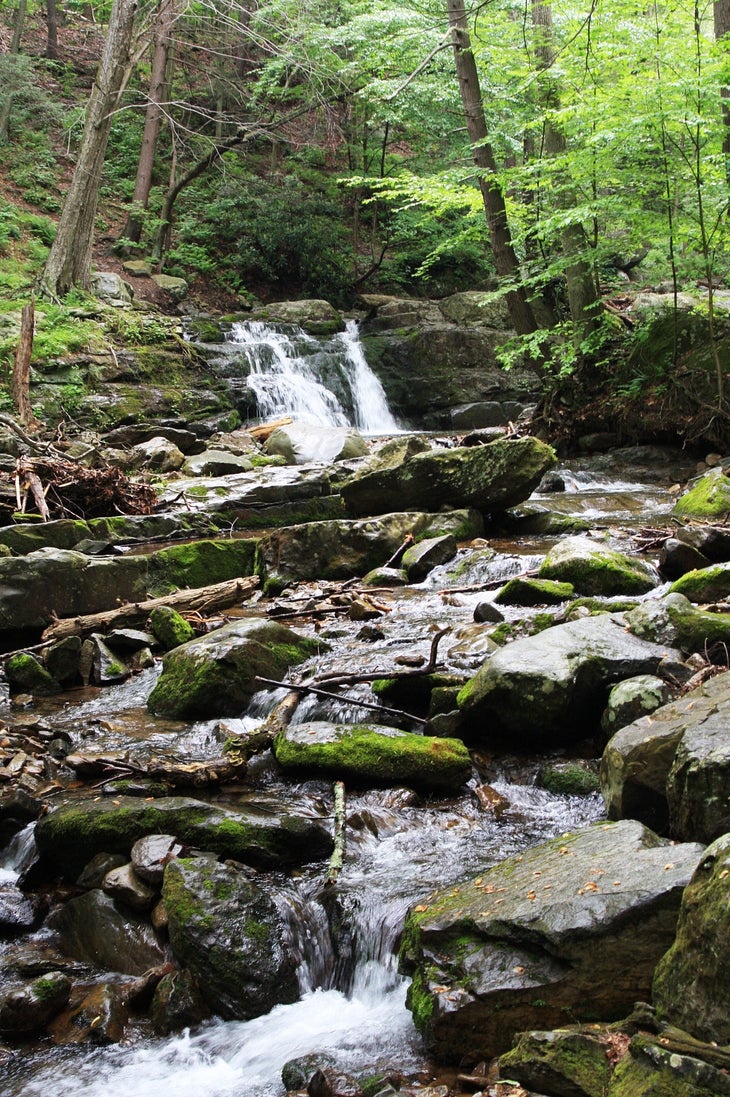 Trail Facts
Waypoints
TAM001
Location: 40.9716116, -75.1253486
Begin climbing from the Tammany Trailhead. The path is marked by red and white blazes.
TAM002
Location: 40.97208, -75.124576
After a short stretch over steps, continue straight @ the 4-way junction.
TAM003
Location: 40.9680473, -75.1130426
Take in views of the Delaware Water Gap from this vantage point located 700 feet from the summit. Next, turn left and follow the Blue Dot Trail, which skirts the summit.
TAM004
Location: 40.9701948, -75.108525
Turn left @ Y-junction, following the blue blazes.
TAM005
Location: 40.9779298, -75.1186967
Bear left @ Y-junction. Look through the trees 200 feet to the right for views of a rock wall.
TAM006
Location: 40.977637, -75.120067
Go left @ T-junction, following the Dunnfield Hollow Trail (green blazes).
TAM007
Location: 40.9731468, -75.126425
Bear left @ Y-junction and cross the bridge.
TAM008
Location: 40.9720329, -75.1260889
The route ends back at the Dunnfield parking lot. Walk across the lot to your car.
Delaware River
Location: 40.9734505, -75.1218295
Wildflowers
Location: 40.9695378, -75.1135468
Views from Mount Tammany
Location: 40.9680554, -75.1129246
View through the trees
Location: 40.9686548, -75.1104087
Verdant Forest
Location: 40.9689667, -75.1100278
Dunnfield Hollow Trail
Location: 40.9769659, -75.1208317
Waterfall
Location: 40.9769902, -75.1208854