Crest of the Wind River Range
A stunning new 80-mile hike in the Rockies' top spot for big backpacking adventures.
Heading out the door? Read this article on the new Outside+ app available now on iOS devices for members! Download the app.
This route covers almost 80 miles through the middle of the Wind River Range. Most of the distance is at 10,000 feet and above, with an embarrassment of primo camping and trout-fishing lakes. Plan on averaging no more than 10 miles a day; this is rugged terrain, and the route crosses many rough passes and boulder fields. Strong navigation skills are required in the cross-country portions. Before attempting this long, remote trek, acquire sturdy raingear and solid survival chops.TRIP PLANNERSeason July to October. Lowlands are usually clear of snow by mid-June, but river crossings can remain tough, and higher passes snowbound, until late July.Getting around The Great Outdoor Transportation Company, based out of the Great Outdoor Shop in Pinedale, runs shuttles to and from regional airports such as Cody and Jackson, and betweenmost trailheads in the Winds. The closest large airport is Salt Lake City, six hours from Pinedale. (307) 367-2440; greatoutdoorshop.comCautions Lightning, mosquitoes, and bears are all worries, along with remoteness. You should be fully self-sufficient, pay attention to weather, and store all food and toiletries in bearproof containers.Leave no trace Camp on rock slabs, gravel sites, and previously used areas at least 200 feet from water. Avoid trampling the grouse whortleberry, a blade-shaped leaf that's the ground cover in mostpine forest here. Check with rangers for trail and campsite closings. Permits Free, but required for organized parties and youth groups.Contact>> Bridger Wilderness: Pinedale District, (307) 367-4326>> Popo Agie Wilderness: Washakie District, (307) 332-5460>> Fitzpatrick Wilderness: Wind River District, (307) 455-2466Wind River Indian ReservationThe east-central portion of the range lies within tribal lands shared by the Eastern Shoshone and Northern Arapahoe. Backcountry access in these areas requires a tribal fishing permit ($65 for nonresidents). This requirement now applies to the once-popular Dickinson Park trailhead, a jumping-off point for the Popo Agie Wilderness. In recent years, the road has been closed, apparently all summer, by a dispute between the reservation and a private landowner. At press time, you can access Dickinson Park with a tribal permit, but the situation changes often. Get fishing permits at most convenience stores and outfitters in Dubois, Lander, Ft. Washakie, and Pinedale. For currentinfo, contact the tribe's Fish and Game office at (307) 332-7207.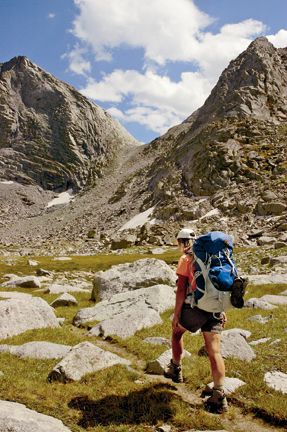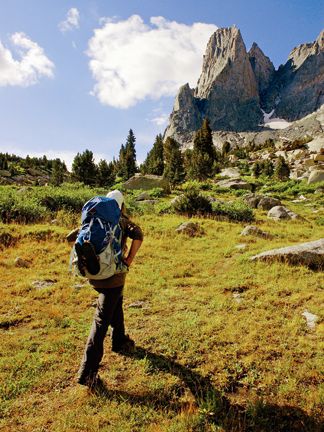 Trail Facts
Waypoints
Texas Pass
Location: 42.7927284240723, -109.219047546387
The talus-speckled tundra below Texas Pass. ©Steve Howe
War Bonnet Peak
Location: 42.7662658691406, -109.21558380127
The approach to War Bonnet Peak. ©Steve Howe
WPT002
Location: 43.2938919067383, -109.832389831543
Clear Creek Junction; go R, staying S
WPT003
Location: 43.2190589904785, -109.757888793945
Beaver Park bridge
WPT004
Location: 43.1785697937012, -109.745361328125
New Fork Trail Junction; continue L, heading S
WPT005
Location: 43.1697845458984, -109.742301940918
Highline Trail turns S; turn L
WPT006
Location: 43.165397644043, -109.729515075684
Vista Pass
WPT007
Location: 43.1558532714844, -109.706039428711
Peak Lake
WPT008
Location: 43.1542930603027, -109.661346435547
Knapsack Col
WPT009
Location: 43.141185760498, -109.640380859375
Traditional climber camps
WPT010
Location: 43.0933647155762, -109.629600524902
Indian Pass Trail; stay R
WPT011
Location: 43.0857162475586, -109.63028717041
Island Lake
WPT012
Location: 43.0834045410156, -109.628707885742
Climb Left; leave Titcomb Basin Trail for Wall Lake
WPT013
Location: 43.0756034851074, -109.599601745605
Cross grassy saddle and descend to Wall Lake
WPT014
Location: 43.0687446594238, -109.588684082031
Lake
WPT015
Location: 43.0604362487793, -109.593139648438
Cairns begin cross-country route around Wall Lake
WPT016
Location: 43.0452919006348, -109.598876953125
Regain Trail around Cook Lakes
WPT017
Location: 43.0356636047363, -109.592155456543
Sandy beach and granite benches
WPT018
Location: 43.0349617004394, -109.590675354004
Subtle trail climbs south over saddle
WPT019
Location: 43.0224456787109, -109.601409912109
Continue S on Fremont Trail
WPT020
Location: 43.004810333252, -109.576972961426
Pass
WPT021
Location: 43.0005302429199, -109.572593688965
Stay left @ trail junction
WPT022
Location: 42.9805908203125, -109.563682556152
Junction with Bell Lakes Trail, Continue Straight/South on Fremont Trail
WPT023
Location: 42.9543571472168, -109.529678344727
Hat Pass
WPT024
Location: 42.930549621582, -109.509635925293
Hay Pass Trail Jct., turn left
WPT025
Location: 42.9298248291016, -109.507637023926
Trail Junction, Turn Left/E
WPT026
Location: 42.9191665649414, -109.469871520996
Pipestone Lakes; good camping
WPT027
Location: 42.8818588256836, -109.42684173584
Junction with Middle Fork Trail; turn left
WPT028
Location: 42.9148292541504, -109.383735656738
Bench campsites above Middle Fork Lake
WPT029
Location: 42.8822708129883, -109.345474243164
Pass from Lake Donna to Bonneville Lake
WPT030
Location: 42.8656196594238, -109.347160339355
Talus and Scree Pass
WPT031
Location: 42.8651657104492, -109.343727111816
Pass between Mt. Bonneville and Raid Peak
WPT032
Location: 42.826244354248, -109.314308166504
Scenic off-trail camping in the East Fork
WPT033
Location: 42.8249015808106, -109.298065185547
Junction with Haily Pass Trail, continue S
WPT034
Location: 42.7956733703613, -109.290161132812
Junction with Washakie Creek Trail, turn L
WPT035
Location: 42.7947654724121, -109.219528198242
Steep trail to Texas Pass
WPT036
Location: 42.7909507751465, -109.217864990234
Texas Pass Summit; Cirque of the Towers appears
WPT037
Location: 42.7826614379883, -109.220039367676
Final night's camp; room for one tent
WPT038
Location: 42.7598037719727, -109.209022521973
Intersection with Jackass Pass Trail
WPT039
Location: 42.7434844970703, -109.205383300781
Intersection with Big Sandy Lake Trail, turn R
WPT040
Location: 42.688304901123, -109.270790100098
Ending Trailhead Kiosk, Big Sandy Entrance