Corvallis, OR: Horse Creek Trail
Massive, mossy trees lend a fairy tale air to this 7.1-mile out-and-back through the Drift Creek Wilderness and one of the Oregon coast's last remaining stands of old growth.
Heading out the door? Read this article on the new Outside+ app available now on iOS devices for members! Download the app.
This easy dayhike in the 5,800-acre Drift Creek Wilderness begins on a high, forested ridge a few hours south of Portland (and only a few miles from the rugged coastline). After a short warm-up along timber-harvest areas of the Siuslaw National Forest, the trail plunges into a mystical woodland of Sitka spruce, hemlock, and Douglas fir, with the largest trees bulging to 10 feet in diameter. Huge ferns blanket the forest floor, and moss hangs from the 400-year-old trees. The path is well-maintained along the ridge but just past mile 2, the trail turns downhill where it begins a steep, switchbacking descent toward Drift Creek.
Though the trails are marked and maintained, there are sections encroached by renegade foliage. Watch for poison ivy as well as resident black bear, elk, bald eagles and northern spotted owls—this is prime territory for all of them. The descent mellows about a quarter mile from a creek-side campsite. If you've got time to spare consider an overnight to enjoy salmon or trout fishing before retracing your tracks on the climb to the trailhead.
Note: With 120 inches of rain annually, this rainforest lives up to its wet-weather expectations. Be prepared for a damp hike, even in mid summer, and don't plan to ford the creek in early spring or after heavy rains.
-Mapped by Steve Johnson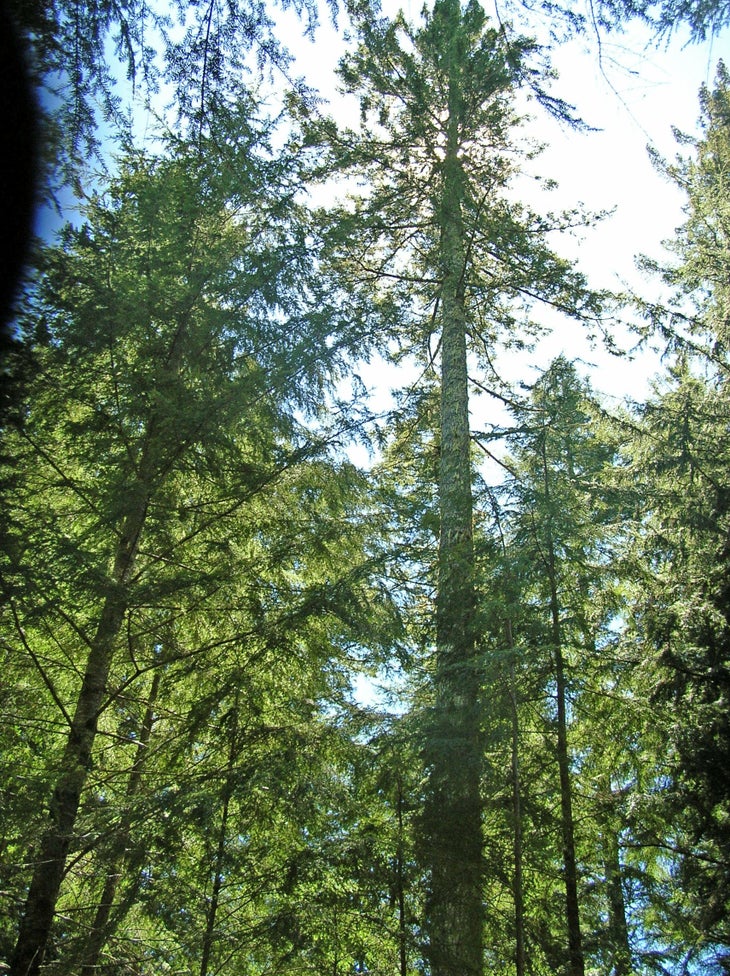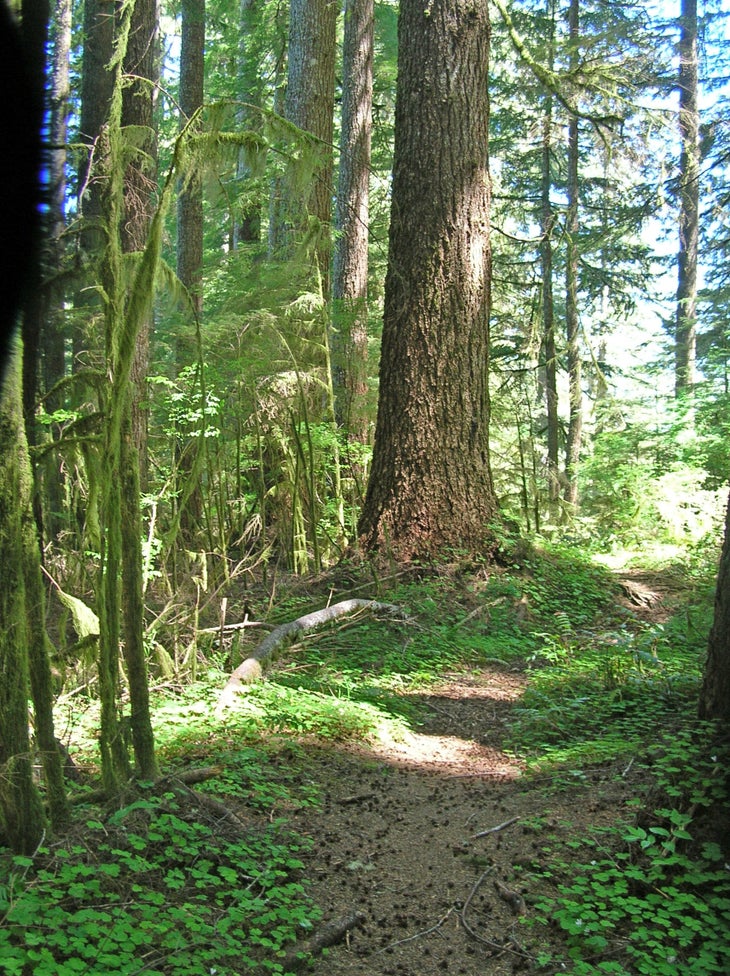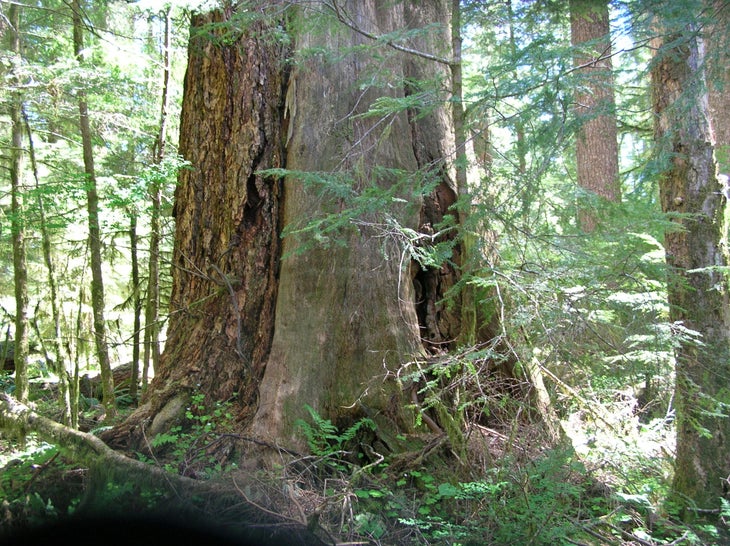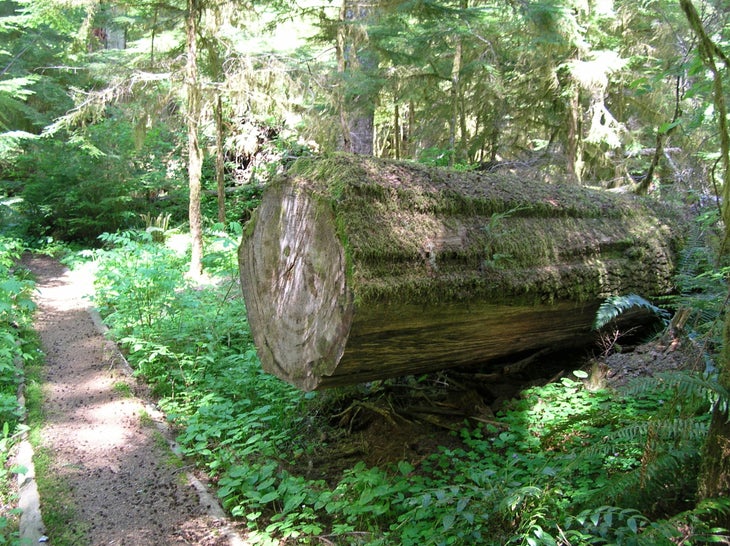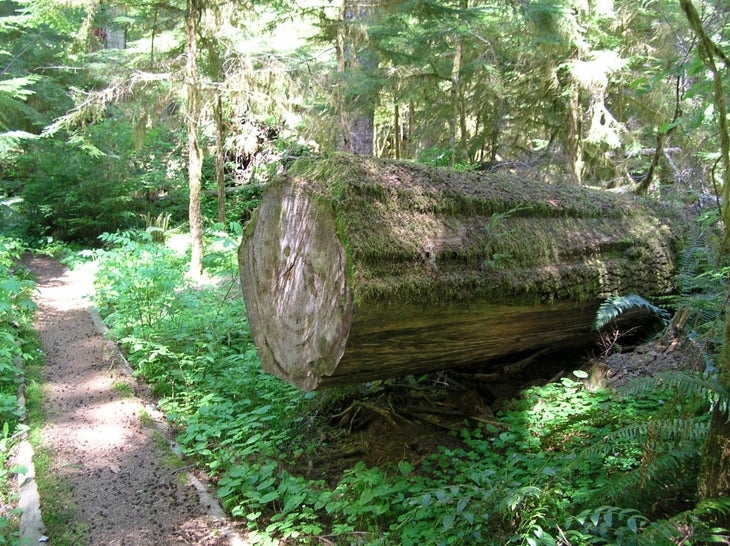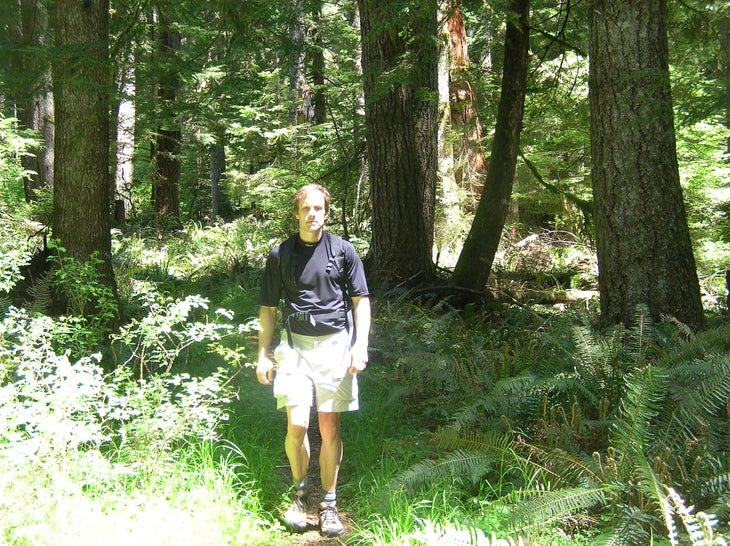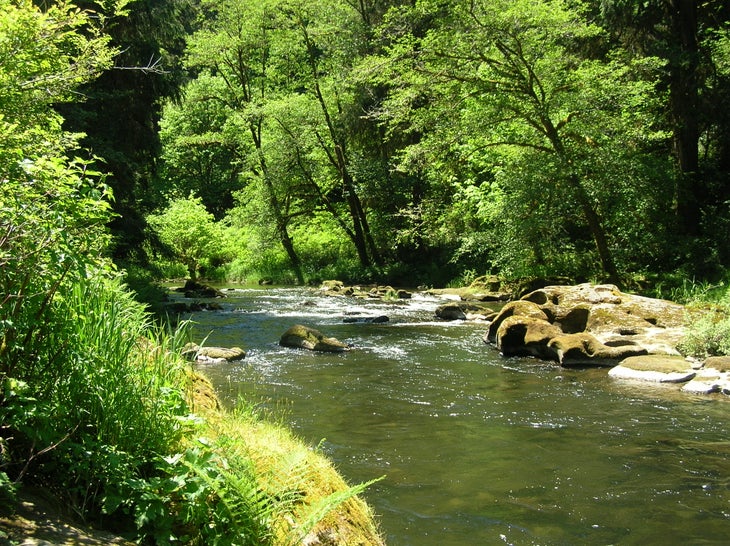 Trail Facts
Waypoints
HCT001
Location: 44.4811518, -123.9090228
The Forest Service road ends abruptly at four huge boulders. There are no facilities at this remote trailhead. Hike southwest on the old logging road.
HCT002
Location: 44.4745223, -123.9167261
Turn left off the logging road onto a narrow footpath. The trail heads into a mystical old-growth forest.
HCT003
Location: 44.4707277, -123.9153475
Before the trail begins descending toward the creek, look west through the trees for brief peeks at the Pacific Ocean. It's about 8 miles (as the crow flies) to the rugged coastline from this lush trail.
HCT004
Location: 44.4647682, -123.9168334
The trails in this area are well-defined and maintained by the Forest Service: no easy task when it comes to clearing Goliath trees like this one.
HCT005
Location: 44.4586423, -123.9186466
About a quarter mile after the trail turns downhill you'll turn left at a signed junction onto the new Drift Creek Trail. Up ahead, the trail begins a series of downhill switchbacks.
HCT006
Location: 44.4538024, -123.9242363
The trail drops quickly on the way to the creek, but masterful trail building makes the descent a breeze. The climb back up is another story.
HCT007
Location: 44.4521788, -123.9343858
Though this short hike is an easy day trip, there's a sweet campsite near the creek that would make a great overnight stopping point.
HCT008
Location: 44.4517499, -123.9354372
Find a sandbar or dry rock and rest up for the return climb. During late summer when water levels are low, you could ford this creek and continue hiking on the Harris Ranch Trail.
Skyscraper Sitka
Location: 44.4784113, -123.9129281
Gorgeous Sitka spruce like this one are a treat on the early sections of the path.
Trailside
Location: 44.4738027, -123.9172411
Trophy trees are around every bend and the entire forest floor is covered with mosses, ferns, and other temperate forest and old-growth understory.
The Patriarch
Location: 44.4689793, -123.9160824
This area hosts some of the coastal region's only remaining old-growth forest and this 10-foot diameter tree is a towering example.
Trail Maintenance
Location: 44.4647682, -123.9165759
Time to spare? Spend a few minutes counting growth rings on this ancient log.
Trail Maintenance
Location: 44.4596531, -123.918786
Hiking
Location: 44.4546141, -123.9247513
Towering trees still allow sunlight to penetrate the forest floor in some areas.
Drift Creek
Location: 44.4517652, -123.9352977
Cool flowing water in Drift Creek allows for a mid-hike cool down. Look for sandy and rocky banks to explore.