Columbus, OH: Wildcat Hollow Hiking Trail
Roam wild hollows and hills to cozy campsites strewn with pine needles on this little-known 15.2-mile loop in Wayne National Forest.
Heading out the door? Read this article on the new Outside+ app available now on iOS devices for members! Download the app.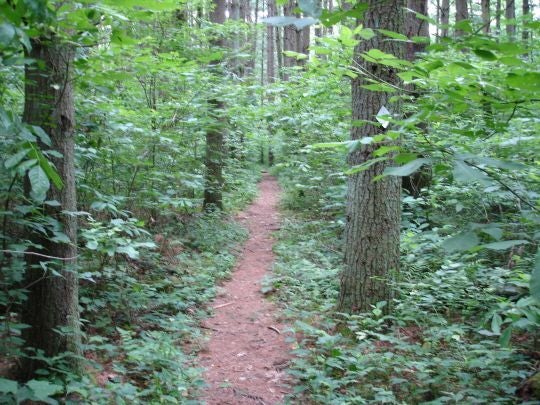 Trail Facts
Waypoints
Into the trees
Location: 39.5916290283203, -82.0484848022461
©Gary Clark
Trail and white marker
Location: 39.5960731506348, -82.052619934082
©Gary Clark
WCH001
Location: 39.572868347168, -82.0328826904297
Head N up Eels Run
WCH002
Location: 39.5766410827637, -82.0341720581055
Go L @ Y to begin clockwise loop in woods; trail climbs Irish Ridge
WCH003
Location: 39.5962982177734, -82.0547485351562
Stay straight for big loop; in a few strides, cross well-marked road
WCH004
Location: 39.6017608642578, -82.0630493164062
Bear R @ Y; go W past old schoolhouse. Bear R, then R again on dirt road toward old drilling rigs
WCH005
Location: 39.6032295227051, -82.0630874633789
Turn L onto overgrown path (follow white blazes); cross under power lines
WCH006
Location: 39.6209907531738, -82.0608978271484
Turn R @ T onto road, then quick L back onto trail to campsite in .7 mi.
WCH007
Location: 39.6289291381836, -82.0540237426758
Bear R @ next two Y-intersections with forest road (staying on trail), then cross gravel road and follow red-and-white blazes
WCH008
Location: 39.6260299682617, -82.0451278686524
Sweet campsite with fire ring near a large bog (bring bug spray); continue linking white trail blazes
WCH009
Location: 39.6221504211426, -82.0470962524414
Bear L, cross road, and take singletrack trail
WCH010
Location: 39.613468170166, -82.0410385131836
Cross road by turning R and walking on road for a few strides; look for white blaze on L to continue
WCH011
Location: 39.6000785827637, -82.0329971313476
Cross Cedar Run
WCH012
Location: 39.5969505310059, -82.0401916503906
Pines fill deep ravine; descend into Wildcat Hollow
WCH013
Location: 39.5952606201172, -82.0425262451172
Cross stream (beaver dams to R); L onto dirt road; follow signs to trailhead
WCH014
Location: 39.5949897766113, -82.0468902587891
Bear R @ Y, pick up thin trail; go 1.9 mi. to WPT 2, then return to trailhead