Rocky Mountain National Park: Continental Divide Loop
Tour glacial valleys and navigate to off-trail lakes and waterfalls on this six-day circuit in Rocky Mountain National Park.
Heading out the door? Read this article on the new Outside+ app available now on iOS devices for members! Download the app.
Want to see classic Rocky Mountain National Park landmarksand explore hidden pockets of wilderness? Do it on this 54-mile, best-of-both-worlds trek that crisscrosses the Continental Divide, linking the park's lesser-tracked high country west of the Divide with the well-loved lakes and waterfalls on the east side.
Start on the East Inlet Trail, roughly two miles from the town of Grand Lake, and hike east along its meandering namesake creek. Less than half a mile in, take the quick, .2-mile loop on the right to see Adams Falls, which cascades down boulders and plummets through a narrow gorge. As the trail runs up the valley, you'll skirt marshy meadows (look for moose munching in the willows in early morning) and meander through lodgepole pine and quaking aspen groves.
Five miles in, trace the southern shoreline of Lone Pine Lake, a forested pool protected by a cluster of 12,000-foot peaks, and climb east toward the head of the pinched valley. Pick up the user path at mile 6.4, where the maintained trail ends at Lake Verna, and follow it past Spirit and Fourth Lakes. From there, tackle a steep bushwhack, gaining 1,600 feet in .9 mile, to wind-blown, 12,061-foot Boulder-Grand Pass on the crest of the Continental Divide.
Descend talus-filled gullies on the east side of the Divide and connect with the maintained trail at Thunder Lake; camp in the designated site just north of the lake.
Rise early on day two for a strenuous day of high-altitude, cross-country travel that racks up 6,200 feet of elevation change in less than five miles. Leave the established trail .2 mile east of the Thunder Lake patrol cabin and navigate north past your own private waterfall—watch misty Thunder Falls pour down a short cliff, then flow through a streambed of boulders.
About half an hour from the Thunder Lake camp, cross the Lion Lake Trail in a spongy meadow and veer east to the granite-lined banks of Castle Lake, one of the most isolated lakes in the park (with prime northwest views of Mt. Alice's crags). Next, climb northeast above treeline to a broad, flat saddle on North Ridge, then descend the backside, crossing Hunters Creek at the outlet of a small pond below Keplinger Lake.
Past the lake, maneuver around boulders and bushwhack through stunted trees near timberline to the base of Keplinger's Couloir on Longs's south face (mile 13). Scramble up the couloir to about 13,500 feet, and traverse northwest on a rock ramp that leads to the three-foot-wide Narrows ledge. (Don't miss: Scale the cracked granite slabs that rise 450 vertical feet directly in front of you to tag Longs's summit on a .1-mile round-trip detour.)
Tightrope walk west, then downclimb boulders in The Trough couloir, angling north at 13,200 feet for a .3-mile traverse to the Keyhole notch and the Boulderfield (sleep above treeline in one of nine campsites).
On day three, descend East Longs Peak Trail, and swing left at mile 20 near the park's eastern boundary to crest Storm Pass and the 11,006-foot pinnacle of Estes Cone. Descend 2.9 miles farther and spend the third night near beaver ponds at Upper Wind River campsite.
Day four: Drop into Glacier Basin, and turn left at mile 30, passing the popular Alberta Falls (crowds fade ahead). Less than a mile later, turn right at the base of Glacier Knobs, two side-by-side granite domes, and skirt the north shore of The Loch, rimmed by cliffy, granite peaks. Pitch your tent .2 mile later in a spruce-fir stand at Andrews Creek camp.
Hike past Chaos Canyon, Tyndall Gorge, and three more lakes (Dream, Nymph, and Bear) on day five. The last major climb (gaining 2,800 feet in four miles) starts at mile 37.7 from the eastern shores of Bear Lake and ascends steadily through shady spruce, fir, and aspen stands. Stop at an overlook midway up a series of tight switchbacks to peer into the depths of Tyndall Gorge; Tyndall Glacier, one of the park's most photographed glaciers, sits at the head of the cirque.
Near mile 42, roll across 12,324-foot Flattop Mountain, a broad swath of alpine tundra where you're almost guaranteed the chance to hang with elk. Descend west to pick up North Inlet Trail at a three-way junction, and drop down 3.3 miles to the July campsite near Hallett Creek. Close out the week with an 8.4-mile descent along North Inlet creek to your car.
INFO For information on permits, current trail and camp conditions, and wilderness guidelines, go to nps.gov/romo/planyourvisit/backcountry.htm
PERMIT A wilderness permit is required for all overnight camping in the backcountry. Reservations accepted ($20 administrative fee for permits during peak season). nps.gov/romo/planyourvisit/backcntry_guide.htm
CONTACT Rocky Mountain National Park, (970) 586-1206; nps.gov/romo
-Text by Kim Phillips. Mapped by Jenn Fields, Kristy Holland, Casey Lyons, Dougald MacDonald, Kim Phillips, MacKenzie Ryan, Tim Shisler, Kris Wagner
TO TRAILHEAD
Shuttle car/North Inlet Trail: From Trail Ridge Rd. and W. Portal Rd. in Grand Lake, drive 1.1 miles northeast on W. Portal Rd. Turn left on CR 663. Go .3 mile to the parking area.
To trailhead/East Inlet Trail: Take CR 663 back to W. Portal Rd. and turn left. Drive southeast 1.2 miles to the East Inlet parking area.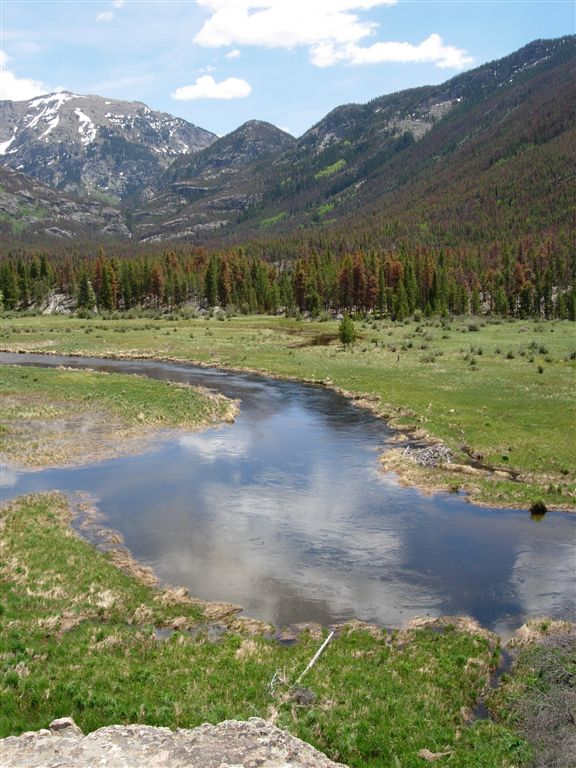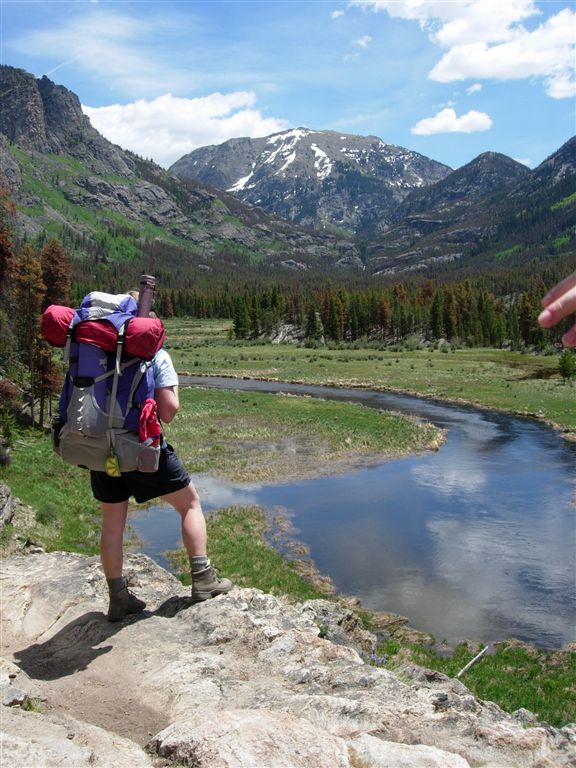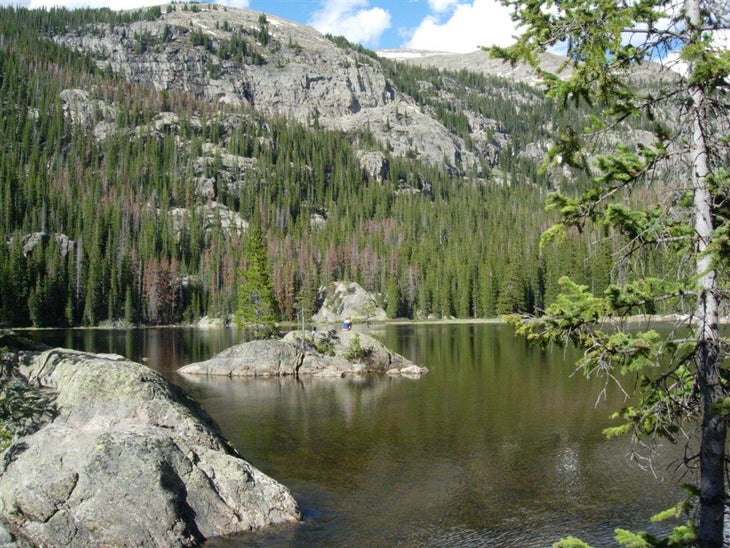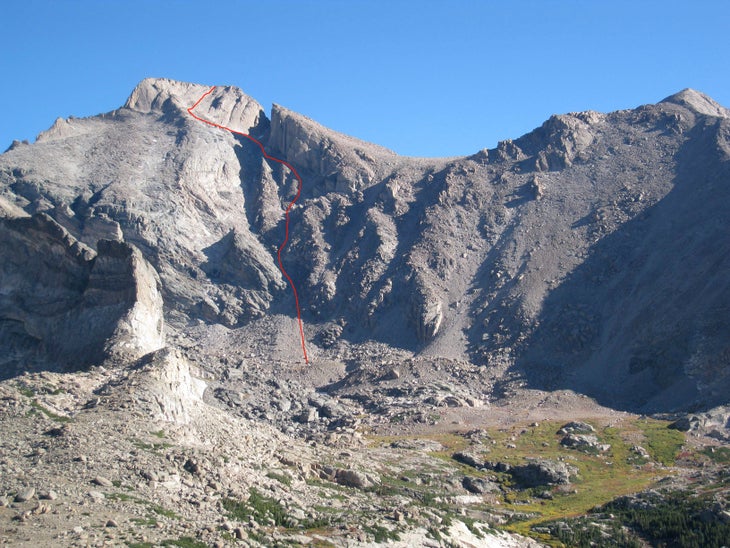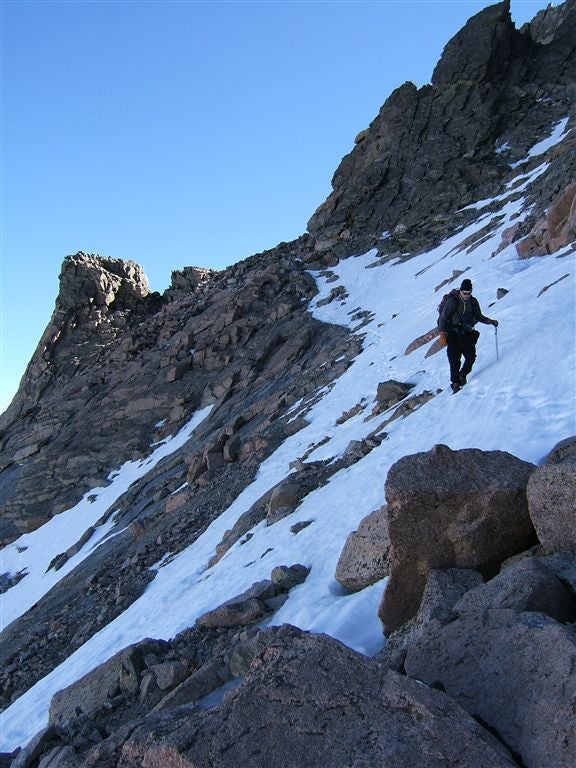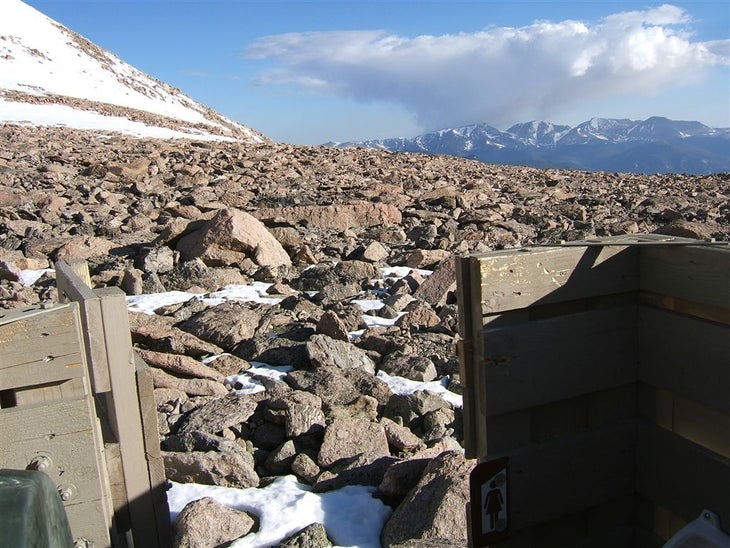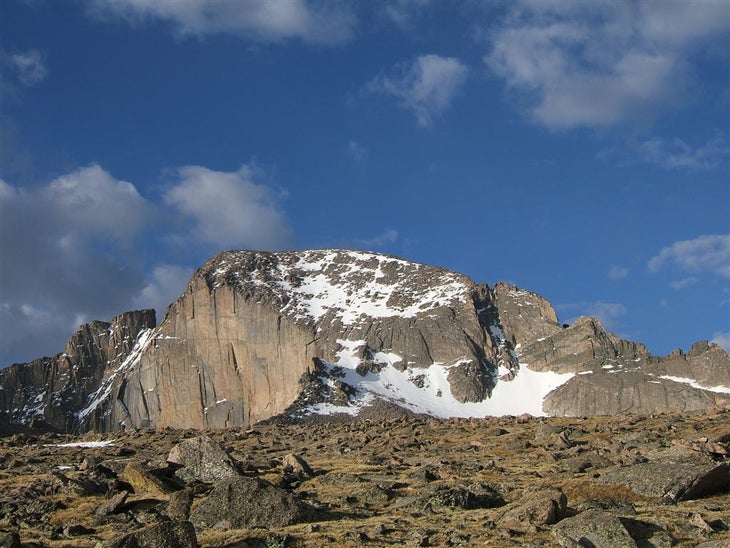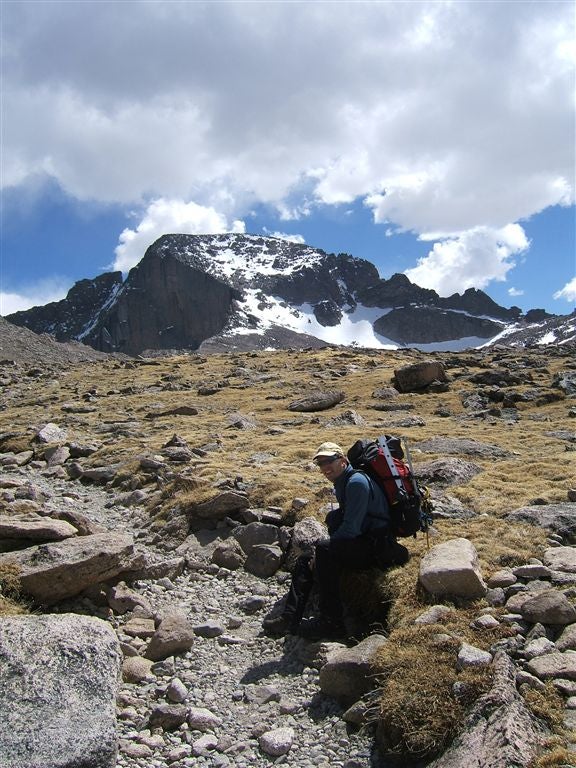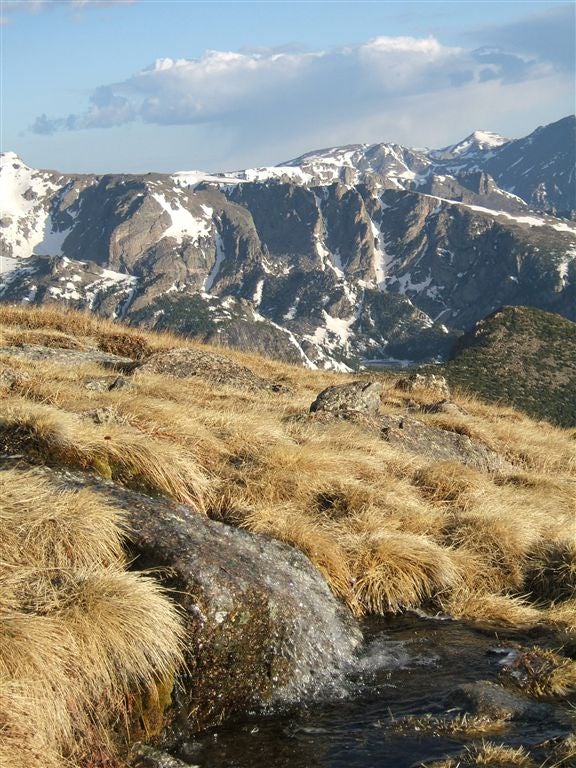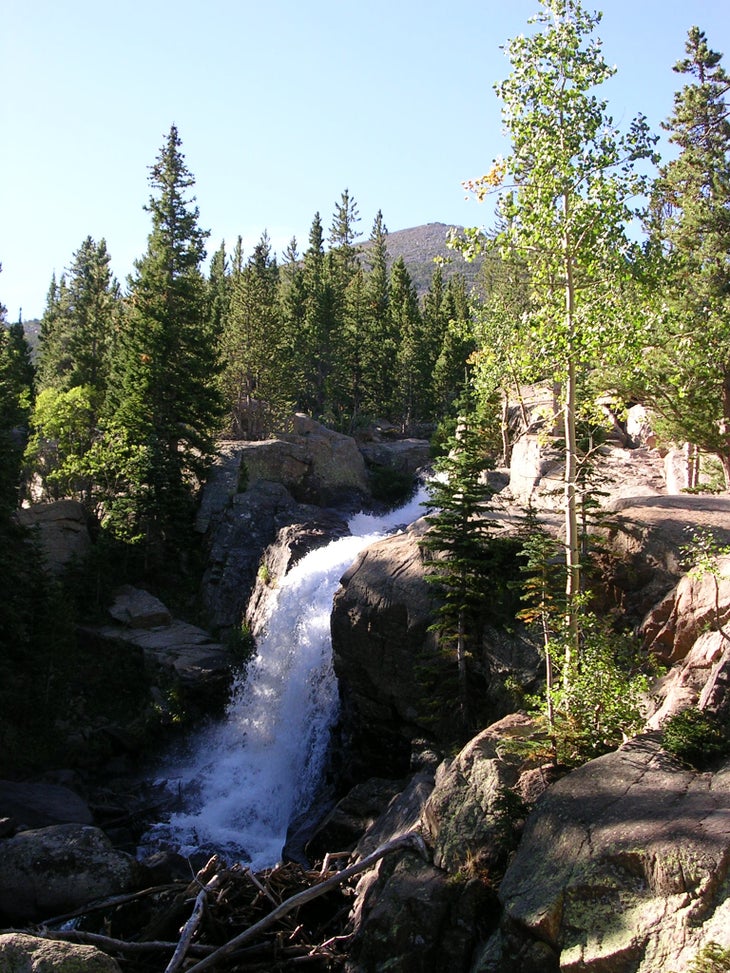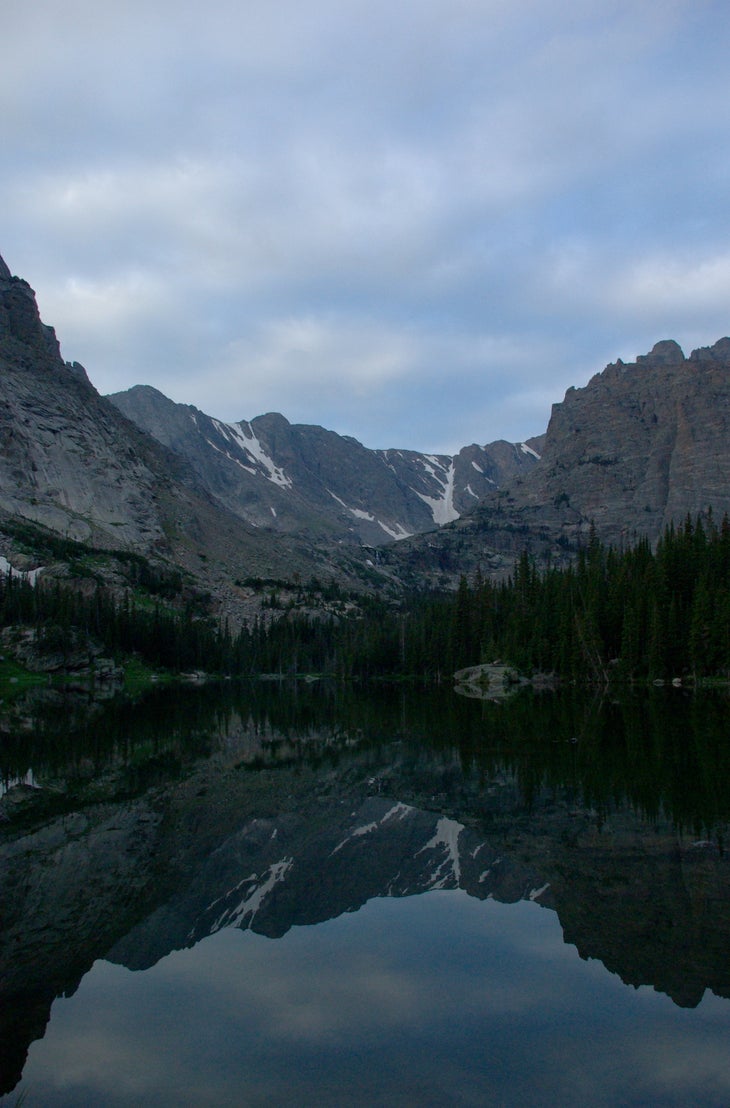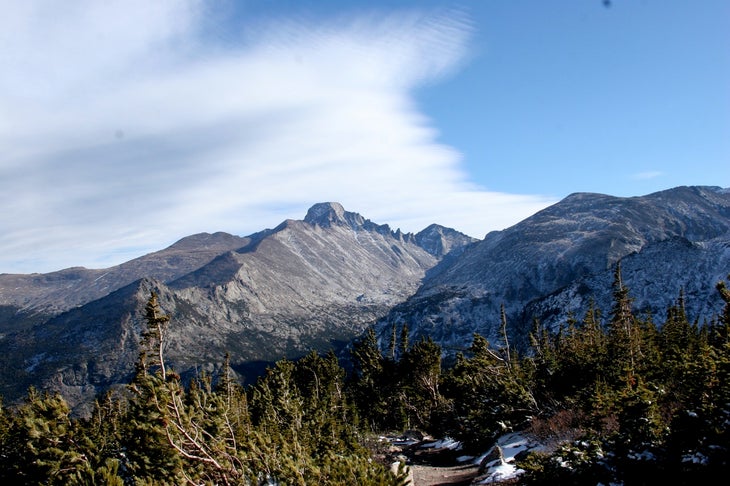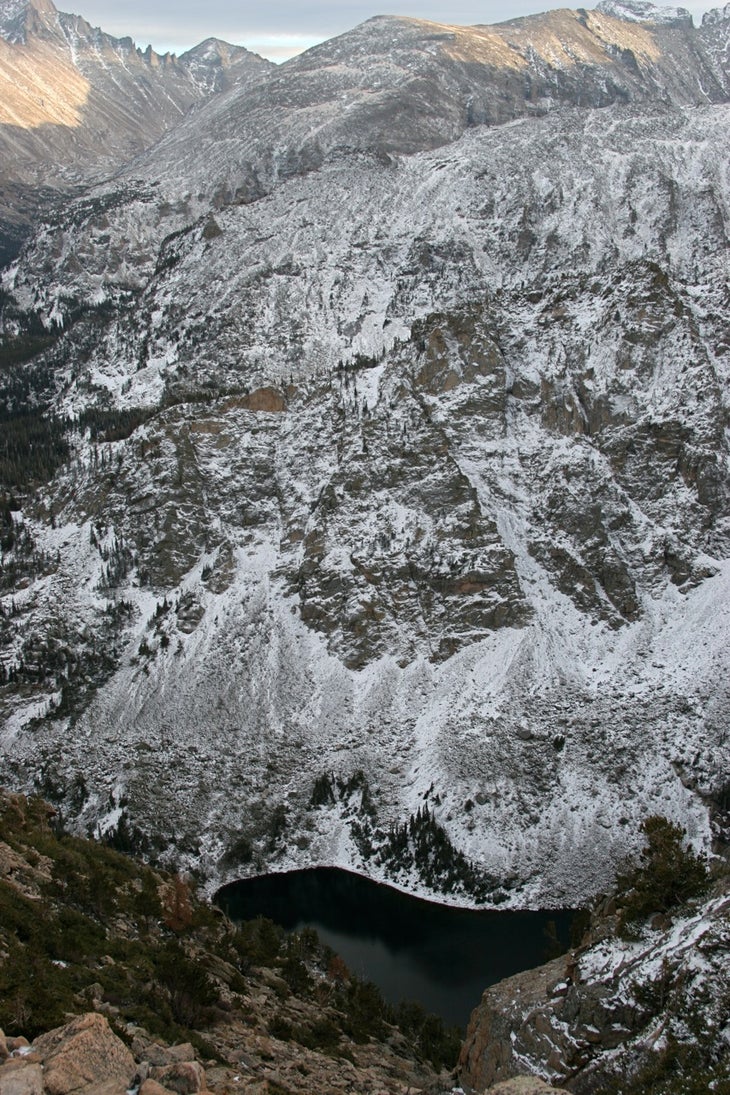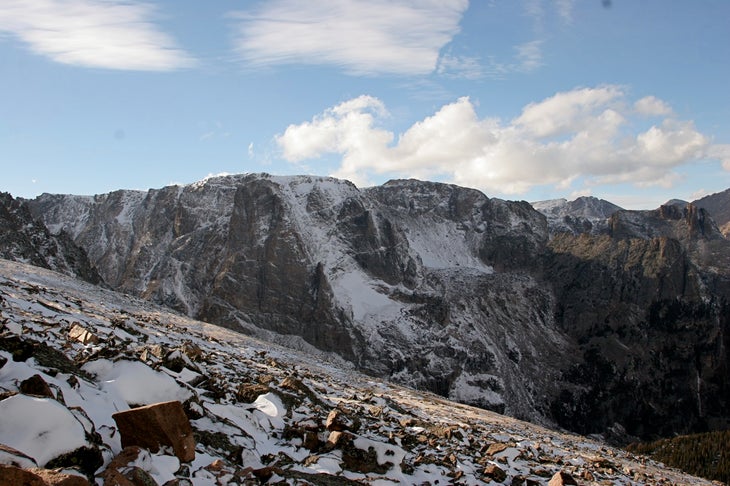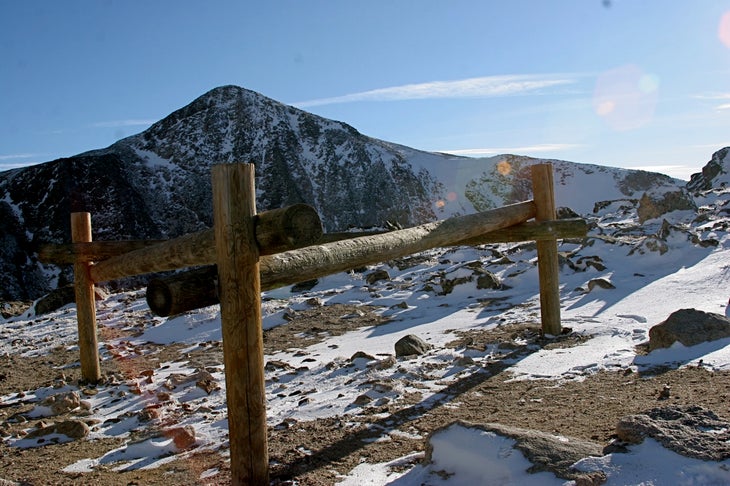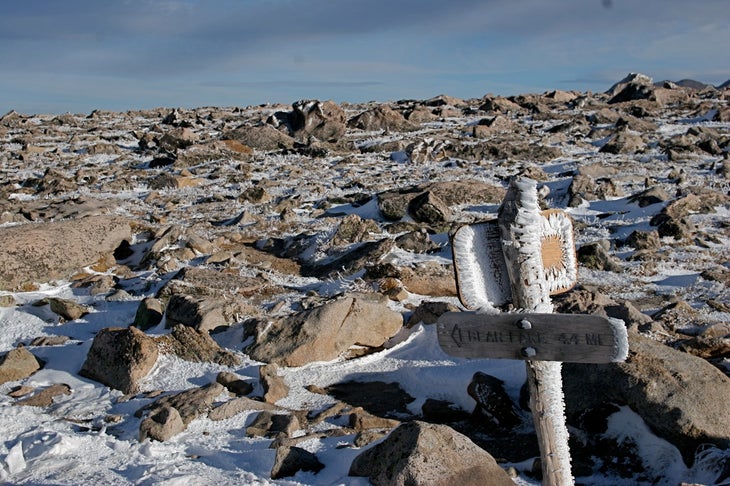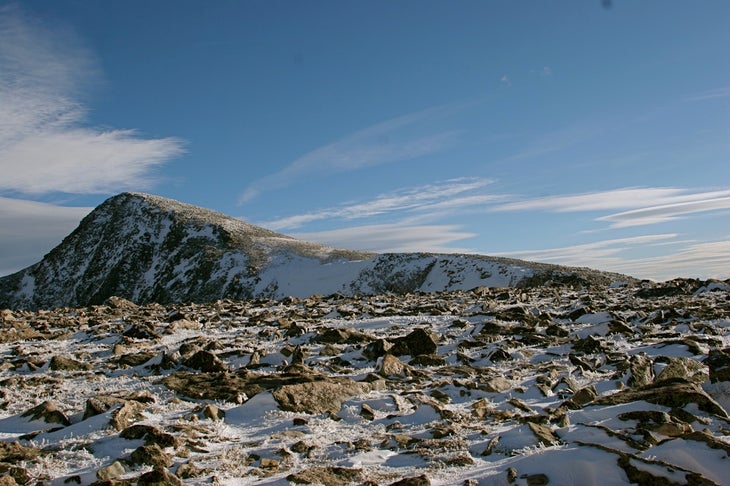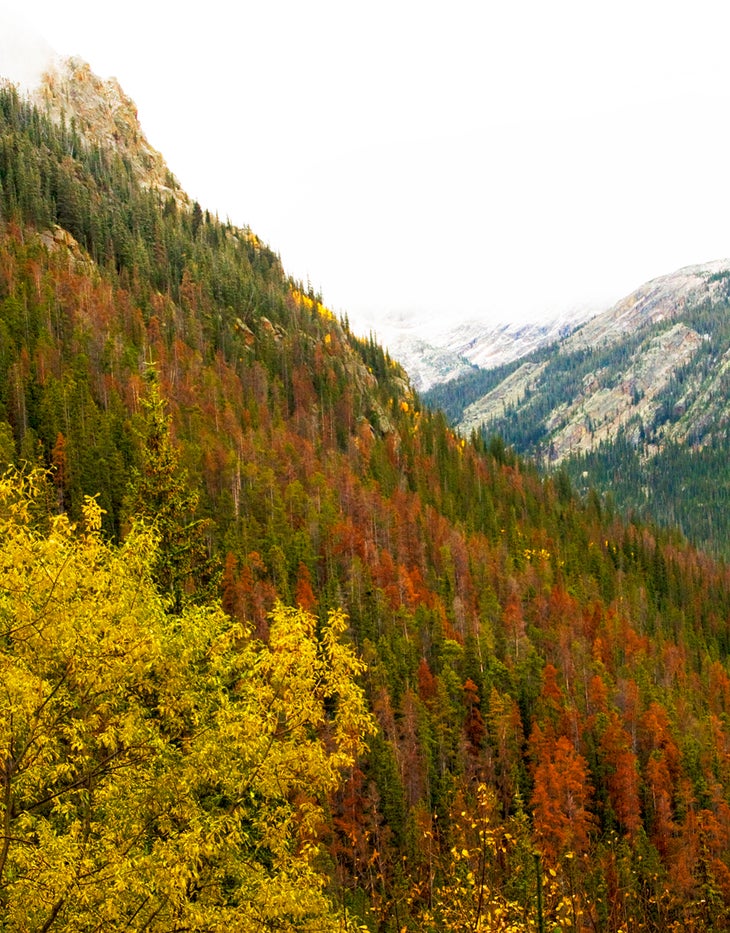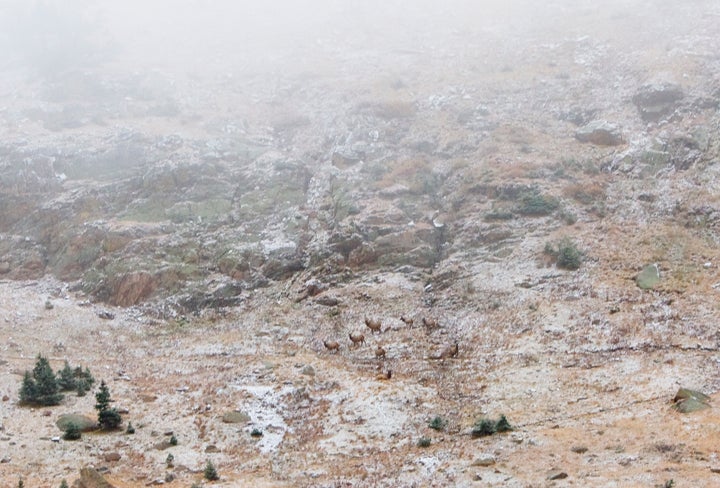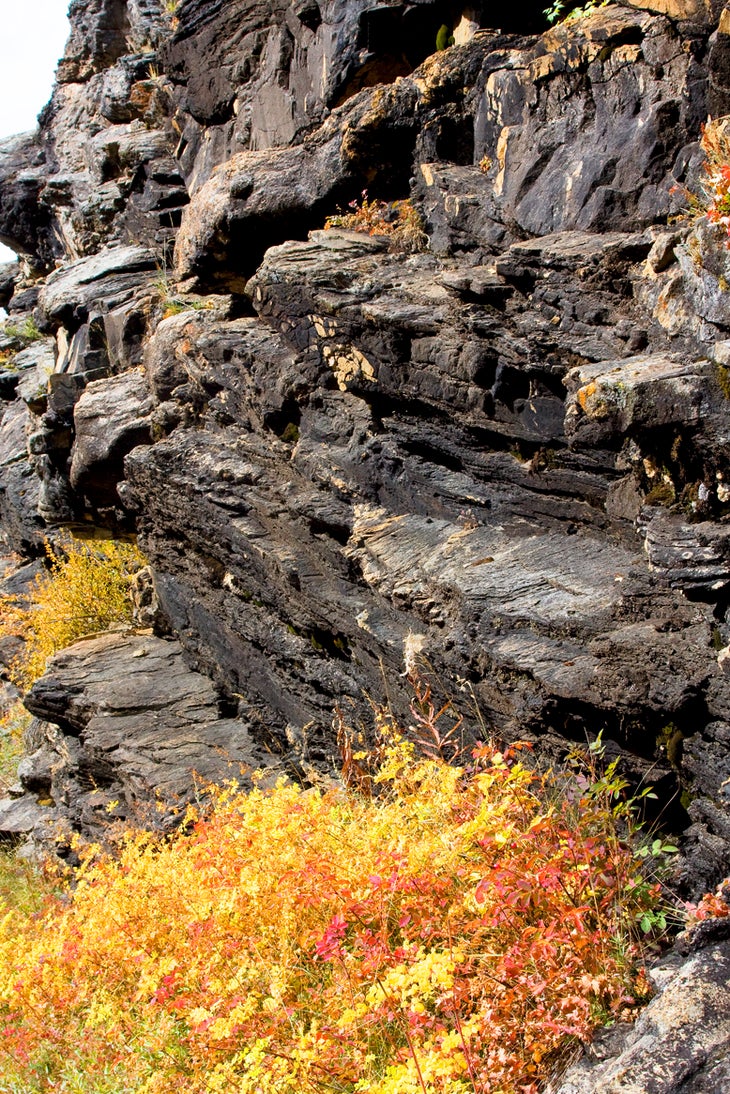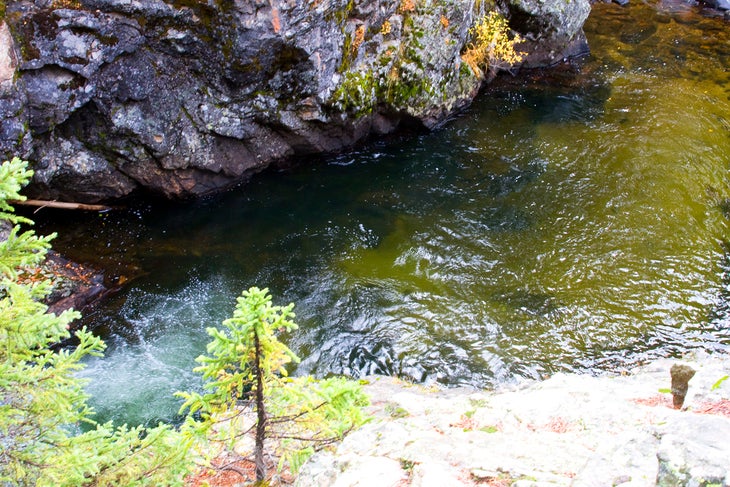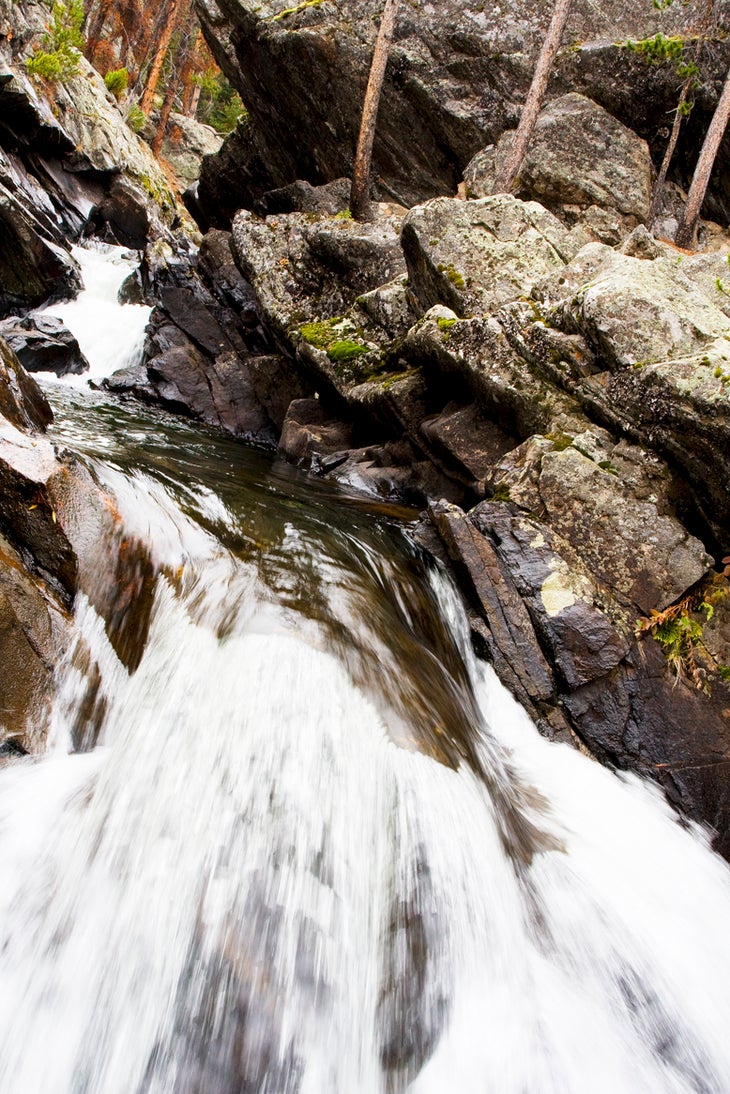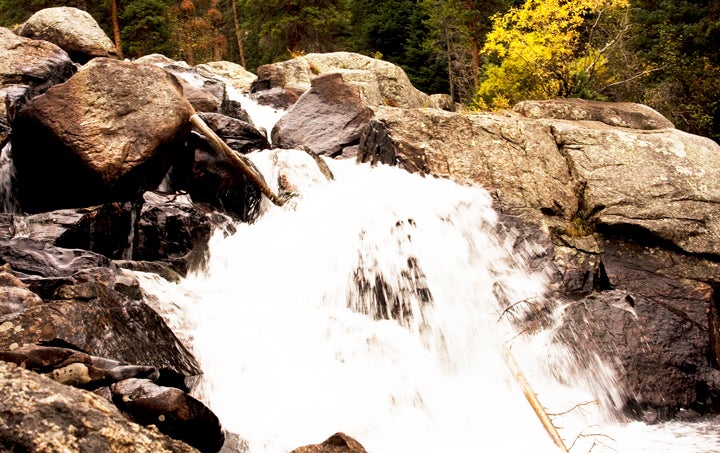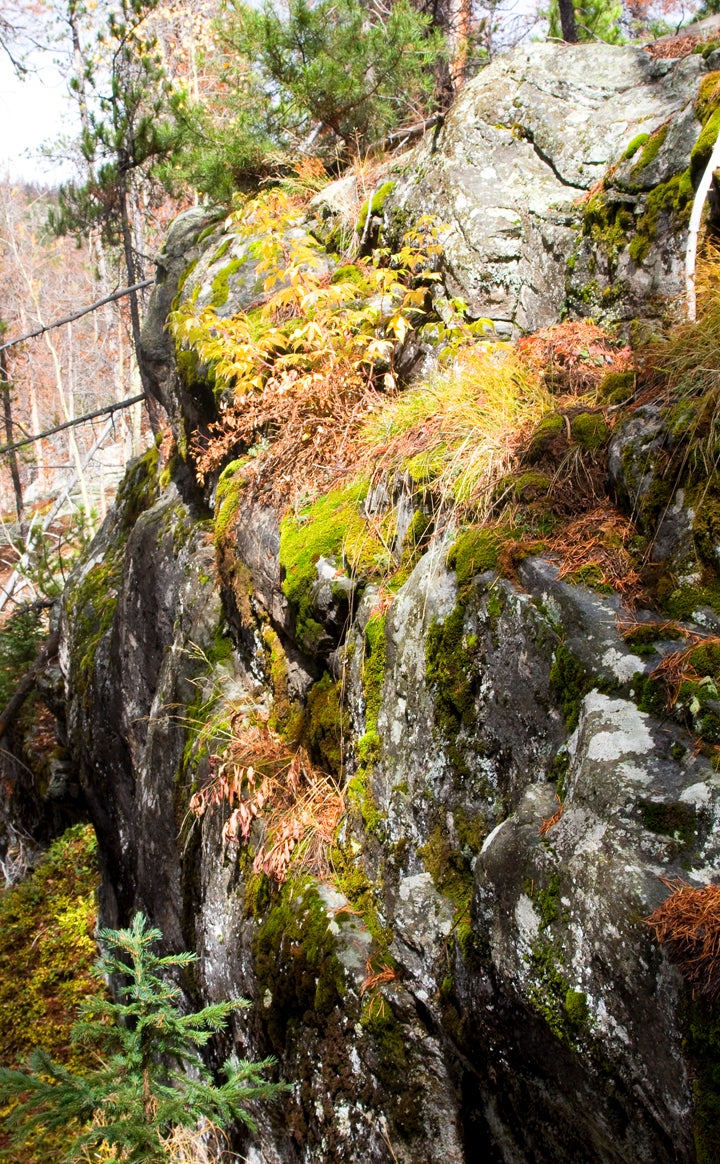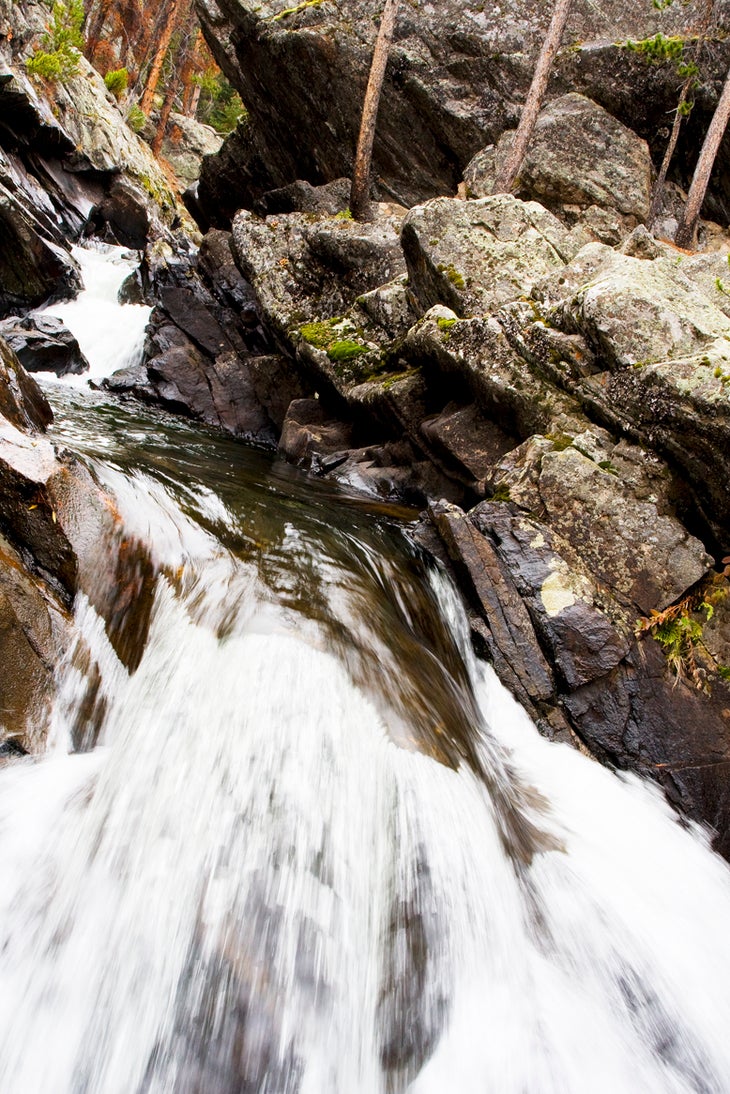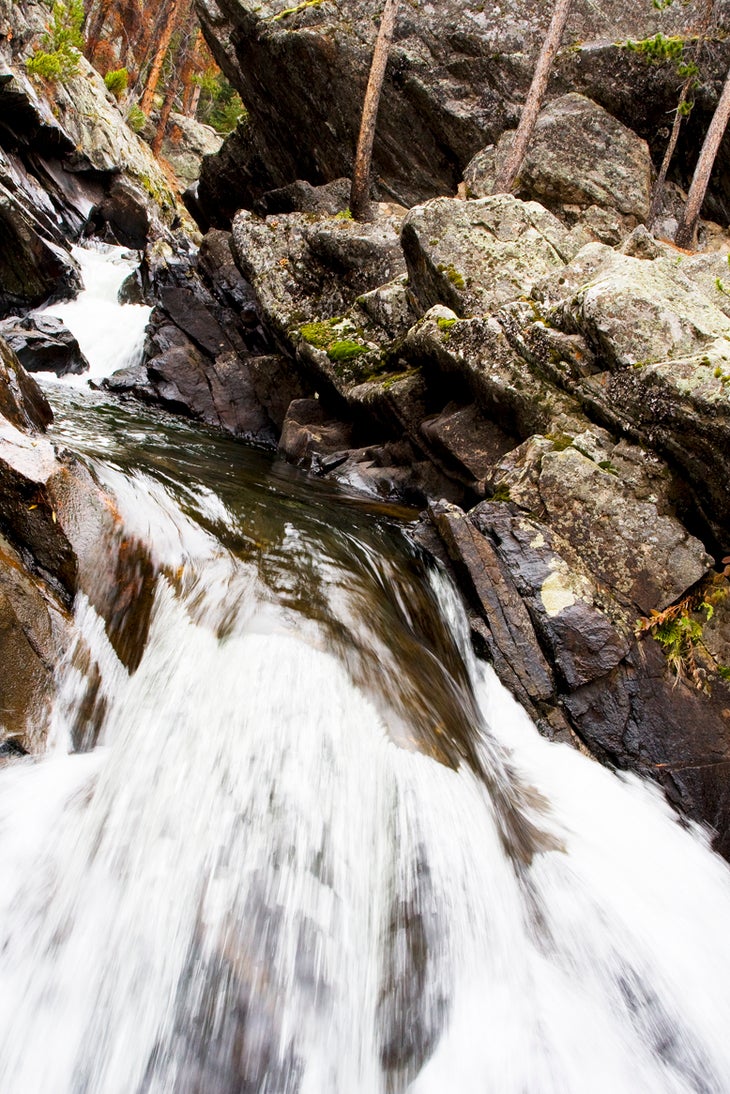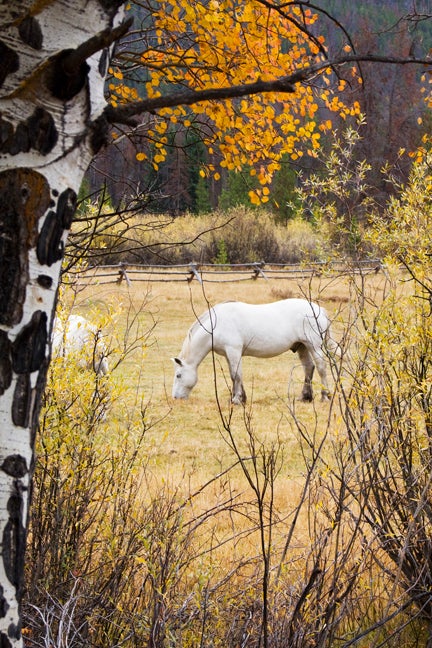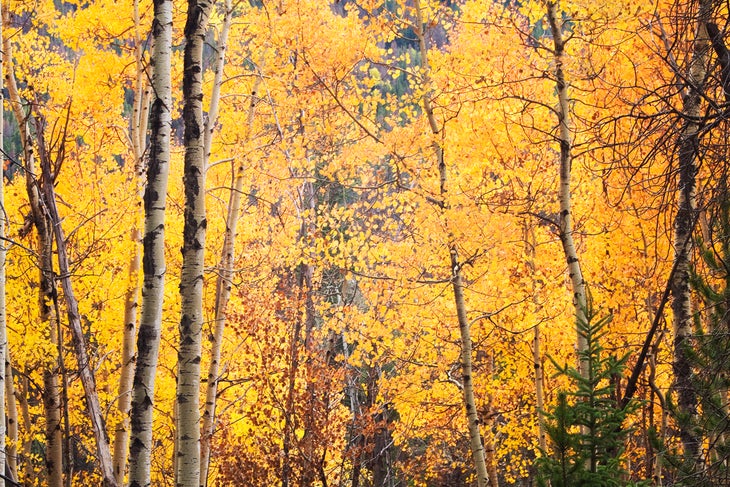 Trail Facts
Waypoints
CDL001
Location: 40.239406, -105.799839
The loop begins on the eastern edge of Grand Lake. Hike southeast on the East Inlet Trail toward its same-name creek. The trail offers pretty cross-meadow views up the valley.
CDL002
Location: 40.237117, -105.797497
Turn right onto the short loop trail that leads to a viewing platform near Adams Falls, which plummets through a narrow gorge.
CDL003
Location: 40.237477, -105.784279
To the southeast, 12,007-foot Mount Craig rises behind the meadow flanking the trail.
CDL004
Location: 40.228872, -105.75911
This overlook atop granite shelves, rises above East Inlet Falls and reveals views to the west.
CDL005
Location: 40.230201, -105.758493
Beginning of Cat's Lair Dispersed Camping Zone
CDL006
Location: 40.226269, -105.742829
The bridge over East Inlet Creek marks the end of the dispersed camping area.
CDL007
Location: 40.230365, -105.736327
Gray Jay Group camping area
CDL008
Location: 40.230938, -105.732744
Lone Pine Lake: This forested lake sits at the base of four peaks (Ptarmigan Mountain, Andrews Peak, Mount Craig, and Mt. Cairns). From the eastern edge of the lake, the route runs east-southeast past a string of three lakes.
CDL009
Location: 40.233576, -105.727551
Pretty trailside cascade
CDL010
Location: 40.233232, -105.727272
Slickrock campsite
CDL011
Location: 40.231414, -105.725991
Solitaire campsite
CDL012
Location: 40.228481, -105.716093
Upper East Inlet campsite
CDL013
Location: 40.227416, -105.712144
Lake Verna: This long whale-shaped lake has a sandy beach on its east shores, and the Lake Verna campsite offers some of the best camping in the valley. The maintained trail ends here; follow the path that runs along the northern shore of the lake.
CDL014
Location: 40.225182, -105.69772
Spirit Lake is bordered by a boulder field on south side and meadows on the east side.
CDL015
Location: 40.222614, -105.687547
Fourth Lake
CDL016
Location: 40.222993, -105.685043
At the northeast edge of Fourth Lake, start a steep bushwhack, next to a tiny creek, that ends on Boulder-Grand Pass. You'll gain 1,600 feet in .9 mile.
CDL017
Location: 40.224795, -105.673456
Hike through grass hummocks in this shallow, wet gully near treeline. The remaining, tk-mile stretch across tundra to the pass (directly east of this point) is obvious from here.
CDL018
Location: 40.224631, -105.6691
Crest wind-blown, 12,061-foot Boulder-Grand Pass, which links the East Inlet valley and Wild Basin.
CDL019
Location: 40.224664, -105.668628
Descend this gully (bypassing the permanent snowfield on the east side of the pass) to the banks of Lake of Many Winds.
CDL020
Location: 40.225376, -105.665731
This aptly-named lake is perched on a gusty bench below Boulder-Grand Pass. From here, descend a boulder-filled gully (paralleling the outlet stream) to reach the north side of Thunder Lake. Wildflowers bloom here in July.
CDL021
Location: 40.222305, -105.644982
Pass the NPS patrol cabin, then turn left at the side trail to the forested Thunder Lake campsites (four individual and 1 group site).
CDL022
Location: 40.221797, -105.641828
On the second day, the route leaves Thunder Lake Trail. Bear left (north) at this point (.2 mile east of the lake) for a cross-country climb that passes Thunder Falls in less than half a mile.
CDL023
Location: 40.22948, -105.637901
About a half an hour from the Thunder Lake campsite, you'll cross the Lion Lake Trail in a wet meadow. Continue cross-country, heading southeast to lily pad-shaped Castle Lake.
CDL024
Location: 40.228983, -105.635058
Scramble through the gap in a small cliff band to reach Castle Lake.
CDL025
Location: 40.229022, -105.634747
Granite-lined Castle Lake offers prime views of Mount Alice's east face. From here, skirt the southern edge of the lake, then climb northeast to the broad, flat saddle on North Ridge.
CDL026
Location: 40.230571, -105.627141
The climb tops out above treeline on North Ridge, which forms the southern slopes of Chiefs Head Peak. Keplinger's Couloir on the south face of Longs Peak is in plain view. Next descend North Ridge, heading north to the small pond below Keplinger Lake.
CDL027
Location: 40.235328, -105.626078
Cross Hunters Creek at the outlet of this small pond below Keplinger Lake. Next, climb northeast into the gully adjacent to the Keplinger Lake drainage. Caution: It's tough going ahead through boulders and krummholz for about half a mile.
CDL028
Location: 40.242421, -105.619297
Pass shallow ponds beneath striking cliffs at the end of Pagoda Mountain's long south ridge.
CDL029
Location: 40.246502, -105.617554
Pass the base of steep scree cone.
CDL030
Location: 40.247971, -105.616901
This point marks the entrance to Keplingers Couloir, the gully splitting the south face of Longs Peak. Keep climbing.
CDL031
Location: 40.249939, -105.616486
The gully forks here: stay left.
CDL032
Location: 40.253148, -105.614512
Just below The Notch, follow a wide rock ramp to the northwest to reach the Homestretch.
CDL033
Location: 40.253656, -105.614877
Just below the Notch (the dramatic gap between the Palisades and Longs' summit block), follow the ledges to the left (west).
CDL034
Location: 40.254049, -105.61698
East end of the Narrows: The route traverses west along more exposed ledges. To the southeast you'll see Sandbeach Lake, a popular destination in Rocky Mountain National Park.
CDL035
Location: 40.254393, -105.618718
Top of The Trough, a huge northwest-facing couloir. Watch for icy snow patches. From here, it's a six-mile descent toward the Longs Peak trailhead.
CDL036
Location: 40.256211, -105.62067
Bear right (north) to exit The Trough. Traverse the boulder-covered slopes toward The Keyhole.
CDL037
Location: 40.260485, -105.621271
The Keyhole, a huge rock notch that rises above the Boulder Field. Follow blazes to avoid cutting east too soon and cliffing out on the False Keyhole. You'll find five-star views into Glacier Gorge, a glacier-dozed valley rich with vivid blue alpine lakes. Ahead, pass a small stone building, then carefully descend the expansive, aptly-named Boulder Field.
CDL038
Location: 40.263481, -105.615435
Spend the second night above treeline in the Boulderfield (nine individual sites). On day three, continue descending East Longs Peak Trail.
CDL039
Location: 40.274089, -105.605403
At wind-swept Granite Pass, turn right, heading south. Continue straight at the next 3-way junction.
CDL040
Location: 40.265675, -105.592732
Turn left at the 3-way junction on Mills Moraine. This ridgeline offers impressive views to the southwest of Longs's East Face (its sheer granite wall rises more than 1,600 feet above Chasm Lake). Ahead, look for the snow-white plumes of ptarmigans against the grayish rocks of Mill Moraine.
CDL041
Location: 40.270816, -105.584321
The trail curves to the right at the northern edge of Mills Moraine.
CDL042
Location: 40.273141, -105.580244
Cross two footbridges over Alpine Brook. This is a good spot to top off water bladders, grab a snack, or soak your feet. From here, the trail descends through forest.
CDL043
Location: 40.273108, -105.570674
Pass Goblin Forest on the left, a primitive campsite (permit required).
CDL044
Location: 40.275007, -105.56428
Turn left at the 3-way junction, heading north toward Storm Pass.
CDL045
Location: 40.286978, -105.564742
Turn left at the T-junction.
CDL046
Location: 40.293051, -105.573711
Crest forested Storm Pass, then turn right for a short, steep ascent of mounded, 11,006-foot Estes Cone.
CDL047
Location: 40.294306, -105.570867
Caution: Rocky trail switchbacks at odd places. Watch for random cairns.
CDL048
Location: 40.295292, -105.567398
Estes Cone (11,006 ft.): Summit serves up views of dozens of snowy peaks, including Mount Meeker and Longs Peak. Next, return to CDL046 and bear right on Storm Pass Trail.
CDL049
Location: 40.311284, -105.606916
Turn right on Wind River Trail to reach the night's campsite.
CDL050
Location: 40.312336, -105.600044
Spend the third night at Upper Wind River (8,940 ft.), marked with a silver metal arrowhead. The two sites are near beaver ponds in a lodgepole pine forest. On day four, backtrack to CDL049, turn right, and descend Storm Pass Trail into Glacier Basin.
CDL051
Location: 40.314936, -105.612076
Turn left at the 3-way junction with Glacier Creek Trail.
CDL052
Location: 40.316791, -105.615717
Continue straight (west) at the intersection with Boulder Brook Trail. The trail climbs moderately for the next 5.1 miles to Chaos Creek.
CDL053
Location: 40.307678, -105.643402
Turn left at the 3-way Glacier Gorge Junction. The trail climbs southeast toward Alberta Falls.
CDL054
Location: 40.306613, -105.641484
Cross the bridge over the stream.
CDL055
Location: 40.306206, -105.638908
A few user-created trails lead to the edge of a deep ravine. Stick to the main trail: overgrowth and tree-cover make for a less than spectacular scene. Heading upstream, the trail skirts the log-jammed river.
CDL056
Location: 40.304634, -105.638626
Stop for an upstream peek at several tumbling cascades.
CDL057
Location: 40.303909, -105.638199
The trail travels past the popular Alberta Falls. Stop to get a look at this photogenic waterfall that pours over massive boulders. The crowds fade ahead.
CDL058
Location: 40.299625, -105.639596
Admire the valley views at the rest stop just before the 3-way junction. Turn right. The trail skirts the base of the Glacier Knobs.
CDL059
Location: 40.297412, -105.645948
Continue straight at the junction located between Glacier Knobs, two side-by-side granite domes. Head southwest into Loch Vale.
CDL060
Location: 40.293864, -105.655346
The trail wraps around the northern shore of The Loch, which is rimmed by granite peaks.
CDL061
Location: 40.28789, -105.664347
After crossing Andrews Creek, turn right at the Y-junction.
CDL062
Location: 40.289445, -105.666976
Night four: Set up your tent at Andrews Creek (1 individual site) in a spruce and fir stand. On day five, backtrack to CDL059, and turn left (north).
CDL063
Location: 40.305189, -105.656707
Cross Chaos Creek, which flows out of Lake Haiyaha at the mouth of Chaos Canyon.
CDL064
Location: 40.308549, -105.65834
The trail switchbacks to the right and runs along the southern shore of skinny Dream Lake.
CDL065
Location: 40.310078, -105.655625
Cross an unnamed stream, which flows down Tyndall Gorge into Emerald Lake and Dream Lake before flowing into Chaos Creek .2 mile southeast of this point.
CDL066
Location: 40.310517, -105.651345
The trail passes Nymph Lake.
CDL067
Location: 40.311996, -105.646291
Pass Bear Lake trailhead, then head north toward Bear Lake for the last big climb of the route to 12,324-foot Flattop Mountain. Prepare to gain 2,800 feet in roughly four miles.
CDL068
Location: 40.313522, -105.646856
Turn right at 3-way junction onto the Flattop Mountain Trail, and begin a steady ascent through a thick conifer forest intermixed with spruce-fir and aspen stands.
CDL069
Location: 40.317278, -105.644428
Turn left at the 3-way junction.
CDL070
Location: 40.316422, -105.653051
Bear left at the 3-way junction and continue ascending through the trees. Peek-a-boo views of Glacier Gorge begin emerging to the south.
CDL071
Location: 40.312556, -105.659096
Take a breather at this overlook with an impressive bird's-eye view of Dream Lake. The trail continues to ascend switchbacks through thick spruce-fir groves.
CDL072
Location: 40.315211, -105.665442
As the forest thins, make sure to evaluate the weather before continuing on. During summer months, afternoon lightning storms can hit quickly.
CDL073
Location: 40.3147, -105.670248
Midway up a series of tight switchbacks is an overlook with views into Tyndall Gorge. Glacier Gorge and Longs Peak are clearly visible to the southeast, and Tyndall Glacier, one of five remaining active glaciers in the park, can be spotted to the west.
CDL074
Location: 40.310348, -105.684187
Just below the Flattop summit, pass a large hitchrack marking the top of Tyndall Glacier, which can be seen to the east. The trail quickly ascends the last few hundred feet to the large flat summit of Flattop Mountain.
CDL075
Location: 40.308854, -105.6903
Crest Flattop Mountain (12,324 ft.). The summit, largely a flat swath of alpine tundra, has no official summit marker, but hikers generally consider the junction of Flattop Mountain Trail and Tonahutu Trail the official top. Views include Longs Peak to the southeast, Hallet Peak to the east, and 180-degree views of the park to the west. To continue, descend the Tonahutu Trail toward Ptarmigan Pass.
CDL076
Location: 40.309534, -105.694771
Turn left onto North Inlet Trail at this 3-way junction. The trail descends south past knee-high cairns with eastern views of 14,259-foot Longs Peak.
CDL077
Location: 40.28257, -105.699077
Descend a series of switchbacks to Hallett Creek.
CDL078
Location: 40.286761, -105.70281
Cross Hallett Creek. Spend the fifth night at the July campsite (3 individual; 1 group). A bear box is available directly uphill. The creek runs due east of the site and makes for an excellent water source.
CDL079
Location: 40.28245, -105.715351
Descend exposed switchbacks. Look for views of the Continental Divide and surrounding mountains.
CDL080
Location: 40.2813, -105.72122
Continue straight at this junction with the Lake Nanita Trail, which leads to Lakes Nonoki and Nanita. The side trip to both lakes will tack on 7 extra miles.
CDL081
Location: 40.271441, -105.766538
Arrive at Cascade Falls. A spur trail full of roots and rocks shoots off to the right and brings hikers to the base of the falls.
CDL082
Location: 40.264175, -105.788731
The trail skirts Summerland Park as you knock off the final miles.
CDL083
Location: 40.258339, -105.798812
The North Inlet flows right next to the North Inlet Trail on the southwestern edge of Summerland Park, providing excellent access to fishing (it's not uncommon to see fly fishermen along this stretch).
CDL084
Location: 40.256558, -105.814764
The route ends at the North Inlet trailhead on RMNP's less-trafficked west side. Pick up your shuttle car and follow Summerland Park and West Portal Roads to the East Inlet trailhead.
Gateway Inn
Location: 40.253754, -105.832608
Gateway Inn: A good place to resupply, shower ($10), and eat a piece of pie for brunch.
East Inlet
Location: 40.237425, -105.784135
Views along the East Inlet valley
Location: 40.237442, -105.783877
Lone Pine Lake
Location: 40.230971, -105.732486
Route up Longs Peak via Keplingers Couloir
Location: 40.236819, -105.62376
Traversing the Ledges
Location: 40.259575, -105.620926
The view looking north toward The Keyhole
Privy View
Location: 40.264206, -105.615288
You can't beat this view from the privy seat.
Longs Peak
Location: 40.265069, -105.61376
East Longs Peak Trail
Location: 40.268999, -105.61045
Views near Granite Pass
Location: 40.273485, -105.608804
Alberta Falls
Location: 40.303921, -105.63811
The Loch
Location: 40.293881, -105.65526
Views to the east
Location: 40.31481, -105.661182
Emerald Lake Overlook
Location: 40.314696, -105.670184
Approaching the backside of Flattop Mountain
Location: 40.313403, -105.678992
Hitchrack
Location: 40.310311, -105.68397
Flattop Mountain
Location: 40.308904, -105.69015
Views of Hallett Peak
Location: 40.308805, -105.690161
Views in the Hallett Creek drainage
Location: 40.285271, -105.706759
Elk Herd
Location: 40.281163, -105.718775
Exposed Trail
Location: 40.284142, -105.727186
Big Pool
Location: 40.285746, -105.73843
North Inlet
Location: 40.282014, -105.76272
Cascade Falls
Location: 40.27152, -105.766325
Rock Wall
Location: 40.271422, -105.766218
North Inlet
Location: 40.270129, -105.767891
North Inlet
Location: 40.258405, -105.798512
Horse
Location: 40.256309, -105.805163
Aspens along North Inlet Trail
Location: 40.256293, -105.806665