Great Sand Dunes National Park: Star Dune Loop
Ascend North America's tallest dunes for a day surrounded by alpine peaks, a desert valley, and shifting mountains of sand on this 6.6-mile loop in America's newest national park.
Heading out the door? Read this article on the new Outside+ app available now on iOS devices for members! Download the app.
Mapped by Andrew Matranga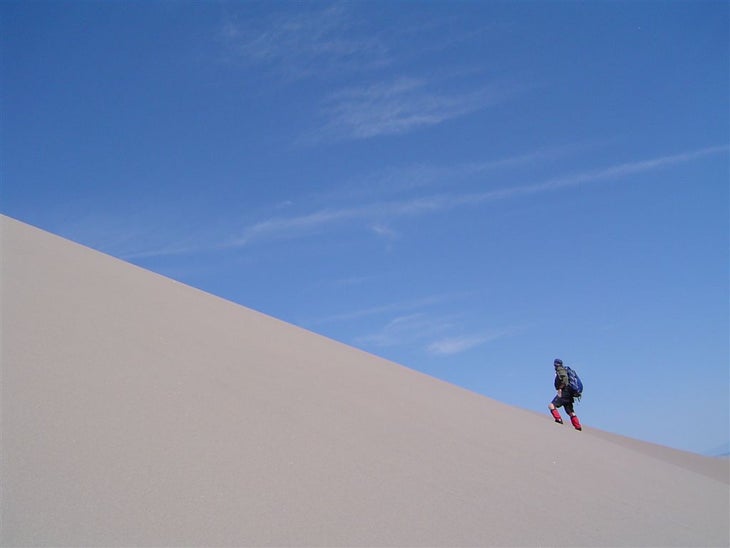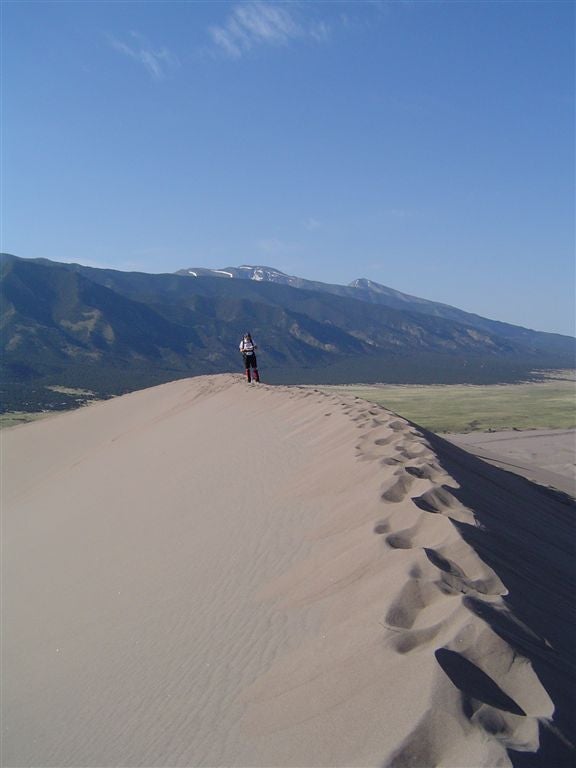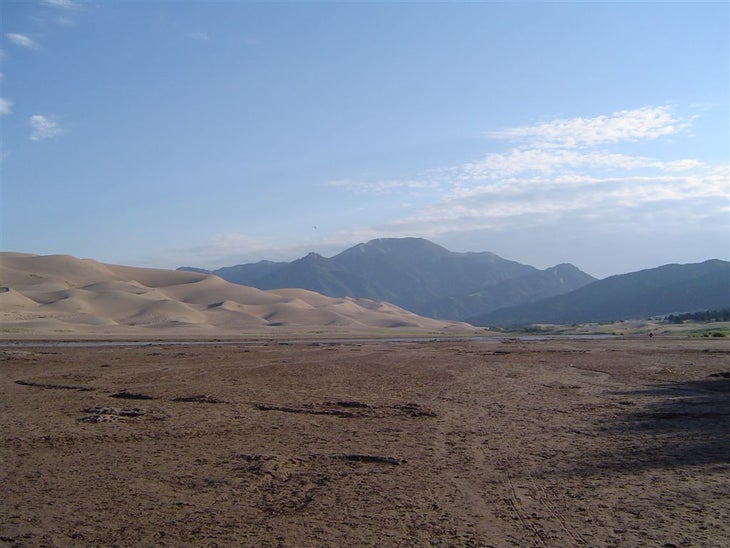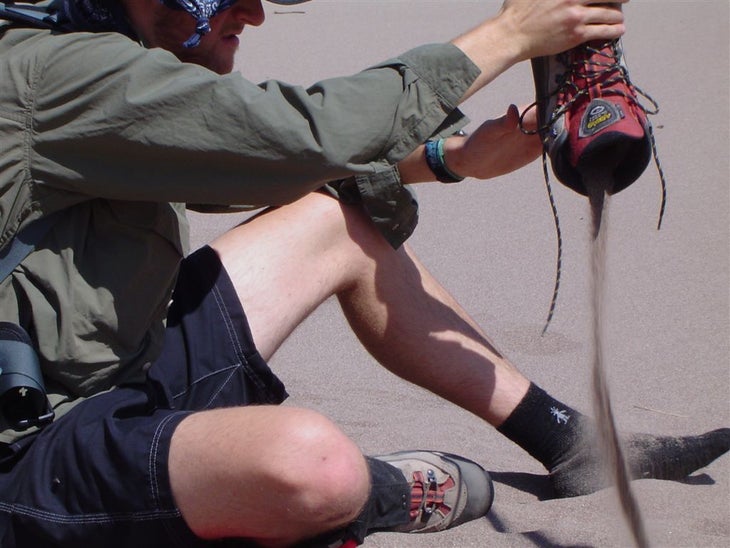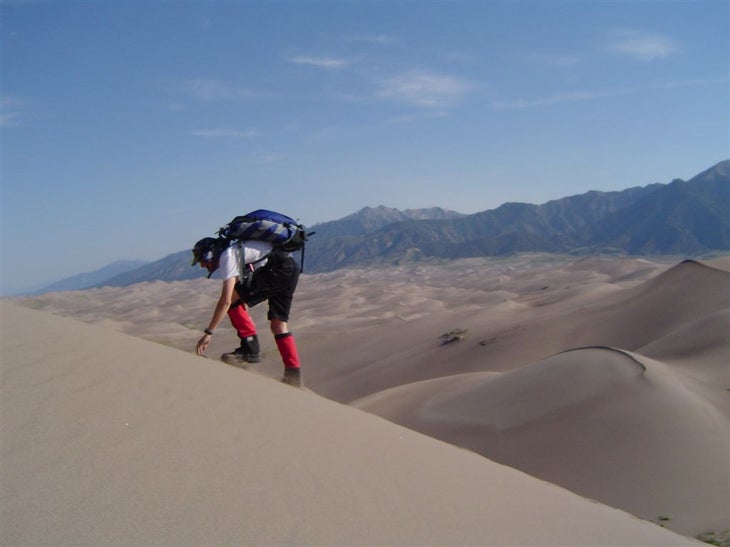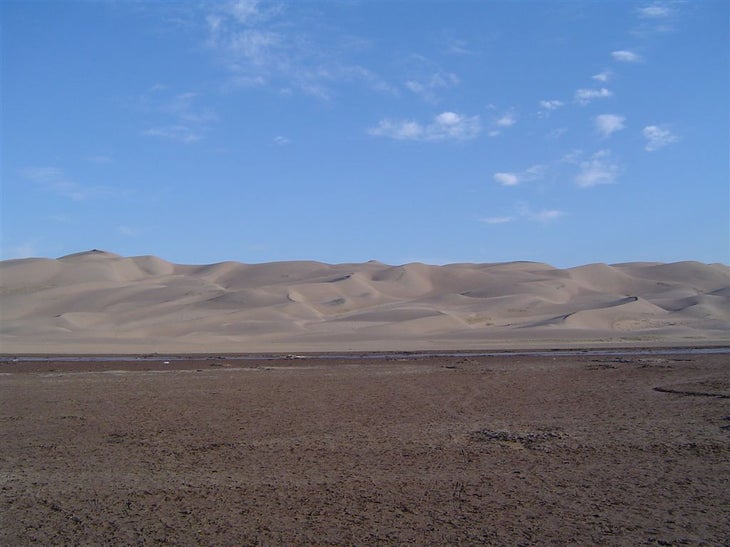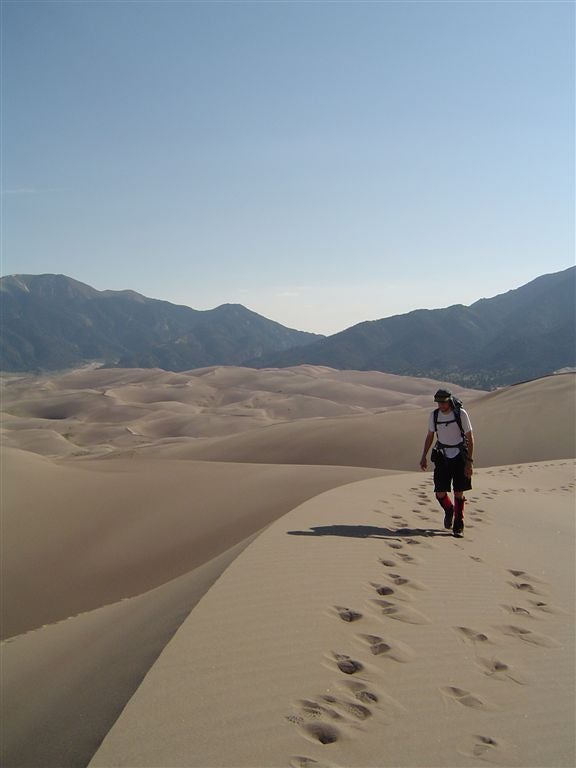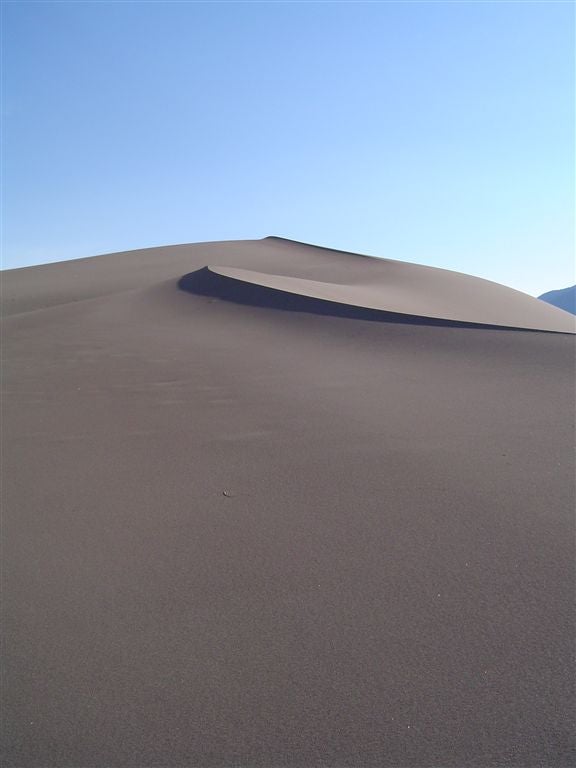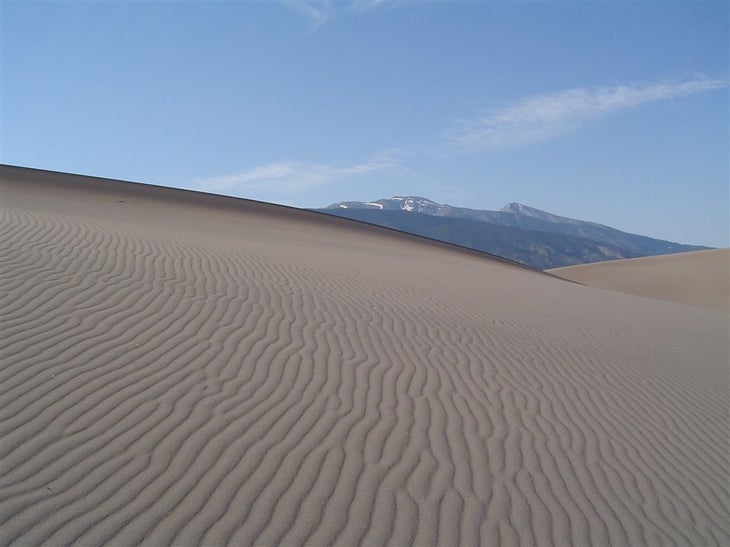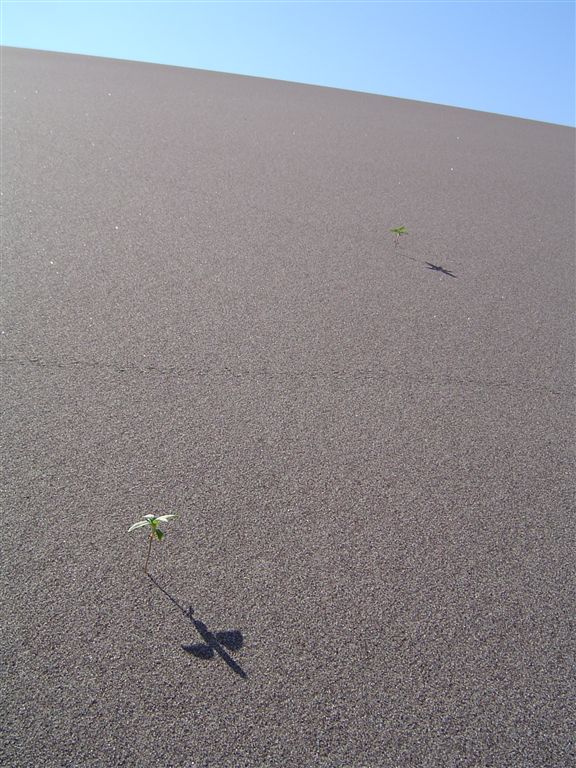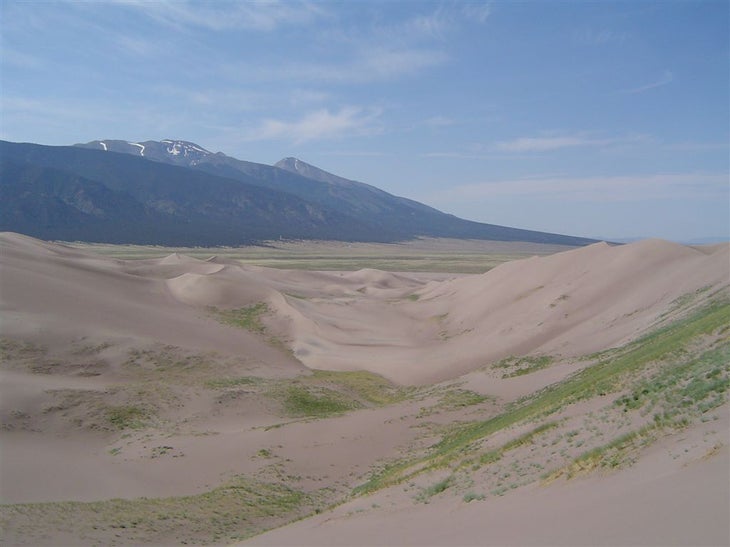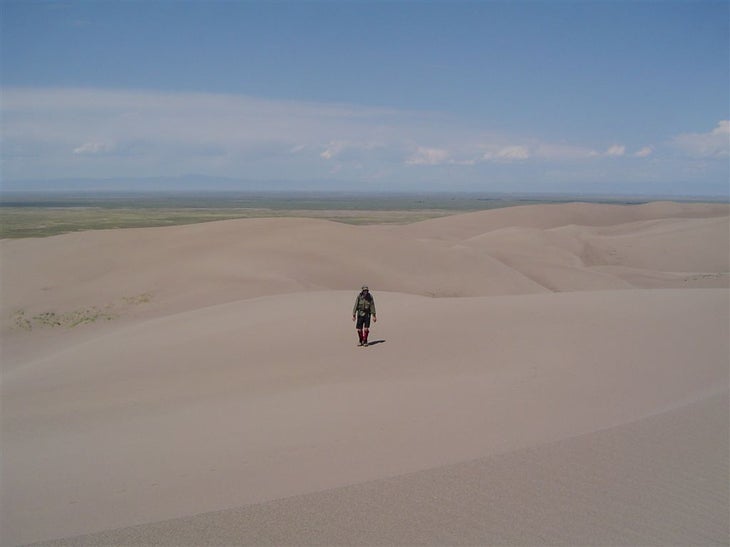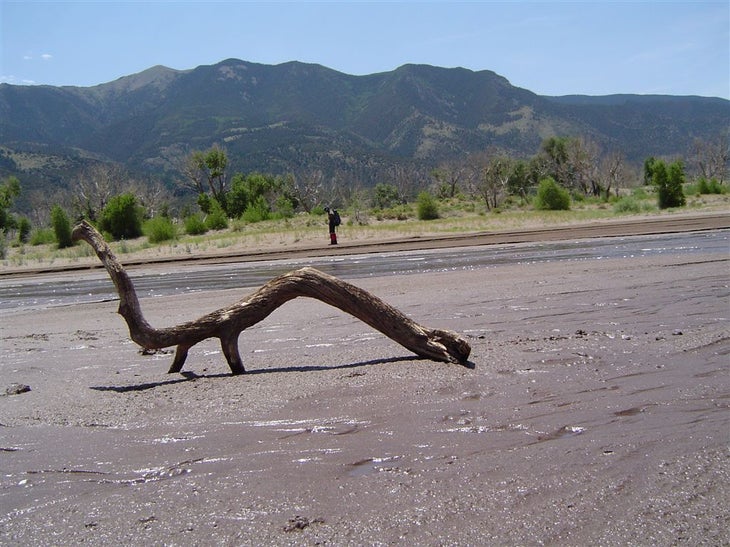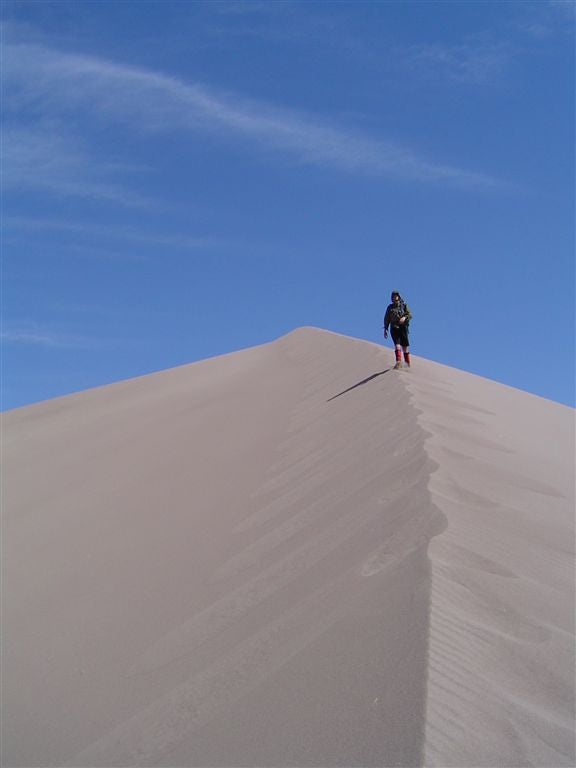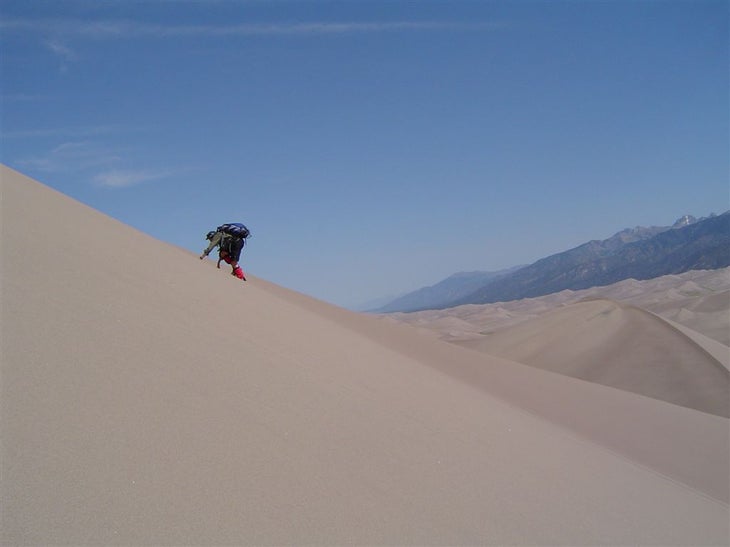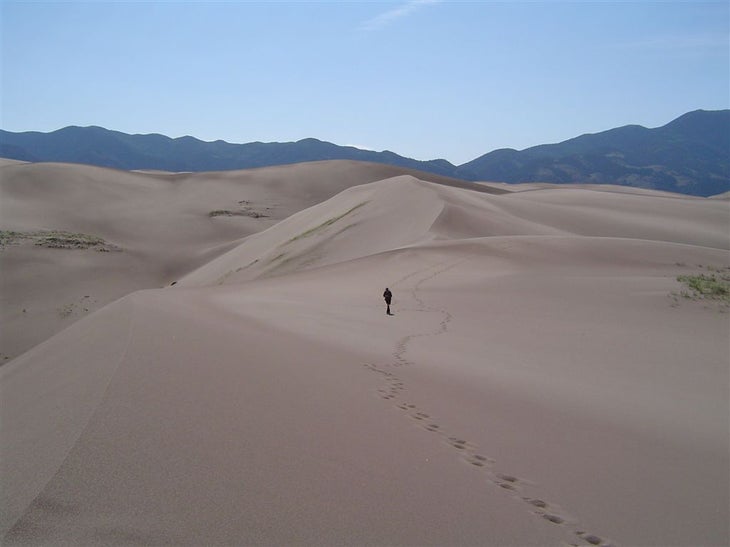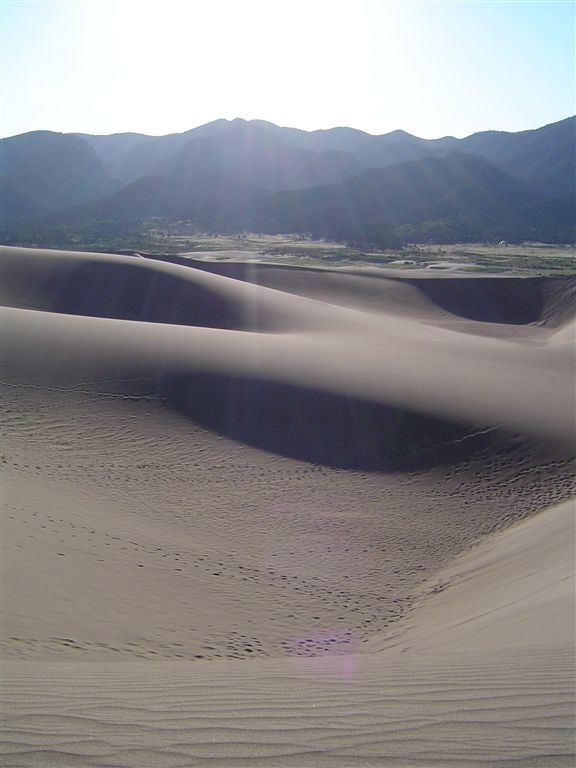 Trail Facts
Waypoints
SDL001
Location: 37.7393341064453, -105.517547607422
Hike through junipers to dunefield; enter Medano Creek's "perched aquifer" area, lifeblood of the dunes.
SDL002
Location: 37.7410850524902, -105.51789855957
Watch surge flow in action as Medano Creek recycles sand from E and N sides of dunefield
SDL003
Location: 37.7438316345215, -105.521667480469
Reach foothills of dune and enter sand sheet
SDL004
Location: 37.7491493225098, -105.533020019531
Apex of High Dune; an example of a transverse dune, one that progresses forward via minuscule sand avalanches
SDL005
Location: 37.7479820251465, -105.538017272949
Panoramic views to SE of San Luis Valley
SDL006
Location: 37.751148223877, -105.556503295898
Steep ascent up Star Dune
SDL008
Location: 37.7512016296387, -105.557929992676
Descend Star Dune along E ridge; start looping back to main dunefield
SDL009
Location: 37.7492980957031, -105.558067321777
L @ saddle of Little Star Dune; descend into basin
SDL010
Location: 37.7401351928711, -105.549217224121
R @ Lookout Dune; see Blanca Peak, CO's 4th highest (14,345 ft.)
SDL011
Location: 37.7366676330566, -105.543403625488
L @ ridgeline
SDL012
Location: 37.7355690002441, -105.524864196777
L @ terminus of dunes; follow Medano Creek back to trailhead
SDL007
Location: 37.7514839172363, -105.558197021484
Relax atop ever-changing peak of 8,900-foot Star Dune, N. America's tallest; snowy Sangre de Cristo Mtns. to E
Resilience
Location: 37.7450065612793, -105.55598449707
Deep in a pocket dune, a small desert plant sticks its head above the sand. ©Jesse Ryan
Ascending A Mountain of Sand
Location: 37.7477722167969, -105.546051025391
©Jesse Ryan
Footsteps In the Sand
Location: 37.7481880187988, -105.536392211914
The Great Sand Dunes framed by the Sangre de Cristo Range.©Jesse Ryan
View from Medano Creek
Location: 37.7376556396484, -105.518646240234
Leading edge of the dunes against the Sangre de Cristo's. ©Jesse Ryan
Sand and More Sand
Location: 37.7402763366699, -105.551475524902
©Jesse Ryan
Climbing Star Dune
Location: 37.7514419555664, -105.557197570801
Andrew Matranga wrestles with sliding sand while climbing the park's highest dune. The Sangre de Cristos stand in the background. ©Jess Ryan
Hulking mountains of sand
Location: 37.7415084838867, -105.518814086914
The east side of the dunefield. ©Jesse Ryan
Shifting Ridge walk
Location: 37.7471046447754, -105.540641784668
Walking along a slim, sandy crest. ©Jesse Ryan
Shadows
Location: 37.7482681274414, -105.525947570801
Early morning lights filters over the lip of a dune. ©Jess Ryan
Wind patterns on the dunes
Location: 37.7517204284668, -105.557899475098
Subtle changes become visible in the middle of the dunefield. Blanca Peak pokes out over the horizon. ©Jesse Ryan
Unlikely pair
Location: 37.7470588684082, -105.556968688965
Two small flowers thrust through the weight of the sand. ©Jesse Ryan
Grassy slopes
Location: 37.7417869567871, -105.554443359375
In the contours of the dunefield, grass grows–a testament to the water of Medano Creek cycling below. ©Jesse Ryan
Valley view
Location: 37.7380104064941, -105.547309875488
On the southern end of the dunefield, the farmlands of the San Luis Valley come into view. ©Jesse Ryan
Stick in Medano Creek
Location: 37.7357711791992, -105.523941040039
An animal-looking stick in Medano Creek, low in mid-July. This creek forms the lifeblood of the dunes, constantly recycling water and the edge of the dunefield. ©Jesse Ryan
Dune close up #1
Location: 37.7366561889648, -105.541618347168
Rising hundreds of feet above the San Luis Valley, the dunes can be seen for miles. ©Jesse Ryan
Dune close up #2
Location: 37.7361450195312, -105.540550231934
The grassy slopes of the Great Sand Dunes are visible for miles. Here, a close-up view. ©Jesse Ryan
Descending
Location: 37.7407150268555, -105.553329467773
Andrew Matranga bounds down a thin ridgeline of silica. ©Jesse Ryan
Another steep climb
Location: 37.7499961853027, -105.55785369873
The pitch of the dunes is deceiving from afar, but the one-foot forward, two-steps backward motion can be tiring. ©Jesee Ryan
Deep in the dunefield
Location: 37.7477111816406, -105.550575256348
Criss-crossing footprints laced the center of the dunefield, hours from the eastern edge of the dunes. ©Jesse Ryan
Morning on the dunefield
Location: 37.7461700439453, -105.524223327637
Sun over the Sangre de Cristo Mountains. ©Jesse Ryan
North over the dunefield
Location: 37.7507400512695, -105.558128356934
The slopes and valleys of the northern dunefield, backdropped by Cleveland Peak. ©Jesse Ryan