Colorado National Monument: Otto's Trail
Stretch your legs on this easy out-and-back off the Colorado National Monument's Rim Rock Road. The A gently sloping 0.4-mile downhill ends at an overlook of Monument Canyon's best.
Heading out the door? Read this article on the new Outside+ app available now on iOS devices for members! Download the app.
Named for one of the area's first settlers, John Otto, this short trail is an easy side-trip for people driving Rim Rock Road. Especially in you're driving from the Grand Junction entrance heading west, by the time you reach this point, the get-out- opportunity will appeal.
Begin at the roadside pullout about 0.75 miles west of Grand View (or 0.9 miles east of the Visitors Center) and hike the wide, open path leading northeast from the road. The gentle downhill is punctuated by steps and cruises pinyon-juniper woodlands and short, stubby cacti as it descends toward an overlook. Near the bottom, stop to read-up about John Otto, one of the original settlers of Monument Canyon who built most of the present-day trails.
The overlook itself is a flat, rocky expanse of rock with wide-open views of Sentinel Spire and the visitors center to the north, Pipe Organ just a few hundred feet northeast of the overlook itself, Praying Hands below Pipe Organ, and Independence Monument to the south. After spending a few minutes admiring the view, backtrack uphill toward the trailhead.
Bring water for the short trip and expect to spend 30 minutes away from your car. Also note that dogs are not allowed on park trails but that soaring temperatures in automobiles make it unsafe to leave them in the car. If you'd like to explore the Colorado National Monument, it might be best to leave your pets at home.
-Mapped by Kristy Holland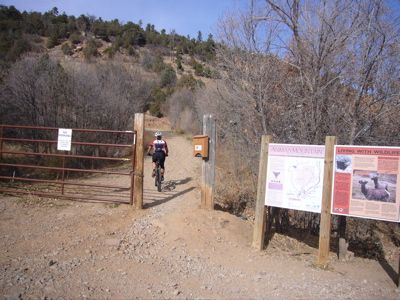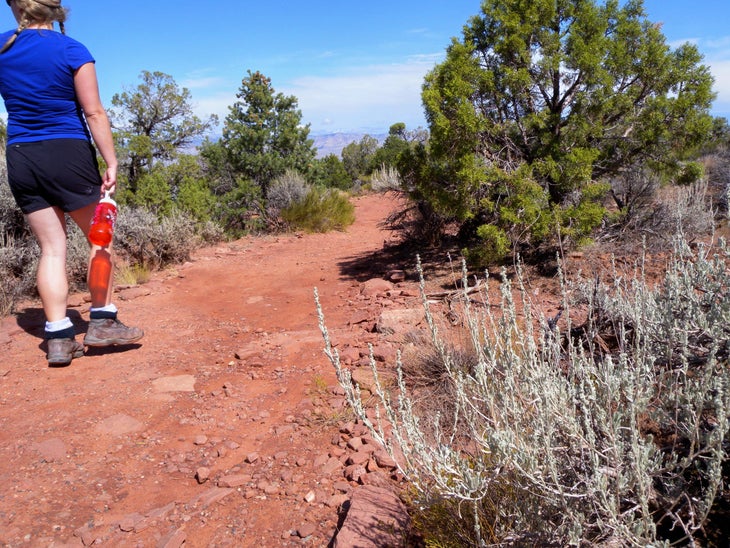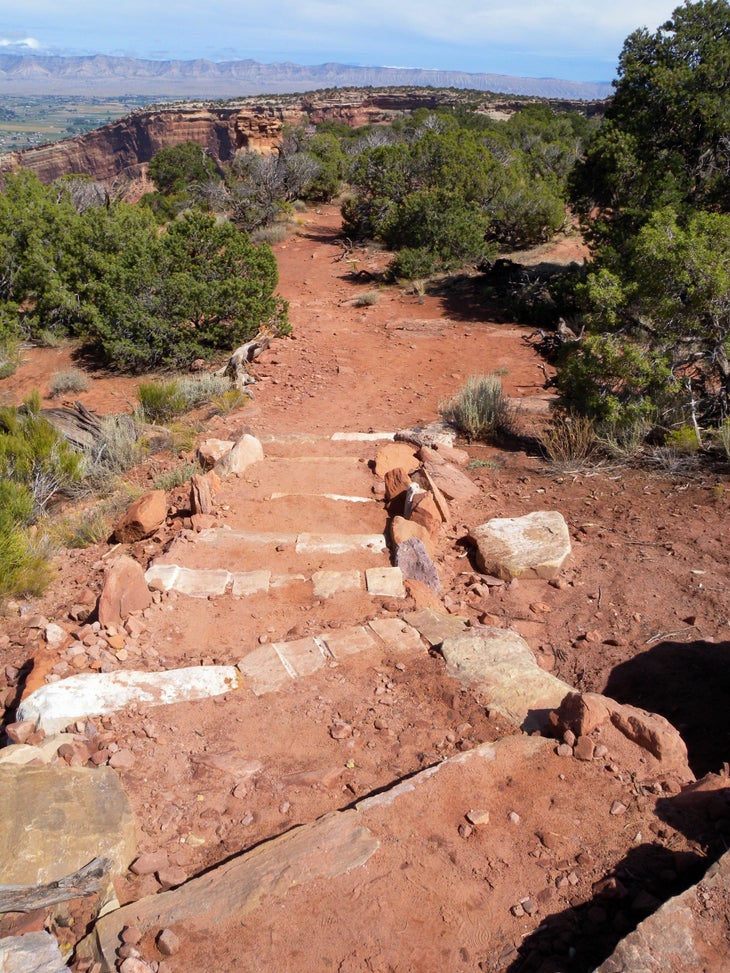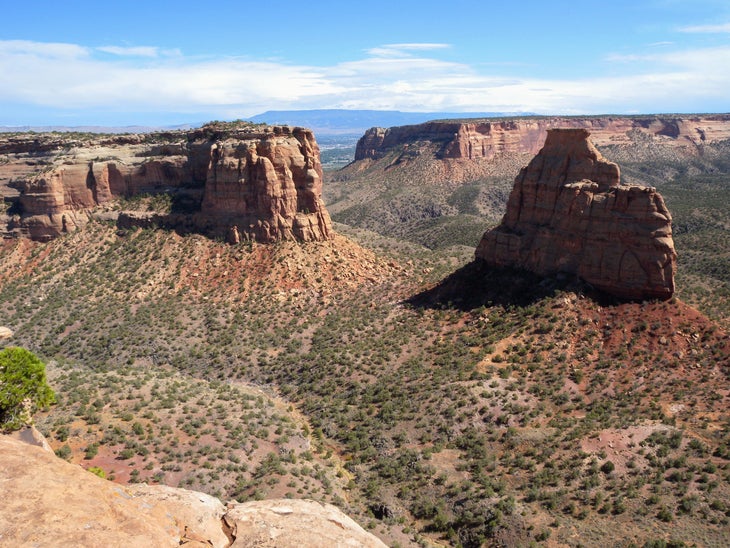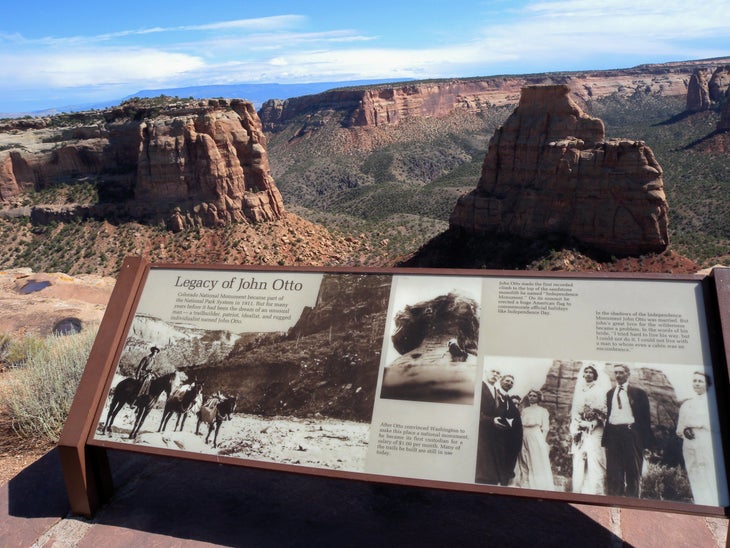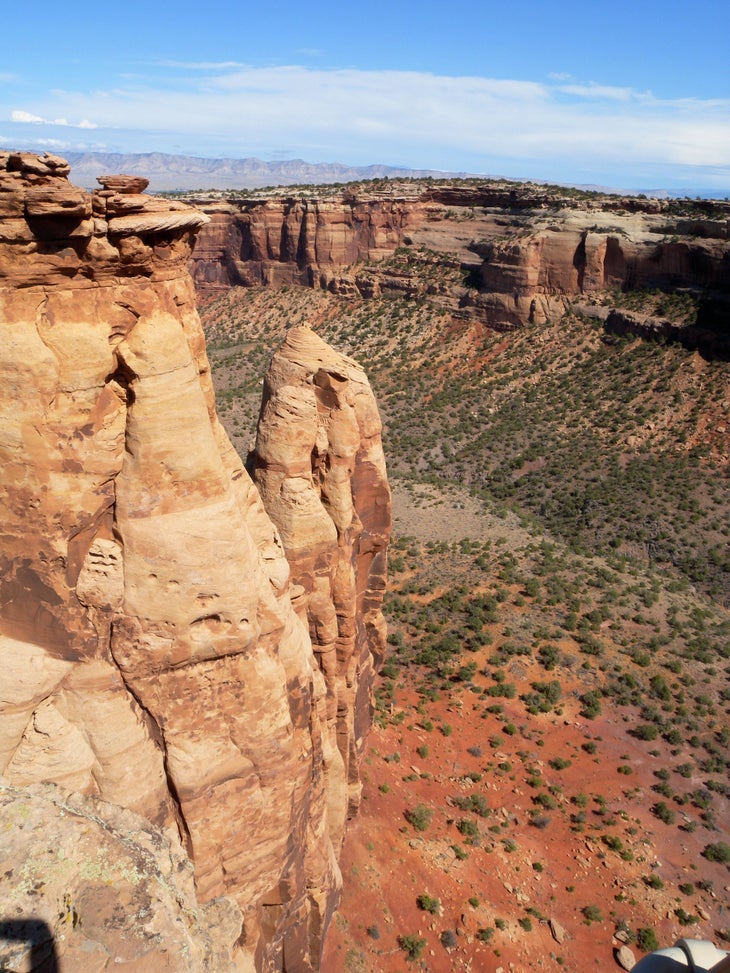 Trail Facts
Waypoints
OTT001
Location: 39.095959, -108.732762
There is a pull out on the road and a sign marking Otto's Trail. Lock your car doors and head northeast on the wide, path that begins sloping gently downhill.
OTT002
Location: 39.096883, -108.730794
The trail looses about 200 feet of elevation as it drops from Rim Rock Road toward the overlook. The smooth trail has many stairs to help accomplish this distance.
OTT003
Location: 39.098303, -108.727146
There is a small intepretive sign and some hand railings on occasion, but most of this fin-formation trail is undeveloped. Watch your step, especially at the overlook where the canyon walls drop dramatically away on both sides of the trail.
Trailhead
Location: 39.09598, -108.732682
There aren't any services at the trailhead, but it is marked by a small sign.
Hiking
Location: 39.09655, -108.732044
The path is smooth and lined by Juniper bushes and an occasional cacti.
Steps
Location: 39.096866, -108.730751
Independence Monument
Location: 39.097254, -108.729823
Looking southeast from the trail toward Independence Monument in Monument Canyon.
Sign
Location: 39.097707, -108.727784
An interpretive sign explaining John Otto's relationship to the monument.
Organ Pipe and Praying Hands
Location: 39.098303, -108.72714