Colorado 14ers: Snowmass Mountain
Bag a rugged fourteener on this 20.8-mile lasso loop linking shady evergreens and long sunny scrambles to a beautiful peak high above the Maroon Bells-Snowmass Wilderness.
Heading out the door? Read this article on the new Outside+ app available now on iOS devices for members! Download the app.
A lovely 8-mile approach hike, a campsite by a lake teeming with lunker trout, and a moderate ascent of a fetching Fourteener: What more could you want from a long weekend in the mountains? Less crowded camping would be one thing, and you can have that, too, if you like lots of snow. In June, the masses have yet to occupy the campsites at Snowmass Lake, and acres of the white stuff still span the east-facing basin between Snowmass Mountain and 13,841-foot Hagerman Peak. (Recent balmy summers have melted that huge snowfield by mid-July, leaving behind a mundane talus slog.)
In the morning, you'll cast long shadows on pink snow as the rising sun lights your route—it's like climbing a big glacier in the Alps without the crevasse danger. There's no need for crampons or other technical climbing gear if you wait until the morning sun softens the snow. At the top, scramble a white granite ridge to the blocky peak. Now comes the best part: Ice axe at the ready, climb down the snow until you're comfortable with the angle, sit on your butt (or stand if you're skilled), and push off for the state's best glissade. In good conditions, you can slide more than 1.5 miles and nearly 3,000 vertical feet. Hikers amped by this speedy schuss sometimes celebrate by diving into Snowmass Lake at the bottom.
-Text by Dougald MacDonald
-Mapped by Kim Phillips, Patsy Fellman, and Travis Beery
©Kim Phillips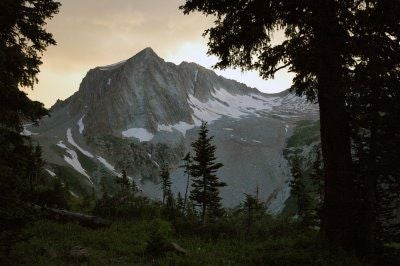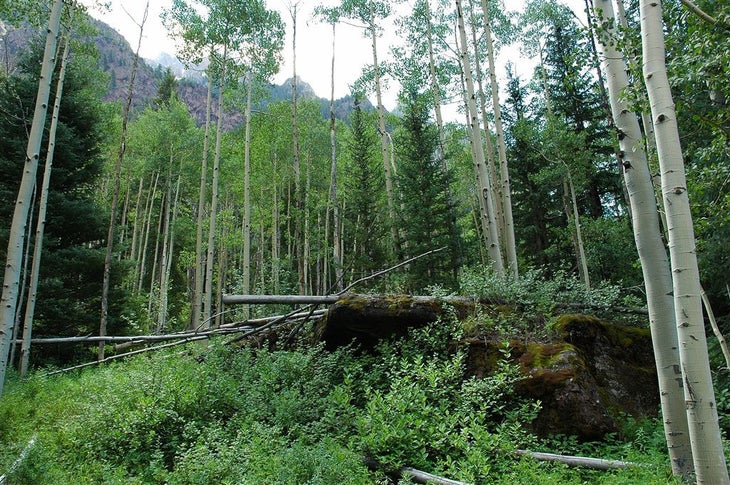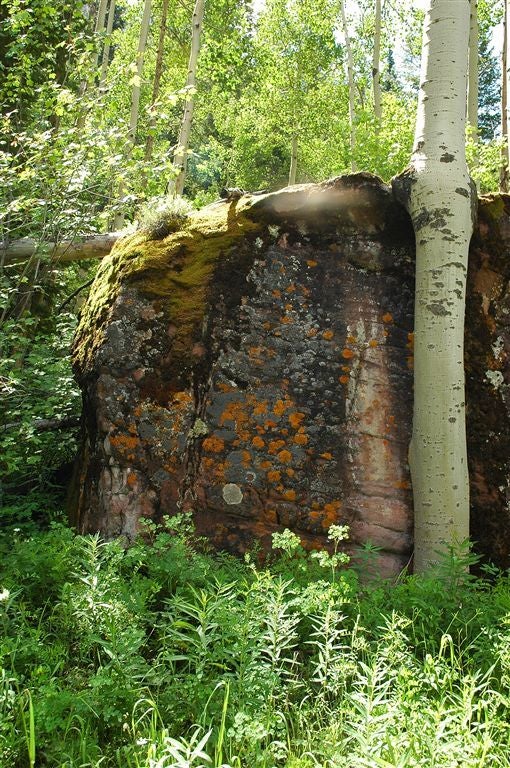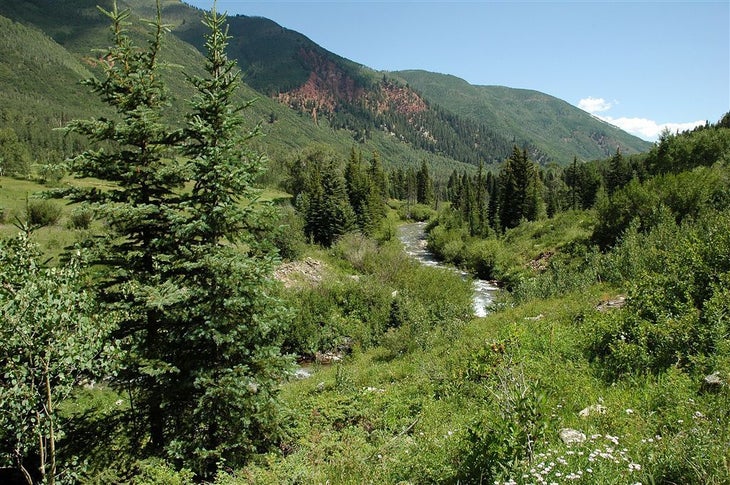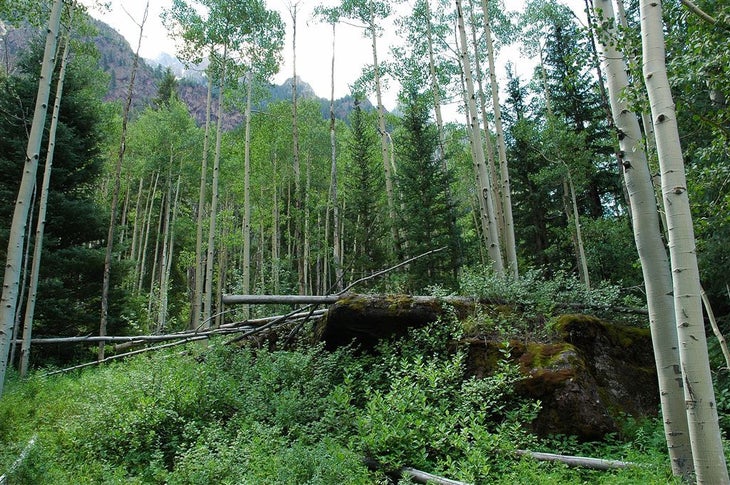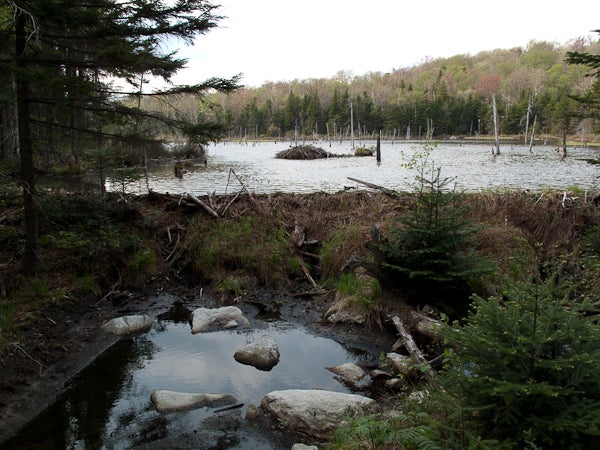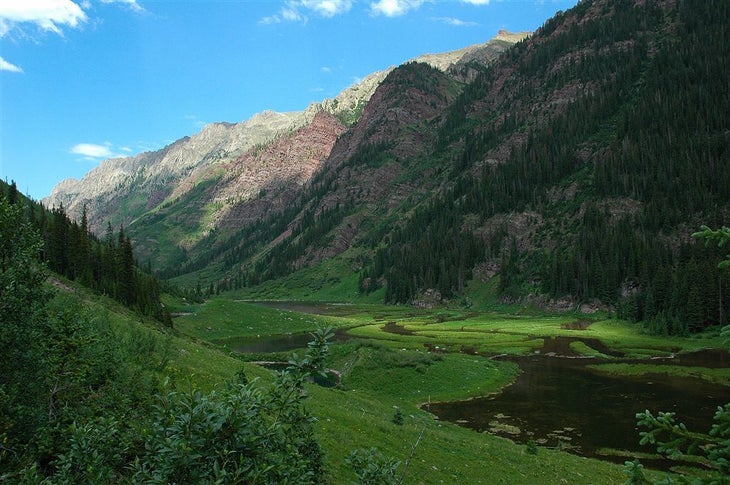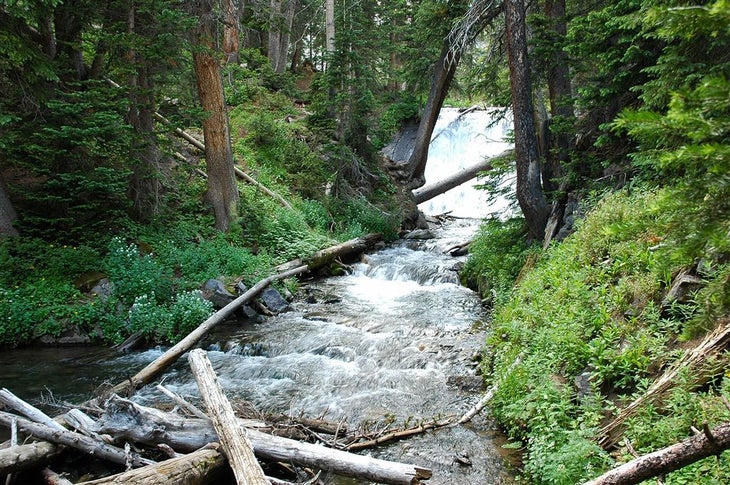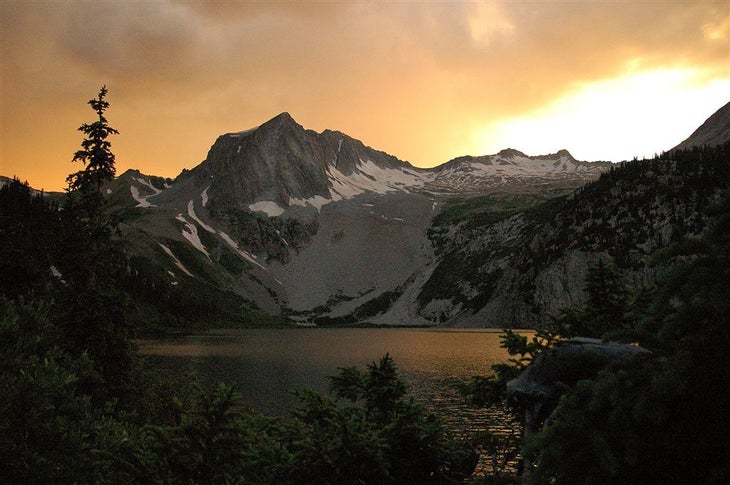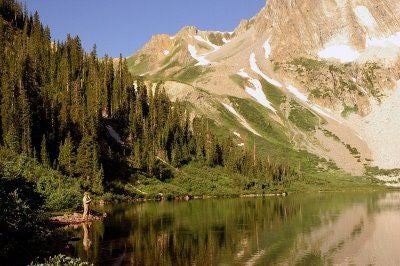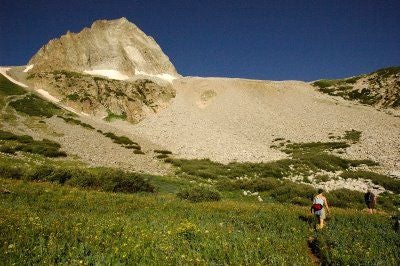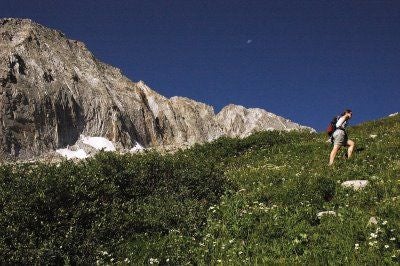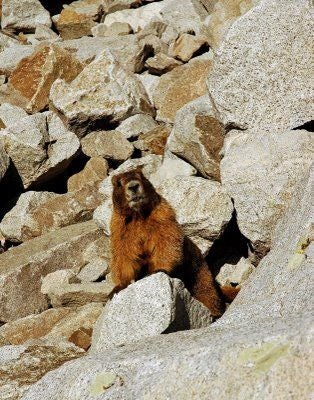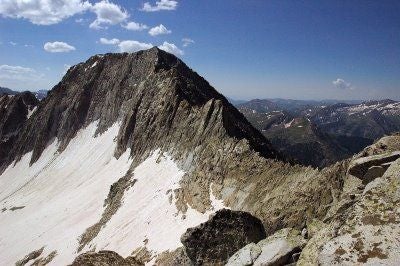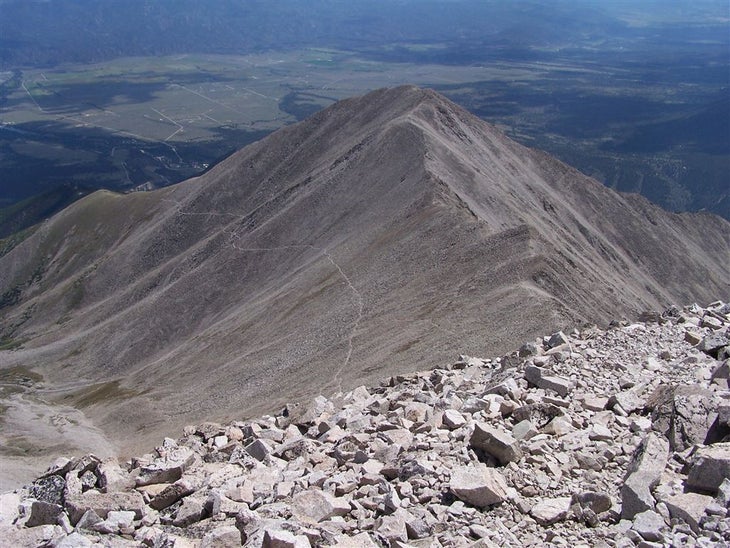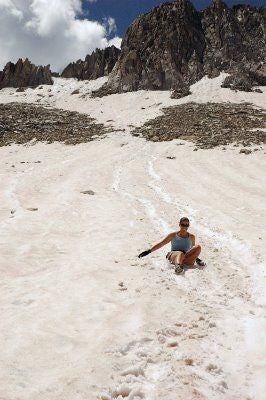 Trail Facts
Waypoints
SMT001
Location: 39.2000013, -106.9941545
Hike south from the trailhead. Almost immediately, the trail rounds to the west for a mellow traverse.
SMT002
Location: 39.1932983, -107.0105972
Pass through the first of 2 wooden gates; views of meadows and mountains on the R; the roar of the river drowns out footsteps
SMT003
Location: 39.1901283, -107.0146103
Continue straight @ jct. with W. Snowmass Trail. In .3 mi., forest opens up briefly near the second wooden gate
SMT004
Location: 39.1804352, -107.0205307
Meander through thick Aspen groves, passing giant moss-covered boulders; catch an occasional glimpse of jagged peaks through the trees
SMT005
Location: 39.165966, -107.0222473
Pass through a tunnel of Aspen with C-shaped trunks
SMT006
Location: 39.1596985, -107.0170364
Aspen leaves frame Clark Peak's pyramid shape to the W; continue heading S
SMT007
Location: 39.1484489, -107.0140533
Continue moderate ascent on rocky trail; traverse the top of a small boulder field
SMT008
Location: 39.1347733, -107.012619
Cross a large beaver pond on floating logs; watch your footing
SMT009
Location: 39.1296005, -107.0171814
Enter thick spruce and fir forest; vibrant bluebells line the trail
SMT010
Location: 39.1201897, -107.0267105
Head straight @ jct. with Buckskin Pass
SMT011
Location: 39.1172066, -107.0285339
A series of waterfalls on the L mark your arrival at Snowmass Lake. Set up camp in the surrounding forest overlooking the lake's bluish-green waters. To begin summit climb, follow the narrow dirt trail around the S side of the lake through thick bushes
SMT012
Location: 39.1142235, -107.041626
Scramble up a large boulder field; watch for curious marmots peering out through the gaps in the rocks
SMT013
Location: 39.1156158, -107.0442505
Ascend the steep, narrow dirt path that parallels the stream on the R
SMT014
Location: 39.1158829, -107.0470963
Use rocks as stepping stones to cross cascading stream, then bush whack to access grassy area to the N
SMT015
Location: 39.1164169, -107.0491486
Rest your legs in the grassy area overlooking the lake; brilliantly-colored wildflowers speckle the grass in the summer. Snowmass Peak's impressive form dominates the landscape to the SW
SMT016
Location: 39.1170998, -107.0528488
Hike up flat rock slabs; a rushing stream provides cold, refreshing mountain water (a good place to refill water bottles if your reserves are running low). Catch first views of the Maroon Bells to the SE. A huge boulder field awaits you as you continue traveling W towards the saddle
SMT017
Location: 39.1163788, -107.0633316
Summit the rocky ridge @ 13,728 ft. Head to the NW; traverse the W side of the ridge on large, sometimes loose, boulders that form the mountain's steep slopes
SMT018
Location: 39.118866, -107.0664825
Snowmass Mtn. (14,092 ft.): This small, rocky summit offers breathtaking panoramas of rugged terrain and neighboring 14ers–Capitol Peak to the NNW; the Maroon Bells and Pyramid Peak to the SW
SMT019
Location: 39.1181335, -107.0651474
Lose elevation quickly by sliding down the snowfield on the E face of the mountain–a welcome alternative to descending the boulder field. Return to WPT 16 and retrace steps to Snowmass Lake
Snowmass Peak
Location: 39.1162376, -107.0293198
©Kim Phillips
Aspen Grove
Location: 39.191452, -107.0124588
The trail to Snowmass Lake winds through scenic aspen groves.
©Kim Phillips
Mossy Boulders
Location: 39.1909561, -107.0132828
©Kim Phillips
Snowmass Creek
Location: 39.1899605, -107.0161057
©Kim Phillips
Aspen Grove
Location: 39.1626167, -107.0197449
©Kim Phillips
Beaver Pond
Location: 39.1425629, -107.012619
The Elk Range forms a picturesque backdrop to this mountain scene.
©Kim Phillips
Willoughby Mountain
Location: 39.1301346, -107.0161057
©Kim Phillips
Waterfall before Snowmass Lake
Location: 39.1173744, -107.0286942
©Kim Phillips
Sunset
Location: 39.1181831, -107.030014
©Kim Phillips
Snowmass Lake
Location: 39.115406, -107.0323792
©Kim Phillips
Trail leading to the scree field
Location: 39.1134605, -107.0387268
©Kim Phillips
Grassy Ascent
Location: 39.1160469, -107.0479202
©Kim Phillips
Curious Marmot
Location: 39.1145554, -107.0422897
Look closely for marmots the boulder field.
©Kim Phillips
Jagged Ridgeline
Location: 39.1165428, -107.0634995
This is the view to the south from the top of the ridge.
©Kim Phillips
Summit Views
Location: 39.118866, -107.0666504
Views of the Elk Range from the summit of Snowmass Mountain. ©Kim Phillips
Snowy Descent
Location: 39.1193619, -107.0621719
©Kim Phillips